Report: Roma and Italy legend Totti set for U.S. move, but not to MLS?
Totti appears headed to New York, but not to play for NYCFC or the Red Bulls.
• 1 min read
There are many beautiful sites to see in Rome, such as the Colosseum, the Fontana di Trevi, St. Peter's Balsica and more. But from the United States or anywhere else in the world outside of the city, video and images are the best you can do without going there. But for those in the states, a Rome icon may soon be on display on this side of the Atlantic for all to see. According to Sky Italia, Roma legend Francesco Totti is set to sign with the New York Cosmos.
The legendary Italian forward/attacking midfielder, who is 39, has only played for Roma in his career, dating way back to 1992.According to Sky Sports, the World Cup winner could join the NASL club as his contract with Roma is set to expire this summer.
Leicester City's Italian manager Claudio Ranieri had been in touch with him over a potential move to England, Sky reports, but he is reportedly favoring a move to the states, which would end a 24-year run at the capital club.
If he does join, he will be added to an impressive list of legends to have played for the Cosmos, such as Pele and Franz Beckenbauer in the 1970s, when they were a destination for global stars. Now, it's on a much smaller scale in the new encarnation of NASL. The club signed Real Madrid legend Raul in 2014 and appears to be continuing to look at big names, albeit ones past their prime, to add to their roster. 
Now, at 39, you can't really have high expectations for Totti if he comes to the U.S. other than to boost ticket sales, merchandise sales and provide a few highlights here and there. But in his prime, with all of the interest from Real Madrid and others, he was one of the best players in the world and could benefit the game in the U.S.
For news, stories, results and more, follow us:
- @CBSSportsSoccer - @RGonzalezCBS - Facebook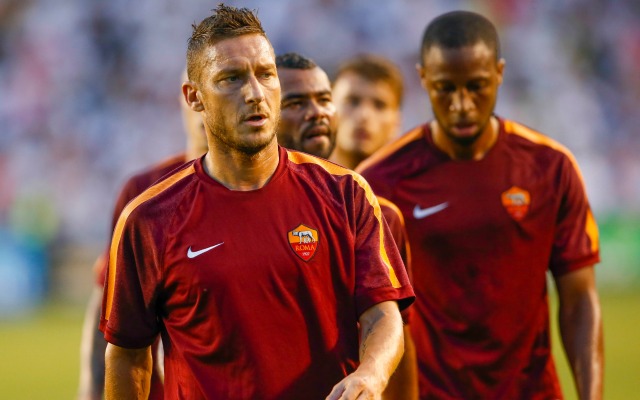 Two of the most talented teams meet in MLS Cup 2020 in this simulation

Robert Lewandowski is expected to sit out the next four weeks with a fractured tibia

The 2020 MLS season kicks off this weekend
Here's the complete schedule and results of the 2019-20 Champions League

Here's everything you need to know about the UEFA Champions League season for 2019-20

The Real Madrid defender put his team behind the 8-ball with another red card on Wednesday
Real Madrid is in big trouble while Juve may be OK

City turned this match on its head with two quick goals in six minutes, thanks to Kevin De...