2014 FIFA World Cup: Argentina gets past Bosnia-Herzegovina, 2-1
FIFA World Cup 2014: Argentina vs. Bosnia-Herzegovina preview, live commentary and recap.
• 7 min read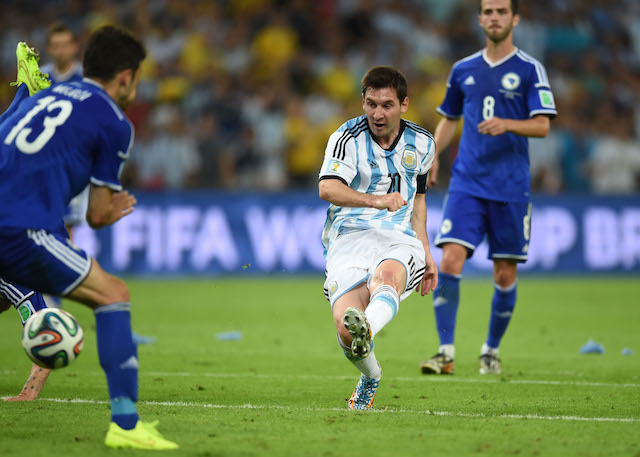 More World Cup: Argentina vs. Bosnia-Herzegovina MatchTracker | Complete schedule
FINAL SCORE: Argentina 2, Bosnia-Herzegovina 1
It wasn't a vintage performance from Argentina, but they got the three points they needed and have some room to grow moving forward.
The early own goal from Bosnia-Herzegovina was huge, as Argentina looked ordinary for most of the opening 45 minutes. Bosnia had more chances during that span, especially with Senad Lulic making runs from the left side and finding some openings via crosses. They also had several free kicks in dangerous spots, but couldn't capitalize.
After the break, Argentina made a couple of adjustments, putting Gonzalo Higuain up front next to Sergio Aguero, with Lionel Messi right behind them. Moreover, they took a defender off, moving to a back four instead of a back five, and pushing forward a bit more. The move paid dividends after just 20 minutes, as Messi beat a defender, laid it off, got it back, beat another defender -- who collided into a teammate -- and then beat Asmir Begovic by placing his shot inside the post. 
Up 2-0, Argentina looked like it might get a third -- as Bosnia brought on a couple of attackers in an attempt to steal a late goal. It worked out, with Vedad Ibisevic finishing inside the six to get a goal back. 
That's the way it would end, with Argentina getting all three points. Bosnia-Herzegovina looked like a tough out and a worthy choice as second-place finisher in the group, but they are in a hole early.
FINAL: Argentina gets on the board early with Bosnia-Herzegovina's own goal, Messi extends the lead with a goal, and then they hang on after a late goal from Bosnia.
'90 + 2: Messi had a chance to clinch the game off a pass from Higuain, but he put it against the side netting.
'90: Three minutes of extra time added.
'87: Argentina Sub.
IN: Lucas Biglia
OUT: Sergio Aguero
GOAL GIF: (via @FlyByKnite)
'85: GOAL! Bosnia-Herzegovina pulls back within one, as Vedad Ibisevic beats Sergio Romero between the legs.
'84: Game has become wide-open the past few minutes. Bosnia-Herzegovina pushing six or seven players forward to try and get a goal, and then Argentina on the counter with Messi and Di Maria looking for Aguero and Higuain.
PHOTO: Great look at the Bosnia defense after Messi beat his final defender.
The Bosnia-Herzegovina defence was literally falling over themselves to stop Lionel Messi!!!! pic.twitter.com/CllyNiGkRA

— 101 Great Goals (@102greatgoals) June 15, 2014
'75: Bosnia-Herzegovina Sub.
IN: Haris Medunjanin
OUT: Zvjezdan Misimovic
'74: Bosnia-Herzegovina going with the formation they used during qualifying, when they scored 30 goals in 10 matches. Multiple strikers. 
'73: Bosnia-Herzegovina Sub.
IN: Edin Visca
OUT: Izet Hajrovic
'70: Bosnia-Herzegovina Sub.
IN: Vedad Ibisevic
OUT: Mensur Mujdza
GOAL GIF: (via @WorldSoccerTalk)
'65: GOAL! Lionel Messi. He beat one defender, laid it off to a teammate, got the ball back, beat another defender, and then placed it inside the post past Begovic.
'64: Messi's free kick from about 27-30 yards out sailed over the net, not much of a threat for Asmir Begovic.
'61: Was waiting for a GIF or Vine to emerge before mentioning Marcos Rojo's Rabona inside his own 18.
'59: Chance after chance after chance. Bosnia-Herzegovina continues to look threatening, whether from open play, off a free kick, or off a corner kick.
Messi seems a bit out of sorts when he gets in the Bosnia 18-yard box. He has dropped it off for Aguero as opposed to attacking and creating his own shot. 
'50: Bosnia-Herzegovina with another dangerous chance off a free kick. This one from Izet Hajrovic. (GIF via @FlybyKnite)
'49: It will be interesting to see when Bosnia-Herzegovina goes to the bench and brings in Vedad Ibisevic. He played alongside Edin Dzeko in qualifying and scored eight goals, but they went with a more defensive-minded set-up in the pre-World Cup friendlies and today against Argentina.
SECOND HALF: Argentina Subs:
IN: Gonzalo Higuain
OUT: Maxi Rodriguez
IN: Fernando Gago
OUT: Hugo Campagnaro
Argentina now have Higuain, Sergio Aguero and Lionel Messi on the pitch together. There will be scoring chances, I assure you.
SAVE GIF: (via @FlyByKnite) -- Sergio Romero's denial of Selad Lulic's header in the first half
HALFTIME: Bosnia-Herzegovina's early own goal put Argentina up 1-0 in the opening minutes, and Argentina have kept that lead through 45 minutes.
Argentina had more possession and longer possession in the first half, but Bosnia-Herzegovina had just as many attacking opportunities. Senad Lulic made several nice runs down the left flank for Bosnia, while Argentina's back line also pushed forward effectively.
Argentina's attacking duo of Lionel Messi and Sergio Aguero and Bosnia-Herzegovina's Edin Dzeko have been quiet thus far.
'41: Lulic continuing to get open, nearly gets Bosnia the qualizer. Good positioning and save from Sergio Romero, though. Bosnia can't take advantage on the second corner.
'36: Senad Lulic continues to be active coming inside from the left, making himself available off of crosses. Argentina haven't done a great job marking him (although they have usually had players in his area), but he's either been offside or can't control the ball.
'32: Javier Mascherano had a clean look from about 22 yards out, but Asmir Begovic was in perfect position for Bosnia.
'30: Senad Lulic looked to have a chance off a Bosnia-Herzegovina cross, but was ruled offside. Argentina have had long bouts of possession, but Bosnia-Herzegovina continue to push forward when they have the ball.
'25: Bosnia-Herzegovina have had some dangerous free kicks just yards outside the 18, but have yet to get a clear chance off of one of their set pieces. With Edin Dzeko in the box, though, an opportunity could be coming.
'23: As he does with Manchester City, right back Pablo Zabaleta made a nice run down the flank, but was stopped by the Bosnian back line. Zabaleta can be dangerous on the counter-attack, though.
'20: Lionel Messi has been involved in plenty of attacking forays in the opening 20 minutes, but Bosnia-Herzegovina is obviously aware of his danger. They constantly have at least two defenders ready to pounce on him, especially when he switches to his favored left foot.
'14: Bosnia-Herzegovina have looked threatening the past couple minutes, including a free kick by Miralem Pjanic from about 25 yards out, but Argentina were able to clear effectively. 
Sead Kolasinac has scored the fastest own goal in #WorldCup history (3').

— Paul Carr (@PCarrESPN) June 15, 2014 
GOAL GIF: via (@myregularface)
'3: OWN GOAL! Sead Kolasinac hits the ball into his own net, and Argentina has the always-important early goal.
Starting XI: 
Argentina: Sergio Romero; Ezequiel Garay, Hugo Campagnaro, Pablo Zabaleta, Marcos Rojo, Federico Fernandez; Angelo di Maria, Maxi Rodriguez, Javier Mascherano; Lionel Messi, Sergio Aguero
Bosnia-Herzegovina: Asmir Begovic; Ermin Bicakcic, Emir Spahic, Sead Kolasinac, Mensur Mujdza; Muhamed Besic, Miralem Pjanic, Zvjedan Misimovic, Senad Lulic, Izet Hajrovic; Edin Dzeko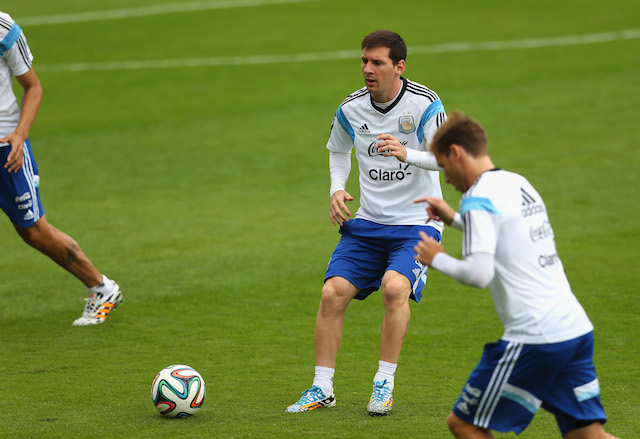 Argentina vs. Bosnia-Herzegovina (Group F) | Kickoff: 6/15, 6 p.m. ET | Stadium: Maracana
Match Preview: Lionel Messi is clearly one of the two best players in the world, depending on your opinion of Cristiano Ronaldo. He will likely go down as one of the best ever to play the game -- but a lot could depend on what happens the next three or four weeks.
You see, Messi has rarely been the Barcelona Messi for Argentina. This is a player who scored 131 goals in two seasons for his club team from 2011-2013 -- but his scoring rate for country isn't close to the same level. He has scored 40 goals in 82 appearances, including a goal-less 2010 World Cup and 2011 Copa America. He can really make a statement this month, as he has the ability to carry Argentina deep into the competition.
It's not just Messi, though. The winners of the CONMEBOL qualifying stage, Argentina is loaded in the attacking positions. Along with Messi, the Albiceleste can trot out strikers Gonzalo Higuain and Sergio Aguero, while Angel Di Maria provides a support role behind the frontline stars. Di Maria showed his versatility this season with Real Madrid, moving from the wing to a more center midfield position -- and he excelled. He will key for Argentina this month. The biggest question for Argentina is the defense. Goalkeeper Sergio Romero was Monaco's backup, and the center backs sometimes leave something to be desired.
That could be an area that Bosnia-Herzegovina exploits. They won their UEFA qualifying group over Greece via goal differential, scoring an eye-opening 30 goals in 10 games. Manchester City target man Edin Dzeko led the way with 10 goals in qualifying, and also had his best club season yet, scoring 26 goals in all competitions for the Premier League champions. With that said, they did adjust their mindset in the friendlies prior to the World Cup, moving to more defensive-minded tactics. Will Vedad Ibisevic start next to Dzeko, or will he be removed for a defensive midfielder? He did score 15 goals for Stuttgart, so he's an excellent second option. Roma midfielder Miralem Pjanic is an effective playmaker, and Premier League fans will be aware of goalkeeper Asmir Begovic, who plays his club ball with Stoke City.
This should be an exciting, offensive-minded contest. Both countries have plenty of attacking firepower, even if Bosnia-Herzegovina pumped the brakes a little bit in recent matches. Argentina is one of the favorites to win the World Cup, while Bosnia-Herzegovina is talented enough to advance out of the group stage.
More World Cup: Scoreboard | Schedule | Group Standings | U.S. Team news

The city of Samara's stadium, set to be used for the 2018 World Cup, has seen its construction...

Norway beat World Cup debutants Thailand 4-0 before a historic rout by Germany over Ivory Coast...

He'll be suspended for Friday's game against Iowa.
The World Cup was 'amazing,' but Seattle Sounders teammates Clint Dempsey and DeAndre Yedlin...

A painting in Brazil depicts the Dutchman's amazing goal against Spain.

German midfielder Cristoph Kramer has become the face of the ongoing concussion crisis after...