2014 FIFA World Cup: Bedoya gifts teammates message of motivation
Despite Tuesday's loss to Belgium, US midfielder Alejandro Bedoya had a message of motivation for his teammates.
by

CBS Sports Staff

• 1 min read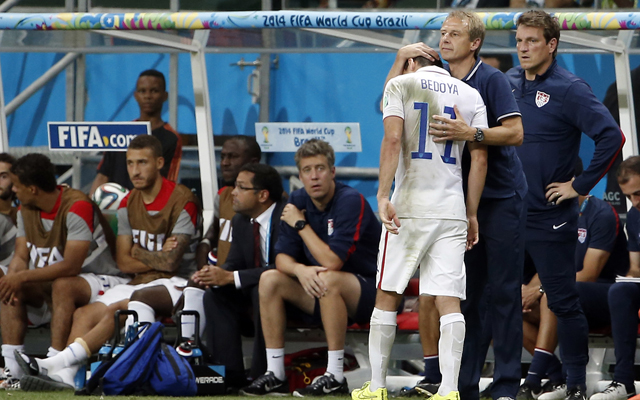 More WC: Tim Howard's historic effort | Belgium bounces US 2-1 in extra time
Despite the U.S. bowing out of the 2014 FIFA World Cup with a 2-1 extra-time loss to Belgium on Tuesday, there have been many positives to draw from the defeat and the overall experience in Brazil.
American goalkeeper Tim Howard's brilliant effort against Belgium made him an instant hero to the masses. The U.S. escaped the infamous "Group of Death" ahead of the likes of Ronaldo's Portugal and nemesis Ghana. And youth was served with young players like DeAndre Yedlin and Julian Green making an impact and giving U.S. Soccer a real glimmer of hope for what's ahead.
So it was fitting that US midfielder Alejandro Bedoya gave each one of his teammates a gift with an engraved message of motivation following the Belgium game that read 'Brazil Was Just the Beginning, Keep Walking' to each player.
The gift? Fittingly, a bottle of Johnnie Walker Blue Label -- a pretty pricey gesture.
"I wanted to do something to commemorate the occasion, because win or lose making it to the World Cup, especially to the Round of 16, is an epic achievement," said Bedoya.
We can't change the past, but we can take a moment to reflect on this experience and use it to drive us forward. What we decide to next, whether it's on or off the playing field, that's where all of our potential lies. I am inspired to keep walking down the road ahead."
What's ahead, after Brazil, certainly looks bright for U.S. Soccer.
The city of Samara's stadium, set to be used for the 2018 World Cup, has seen its construction...

Norway beat World Cup debutants Thailand 4-0 before a historic rout by Germany over Ivory Coast...

He'll be suspended for Friday's game against Iowa.
The World Cup was 'amazing,' but Seattle Sounders teammates Clint Dempsey and DeAndre Yedlin...

A painting in Brazil depicts the Dutchman's amazing goal against Spain.

German midfielder Cristoph Kramer has become the face of the ongoing concussion crisis after...