2014 FIFA World Cup: Bosnia-Herzegovina eliminate Iran, 3-1
FIFA World Cup 2014: Iran vs. Bosnia-Herzegovina preview, live commentary and recap.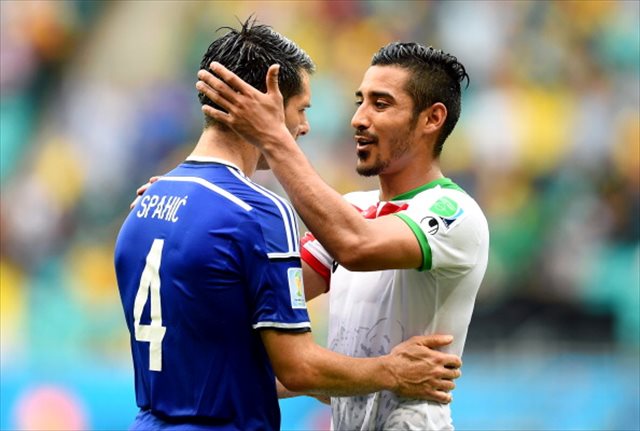 Iran vs. Bosnia-Herzegovina: Matchtracker | World Cup Scoreboard
Iran went into its final Group F match against Bosnia-Herzegovina knowing it had to score goals -- and win -- to pip Nigeria for second in the group and advance to the Round of 16. But as their opponents proved, scoring's easier said than done if you don't have talents like Edin Dzeko and Miralem Pjanic.
Bosnia's stars each landed on the scoresheet, Manchester City striker Dzeko burying a low shot in the 22nd minute and Roma playmaker Pjanic capitalizing on an Iranian mistake in the 59th, pacing the Dragons to a comprehensive 3-1 victory. The win was Bosnia-Herzegovina's first-ever in the World Cup finals.
Bosnia finished the tournament with three points, good for third in Group F, while Iran finishes fourth with the single point earned in its opening 0-0 draw with Nigeria.
Reza Ghoochannejhad brought Iran within 2-1 in the 82nd minute, converting a low Javad Nekounam cross to ensure Team Melli would not be the only team eliminated from the tournament without scoring a goal. But a swift Bosnian counterattack led to Avdija Vrsajevic's fine finish only a minute later, putting the result beyond doubt.
Despite Iran being the team with the greater motivation -- Bosnia had already been eliminated, while an Iranian victory combined with a Nigeria loss vs. Argentina could have seen them through -- star winger Ashkan Dejagah was kept quiet as Bosnia enjoyed by far the better of play and greater number of chances. The Dragons exit as perhaps the most unlucky team in the tournament, having scored an unfortunate own goal in the opening minutes of its 2-1 loss to Argentina and seeing a first-half Dzeko goal in the 1-0 loss to Nigeria wrongly disallowed for offsides.
The good news is that with Dzeko, Pjanic and other major contributors like midfielder Tino-Sven Susic all young enough to continue with the national side, it's not difficult to see Bosnia returning for another shot in 2018.
For the full text of CBSSports.com's live commentary of the match, see below:
*************
FULLTIME: Bosnia-Herzegovina 3, Iran 1. Like the proverbial car stuck in second gear, the Iranians just couldn't effectively shift from their ultra-defensive approach in their first two games into the attacking mindset needed Wednesday. But take nothing away from Bosnia: the Dragons scored three well-worked goals and were fully deserving of the 3-1 victory.
Bosnia will go home happy to leave with the nation's first-ever World Cup win, but also depart tagged as possibly the most unlucky team in the tournament -- and no doubt nagged by the thought of what might have been without the calls that went against them vs. Nigeria.
90' -- Three minutes of stoppage.
88' -- All right, so -- it hasn't always been riveting viewing, but if you want a measure of how exceptional this World Cup has been, you can't do better than that this match has produced four goals. And it's actually opened up now, at the death, as Iran finally 1. tire 2. loosen up.
84' -- First, credit to Iranian captain Javad Nekounam, who stayed just onside when a cleared corner kick was lofted back into the box, then delivered a pinpoint low cross for the easiest goal Ghoochannejhad will ever score.
But Vrsajevic comes right back and fires across Haghighi from a difficult angle and in off the post. Excellent finish.
83' -- GOOOOAALLLL Bosnia! Well, that brief moment of competitiveness didn't last long. 
82' -- JINX! GOOOOOAALLLL Iran! Ghoochannejhad taps home!
79' -- Shot of Quieroz gesticulating intensely along the sideline. Seems a bit late for all of that, Carlos. By the by: not to continue harping on it, but Iran are 10 minutes away from becoming the only team to be eliminated without scoring at this World Cup.
76' -- ESPN's color commentator just compared the state of the match to a Sunday afternoon "knockabout" at the park, which, yeah, isn't much of an exaggeration. Actually, depending on the players involved the knockabout, we might rather watch that.
68' -- And Quieroz subs off Dejagah for Karim Ansarifard. Unless Dejagah is injured, taking off your most talented attacker when you're 20 minutes away from World Cup elimination and need three goals seems ... let's be nice and call it "defeatist."
65' -- Yeaaaahhh, that sort of sums it up for Iran: they make a series of sharp passes to transition from defense to offense, Dejagah finding Alireza Jahanbakhsh just outside the box ... and his cross-slash-shot is depressingly weak. Hard to imagine them finding a way through. 
61' -- As the Ivory Coast learend the hard way as well: it doesn't matter how good your defensive shape if you give the ball away in your final third. A nice finish by Pjanic low past Haghighi, but ah, the deliciouly bitters irony: he appeared to be offsides by the narrowest of margins.
Bosnia will trade anything you like to have that call back and the correct one made against Nigeria. Tea? Gold? Immortal souls? All yours.
60' -- Mistake at the back and it's a Bosnia GOOOOAAAALLLLLLL!!! Pjanic! Good-bye, Iran.
58' -- Dejagah is caught offsides a couple of times over the past few minutes after working his way into dangerous positions. He could stand to be a little bit more precise with his positioning, but Bosnia also have to do a little bit better job of tracking him -- it remains difficult to see where an Iranian goal will come from if not from him.
54' -- Iran have flung a couple of set-piece balls into the box, but the Bosnian defense -- with Dzeko tracking back as well -- is far, far taller than the Iranian attackers and have dealt with them easily. An attack along the ground that springs substitute Heydari for a low cross (and earns a corner) proved far more productive.
50' -- As soon as Iran gain possession, they boot it forward -- mostly aimlessly -- and it's easily recovered by the Bosnian defense. Credit to Spahic and co. back there, but after Nigeria and Argentina combine for two more goals in the first five minutes,  I'm just going to start liveblogging that match instead.
46' -- Second half kicks off with Dejagah getting caught offside and immediately lapses into Bosnian kickabout at the back as Iran keep 11 men behind the ball. WE HAD SUCH HOPES FOR YOU, IRAN-BOSNIA MATCH. (No, we didn't. Our hopes were modest. They remain unfulfilled nonetheless.) 
HALFTIME: A look at Dzeko's goal:
HALFTIME: Somewhat unsurprisingly, Dzeko's goal is the only score of the first half, leaving Iran needing two goals to keep their Round of 16 hopes alive. The good news for Team Melli is that Argentina have another goal via Leo Messi and that if they can find those two goals, they can still advance.
The bad news is that they're never going to find them if Ashkan Dejagah doesn't play a prominent role, and he's been conspicuous by his absence thus far.
43' -- Vrsajevic is put through clean on goal by a brilliant Misimovic pass, but fires wide. Even amid general boredom of last 15 minutes, Bosnia has looked more likely to go up 2-0 than Iran has been to equalizing. Meaning that if you're Nigeria, you might want to think about being a bit less cautious and going for a win vs. Argentina -- which would hand them top spot in the group and let them miss France in the Round of 16.
37' -- Wish we could say otherwise, but there's just not much happening.
32' -- Once again Iran have a great chance that's mostly great because the player involved was offsides. At least this time Asmir Begovic had to make a save that didn't count rather than just watching a terrible miss that didn't count. 
28' -- That was a fine response from Iran, but they still have a long, long ladder to climb. Not only have they not scored any goals so far this tournament -- and now need at least two to have any shot at survival -- but their coach, Carlos Quieroz, is riding a personal 480-minute scoreless streak against teams other than North Korea that dates back to his 2010 tenure with Portgual. (See the match preview below for more.)
26' -- IRAN HITS THE CROSSBAR. Masoud Shojaei makes some space for himself in the box and unleashes a nice shot from 15 yards or so. Reza Ghoochannejhad is WIDE OPEN on the rebound and would have been guilty of one of the misses of the tournament -- if he hadn't been offsides.
24' -- GOOOOOOAAAALLLLL Bosnia! Edin Dzeko finds a pocket of space just above the penalty area and buries a low shot into the corner past Haghighi.
22' -- Bosnia with a spell of pressure, and Iran break on the counter ... with all of four players against seven defenders. Why are you even here, Iran?
17' -- Captain Emir Spahic has had a fairly lousy tournament in the Bosnia defense, but had a nice block there to disrupt an Iranian attack. They'll need more of that from him.
13' -- Bosnia win a free kick juuuuuust outside the penalty area, but Pjanic blasts it into the Iranian wall. Bosnia have been terribly unlucky in their two matches -- viz. their bounce-of-the-ball own goal vs. Argentina and brilliant team goal vs. Nigeria disallowed for a nonexistent offsides -- but there's also no way to say they've been sharp in the final third.
9' -- Aaaaand after that half-chance, Iran have apparently decided that if Bosnia's going to actually try and attack, they'll be fine sitting back and countering -- ineptly, so far -- as usual. In the meantime, Dzeko gets a header on goal, but there's no power behind it and it's saved.
3' -- And hey, there's Dzeko popping up in the box with a tight-angled shot that's deflected over by goalkeeper Alireza Haghighi. Could we be in store for some actual, you know, excitement in this match?
1' -- Iran touches the ball in the box only 80 seconds in, equaling their number of touches inthe box from their first two matches. That's only a slight exaggeration, which is why this game could prove interesting -- can the defense-first Iranians both attack with any real meance and maintain their defensive shape against the likes of Edin Dzeko and Miralem Pjanic? See pur preview below for more.
Pregame: Lineups, with no changes for Iran despite their need to win to advance out of the group:
#IRN LINE-UP: Haghighi, Haji Safi, Hosseini, Sadeghi, Nekounam (c), Shojaei, Timotian, Montarezi, Ghoochannejad, Dejagah, Pooladi #BIHIRN

— FIFAWorldCup (@FIFAWorldCup) June 25, 2014
#BIH LINE-UP: Begovic, Vrsajevic, Spahic (c), Kolasinac, Besic, Pjanic, Ibisevic, Dzeko, Susic, Sunjic, Hadzic #BIHIRN #WorldCup #joinin

— FIFAWorldCup (@FIFAWorldCup) June 25, 2014
More World Cup: Scoreboard | Schedule | Group Standings | U.S. Team news

Luka Modric brought a fan with down syndrome onto the stage when he heard he was a fan as...

Belgium jumps England and France stays at No. 1 after winning its first World Cup in 20 ye...

The 27-year-old forward has had a fantastic Cup thus far
Here is what France's badge looks like with a second star following its second World Cup w...

France captures its second World Cup title after defeating Croatia 4-2 in the final

France received the Wold Cup trophy under the rain in Moscow and had some fun with it