2014 FIFA World Cup: Chile holds off Australia to win 3-1
FIFA World Cup 2014: Australia vs. Chile preview, live commentary and recap.
by

CBS Sports Staff

• 10 min read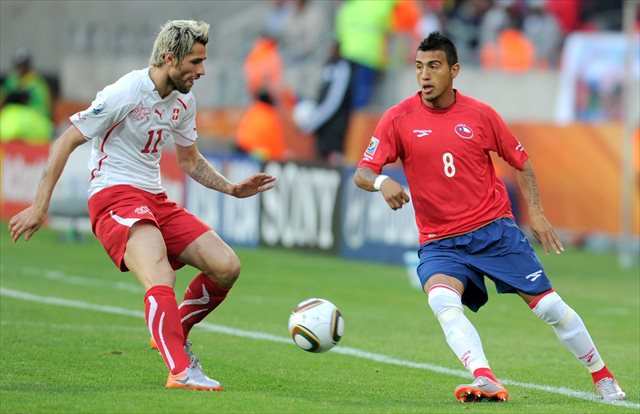 Chile 3 - Australia 1
[Sanchez, 12', Valdivia, 14', Beausejour, 90+2 - Cahill 35']
FINAL -- Chile gets the three points by defeating Australia 3-1. The match was much closer than the score indicates, but Chile won't complain.
92' GOAL CHILE -- And it's all academic anyway. Remember when I said Beausejour was going to have an impact on this match? Well guess who just scored. Yep. 3-1 Chile.
91' -- I'm impressed by the way Australia has hung on here, but it just looks so tired right now. I don't think it has the equalizer in it.
90' -- There will be four minutes of extra time.
87' SUBSTITUTION -- Chile replaces Eduardo Vargas with Mauricio Pinilla.
85' YELLOW CARD -- The first booking for Chile tonight is a yellow for Aranguiz. In other news, you don't expect a person whose last name is Aranguiz to have the first name Charles.
84' -- Halloran takes a long shot after a nice run, but he probably could have continued the run a bit longer and found a better chance for himself. Can't afford to make those mistakes with so little time left.
83' -- Chile seems a lot less interested in adding to its tally than wasting as much time as possible right now. Lot of long balls to nowhere in particular.
79' -- Beausejour has been a positive addition for Chile tonight, but his energy and crosses haven't had definitive results. I have a feeling they might soon enough.
78' SUBSTITUTION -- Australia replaces Bresciano with Troisi. Just over 10 minutes to go, the Socceroos have to press forward.
76' - We're now 30 minutes into the second half, and Australia has looked to be the better team in the second half. Whether or not that will result in it getting any points out of this match remains to be seen.
74' -- Everybody on Chile seems to want credit for the assist rather than the goal right now.
70' -- Cahill gets his head on another cross in the box but it's just above the crossbar. Chile's lack of size on the back line is proving to be a very real problem.
68' SUBSTITUTIONS -- Valdivia comes off and he's replaced by BEausejour for Chile, while Australia takes Oar off for Halloran. 
67' -- A few minutes later Leckie finds himself on a counter one on one, gets to the box, gets some space and then....nothing. Loses the ball.
65' -- Australia's Leckie gets his head on a cross but the result is a ball flying about 10 feet too high, and a couple feet wide of the net. Australia is getting plenty of chances, though, just needs to capitalize on one of them.
62' -- Wow, maybe the save of the night for Australia comes from a centerback, as Wilkinson does an excellent job of clearing the ball off the goal line just before it could cross. Would have been a devastaing blow to the Aussies.
Wilkinson's clearance off the line. Goal-line technology shows that indeed it was not a goal #CHIvsAUS pic.twitter.com/5D4oAroNA2

— ESPN FC (@ESPNFC) June 13, 2014
60' SUBSTITUTION - Chile's Felipe Guterrez comes on in relief of Arturo Vidal. Vidal looked tired, which isn't surprising seeing that he had knee surgery a month ago. Still, taking him out could slow down Chile's attack quite a bit.
57' -- Another fantastic chance for Australia, but Bravo comes up with a huge save with his face on Bresciano's attempt. Hey, whatever works, right? The ensuing corner doesn't lead to anything, either.
53' -- And things just got interesting again, as Tim Cahill puts a cross into the back of the net BUT he was offside, so no goal. Clearly offside, too. No controversy here.
52' -- I just want to say that Chile's centerbacks leave a little something to be desired. Maybe it's due to the aggressive nature the Chileans utilize, but any time the Australians get the ball near Chile's box things get interesting.
51' -- First five minutes of the second half looked a lot like the first five minutes of the first with Chile controlling play, but Australia finally gets on the counter and has a nice chance but a cross into the box doesn't find a head to call home.
49' SUBSTITUTION -- Franjic is indeed out, and he's been replaced by McGowan.
49' -- Australia's Franjic is on the sideline with trainers looking at him. I'm no doctor, but it looks to be a hamstring issue. We'll see if he comes back in or needs to be subbed out.
47' -- Tim Cahill has popped his collar. That means things are about to get real, you guys.
46' -- The second half is underway.
7:01 p.m. ET -- The teams are making their way back out onto the pitch for the second half. Hopefully it'll be an exciting finish.
HALFTIME -- Chile looked like it was going to run away with this one early, but give Australia credit, it's worked its way back into this match and we could have a very interesting final 45 minutes.
45+2' -- Nicely designed free kick for the Chileans, but nothing comes of it.
45+1' -- Chile gets its own free kick not too far outside the box. Probably the last real action of the half.
44' -- Australia wins a free kick in a dangerous spot but makes a mess of it. Tim Cahill did manage to get a yellow card in the process, though. If he gets an assist sometime tonight that's almost the soccer version of a Gordie Howe Hat Trick.
43' -- In case you wondered how Australians celebrated goals, they celebrate exactly how you'd expect them to.
40' -- Not surprisingly, Chile's shown a bit more pep in its step since the Australia goal. The build-up has been there, but the finish is still missing.
35' GOAL AUSTRALIA -- What was that I was saying about possession? WHO CARES? Tim Cahill heads a cross into the back of the net on a lovely cross from the right side. The Socceroos aren't out of this one yet. 2-1 Chile.
34' -- According to Chile's official Twitter account, Chile is dominating possession 74% to 26% so far in this match.
33' -- Some pressure from the Chileans results in a corner, but nothing comes of it as Australia clears the cross easily.
31' -- Chile needs to be careful. Yes, it has the two-goal lead, but it's relaxed a bit as of late. Need to keep the pressure on, because Australia has the ability to strike back, and even if it doesn't, goal differential could prove to be huge in this group.
27' -- You know, this kind of happened, but I'm just going to say that the Socceroos' account makes things sound a bit more exciting than they are and leave it at that.
26' #Leckie burst into the box! But his cross is way overhit. CHI 2 AUS 0. LIVE NOW: http://t.co/xbyVfOpoPp #CHIAUS #GoSocceroos

— #GoSocceroos (@Socceroos) June 13, 2014
26' -- It's been over 10 minutes since Chile last scored, but Alexis Sanchez just juked an Aussie defender so bad it should have probably counted as a goal.
19' -- The Aussies just got their best chance of the match so far, but unfortunately Oar's attempt was just wide.
17' -- The good news for Australia is that it's never looked more like Spain than it does right now. 
14' -- GOAL CHILE: Wow, things have opened up really quickly now. Eduardo Valdivia receives a pass at the top of the box all by himself, puts a nice touch on it, fires, and scores. It's 2-0 Chile.
12'- GOAL CHILE: I told you we'd get some excitement, as Alexis Sanchez finds himself with the ball right in front of the net and buries it for the 1-0 lead.
11' -- Both teams still seem to be feeling the other out a bit, but Australia is finding itself on the ball more often. Still hasn't been any real moment of excitement, though. I fully expect that to change soon enough.
8' -- You probably don't want to mess with this Chilean fan.
PHOTO This Chile fan clearly means business... #CHIAUS pic.twitter.com/3E4XXlJWNn

— FourFourTwo (@FourFourTwo) June 13, 2014
6' -- Not surprisingly Chile is controlling the play early, dominating the ball. No real chances as of yet, though. 
2' -- My official prediction is Chile will come away with the win, with the only question being how many goals will be scored. Chile's attacking style leads to a lot of chances, but not as many goals as you'd expect. Meanwhile, it also leaves their back end upen, which means Australia will get its own chances too.
1'-- And we've begun. Chile dons the red tops while the Australians are in yellow. I'm your narrator, Tom Fornelli, and I'm currently wearing a black t-shirt and jeans.
---------
Pregame:
5:50 p.m. ET: This game should be interesting on its own with Chile's seemingly never-ending attack and Australia's ability to counter, but after Spain got dropped by the Dutch 5-1, it makes this one all the more important. It'd be nice for either team to claim a three-point lead on Spain before having to play it. 
Your starting lineups for Chile and Australia tonight in Recife.
Chile
Goalkeeper: Bravo (C)
Defenders: Isla, Medel, Jara, Mena
Midfielders: Aranguiz, Diaz, Vidal
Forwards: Vargas, Valdivia, Sanchez
Australia 
Goalkeeper: Ryan
Defenders: Franjic, Davidson, Spiranovic, Wilkinson
Midfielders: Milligan, Oar, Jedinak (C), Bresciano, Leckie
Forwards: Cahill
---------
Match Preview: Put it this way: the opening game of the World Cup is going to be vital for any team*. But if your next two games are against Spain and the Netherlands, yeah, "vital" doesn't even start to cover it.
Given that only one of these teams is given any shot at surviving group play, though, it's Chile that's dealing the greater level of pressure. The "Socceroos" haven't been able to entirely rebuild their roster from its mid-Aughts peak, when Premier League stars like Harry Kewell and Mark Viduka took them into the Round of 16, and group advancement could easily come down to which of the Spainish, Dutch or Chileans rack up the best goal differential against the Aussies.
So it's a safe bet Chile will come out looking to attack. Of course, the nice thing for the World Cup's many neutral viewers is that it was a safe bet anyway. Led by Serie A champion Juventus's magisterial midfielder Arturo Vidal, Chile is expected to press high up the field, attack quickly once they win the ball, and provide strikers like Barcelona's Alexis Sanchez with ample support from the wings and midfield. Boring it ain't.
But there are problems, starting with the fact that Vidal is expected to play but might be limited after a recent knee surgery. Chile's aggressiveness can, naturally, lead to countrattacking opportunities for their opponents. And despite the quality of Sanchez and fellow striker Eduardo Vargas of Valencia, Chile has a nasty habit of dominating play (and the shot tally) without it translating into goals. For an example, look no further than Chile's opener at the last World Cup, where they overwhelmed another lightweight opponent -- Honduras -- only to spurn chance after chance after chance and win only 1-0.
The good news for Chile is that on paper, Australia isn't equipped to take advantage of those issues; the current Aussie roster is light on both international experience and top-level talent. But rough-and-tumble midfielder Mile Jedinak is coming off an excellent season for the Preimer League's Crystal Palace, and striker Tim Cahill is a constant threat on crosses and set pieces. Given Chile's lack of height in defense, Cahill will salivating any time his side earns a free kick in the final third.
But that's one clear advantage for the Aussies, and many, many more for a motivated Chile team playing on its home continent. Expect a two- or three-goal win for the South Americans.
*Based on 2010, may not apply to Spain.
More World Cup: Scoreboard | Schedule | Group Standings | U.S. Team news

The city of Samara's stadium, set to be used for the 2018 World Cup, has seen its construction...

Norway beat World Cup debutants Thailand 4-0 before a historic rout by Germany over Ivory Coast...

He'll be suspended for Friday's game against Iowa.
The World Cup was 'amazing,' but Seattle Sounders teammates Clint Dempsey and DeAndre Yedlin...

A painting in Brazil depicts the Dutchman's amazing goal against Spain.

German midfielder Cristoph Kramer has become the face of the ongoing concussion crisis after...