2014 FIFA World Cup Final: player ratings for Germany 1, Argentina 0
Germany won its first trophy since 1996 and first World Cup since 1990 with the hardest of hard-fought victories over Argentina. Here's CBSSports.com's player ratings for the match.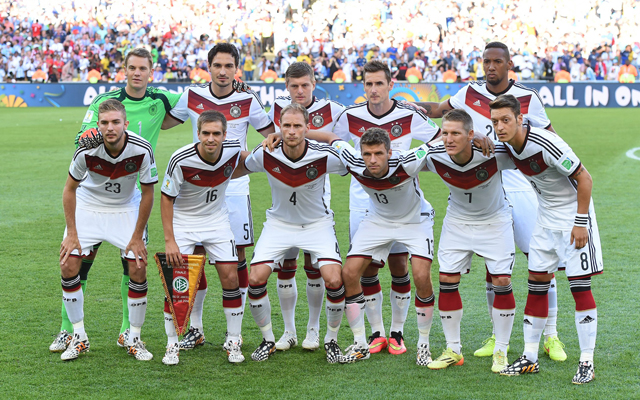 The 2014 World Cup final was billed as the world's best player against the world's best team, the supernatural Lionel Messi vs. the collective freight-train might of Germany.
That wasn't quite correct; Javier Mascherano's imperial performance in Argentina's defensive midfield ensured the match was played at least 2-on-11 rather than 1-on-11. But ultimately, the narrative wasn't quite wrong, either. If Gonzalo Higuain or Rodrigo Palacio played up to half of the standard set by their teammate through the tournament's first six matches, it's Argentina that's celebrating into the weeest of hours this Sunday night.
Instead Germany brought Andreas Schurrle and Mario Gotze off the bench, and after 113 minutes, the better team did trump even the best efforts of the better player.
CBSSports.com's player ratings for the match:
STARTING 11s
Germany
GK Manuel Neuer, 6. As always, the impossibly athletic Neuer commanded his penalty area with a caliber of aplomb maybe no other keeper in the world can match. But thanks to some wayward Argentina finishing, was also never called upon to make the difficult, game-salvaging save.
LB Benedikt Howedes, 4. Picked up his play at times in the second half, but by that point he had already watched Argentina tear down his flank multiple times and crashed a free point-blank header against the post. The closest Germany came to a weak link.
CB Jerome Boateng, 8, Man of the Match. With Germany's midfield unable to react quickly enough to stem a first-half wave of Argentinean counterattacks, Boateng found himself putting out innumerable fires and making a string of skilled one-on-one tackles, even against the likes of Lionel Messi and Gonzalo Higuain. A dominant performance.
CB Mats Hummels, 6. Not as superb as his central defensive partner, but still cool, composed, and awfully good, particularly in the air.
RB Philipp Lahm, 6. The consummate World Cup-level fullback, Lahm shut down Argentina's attack down its left side and provided a number of dangerous crosses from the German right. Not quite as much end product in the final third as he's shown himself capable of, however.
M Bastian Schweinsteiger, 7. The veteran German workhorse will finally lift a trophy after another titanic box-to-box performance, one that began with a number of incisive forward balls and literally ended with his blood on the field after a Sergio Aguero blow to the face. Germany's best midfielder by some distance.
M Toni Kross, 5. Kroos flashed some of his usual breathtaking quality on the ball, but overall failed to have the level of impact from the Brazil match (or several previous). Early error could have easily gift-wrapped the critical opening goal for Argentina.
M Christoph Kramer, N/A. A last-minute replacement for Sami Khedira, injured during the warm-up, Kramer had just started to find his legs when he was flattened by an Argentine shoulder and subbed off with a head injury shortly thereafter. ("Shortly" in this case still meaning "not quickly enough.")
M Mesut Ozil, 6. Ozil popped up frequently enough to play a handful of his trademark seeing-eye passes, two of which set Kroos up for a pair of terrific shooting opportunities (both of which he badly squandered). But as has been the case throughout the tournament, he also seemed to lose his grip on the game for long stretches.
F Miroslave Klose, 5. The World Cup's all-time leading scorer never got the service he's grown accustomed to during his legendary World Cup career, and wound up outside the box with the ball at his feet -- not exactly his strong suit, to say the least -- far more frequently than he or Germany would have liked.
F Thomas Muller, 6. Same genius off-the-ball movement, same productive link-up play with the midfield ... and as with many Germany players, not quite the same end product in the Argentine penalty area.
Argentina
GK Sergio Romero, 6. Widely derided before the tournament as his team's Achilles heel, Romero wrapped up a sensational World Cup with another rock-solid performance, making every necessary save and even forcing Mario Gotze to convert his chance in difficult far-post fashion. It's far from Romero's fault Gotze pulled it off.
LB Marcos Rojo, 5. Rojo fared as well as could have been expected with the threat of Lahm -- the Germans weren't held scoreless for 113 minutes for no reason -- but if Argentina wanted to have any offensive threat without resorting to the counter, they needed to have some attacking width from their left back, and Rojo didn't provide it.
CB Ezequiel Garay, 7. Another player thought to be a potential weak link in the tournament run-up, Garay scarcely put a foot wrong once the knockout stages began, and was once again a towering presence in the center of Argentina's defense. That neither Klose nor Muller ever came that close to finding the net was down first and foremost to Garay.
CB Martin Demichelis, 6. There wasn't much separating the two members of Argentina's defensive pairing, with the frequent Manchester City punching bag nearly as steady, nearly as effective as Garay. One or two slip-ups when trying to play the ball out of the back were Demichelis's only demerits.
RB Pablo Zabaleta, 6. Zabaleta made several fruitful forays forward, and did nicely in keeping German attacks down his wing to a minimum ... at least until Schurrle wiggled just free enough to deliver the tournament-winning ball to Gotze.
M Javier Mascherano, 8. The best Argentine player on the field, Mascherano shrugged off his semifinal-induced injury issues to deliver a stunning showing, singlehandedly linking the Albiceleste's defense and attack with a a match-long string of accurate passes in possession, then breaking up an equally long string of German attacks in the middle of the field when not in possession. Impossible to ask more of him.
M Enzo Perez, 5. Mascherano's central midfield partner was always going to look vastly less impactful by virtue of comparison ... but he probably didn't have to look that less impactful. Hard to remember any presence in the match before being subbed off in the 87th minute. 
M Lucas Biglia, 6. Biglia had several promising moments in the Argentine counterattack, particularly in the first half -- his contributions played a sizable role in his team ending the first 45 minutes having had easily the better chances. But his influence waned and waned badly as the game progressed.
M Ezequiel Lavezzi, 6. While Biglia caused the Germans first-half issues with his passing and vision, Lazezzi did so with speed and direct running -- two of the things the German backling has struggled with throughout the tournament (though Boateng's perfomance helped alleviate that somewhat). Was surprising to see him substituted for Sergio Aguero at halftime.
F Lionel Messi, 7. Was not the best player in the Maracana Sunday, but it was still easy to see why he's the best player in the world -- the inhuman composure and strength on the ball, the Zidane-quality vision, the Robben-esque burst of speed when needed. If his second-half shot past Neuer had trickled six inches inside the post rather than outside, he'd have taken his place among the world's Peles and Maradonas and Beckenbauers. The good news is that by career's end, he probably will have anyway. 
F Gonzalo Higuain, 4. Missing an opportunity like this in the World Cup final might be forgivable. Missing it in that fashion and being unable to capitalize on another few half-chances seems doubtful.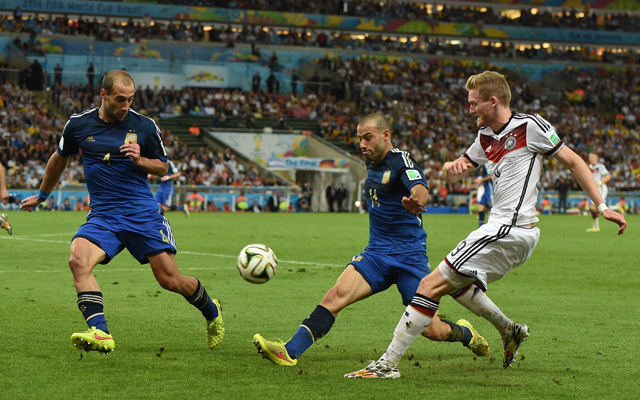 SUBSTITUTES
Germany 
F Andreas Schurrle, 7. Until that play, Schurrle hadn't shown nearly the kind of game-changing skill off the bench he'd displayed against algeria or Brazil, hitting one gilt-edged chance right at Romero and spraying another handful of shots well out of range. But no one will remember any of that now, will they?
M Mario Gotze, 8. So he didn't do much besides, you know, score the most famous goal for his country since at least Oliver Bierhoff's European Championship-winning golden goal in 1996 ... and probably for a good deal further back than that. That it was a sublime, breathtaking bit of skill -- the chest control, the pinpoint finish to the far post -- won't hurt how long his name is sung in the beer halls of Berlin and Munich, either.
D Per Mertesacker, NA. 120th-minute sub wasted a few more precious seconds.
Argentina
F Sergio Aguero, 5. It wasn't that Aguero was poor, it's just that after an entire tournament spent battling injury issues, he just never really seemed to do much at all ... and after Lavezzi's promising first half, he didn't do nearly enough to avoid some second-guessing of Alejandro Sabella's decision.
M Fernando Gago, 5. 86th-minute like-for-like substitute for Perez perfectly extended his predecessor's near-substanceless performance.
F Rodrigo Palacio, 3. Palacio came into the final having already developed a reputation for wasting the good work of Messi and others, and basically cemented that reputation for good by 1. miscontrolling an inch-perfect cross in the opening stages of extra time and failing to get his lobbed shot on frame 2. breaking up multiple other dangerous-looking Argentina attacks with poor touches or decisions. In a word: oof.
We were mere centimeters from losing one of soccer's brightest stars

Former Minister of Sport and Deputy Prime Minister Vitaly Mutko is stepping down

The city of Samara's stadium, set to be used for the 2018 World Cup, has seen its construction...
Norway beat World Cup debutants Thailand 4-0 before a historic rout by Germany over Ivory Coast...

He'll be suspended for Friday's game against Iowa.

The World Cup was 'amazing,' but Seattle Sounders teammates Clint Dempsey and DeAndre Yedlin...