2014 FIFA World Cup: Germany dominates Portugal, 4-0
FIFA World Cup 2014: Portugal vs. Germany preview, live commentary and recap.
• 12 min read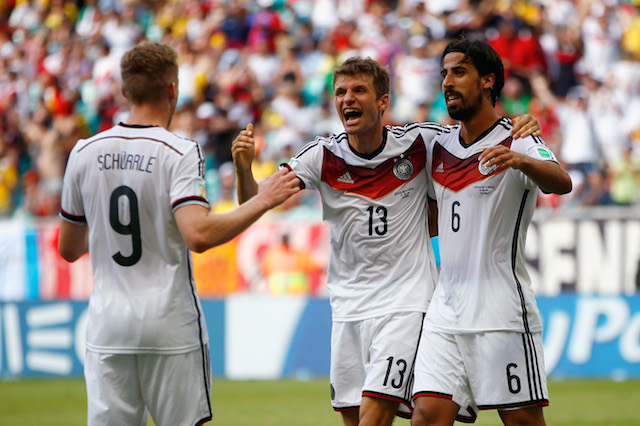 More World Cup: Germany vs. Portugal MatchTracker | Complete schedule
FINAL SCORE: Germany 4, Portugal 0
This was one of the most anticipated battles of the opening round of matches. Germany, one of the favorites to win the World Cup, taking on Portugal, led by perhaps the best player in the world in Ronaldo. "The Superpower versus the Superstar," as ESPN said before the match.
Well, that went out the window very quickly.
Portugal actually looked like the better side for the first 10 minutes or so, getting some chances on the counter with Ronaldo and Nani speeding up the flanks, and the midfielders looking to dispossess Phillipp Lahm and Semi Khedira in the center of the mark. But then Joao Pereira yanked down Mario Gotze inside the box, leading to a penalty call from the referee. Thomas Muller buried it from the spot. 
Germany would follow that up with a headed goal from center back Mats Hummels off a corner kick, giving them a 2-0 lead and taking the wind out of Portugal's sails. It also continued to frustrate Pepe, which boiled over when he was involved in a tussle with Muller later in the half. Muller went down softly after Pepe hit him, and Pepe went over to admonish him, but headbutted him in the process. Pepe was given a straight red card and sent off. Down a man, Portugal was helpless to stop Germany. Muller added on another goal to make it 3-0 heading into halftime.
The second half was more of the same, with Germany controlling possession and looking likely to grab at least one more goal before time ran out. That came in the 78th minute, when Andre Schurrle crossed it from the end-line, and Muller was able to clean up Rui Patricio's deflection to cap his hat-trick.
Germany looked like the World Cup favorite many projected, while Portugal is now in a major hole heading into Sunday's match against the United States. The goal differential is -4, Ronaldo was neutralized and frustrated, Pepe is suspended, while Fabio Coentrao and Hugo Almeida are injured.
FINAL: Germany gets an early goal from the penalty spot, and then it unravels for Portugal. Pepe was sent off, Thomas Muller scored a hat-trick, and Ronaldo was mostly a non-factor after the opening minutes.
90' + 2: Ronaldo had another free kick opportunity from about 30 yards out, but Manuel Neuer was able to parry it away. (GIF via @FlyByKnite)
90': Two minutes of extra time added.
82': Germany sub.
IN: Lukas Podolski
OUT: Thomas Muller
Muller now has eight World Cup goals, and he's only 24. He likely has two World Cups left in his career -- the record is 15, held by Brazil's Ronaldo.
GOAL VINE: (via @TopDrawerSoccer)
78': GOAL! And a hat-trick for Thomas Muller! He knocks in a rebound from inside the six-yard box after Andre Schurrle's cross was knocked away by Rui Patricio.
75': Wild sequence of events. Nani had a go from about 25 yards out, it was parried by Neuer, but Eder won the race to the rebound -- before being taken out. No call. Ronaldo got into the referree's face, before being pushed away. No card. Eder should have earned a penalty, while Ronaldo could have been given a yellow card.
(GIF via @FlyByKnite)
73': Germany sub.
IN: Shkodran Mustafi.
OUT: Mats Hummels.
Hummels looked like he injured his knee going up for a header against Eder. He had to be helped off the pitch.
(GIF via @WorldSoccerTalk)
71': If Coentrao is forced to miss the U.S. match on Sunday, Portugal will have to go to their bench for two defenders -- an area they struggle. Portugal started the same back four in every qualifying match and every match at Euro 2012. They lack depth, but will need at least one replacement for the weekend (for the suspended Pepe). That could bode well for the U.S. 
69': Germany had another chance on the counterattack. Andre Schurrle led the push, then passed it across to Mario Gotze, whose attempt on goal was deflected out of bounds by a sliding Portugal defender. 
65': Portugal sub.
IN: Andre Almeida
OUT: Fabio Coentrao
64': More bad news for Portugal.
Left back Fabio Coentrao pulled up lame after extending for a ball going out of bounds. It looked like a groin injury. He was carted to the locker room.
62' Germany sub.
IN: Andre Schurrle
OUT: Mesut Ozil
60': Set-pieces from Ronaldo still are one of the most anticipated moments in world soccer. He had a chance against Germany, but it hit the wall and went out of bounds. 
58': Ronaldo has mentally checked out. His runs are lethargic, his movement isn't great. Even his take-ons don't have the same aggression they did in the early minutes.
53': Fabio Coentrao looked like he was set to take a pass and move into shooting position, when Nani appeared out of nowhere and took it from him. They're on the same team. Portugal, not on the same page. 
51': Nearly 4-0. Ozil made a terrific run behind the Portugal back line, but Patricio stopped him in the one-on-one break. Thomas Muller's header on the rebound went over the crossbar. 
49': Ronaldo stayed on for the second half, and has moved into a more attacking role, playing alongside Eder up front. Nani has moved into the center, next to Joao Moutinho in the midfield. 
45': Portugal sub.
In: Ricardo Costa
Out: Miguel Veloso
You make the call: Is Meireles giving double birds? At least one looks like an index finger to me, but not sure how much sense that makes.
Not a fan of the red card, apparently. http://t.co/0V5V6by04k (via @markus_gamper) pic.twitter.com/hpJAZKnVqv

— SB Nation (@SBNation) June 16, 2014
HALFTIME: Germany heads into the break with a 3-0 lead.
It's been an absolute disaster for Portugal, which actually looked like the better side for most of the opening minutes. They created early chances for Ronaldo, had opportunities on the counter, and generally looked threatening. Then there was the penalty. And the header. And more missed opportunities. 
And then came the potentially group-changing moment for Pepe. After being involved in a scuffle with Thomas Muller, he went back to seemingly admonish Muller for going down too softly. In the process, he headbutted Muller. Pepe received a red card and was sent off, meaning he will miss Sunday's match against the United States as well. With Germany up a man, they essentially were able to do whatever they wanted, and Muller added another goal to put Germany up 3-0.
This is also great for the United States, should they knock off Ghana today. Portugal's goal differential is going to be horrendous after this one.
GOAL VINE: (via @TopDrawerSoccer)
45' + 1: GOAL! Thomas Muller denies a clearance from Bruno Alves, then beats Rui Patricio.
37': RED CARD! Pepe is sent off after headbutting Thomas Muller. He will miss the U.S. game on Sunday as well. 
RED CARD! Pepe is tossed out after headbutting Thomas Muller. He will miss the match against the #USMNT pic.twitter.com/tuhfqRP8St

— ESPN FC (@ESPNFC) June 16, 2014
36': Two chances for Portugal. Fabio Coentrao received a pass just outside the six-yard box, but no one made a run for him and it went out for a corner. Eder headed the ensuing cross over the net.
35': Nani was on the break again, and had a chance to either go one-on-one with his defender or put in a dangerous cross to Ronaldo. Instead, he laid it across the 18 too softly, and it didn't reach Ronaldo.
GOAL VINE: (via @TopDrawerSoccer)
32': GOAL! Mats Hummels buries a header into the back of the net off of Germany's ensuing corner.
31': It was nearly 2-0. Ozil gets in behind the Portugal defense, then lays it off for a charging Mario Gotze, but Joao Pereira slid in and forced Gotze's attempt wide. 
28': Portugal sub.
IN: Eder
OUT: Hugo Almeida
Helder Postiga had been a consistent starter for Portugal at Euro 2012, and was expected to be the starting striker again in Brazil. But Almeida got the start, and Postiga doesn't even get the nod as a sub.
25': Nani nearly tied the match with an impressive strike from 20 yards out. It looked like he might have had Neuer beat, but it went over the crossbar. (GIF via @FlyByKnite)
22': Cynical foul by Joao Moutinho on Lahm to stop a Germany counterattack. Avoided a booking, though.
19': The match has settled down a little bit after the early going, which saw several chances and of course, the penalty and goal. Lahm got dispossessed again, this time by Nani, which nearly saw Portugal have a 2-on-1 break, but it was brought back for a foul.
Germany's attacking band is moving around very effectively, constantly switching positions and spots on the field. It makes it more difficult for Portugal to mark.
And here was the foul: (via @FlyByKnite)
GOAL VINE: (via @TopDrawerSoccer)
12': GOAL! Thomas Muller buries it from the spot!
11': Penalty for Germany! Joao Pereira yanks down Mario Gotze in the box. He received a yellow card for his foul.
8': Semi Khedira nearly put Germany up 1-0 after a terrible clearance from Rui Patricio. The clearance went right to Khedira, who one-timed it toward an empty net, but it bounced wide. That should have been an easy goal for Germany.
8': Another chance for Ronaldo, this one parried away by Neuer. Veloso dispossessed Phillipp Lahm, then laid it off for Ronaldo.
6': Ronaldo's first shot went sailing into the stands from about 30 yards out. 
5': Ronaldo on the counterattack already proving to be an issue for Germany. Boateng was too far up the pitch, and Ronaldo pushed forward, passing it to Hugo Almeida, who kicked it softly right at Manuel Neuer. 
2': Germany with an early threat. Boateng made a run down the right flank and crossed it in, before Pepe cleared it out. An ensuing corner kick produced nothing for Germany.
STARTING XI:
Germany: Manuel Neuer; Jerome Boateng, Per Mertesacker, Mats Hummels, Benedikt Howedes; Phillipp Lahm, Semi Khedira; Toni Kroos, Mesut Ozil, Mario Gotze; Thomas Muller
This is an interesting lineup for Germany. Phillipp Lahm is in a holding midfielder role, meaning Benedikt Howedes will play out left as Jerome Boateng moves from center back to right back. Boateng will have plenty of responsibilities dealing with Ronaldo. Meanwhile, Bastian Schweinsteiger starts on the bench with Semi Khedira getting the nod. Thomas Muller will apparently play in the striker role, with three No. 10-types lining up behind him. 
Portugal: Rui Patricio; Joao Pereira, Bruno Alves, Pepe, Fabio Coentrao; Miguel Veloso, Raul Meireles, Joao Moutinho; Cristiano Ronaldo, Nani, Hugo Almeida
This is a similar lineup to what you've seen from Portugal the last few years. The only questions were whether young midfielder William Carvalho would start -- but it looks like veteran Miguel Veloso got the nod. Moreover, Helder Postiga starts on the bench at the striker position, with Portugal instead opting for size with Hugo Almeida. Ronaldo has been dealing with some injury issues, but he is of course starting out wide on the left.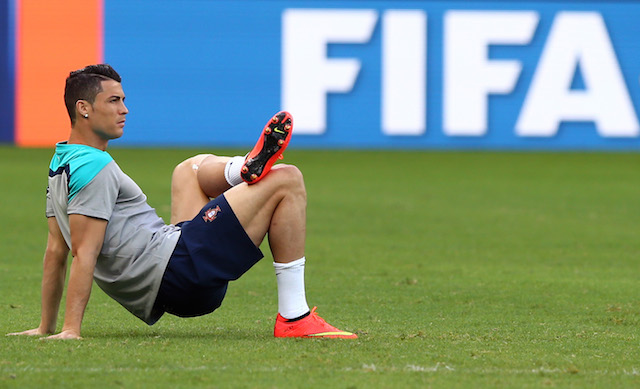 Portugal vs. Germany (Group G) | Kickoff: 6/17, 12 p.m. ET | Stadium: Fonte Nova
Match Preview: While most eyes in America will be on the United States vs. Ghana match, the "other" game in Group G is arguably the most anticipated battle in the opening days.
Germany and Portugal are both ranked among the top five in the FIFA rankings, and both have the potential to make runs in the World Cup -- similar to the way both teams reached the semifinals in the 2012 European Championships. 
Portugal can be a hard team to predict, even if they're not a hard team to envision tactically. They needed a playoff win against Sweden just to reach the World Cup, with Cristiano Ronaldo's second-leg hat-trick cementing the aggregate win. They only lost one game in qualifying, but they drew against Israel on two occasions and generally played down to the level of their competition. That won't be an issue against Germany.
The biggest issue for Portugal the past few weeks has been the health of world superstar Ronaldo. He has been dealing with tendonitis and a thigh issue, and is not likely to be at 100 percent against Germany. Moreover, veterans Pepe and Raul Meireles have missed some training due to recent injuries. This is an aging squad, with all 11 of the qualifying starters at least 26 years of age -- and five of them at least 30. Portugal rise and fall with Ronaldo. He has the ability to carry them to wins, but they also lack the firepower to overcome a subpar performance. The lack of a striker has been an issue for years, and Nani's poor form with Manchester United is well-documented. The midfield duo of Joao Moutinho and William Carvalho is another highlight of the starting XI. 
On the other side, Germany is dealing with plenty of injuries. Marco Reus will miss the tournament with an ankle injury, while Ilkay Gundogan (back) and Holger Badstuber (knee) have had long injury recoveries and are also out. Goalkeeper Manuel Neuer is one of the best in the world, but he was held out of friendlies with a shoulder injury. He will play. Midfielder Bastian Schweinsteiger was airlifted to a hospital on Saturday to have a scan on a knee injury he suffered last month, but he too is expected to be fit. 
At full strength, Germany is one of the favorites to win the entire tournament. They were one of the most dominant sides in qualifying, winning nine games and drawing one, scoring 36 goals in 10 matches. They have myriad options in attack, as veterans Mesut Ozil, Thomas Muller and Lukas Podolski combine with youngsters Mario Gotze, Andre Schurrle and Julian Draxler. Toni Kroos is a playmaker from the center midfield, and another threat that Portugal will need to worry about. The key matchup in this one could be Phillipe Lahm matching up against Ronaldo. Lahm is one of the best fullbacks in the world, but he also played as a holding midfielder during the club season for Bayern Munich. With Germany lacking other fullback options, Lahm likely needs to neutralize Ronaldo.
These are two of the best teams in the world, with Germany among the World Cup favorites and Portugal having arguably one of the best players in the world in Ronaldo. This will be a match to watch.
More World Cup: Scoreboard | Schedule | Group Standings | U.S. Team news

We were mere centimeters from losing one of soccer's brightest stars

Former Minister of Sport and Deputy Prime Minister Vitaly Mutko is stepping down

The city of Samara's stadium, set to be used for the 2018 World Cup, has seen its construction...
Norway beat World Cup debutants Thailand 4-0 before a historic rout by Germany over Ivory Coast...

He'll be suspended for Friday's game against Iowa.

The World Cup was 'amazing,' but Seattle Sounders teammates Clint Dempsey and DeAndre Yedlin...