2014 FIFA World Cup: Germany shocks Brazil with 7-1 victory
FIFA World Cup 2014: Brazil vs. Germany preview, live commentary and recap.
• 11 min read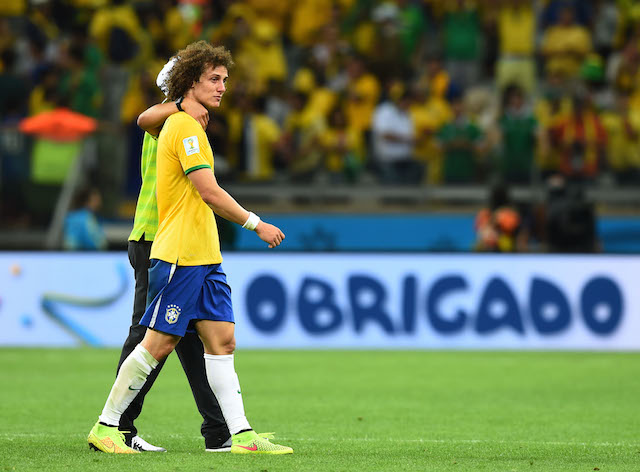 MORE: Brazil vs. Germany MatchTracker | Latest World Cup News
FINAL SCORE: Germany 7, Brazil 1
This is one of those results that leaves you speechless more than it leaves you with a ton to say. Brazil -- on their home soil, as the pre-tournament favorite -- was absolutely dominated by Germany.
The first few minutes looked like Brazil would be on the front foot, but that was quickly erased by an onslaught of German goals -- five in an 18-minute span to be precise. Thomas Muller opened it up with a wide-open finish off a corner kick, which was a sign of things to come. Brazil was completely unorganized at the back, failing to simply mark Germany's attackers and lazily getting dispossessed in the midfield. 
Miroslav Klose put himself along atop the all-time World Cup goal-scoring leaders for Germany's second goal, and then Toni Kroos notched the third and fourth shortly after. Sami Khedira capped the astonishing run with a fifth Germany goal in the 29th minute. 
Brazil opened the second half with some momentum, but impact Germany sub Andre Schurrle put an end to that. He bagged two goals in the second half, putting the Europeans up 7-0 heading into the final minutes. Oscar finally broke through for Brazil, not that it will give them any consolation.
Both teams await the result of Wednesday's Argentina vs. Netherlands match to find out their weekend opponents. 
90' -- GOAL! Oscar puts Brazil on the board with a nice finish past Manuel Neuer. Moments earlier, Mesut Ozil rolled a wide-open chance wide of the net -- and Bastian Schweinsteiger was not happy about the lackadaisical effort. And Neuer was annoyed he allowed a goal. 
This is just the second time EVER that #BRA have conceded 7+ goals in a game (Yugoslavia in 1934) #BRAvsGER

— ESPN FC (@ESPNFC) July 8, 2014
80' -- GOAL! Andre Schurrle bags another one, putting Germany up by a touchdown. That's also now the record for most goals scored in a World Cup semifinal by one team. (GIF via @FlyByKnite)
76' -- Germany sub.
IN: Julian Draxler
OUT: Sami Khedira
69' -- Brazil sub.
69' -- GOAL! Andre Schurrle gets his second goal of the tournament, after a wide-open Philipp Lahm laid it through the box for him.
68' -- BOOKED! Dante is given a yellow card for a poor challenge on club teammate Thomas Muller.
67' -- The game has predictably become wide-open, with Germany pushing for a sixth goal and Brazil just looking to break through. Neuer has had some time to relax since the opening few minutes of the half, while Germany has seemingly had multiple 3-on-1 breaks since the break.
61' -- Terrific save by Julio Cesar, who denied Thomas Muller another goal. It took an outstretched left hand to push it over the bar.
58' -- Germany sub.
IN: Andre Schurrle
OUT: Miroslav Klose
54' -- And Neuer continues to be tested by a rejuvenated Brazil side. Paulinho was one-on-one with the Germany keeper, but Neuer saved the initial shot and then blocked away Paulinho's rocket of a rebound. (GIF via @FlyByKnite)
52' -- Another excellent save by Neuer on a shot by Oscar. Brazil has been dominating the opening minutes of the second half. 
51' -- Terrific stop by Neuer. Ramires was through on the German goal after a ball from Fred, and looked to lay it off to a wide-open Oscar, but Neuer dove and knocked it away. 
50' -- Brazil has started the half on the front foot, hoping to get at least none quick goal. Fred fell in the box, then Oscar was tackled in the area as well. 
46' -- Subs.
GERMANY
IN: Per Mertesacker
OUT: Mats Hummels
BRAZIL
IN: Paulinho
OUT: Fernadinho
IN: Ramires
OUT: Hulk
HALFTIME: Well, that escalated quickly.
Germany was favored to win the match, and many people expected them to control most of the possession. But this? 5-0 at halftime? An onslaught of goals in the opening 30 minutes? No one saw this coming.
Germany was an absolute machine in the first half, while Brazil continued to give the Europeans plenty of space and time on the ball.
Thomas Muller opened the scoring in the 11th minute, volleying in a Toni Kroos corner kick. David Luiz lost Muller in the box, and no one was even close to the German attacker when he finished.
And then came the nonstop scoring. Miroslav Klose was next, setting the all-time record for World Cup goals. Toni Kroos bagged two goals in quick succession, the first coming from a beautiful left-footed strike and the second coming when he dispossessed Brazil in the midfield, got the ball back and buried it. Sami Khedira, who had an excellent half, scored the fifth.
Here's the eye-popping fact: Brazil hasn't allowed five goals in an entire World Cup since 1998, per ESPN's coverage. 
45' -- A smattering of Brazilian reactions.
43' -- Brazil has settled down somewhat, getting some chances in Germany's third of the pitch. But they're still not marking anyone, allowing Germany to push forward without much of a care.
36' -- Brazil is still leaving acres of space in their defensive half of the field -- I get that they're down 5-0, but this looks far more likely like Germany will get another three goals than Brazil will get one. 
34' -- We're all caught up now after Germany's onslaught of goals. Credit to @TopDrawerSoccer for the Vines. 
29' -- GOAL! Sami Khedira buries another one. This is astonishing.
26' -- GOAL! Toni Kroos bags his second goal as Brazil look dejected.
24' -- GOAL! Toni Kroos with a beautiful left-footed strike off a wide-open cross.
5
23' -- GOAL! Miroslav Klose finishes his own rebound to put Germany up 2-0. Klose now has 16 goals in World Cup competition -- the most all-time. He's now in the record books by himself. 
20' -- Where is the creative attack for Brazil going to come from? They have relied on Neymar to create chances thus far, but he's obviously not an option. Oscar has had a quiet World Cup, although he has been involved with several touches so far. Marcelo has been the most active going forward, which isn't great news since he's a left back.
17' -- Philipp Lahm with a terrific sliding tackle in the box on Marcelo -- Brazil appeals for a penalty, but no call. Marcelo and Jerome Boateng get into a bit of a shoving match, and Hulk joins in too. 
13' -- On replay, it looked like David Luiz was supposed to be marking Muller -- but was blocked off by the crowd heading toward the near-post. Whether it was designed by Germany or just poor marking by Luiz, Muller made Brazil pay. 
11' -- GOAL! Thomas Muller volleys in a perfect corner kick from Toni Kroos. He won't get an easier goal than that.
10' -- Sami Khedira has been very influential and active early on for Germany, especially on the counterattack. He was inconsistent during the club season due to injury, but he's been excellent so far.
7' -- Germany gets its first chance, as Sami Khedira starts the counterattack. Muller crossed it to Mesut Ozil, who gave it to Khedira -- but his shot was deflected away and later cleared.
4' -- Neuer had to be alert, as Brazil quickly counterattacked and Hulk crossed it into the box. But the German goalkeeper dove and prevented the ball from getting to Bernard.
3' -- Brazil on the front foot early. They won an early corner, but the most dangerous moment so far came on a Marcelo chance from about 20 yards out. No one from Germany stepped up to defend him, but his shot went wide.
0' -- No Neymar, so David Luiz and Julio Cesar are representing him in spirit.
PREGAME: Lineups are announced.
#BRA LINE-UP: Julio Cesar, David Luiz (c), Fernandinho, Marcelo, Hulk, Fred, Oscar, Dante, Luiz Gustavo, Bernard, Maicon #BRAGER #WorldCup

— FIFAWorldCup (@FIFAWorldCup) July 8, 2014
Three changes from last match, all of which were expected. Dante slots in for the suspended Thiago Silva, while Bernard replaces Neymar in the attacking band. Willian was another option for Neymar's spot, but he starts on the bench. Luiz Gustavo, who missed the Colombia match due to yellow card accumulation, is back in the midfield. Paulinho moves back to the bench. Dani Alves also begins on the bench, as Maicon starts at right back for the second match in a row.
#GER LINE-UP: Neuer, Hoewedes, Hummels, Khedira, Schweinsteiger, Ozil, Klose, Muller, Lahm (c), Kroos, Boateng #BRAGER #WorldCup #Joinin

— FIFAWorldCup (@FIFAWorldCup) July 8, 2014
Zero changes from the quarterfinal match against France. Philipp Lahm stays at his natural right back position after playing in the midfield for the first four matches of the World Cup (and most of the Bundesliga season). Miroslav Klose starts as the true striker, enabling Thomas Muller to move into the attacking midfield. With Klose in the XI, Mario Gotze starts on the bench -- and he will give the Europeans yet another dangerous substitution option, along with Andre Schurrle and Lukas Podolski.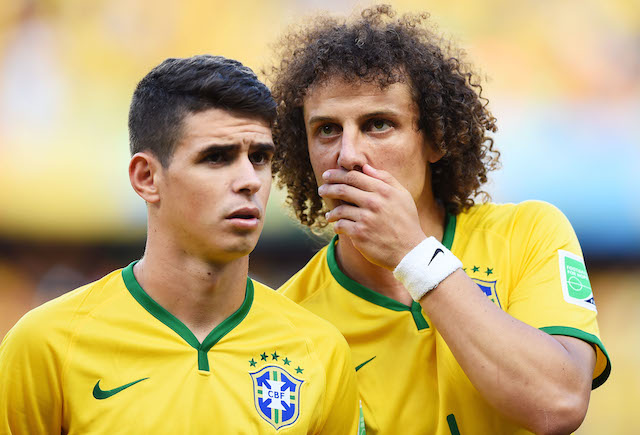 Brazil vs. Germany | Kickoff: 7/7, 4 p.m. ET | Stadium: Mineirao, Belo Horizonte
Match Preview: Neither Brazil nor Germany is short on history. They rank first and second in most World Cup appearances, first and third in most World Cup titles, tied for first for most World Cup finals reached, and also rank first and second in most semifinals reached. Simply put, they are two of the classic football heavyweights of the world. 
They were also two of the pre-World Cup favorites to win the title, and while neither has looked like a dominant, unbeatable side in the tournament -- both teams are just 180 minutes (or more, of course) from winning yet another title. 
The key storyline entering Tuesday will be the status of two of Brazil's biggest stars. Neymar is out for the rest of the World Cup after fracturing a vertebra against Colombia, and his four goals and one assist will certainly be missed. Thiago Silva will also miss the Germany match, with his reason being yellow card accumulation. Silva and centerback partner David Luiz have terrific chemistry; how will this impact the back four?
Germany's attack hasn't been hitting on all cylinders, and the Europeans have been wasteful at times in the final third. Thomas Muller -- whether in the false nine role or as an attacking midfielder -- has been productive, scoring four goals in five matches thus far. Outside of him, though, there has been some inconsistent play. Mesut Ozil has been up and down, while Mario Gotze hasn't seemed to find his ideal role yet. Fortunately for manager Joachim Low, he has plenty of options off the bench, whether it's Miroslav Klose, Andre Schurrle or Lukas Podolski. Brazil's back four will have to be up to the task without Silva. The partnership between Luiz and Silva works well because of positional awareness. Luiz loves to make marauding runs forward, and Silva's discipline allows for that. Dante, who will likely replace Silva, plays with many of Germany's stars for Bayern Munich, but he has very little experience with Luiz. It will be interesting to see if Maicon starts at right back again, or the more attack-minded Dani Alves moves back into the XI.
The midfield could be where the match is decided. Both teams had some issues in this area during the group stage, but a couple of adjustments have improved player in the center of the park. Germany moved Philipp Lahm to his natural right back position, which enabled Bastian Schweinsteiger and Sami Khedira to both start. Toni Kroos, he of 91 percent passing accuracy, also lines up in the midfield triangle. Brazil's midfield actually looked more intimidating against Colombia -- without Luis Gustavo, who missed the match with yellow card accumulation but will be back against Germany. Fernandinho and Paulinho showed some extra spark in that match, Fernandinho can't let Kroos have free reign in the center of the pitch.
Germany's biggest weakness so far has been its back four -- and the high defensive line it has played during the World Cup. Moving Lahm to right back shored up some issues at the fullback position, and ended the four center-back experiment. Mats Hummels and Jerome Boateng will likely pair up in the middle again, while Benedikt Howedes will be on the left. And Manuel Neuer will resume his role as sweeper-keeper. Germany has been susceptible to counterattacks and balls over the top; does Brazil have the personnel to exploit those deficiencies? Without Neymar, it's unclear. Fred has been mostly ineffective as the lone striker, while Hulk has yet to score despite creating plenty of chances. Oscar will most likely have to become the primary creative force -- but Willian and Bernard don't bring the same traits and skills as Neymar.
To me, the difference will be the missing Brazilian stars. Without Neymar, a Brazil offense that was already struggling with consistency might not have the pace to really exploit the Germany high line. And without Silva, will Brazil's talented backline feel as free to push up the pitch and put pressure on the opponent? This feels like a match in which Germany could control possession for most of the match, and then get one goal from Thomas Muller early, and another one late -- perhaps from Andre Schurrle -- to put the match to bed.  
More World Cup: Scoreboard | Schedule | Bracket | U.S. Team news

The city of Samara's stadium, set to be used for the 2018 World Cup, has seen its construction...

Norway beat World Cup debutants Thailand 4-0 before a historic rout by Germany over Ivory Coast...

He'll be suspended for Friday's game against Iowa.
The World Cup was 'amazing,' but Seattle Sounders teammates Clint Dempsey and DeAndre Yedlin...

A painting in Brazil depicts the Dutchman's amazing goal against Spain.

German midfielder Cristoph Kramer has become the face of the ongoing concussion crisis after...