2014 FIFA World Cup: Germany survives Algeria in extra time, 2-1
2014 FIFA World Cup: Germany vs. Algeria preview, live commentary and recap.
• 13 min read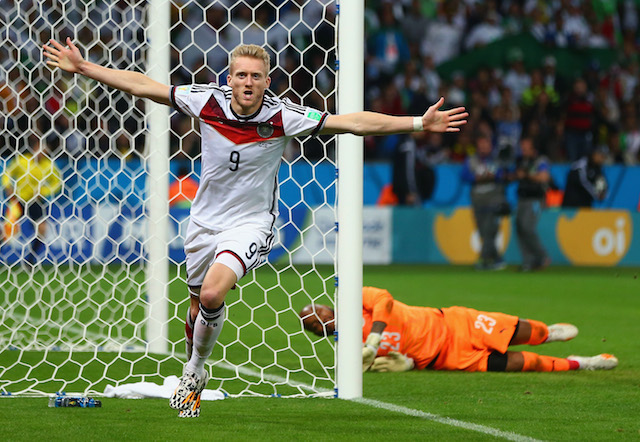 MORE: Germany vs. Algeria MatchTracker | Latest News & Notes
FINAL SCORE: Germany 2, Algeria 1
It didn't go exactly as anticipated, but in the end, the expected winner came out on top.
Heading into the match, it looked like Algeria would sit back and pack it in, then try to beat Germany on the counterattack. Well, Algeria did indeed have success on the counterattack, but it certainly wasn't as a result of sitting back and simply absorbing pressure. Algeria took it to Germany in the first half, using their pace and taking advantage of Germany's high defensive line to get in behind the defense and create dangerous opportunities in Germany's defensive third.
In fact, the African side had a goal called back in the 17th minute for offside – it was the correct call, though. Algeria continued to push forward, but couldn't beat Manuel Neuer, who constantly raced out of his own penalty area to challenge Algerian attackers or clear the ball away after a throughball.
The second half was more as anticipated, with Germany doing a better job of controlling possession and not allowing Algeria to get free on counterattacks. The game changed a bit when Philipp Lahm was shifted to right back and Semi Khedira moved to midfield. Germany looked better in attack, but it took some time for the European side to get on the same page in midfield. Algeria was getting some opportunities, and the game became a little more wide-open.
Germany had several chances in the final minutes, but Rais M'Bolhi continued to come up big for Algeria.
We went to 30 minutes of extra time – and then Germany was finally able to break through.
The first goal came only two minutes into the extra time, off a beautiful finish from Andre Schurrle, who slotted a Thomas Muller cross past M'Bolhi. Mesut Ozil seemingly iced the game in the 120th minute, when he buried a shot from inside the penalty area after M'Bolhi saved Schurrle's initial attempt. Abdelmoumene Djabou brought one back for Algeria in the 121st minute, but it wasn't enough. 
It wasn't easy, but Germany is through to face France in quarterfinal. 
120' + 1 -- GOAL: Abdelmoumene Djabou brings one back for Algeria! Can they score again?
120' -- GOAL! Mesut Ozil bangs it into the back of the net to clinch the win for Germany. Andre Schurrle's shot was stopped, but Ozil buried the rebound.
117' -- Germany looked like it was going to go up 2-0, but Christoph Kramer's attempt was blocked by M'Bolhi and Muller's second chance went out of bounds. 
114' -- Both sides look exhausted, but Algeria continues to push forward for an equalizer. 
109' -- Germany sub.
IN: Christoph Kramer
OUT: Bastian Schweinsteiger
107' -- BOOKED! Philipp Lahm receives a yellow card for his challenge on Yacine Brahimi.
105' -- We're at the midway point of the 30 minutes of extra time. Germany will enter the final 15 minutes with a 1-0 lead, thanks to a beautiful finish from Andre Schurrle off an excellent run and cross by Thomas Muller. Schurrle has been excellent since coming on, getting behind the Algeria defense and providing speed and incisiveness from the right. Algeria is getting more stretched now, as they have to push up in an attempt to equalize. Germany will have space on the counterattack in the final 15 minutes. 
102' -- Algeria were nearly level. Semi Khedira's botched clearance falls to the feet of Mehdi Mostefa, but he shoots it wide.
100' -- Algeria sub.
IN: Abdelmoumene Djabou
OUT: El Arabi Soudani
99' -- Beautiful cross from Sofiane Feghouli, but El Arabi Soudani can't get on the end of it.
98' -- Algeria sub.
IN: Madjid Bouguerra
OUT: Rafik Halliche
Halliche has been excellent anchoring the back for Algeria, but he limps off.
95' -- Man, look at that finish by Schurrle.
92' -- GOAL! Andre Schurrle puts it in the back of the net after a great cross from Thomas Muller.
END OF SECOND HALF: And we've got 30 more minutes of football.
Germany came close several times in the final 10 minutes, with wide-open headers from Thomas Muller and Bastian Schweinsteiger going right at M'Bolhi. Algeria looked more threatening in the first half than the second 45, but their counterattacks have still been dangerous. 
90' + 3 -- Important sliding challenge from Rafik Halliche, who knocked away an Andre Schurrle cross.
90' -- Four minutes of stoppage time.
90' -- Lahm lofts a nice ball to Schweinsteiger, who heads it harmlessly at M'Bolhi. Could have possibly taken a touch.
87' -- What a trainwreck of a freekick for Germany. Thomas Muller tripped (purposely?) before running past the ball, and then Toni Kroos chips it right into the Algeria defenders. 
82' -- Thomas Muller has another chance in the penalty area, but it's wide. Germany is getting closer to breaking through.
80' -- Another save from M'Bolhi! Beautiful ball from Semi Khedira and Thomas Muller gets a clear header on it, but it's saved, and Andre Schurrle's rebound attempt is blocked out of bounds.
78' -- Algeria sub.
IN: Yacine Brahimi
OUT: Saphir Taider
77' -- Of course as soon as Lahm moves to the backline, Algeria starts taking some control in the midfield and getting chances. (via @FlyByKnite)
70' -- Germany sub.
IN: Semi Khedira
OUT: Shkodran Mustafi
Khedira moves to the midfield, and Philipp Lahm moves to right back.
67' -- Germany has had plenty of set pieces in dangerous positions thus far, whether a free kick or a corner kick, and haven't been able to make Algeria pay. 
61' -- Germany doing a better job of controlling the match in the second half. Keeping possession and not allowing Algeria to get counterattacks in space, while also consistently getting the ball inside the Algeria box, whether off a cross or a shot from 20-25 yards out. The European side has certainly gotten the better of the half so far. Andre Schurrle has also been more direct. 
55' -- A Philipp Lahm shot from about 22 yards out forces a deflection from M'Bolhi.
53' -- Look at that pass!
51' -- Wide-open, end-to-end stuff! Both teams getting opportunities on the counterattack!
50' -- Manuel Neuer has trouble collecting the ball, but he then unleashes a beautiful ball to Andre Schurrle past midfield that leads to a Germany corner kick.
49' -- Shkodran Mustafi has a headed chance for Germany, but it goes right to Rais M´Bolhi.
48' -- And Schurrle makes a bit of an impact immediately. Makes a nice run into the Algeria box, gathers the ball, but it's deflected wide for a corner.
46' -- Germany sub.
IN: Andre Schurrle
OUT: Mario Gotze
HALFTIME: It's a scoreless draw heading into the break.
I thought the game would be similar to Algeria's group stage opener against Belgium, when the African side sat back and absorbed pressure, before attempting to counter. However, they haven't sat back behind the ball -- there certainly were not 10 men behind the ball at all times. The Algerian counterattack was extremely dangerous, with German's lack of pace at the back hurting them. Moreover, the inability (or uninterest) by Mesut Ozil and Mario Gotze to consistently track back has been an issue. Algeria even had a goal called back for a correct offside call.
Algeria looked more threatening for the first 25 or 30 minutes, although Germany began to control possession more effectively and get some chances toward the end of the first half. Rais M'Bolhi needed to come up with two big saves in the 40th minute to keep the game without a goal. 
Can Algeria keep this up in the second 45? When they are able to counterattack, they have had their chances. Germany needs to get back better, and not force Manuel Neuer to come 30 yards off his line too often.
42' -- Booked! Algeria's Rafik Halliche has been given a yellow card.
40' -- Fantastic tandem of saves from Rais M´Bolhi. He dived to save the initial shot from Toni Kroos, and then got up to block Mario Gotze's rebound attempt. (via @FlyByKnite)
35' -- Thomas Muller heads a Shkodran Mustafi cross just wide. Didn't look like much, until Muller stepped inside his defender and got his head onto the ball.
33' -- Sofiane Feghouli sends his free kick sailing over the bar.
32' -- Mario Gotze fouls El Arabi Soudani from behind just outside the Germany 18-yard box. Again, Algeria's counterattack giving the Europeans some issues. Can they break through and grab a goal?
28' -- Manuel Neuer slides about 25 yards from his line once again, as the Germany backline are having trouble dealing with the speed of the Algeria attacking band.
26' -- Germany manager Joachim Low clearly not happy with the action so far.
Löw not amused. sends five players to warm up after 22 mins

— Raphael Honigstein (@honigstein) June 30, 2014
24' -- Mesut Ozil looked like he was attempting to chip it to the far post, but it floats toward Rais M´Bolhi, who was forced to tap it over the bar for a Germany corner kick.
19' -- Faouzi Ghoulam makes a nice run but puts it wide past Neuer. Yet another early chance for Algeria.
17' -- And Algeria has a goal called back due to offside. Good call. But Germany has really been threatened by this Algeria side, especially on the counterattack.
15' -- Sofiane Feghouli created a chance for Algeria, but he decides to take the shot from a tough angle as opposed to crossing to one of his two teammates that were in the box.
14' -- Bastian Schweinsteiger lets loose of a left-footed rocket from about 25 yards out, but it's punched up and then casually caught by Rais M´Bolhi.
12' -- Germany has looked confused at the back on more than one occasion now. Taking out Mats Hummels has made Jerome Boateng and Per Mertesacker the center-back partnership, and perhaps they're still getting accustomed to playing with one another. (Although they have plenty of experience in the past.)
9' -- Manuel Neuer needs to make a sliding challenge about 25 yards from his own net after coming out of his area too far. El Arabi Soudani beat Neuer to the ball and looked to get a clean shot, but Neuer's slide forced out a corner kick. (via @FlyByKnite)
6' -- Germany has owned most of possession, but Mbolhi has yet to be really threatened yet.
3' -- Germany looked to have a chance down the right flank, but it was incorrectly called back for offside. (via @FlyByKnite)
PREGAME: Lineups have been announced.
#GER LINE-UP: Neuer, Howedes, Schweinsteiger, Ozil, Muller, Lahm (c), Mertesacker, Kroos, Gotze, Boateng, Mustafi #GERALG #WorldCup #joinin

— FIFAWorldCup (@FIFAWorldCup) June 30, 2014
The biggest surprise in the Germany XI is the addition of Shkodran Mustafi. The defender has come on as a sub in two matches thus far, but had yet to appear in the starting lineup until today. Mats Hummels heads to the bench. Bastian Schweinsteiger starts for the second match in a row, with Semi Khedira staying on the bench. Mario Gotze is back in the XI after seeing Lukas Podolski start in the attacking band against the United States.
#ALG LINE-UP: Mbolhi, Ghoulam, Belkalem, Halliche (c), Lacen, Feghouli, Slimani, Soudani, Taider, Mandi, Mostefa #GERALG #WorldCup #joinin

— FIFAWorldCup (@FIFAWorldCup) June 30, 2014
Seventeen players had already started at least one game for Algeria in this World Cup, and Mehdi Lacen is lone newcomer to the XI. The 30-year old has come on as a sub twice in the midfield. Five players that started just one game in the group stage are also in the starting lineup, but the main player to watch could be Islam Slimani.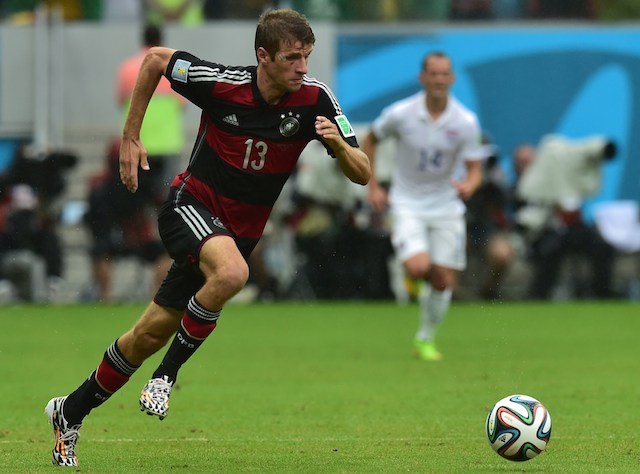 Germany vs. Algeria | Kickoff: 6/30, 4 p.m. ET | Stadium: Beira-Rio, Porto Alegre
Match Preview: This is likely the most uneven matchup in the Round of 16, but Germany has shown some weaknesses in group play and Algeria has shown flashes of being a threat on Monday. 
Germany is obviously the heavy favorite entering the match, and one of the remaining favorites to win the World Cup. That's not a change from the last few years, when the Germans were bounced in the semifinals of Euro 2012 but then dominated UEFA qualifying, winning nine games and drawing one, scoring 36 goals in 10 matches. A 4-0 victory to open the World Cup against Portugal made a major statement, but a 2-2 draw against Ghana highlighted some deficiencies, and then they had trouble putting the United States away before grabbing a 1-0 victory. 
There is talent and depth across the German side. Thomas Muller has scored four goals so far, playing in something of a false nine/striker role, poaching goals inside the box and finishing rebounds. Mesut Ozil has been a bit up and down thus far, but Toni Kroos has been pulling the strings in the field, completing 94 percent of his passes. Throw in Mario Gotze and Lukas Podolski, and impact sub Miroslav Klose, and Germany hasn't been lacking for attacking options. There have been some issues in midfield and defense, though. Natural right back Philipp Lahm has been dispossessed a couple of times, and Ghana was able to counterattack through the midfield effectively. Moreover, Benedikt Howedes has been vulnerable at left back, given that he's a natural center back and lacks pace.
Not all that much was expected of Algeria entering the World Cup. They won their preliminary qualifying group, but needed the away goal tiebreaker to beat Burkina Faso in a two-legged playoff to qualify from Africa. Thrown in a group with Belgium and Russia didn't seem to help matters. Blowing a late one-goal lead against Belgium in the group opener was devastating, as they went from three points to zero points in a 20-minute span. They bounced back in a major way in the second match, though, putting forth a dominant first-half performance en route to a 4-2 victory over South Korea. Drawing with Russia in the final group stage match was enough to put Algeria through to the knockout stage.
Seventeen players have already started at least one match for Algeria in this month's World Cup, and while they will be outclassed talent-wise against Germany, there are some weapons for the African side. Islam Slimani was excellent against South Korea, and notched two goals in the group stage. He can play different roles as striker, either being a target man off crosses or making runs on his own behind the defense. Algeria has tried to press up the pitch for the most part, and it's had differing results. Against South Korea, it was effective -- but Russia was able to break down the pressure and then keep possession. Algeria showed the ability to attack in different ways through the three matches, whether on the counter, through set-pieces and crosses, or by building possession.
I would expect Algeria to play this match much the same way they played against Belgium in the first group match. In that one, Algeria played at least 10 men behind the ball at all times, sitting back and absorbing pressure before trying to counterattack. Many of Germany's chances in the group stage came off of crosses, and it will likely be the same against Algeria's parked bus. Germany has to try and get an early goal, forcing Algeria to open up and push up the field. When Algeria did that against Belgium, the talented European players were able to counterattack and get more space. It could be the same against Germany.
More World Cup: Scoreboard | Schedule | World Cup Bracket | U.S. Team news

The city of Samara's stadium, set to be used for the 2018 World Cup, has seen its construction...

Norway beat World Cup debutants Thailand 4-0 before a historic rout by Germany over Ivory Coast...

He'll be suspended for Friday's game against Iowa.
The World Cup was 'amazing,' but Seattle Sounders teammates Clint Dempsey and DeAndre Yedlin...

A painting in Brazil depicts the Dutchman's amazing goal against Spain.

German midfielder Cristoph Kramer has become the face of the ongoing concussion crisis after...