2014 FIFA World Cup: Germany vs. Argentina tactical breakdown
Germany and Argentina will battle for the World Cup trophy on Sunday; which side has the edge in different areas?
• 6 min read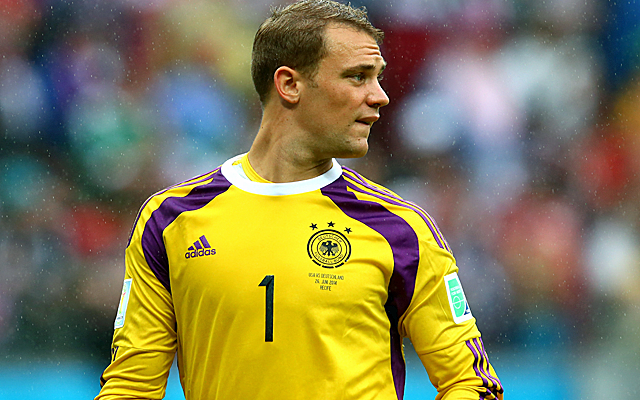 Germany vs. Argentina | Kickoff: 7/13, 3 p.m. ET | Stadium: Maracana, Rio de Janeiro
For the next four years, either Germany or Argentina will hold the title of best national team in the world. Neither team has been a consistently dominant side through six matches, but neither team lost a match and is now 90 minutes from holding the World Cup trophy. Germany enters as the favorite after its 7-1 drubbing of Brazil in the semifinals, while Argentina will hope to continue its trend of close matches that end in a victory for the South American side.
Let's take a closer look at where each side could have an edge.
Goalkeeper
Manuel Neuer is perhaps the world's finest goalkeeper, and he hasn't done anything to dispute that notion for Germany. He's essentially been playing in a sweeper-keeper role, rushing out of his box to clear opponent's through-balls or quell a counterattack. Sergio Romero was expected to be one of the weak links for Argentina in Brazil, but his performance against the Netherlands in the semifinals was excellent. Hot goalkeepers have helped carry teams to titles in the past, but Neuer gives Germany the edge here.
ADVANTAGE: Germany
Germany offense vs. Argentina defense
After the group stage matches, this wouldn't have even been close. Argentina's defense was basically nonexistent against relatively weak competition in the group, allowing Bosnia-Herzegovina and Nigeria to keep matches close. In the knockout stage, though, Argentina hasn't allowed a goal. Ezequiel Garay and Pablo Zabaleta have played every minute of every match, while Marcos Rojo has been one of the breakout performers at left back. Martin Demichelis was excellent against the Netherlands, but he lacks pace. Germany's offense is versatile and dangerous, capable of hurting opponents in a variety of ways. Thomas Muller has five goals and three assists, and simply knows how to score goals. Mesut Ozil has been up-and-down for several months, but the 25-year old is capable of filling multiple roles in the attacking band. Miroslav Klose is a classic poacher, but his striker's instinct has given Germany an added dimension when on the pitch. Will he start again? Toni Kroos has been one of the best passers in the World Cup so far, and his through-balls and playmaking in the middle of the park have been huge.
ADVANTAGE: Germany
Midfield
Germany's midfield had some issues in the first few matches of the World Cup, losing possession too easily and allowing opponents to counterattack. With Philipp Lahm moving to right back, though, it has enabled Joachim Low to use Bastian Schweinsteiger and Sami Khedira alongside one another in the middle of the pitch. Both players are sturdy in defense, tackling and intercepting, but can also make runs forward. Argentina's defensive midfield is led by Javier Mascherano, the world-class Barcelona veteran. He's capable of dropping back to be a pseudo-third center back if necessary, and he's a very good tackler. With Angel di Maria injured, Argentina has used Endo Perez in the midfield. He's a more defensive-minded player. Lucas Biglia rounds out the trio, and he's another player more renowned for his defensive capabilities than anything else.
ADVANTAGE: Germany
Argentina offense vs. Germany defense
Argentina has transformed from a side capable of exploding forward in the counterattack to one that's fine with keeping seven or eight players back, controlling possession and sneaking in a piece of world-class brilliance from its attackers. There's certainly talent up front, and it starts with the best player in the world, Lionel Messi. He has four goals and one assist so far, and has adjusted his role somewhat, playing as more of a creative force than an out-and-out forward. Gonzalo Higuain has been the striker, and will need to play a big role on Sunday. Ezequiel Lavezzi provides much-needed width and offers pace down the flank, and his ability to put in dangerous crosses has been a boost. Germany's backline has been an issue for most of the World Cup, but it's looked much better since Lahm shifted to his natural right back position. With him shoring up the right and Jerome Boateng moving to the center and playing alongside Mats Hummels, the defense has been improved. Benedikt Howedes will have his hands full with Lavezzi at left back. The high line has been vulnerable at times.
ADVANTAGE: Argentina
Bench
Both teams are capable of bringing in match-changers off the bench. Germany has a plethora of attackers, but Andre Schurrle has been the most dynamic in this World Cup, scoring three goals in just 155 minutes. He's been used due to his pace and directness as a winger. Mario Gotze has started three matches, but is also effective as a sub. Lukas Podolski brings a rocket of a left foot. Christoph Kramer has been used to close out games in the midfield, and Per Mertesacker offers center back cover. Argentina's key sub will likely be Sergio Aguero, whose injuries have kept him out of the starting XI on a consistent basis. He's one of the most dangerous strikers in the Premier League, and could play a key role on Sunday. Rodrigo Palacio has made four appearances off the bench, while center back Federico Fernandez was moved out of the starting XI after some unconvincing performances.
ADVANTAGE: Germany
Overall
Germany has been arguably the most dominant side throughout the World Cup, beginning with a 4-0 throttling of Portugal and being capped with Tuesday's 7-1 win over Brazil. The defense was the biggest concern, but moving Phillip Lahm to right back and bringing on Sami Khedira to the midfield has been a boost. Argentina seems perfectly fine with playing a "boring" 1-0 or 0-0 match, and getting one moment of brilliance from Lionel Messi to win the match.
On Sunday, the key for Argentina will be looking to beat the Germany high line with pace, especially with Lavezzi – who had plenty of success getting free against the Netherlands. If Messi drifts to the right, he could also have an edge against Benedikt Howedes. Defensively, Javier Mascherano will be key, as he needs to limit the impact of Toni Kroos in the midfield. If Kroos gets time on the ball to pick out passes, that will equal trouble for Argentina. Moreover, Marcos Rojo can't get caught high up the pitch, allowing Thomas Muller free reign down the right. Expect him to push forward much less.
On the other side, it's obvious what the biggest talking point for Germany will be: stopping Messi. Bastian Schweinsteiger will be the player called to man-mark the Barcelona star, but he will need help from his midfield teammates. Germany's biggest edge could be in its ability to press high in the midfield. Kroos and Khedira created havoc against Brazil, forcing giveaways constantly in the first half. Mascherano is fantastic, but the distribution of the rest of Argentina's holding midfielders will be important. If they can't get the ball cleanly to Messi, that will be a huge factor. 
In the end, Germany is too complete a side for Argentina. They have world-class players in all areas, and they seem to be hitting their stride at just the right time. They're experienced and the individuals have won big matches before. Argentina will look to sit back and hope Messi can come up with a match-winning play late – but I don't see it happening. Aside from the potential for overconfidence, Germany has the edge in too many areas.
ADVANTAGE: Germany
We were mere centimeters from losing one of soccer's brightest stars

Former Minister of Sport and Deputy Prime Minister Vitaly Mutko is stepping down

The city of Samara's stadium, set to be used for the 2018 World Cup, has seen its construction...
Norway beat World Cup debutants Thailand 4-0 before a historic rout by Germany over Ivory Coast...

He'll be suspended for Friday's game against Iowa.

The World Cup was 'amazing,' but Seattle Sounders teammates Clint Dempsey and DeAndre Yedlin...