2014 FIFA World Cup: Ghana remains alive with 2-2 draw of Germany
FIFA World Cup 2014: Ghana vs. Germany preview, live commentary and recap.
Germany 2 (Goetze 51', Klose 71') Ghana 2 (Andre Ayew 54', Gyan 63')
90+4' - Kroos' kick into the box results in nothing. FULL TIME, both Germany and Ghana get a point in a 2-2 draw. 
90+3' - Germany to get a free kick from outside the box, and Muntari picks up a yellow card to give it to the Germans. That means Muntari will not be able to play against Portugal. Anyway, your match coming up right here.
90+3' - Final seconds of this match. Miracle coming?
90+1' - The corner is punched out and leads to a three-on-two for Ghana but OFFSIDE. Wow, what a terrible time for that.
90+1 - Corner kick coming for Germany.
90' - Three minutes of stoppage time.
89' - Ooooooh so close to a winner for Germany there as Klose receives an excellent pass but his shot is wide left.
86' - Another close call for Ghana. Germany is putting the pressure on in this final minutes, but with Ghana's speed don't rule out a quick counter attack.
84' - And immediately Germany responds with a great chance for Muller but Asamoah gets back just in time to deflect the shot attempt.
84' - A good chance for Ghana is ruined when Jordan Ayew is offside.
81' - Fun stat for those of you who take joy in England's misfortune.
Miroslav Klose has scored 15 World Cup goals since 2002. England only have managed 17 in that time.

— Richard Jolly (@RichJolly) June 21, 2014
77' SUBSTITUTION - Ghana subs Badu for Rabiu.
74' - I don't want to say I told you so about there being more goals in this match but I totally told you so and you should tremble before me for I am a man of great power.
70' - GOAL GERMANY - Miroslav Klose wastes no time deflecting a header with his right foot on putting it into the net off a corner. We're tied 2-2 and Klose is now tied with Brazil's Ronaldo for most World Cup goals in a career. He has 15. (via)
(via)
69' - DOUBLE SUBSTITUTION - Germany replaces Goetze with Miroslav Klose and Schwiensteiger comes on for Khedira.
66' - Another shot on net for Ghana, this one from Jordan Ayew, but Neuer stops this one. Germany is having a lot of trouble in the back right now. Mertesacker is looking so slow. Well, slower than usual I mean.
65' - Jon Champion informs us that Asamoah Gyan is now the first African player to score a goal at three different World Cups.
63' - GOAL GHANA - Asamoah Gyan finds himself one-on-one with Neuer after a German turnover and he does not fail. Ghana takes a 2-1 lead, and then shows off a great celebration dance. (via)
60' - This match is starting to get an up-and-down feel to it. We might have a few more goals in store for us.
55' - Yeah, so all those chances that weren't being finished in the first half? They're being finished now.
54' - GOAL GHANA 1-1 - Ghana responds! The other Ayew scores on a great cross. Ayew goes over Mertesacker to get his head on and direct it into the net. (via)
52' SUBSTITUTION - Ghana sends Jordan Ayew out for its own Boateng. So for those keeping track at home we've gone from two Boatengs to no Boatengs and two Ayews. Got it?
50' - GOAL GERMANY 1-0. A cross from Muller into the box finds Gotze between two defenders and he heads it into the back of the net. Felt like it was only a matter of time before one of these teams capitalized on a chance. (via)
48' - Germany's Kroos just took an inadvertant kick to the face from Muntari. So first it was Clint Dempsey, now Kroos. Ghana is excellent at accidentally kicking you in the face.
46' - And the second half has begun.
SUBSTITUTION: The Boateng brothers are no longer on together as Germany replaces Boateng with Mustafi for the second half.
45+1' - HALFTIME with no score. Not the most terribly exciting first half, but it at least we're going to have an interesting second half. Germany doesn't look like a team that's going to bury Ghana today.
45' - Only one minute of stoppage time.
40' - A cross in front of the Ghana net can't find a home as Gotze couldn't get through two defenders to reach the ball.
39' - See, Germans actually dress this way. (via)
37' - Gotze gets a shot off from just outside the box but it's right to Dauda who catches it rather easily. 
36' - And the corner is headed out by Ghana.
36' - Ozil gets another crossing opportunity, keeps it on the ground, and it's deflected out for a corner.
32' - And then a moment later Muntari unleashes a laser beam but Neuer gets to it.
31' - Sustained possession inside the box for Ghana but a crossing attempt is, in a word, terrible. Another missed opportunity for Ghana there. Probably can't afford to miss many more.
29 - Asamoah takes a risk trying to intercept a long ball to Gotze, but he fails and Gotze gets an easy cross into the box but Ghana recovers to deflect it out. The resulting corner is right to the keeper.
26' - Germany is starting to take control of possession lately. Ghana isn't able to keep the ball and move into the final third nearly as much as it was doing earlier. 
24' - It's fun to say "Mertesacker." Sounds like "murder sacker." Great name for a defensive end.
21' - A very nice cross between two defenders from Ozil to Muller in front of the net but Muller can't quite get to the ball. That was the best chance of this match so far.
19' - I forgot to mention that there are brothers playing in this match, and they're on different teams. Kevin Prince Boateng is wearing No. 9 for Ghana while Jerome Boateng is at right back for Germany. I do not know which country they celebrate Christmas in. (via)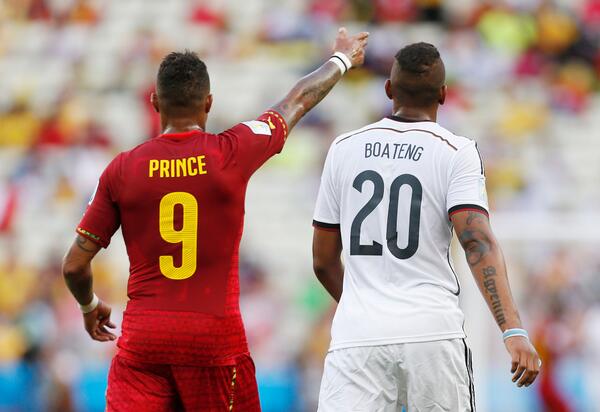 18' - Khedira gets off a lackluster shot after a pass from Ozil, and it's saved easily. Goalkeepers both working early, but nothing too difficult to deal with yet.
12' - And Ghana gets another shot on goal, but Atsu's attempt is from distance and too straight so Neuer gets to it rather easily. Still, early indication is Ghana's pace up front could be problematic for the German defense.
11' - Another good chance for the Germans, but a shot from the top of the box finds nothing but the legs of a defender and it's deflected off to the side.
9' - A cross from Gotze finds Muller in the box for a header, but you aren't supposed to head the ball straight up into the air. We don't have floating goal technology yet, but it's possible by 2018 I suppose.
6' - First real chance of the match goes to Ghana but Gyan's one-timer off the cross doesn't come close. Still, good sign for Ghana that it was able to get such a good scoring chance.
4' - Historically Germany has struggled in the second match of group play. Not sure why that is, but could be good news for Ghana. Strangely enough, if you're a United States fan, you probably want Germany to win. A German win and a United States win tomorrow would clinch advancement for both teams.
3' - Not much of anything going on so far. The United States had already scored on Ghana two minutes ago at this point, so I guess that means United States > Germany. Check the math if you want.
2' - Nothing I think is going to happen is happening in these matches so I'm just going to assume Ghana wins 7-1.
1' - We are underway. It's 84 degrees and humid at kickoff, because it's Brazil and it's always humid.
Pregame
2:54 p.m.: Both squads are currently on the field and national anthems have begun. We'll be underway shortly.
Your starting lineups for today's match:
Germany: Neuer, Howedes, Hummels, Khedira, Ozil, Muller, Lahm, Mertesacker, Kroos, Gotze, Boateng.
Ghana: Dauda, Gyan, Atsu, Boateng, A Ayew, Muntari, Rabiu, Mensah, Asamoah, Boye, Afful.
Match Preview: You probably aren't giving Ghana much of a chance in this match, and I can't blame you. Like you, I saw Germany destroy Portugal last week, and I'm not sure anybody has a chance against Germany if that's the way it is going to play in this World Cup.
But you know what? Nobody would have thought Costa Rica had a chance in a group consisting of Italy, Uruguay and England, yet there it is on top of the group having clinched entry to the knockout stage, so anything is possible.
And Ghana needs it to be. 
Simply put, if Ghana loses to Germany on Saturday it's going to find itself in a hole that's very hard to dig out of. And Ghana is going to have to find a way to get a point against a German machine that can basically wrap up Group G with three points here.
Hey, crazier things have happened.
More World Cup: Scoreboard | Schedule | Group Standings | U.S. Team news

The city of Samara's stadium, set to be used for the 2018 World Cup, has seen its construction...

Norway beat World Cup debutants Thailand 4-0 before a historic rout by Germany over Ivory Coast...

He'll be suspended for Friday's game against Iowa.
The World Cup was 'amazing,' but Seattle Sounders teammates Clint Dempsey and DeAndre Yedlin...

A painting in Brazil depicts the Dutchman's amazing goal against Spain.

German midfielder Cristoph Kramer has become the face of the ongoing concussion crisis after...