2014 FIFA World Cup: Keys to the quarterfinal matches
By the time Saturday night rolls around, only four teams will remain. Which matchups will determine the quarterfinal winners?
• 5 min read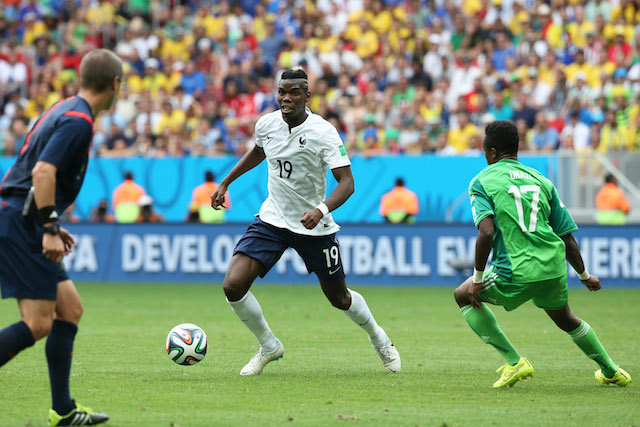 MORE: Re-ranking the quarterfinal sides | Staff quarterfinal predictions
Three weeks ago, the 2014 World Cup kicked off with Brazil's 3-1 victory over Croatia. And suddenly, we have just eight teams remaining – and by the time Fourth of July hangovers wear off on Saturday evening, we'll be down to just four sides fighting for the World Cup.
On Wednesday, we updated our power rankings heading into the quarterfinal matches, and now it's time to look at the keys for each match.
Germany vs. France (Friday, 12 p.m., ESPN2)
France's counterattack against Germany's backline: The biggest weakness for Germany in this World Cup has been its backline, more specifically its fullbacks. And against Algeria, it was magnified by Germany playing a high defensive line. Algeria constantly had success on the counterattack, similar to the way Ghana used its speed in group play to get two goals. France had arguably the best offensive performance of the World Cup in the group stage, scoring five goals against Switzerland. Karim Benzema, Mathieu Valbuena and Antoine Griezmann (or Olivier Giroud, if he plays better than he did on Monday) are very dangerous in attack, and Germany can't allow them to have open space.
Battle for possession in midfield: Both teams have plenty of talent in the midfield, although there have been some issues. Philipp Lahm is maybe the best right back in the world, but he's playing a holding midfielder in the world – and he hasn't looked his world-class self. France has a talented group led by Paul Pogba, but Nigeria matched them well in the midfield and was able to get some counterattacking opportunities for the first 60 minutes or so of the match. Which side will control the possession more? The better bet is Germany, but Pogba and Blaise Matuidi will create problems. 
Colombia vs. Brazil (Friday, 4 p.m., ESPN)
Battle between the outside backs: Both teams like to have their fullbacks push up the pitch. For Brazil, it's Dani Alves and Marcelo who tend to press forward for crosses and overlapping runs, while Pablo Armero and Juan Zuniga are the primary options for Colombia. Alves and Marcelo have had some issues getting caught too high up the pitch, which has left Brazil vulnerable to counterattacking, while Colombia hasn't really been threatened too much despite its aggressive fullbacks. Will either side be able to pin the opposing fullbacks in their own zone, preventing ambitious runs? Both sides have relied on the extra options up the flanks thus far; eliminating that would be key.
Which star will have more of an impact? Heading into the World Cup, Neymar was the center of attention. The Brazilian forward is one of the world's biggest stars and this was expected to be his proving ground. While he hasn't disappointed, scoring four goals, the most impressive player in the competition has been James Rodriguez. The Colombia attacker has five goals and two assists, consistently producing highlight-reel finishes. He's been the catalyst for Colombia, while Neymar has sometimes been the only consistent attacking threat for Brazil. Rodriguez's movement makes him difficult to mark, but Brazil has the individuals to effectively defending him. On paper, at least.
Belgium vs. Argentina (Saturday, 12 p.m., ABC)
The Argentinian reliance on Messi: It's not a huge issue that Argentina has been overly reliant on Lionel Messi so far in the World Cup. After all, he's arguably the best player in the world and he should be the most influential player on the pitch. Messi has notched four goals and one assist in four matches, but the rest of the attacking group -- outside of the versatile and underrated Angel di Maria -- hasn't been consistent enough. Sergio Aguero, Gonzalo Higuain and Ezequiel Lavezzi have combined for a grand total of zero goals in four matches. Messi has been able to carry them at times, but there's a reason Argentina hasn't been overly impressive yet. The supporting cast of stars needs to step up and take some of the pressure off Messi.
Belgium leaving it late: It's worked for Belgium so far, since the Europeans haven't lost a match yet -- but all six of their World Cup goals have come after the 70th minute. They have missed early chances and failed to put the game away when they seemingly had momentum, and it nearly cost them against the United States. The Belgians dominated play for most the 90 minutes of normal time, but couldn't get past Tim Howard and then nearly lost when Chris Wondolowski missed a one-on-one opportunity in the final minutes. If Belgium struggles to score until late again, can they keep Argentina at bay? Eden Hazard has seemed to be more effective as the second half progresses; he needs to take advantage of Argentina's mediocre backline earlier.
Costa Rica vs. Netherlands (Saturday, 4 p.m., ESPN)
The Dutch midfield against Costa Rica's pressure: While known mostly as a team that sat back and absorbed pressure in the defensive third, Costa Rica has had some success in the World Cup with its pressure in the midfield. They pressed aggressively against Italy in group play, and also used it at times against Greece in the Round of 16. Moreover, the reason Costa Rica was able to beat Uruguay, 3-1, in group play was because of the South American side's inability to keep possession. With Netherlands dealing with several injuries, including Nigel de Jong most recently, the Dutch midfield is not nearly as effective as it looked a few months ago on paper. If Costa Rica is able to disrupt Netherlands' inexperienced midfield players, they could have a chance to counterattack and get chances.
Robin van Persie and Arjen Robben: Costa Rica has had to resort to last-ditch tackles and clearances at times in the World Cup, but that won't work against the Dutch striking duo of Robin van Persie and Arjen Robben -- if the two are on their game. Robben has been excellent through most of the World Cup, but van Persie was ineffective against Mexico. With that said, they have combined for six goals in four matches and are capable of dominating a match. Is the Costa Rica defense up to the task?
The city of Samara's stadium, set to be used for the 2018 World Cup, has seen its construction...

Norway beat World Cup debutants Thailand 4-0 before a historic rout by Germany over Ivory Coast...

He'll be suspended for Friday's game against Iowa.
The World Cup was 'amazing,' but Seattle Sounders teammates Clint Dempsey and DeAndre Yedlin...

A painting in Brazil depicts the Dutchman's amazing goal against Spain.

German midfielder Cristoph Kramer has become the face of the ongoing concussion crisis after...