2014 FIFA World Cup: Last-gasp Swiss goal downs Ecuador 2-1
FIFA World Cup 2014: Switzerland scored a last-second goal with the final attack of the match to defeat Ecuador 2-1.
by

CBS Sports Staff

• 8 min read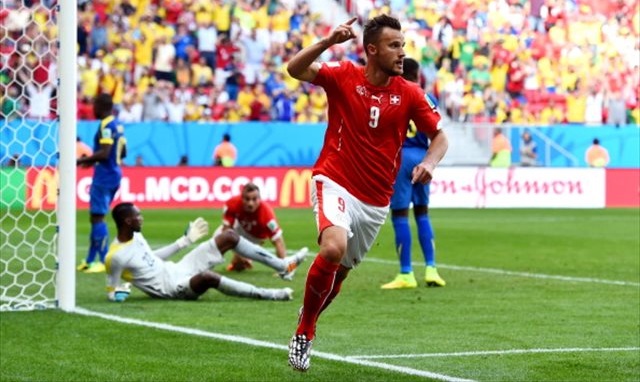 More: Ecuador vs. Switzerland MatchTracker | Scoreboard | Schedule 
Draws, schmaws.
The 2014 World Cup is now nine matches deep and, remarkably, still hasn't seen its first tie after Switzerland's last-gasp 2-1 victory over Ecuador. Ricardo Rodriguez's 93rd-minute cross was slammed into the net by substitute Haris Seferovic, giving the Swiss all three points and a massive leg up in their bid to advance from Group E.
Seferovic's goal came only seconds after Ecuador striker Michael Arroyo had an opportunity to win it for his team, but failed to pull the trigger from 12 yards out and was dispossessed by Valon Behrami, starting the Swiss counterattack that ended in Seferovic's goal.
Ecuador became the fifth team in the tournament to score first and go on to lose, after only three teams lost in such a situation in the entire 2010 World Cup. Enner Valencia gave "La Tri" the lead in the 22nd minute, rising unmarked and heading home a Walter Ayovi free kick from all of five yards. 
But the goal sparked the Swiss attack into life, and despite a handful of Ecuadorian chances, Ottmar Hitzfeld's team would have the better of play for the remainder of the match. Substitute Admir Mehmedi leveled the scores less than two minutes into the second half, heading in a free kick from close range in a near-carbon copy of Valencia's goal -- right down to the stunning lack of defense.
Josep Drmic would have a goal wrongly disallowed for offside midway through the second half, and with neither side generating much in the way of clearcut chances in the match's final 20 minutes, the tournament's first draw seemed a certainty. But Rodriguez and Seferovic had other ideas.
For CBSSports.com's LIVE blog of the match, featuring commentary, social media, and clips of all three goals, read on:
-------------------------- 
FULLTIME: Switzerland 2, Ecuador 1! Ecuador's Arroyo had a chance to win it in the closing seconds, but tried to take too many touches rather than shooting from only 12 yards -- and his hesitation allowed Switzerland to break the other way, with Haris Seferovic applying the finishing touch to a sweeping, match-winning move! 
The goal (and forgive the missed call on the goalscorer's identity):
94' -- OUTRAGEOUS! Switzerland 2, Ecuador 1! There's the final whistle! 
93' -- Antonio Valencia picks out a wide-open teammate ... Swiss the other way ... GOOOOAAAAALLLLL SWITZERLAND!!!!
91' -- A look at the offsides call. Remember: no Swiss player touched this after this pass:
Linesman, out of position, called Switzerland offside and disallowed goal via @liviubird pic.twitter.com/p5XJcrc9Xl

— Howler Magazine (@whatahowler) June 15, 2014
89' -- Well, there had to be a draw sometime, right?
87' -- Here's the Swiss goal, courtesy @MyRegularFace:
85' -- Ecuador awarded a free kick for a questionable foul on the substitute Arroyo, but he missed a wide-open teammate charging down the left side. Free kick ... is saved by Benaglio! Swerving shot is parried away and Switzerland breathe again.
84' -- Djourou fouls Valencia as he starts in on a breakaway. Pretty much the best yellow card you could take.
80' -- Shaqiri has consistently looked highly dangerous going forward, and has consistently played the wrong ball at the final moment. But he's just been fouled for a close-range Swiss free kick ... into the wall.
77' -- Judging by this broadcast, Ottmar Hitzfeld does not have an expression other than "stern."
75' -- Chances at both ends as Shaqiri wastes a Swiss 3-on-1, hitting the side netting from close range, and Valencia can't quite catch up with a ball touched behind Benaglio with the net gaping. 
70' -- OOPS: linesman believed a touch to Drmis for the disallowed goal had come off another Swiss player, but replay shows it clearly deflected off the defender. Bad call.
68' -- Montero has a near-post shot saved by Diego Benaglio in the Swiss net, and now Josip Drmic puts it in the net for Switzerland only for the goal to be disallowed. Every time it looks like the match starts to lapse towards a draw, one side or the other puts together something dangrous.
64' -- Ecuador has been sparked into life by the Swiss goal and is seeing much more of the ball now. But the Swiss defense looks like it might have settled a bit, too. Anybody's match -- but given that both goals have come from set-pieces, not sure either side has the inspiration to find a goal from the run of play. (Here's hoping that's a jinx.)
58' -- Hitzfeld brought on Mehmedi for a midfielder, the anonymous Valentin Stocker, shifting from a rough 4-5-1 to a 4-4-2. It obviously worked, but it might make the Swiss a little more vulnerable in midfield -- and there goes Valencia! Just misses the top corner from 16 yards! 
56' -- We'll let American soccer radio host/podcaster Jason Davis neatly sum up this match:
This is not good soccer. Still, I am entertained.

— Jason Davis (@davisjsn) June 15, 2014
55' -- Now it's Switzerland's turn to counterattack with promise, but Mehmedi discovers playing the right pass in the box is harder than heading home unmarked from four yars.
50' -- Corner won by another terrfiying long-range Swiss shot (this one by the impressive Lichtsteiner), but Ecuadorian marking on Mehmadi was as nonexistent as the Swiss's was on Valencia's goal. GUYS: players inside the six-yard box need to be defended! Really!
48' -- or by a GOOOOAALLLLLL!!! Ecuador 1, Switzerland 1! Ottmar Hitzfeld brings on Admar Mehmedi at halftime, and the sub takes all of two minutes to head home from close range on yet another Swiss corner. Nothing less than Switzerland's domination over the past half-hour deserved.
46' -- Second half is underway! How will Switzerland handle the Brasilia conditions in the late stages? How will Ecuador handle the Brasilia conditions in the late stages? Game could be decided by fitness ...
HALFTIME: Ecuador 1, Switzerland 0. The Swiss had the better of the run of play, but couldn't generate any gilt-edged chances. Ecuador only managed one -- but Enner Valencia buried it, and given that, it's hard to argue his team don't deserve their halftime lead.
For the neutral party, the goal was the best thing that could have happened to the match; after an extremely tentative opening 20 minutes, the Swiss aggression (there's a phrase you don't hear every day) over half's final 25 made for far more entertaining viewing. 
44' -- Montero wriggles free in the box, only for Johan Djourou to make an excellent sliding block, and moments later Rodriguez ties up Caicedo to prevent a second close-range shot. Frankly you'd expect Ecuador to look more dangerous on the counterattack than they have just yet, but the quality of their attacking players is still very much evident.
37' -- And the cross from the resulting corner just misses a pair of Swiss heads at close range. Particularly with Ecuador keeper Dominguez looking not-quite-rock solid, it's hard to see Ecuador holding out for the 1-0 win at this point. The South Americans need to get their offense going again, sooner rather than later. 
35' -- And now a dangerous-looking Swiss move leads to a blocked shot ... and fervent Swiss appeals for handball. Replay says ... well, while we wait for the replay, Gokhan Inler nearly finds the bottom corner from distance! All of a sudden the Swiss are all over them.
31' -- Ecuador have, unsurprisingly, dropped their defensive shell a little deeper with the lead in hand, and thus far the Swiss haven't looked exactly chock-ful of ideas on how to attack it ... though just as we type that, Lichtsteiner earns what proves to be a dangerous corner. 
26' -- The goal, one that extended Valencia's scoring streak to five matches now: 
23' -- Good gravy, Switzerland -- you let Enner Valencia have a completely free header from five yards? Wasn't your defensive discipline supposed to be one of your strengths? Also throw some blame Lichtsteiner's way for giving up a needless free kick against the tricky Montero.
22' -- GOAAAAAAALLLLLLL! Ecuador on the free kick!
16' -- There's some excitement -- Xherdan Shaqiri cleverly dribbles himself into a shooting position just inside the box and stings the palms of Ecuadorian goalkeeper Alexander Dominguez. Best chance for either side so far.
12' -- And the wave has already broken out, which tells you how much excitement the first 12 minutes has generated. Swiss striker Josep Drmis does get a touch in the box, but he's dispossessed quickly.
11' -- Lichtsteiner again breaks free down the right, again his cross is poor. Not a whole lot of genuine threat from either side as of yet. 
6' -- Swiss left back Stephan Lichtsteiner goes on a storming run down the right side, though the cross is overhit. All the offense for either side so far coming down the wings, not that that's necessarily a surprise. 
4' -- Ecuador's strength is on either flank, so it's no surprise their first semi-successful move comes down the right wing. Cheistian Noboa earns a free kick, but it comes to nothing, just as two early Ecuadorian corners do. Set-piece improvement needed.
1' -- And we're off! One note: On the lineups below, Ecuador's Enner Valencia is listed as the captain, but it's actually Manchester United right winger Antonio Valencia. Apparently having two players with the last name can even confuse FIFA.
Pregame, 11:50 a.m.: Via SBNation's Luke Zimmerman, looks like the right move given the security queues was to arrive at this match very, very early. Hope these fans weren't hoping to hear the national anthems (or, probably, watch the first 15 minutes):
Guess they're taking no chances with security, huh pic.twitter.com/zjQHwYnlz5

— Luke Zimmermann (@lukezim) June 15, 2014
Pregame, 11:45 a.m.: Your starting 11s for each team:
#ECU LINE-UP: Dominguez, Guagua, Erazo, Paredes, Noboa, Montero, W Ayovi, Caicedo, E Valencia (c), A Valencia, Gruezo #SUIECU #worldcup

— FIFAWorldCup (@FIFAWorldCup) June 15, 2014
#SUI LINE-UP: Benaglio, Lichtsteiner, Von Bergen, Inler (c), Xhaka, Behrami, Rodriguez, Stocker, Drmic, Djourou, Shaqiri #SUIECU #WorldCup

— FIFAWorldCup (@FIFAWorldCup) June 15, 2014
No major surprises for either team.
More World Cup: Scoreboard | Schedule | Group Standings | U.S. Team news

We were mere centimeters from losing one of soccer's brightest stars

Former Minister of Sport and Deputy Prime Minister Vitaly Mutko is stepping down

The city of Samara's stadium, set to be used for the 2018 World Cup, has seen its construction...
Norway beat World Cup debutants Thailand 4-0 before a historic rout by Germany over Ivory Coast...

He'll be suspended for Friday's game against Iowa.

The World Cup was 'amazing,' but Seattle Sounders teammates Clint Dempsey and DeAndre Yedlin...