2014 FIFA World Cup: Mexico and Brazil play to riveting 0-0 draw
FIFA World Cup 2014: Mexico vs. Brazil preview, live commentary and recap.
• 11 min read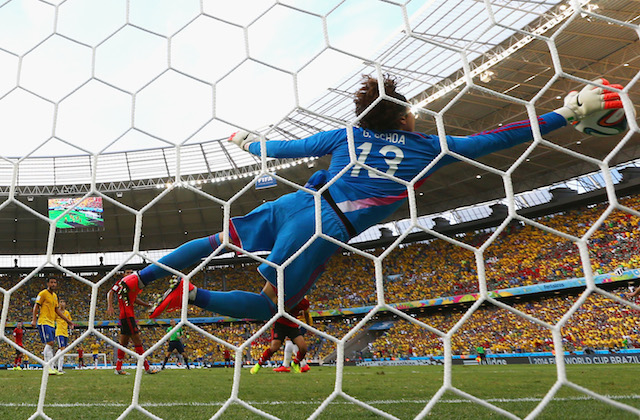 More World Cup: Brazil vs. Mexico MatchTracker | Complete schedule
FINAL SCORE: Brazil 0, Mexico 0
Ignore the scoreline if you want, as that was one of the best matches we've seen at this World Cup. Wide-open play, with both teams having numerous chances throughout the 90 minutes. Moreover, both keepers needed to come up big in order to keep it scoreless.
It started with Brazil having the upper hand, controlling possession and constantly pressuring Mexico. They were dispossessing the Mexican midfielders in bad spots and countering easily -- but Mexico goalkeeper Guillermo Ochoa kept them at bay. Mexico would settle down, though, and start to create their own chances. The first half was filled with hard challenges and dangerous tackles, although the referee decided not to book anyone.
The second half was even more wide-open -- with Mexico having the majority of chances for the first half of the second 45. They attempted several shots from distance, with a few shots forcing Julio Cesar to react. Then Brazil took back control, and it looked like they were set to break through, but it was Ochoa coming to the rescue yet again.
Guillermo Ochoa is the first keeper to EVER keep a clean sheet against #BRA in a World Cup match on Brazilian soil #MEX

— Mexico (@MexicoToday) June 17, 2014
An 86th minute save from Ochoa on a wide-open point-blank header from Thiago Silva kept the game scoreless, although Cesar would not be outdone, making a diving stop on Raul Jimenez's attempt in extra time.
Both teams now sit at four points heading into the final group match, with Mexico set to face Croatia and Brazil playing Cameroon.
FINAL: It's over. One of the most riveting 0-0 draws you'll ever see. Both sides had chances, both sides had momentum -- but neither side could break through. Mexico keeper Guillermo Ochoa was the clear Man of the Match.
90' + 1 -- Raul Jimenez had another chance for Mexico, but Cesar made a nice save. It's not just Ochoa playing well tonight.
90' -- Guardado had a strike that looked like it had Julio Cesar beat to the far post, but it went over the net. Many people (including the announcing team and myself) thought it went in.
88' -- Marcelo is knocked down in the box by Raul Jimenez, but there is no call. Marcelo is unhappy.
86' -- Another great save from Ochoa! Thiago Silva was wide-open on a header from about five yards from goal -- but he headed it toward Ochoa and the Mexico keeper knocked it away. Unbelievable. Horrendous marking from Mexico, but Ochoa saves them yet again.
85' -- Brazil sub.
A swap of Chelsea teammates.
84' -- Mexico sub.
IN: Raul Jimenez
OUT: Giovani Dos Santos
81' -- Dos Santos' free kick went right into the Brazil wall, leading to a counterattack with Neymar, but his through-ball to Jo went to Guillermo Ochoa instead.
80' -- Yellow card to Thiago Silva as he takes out Chicharito about 25 yards from the Brazil goal.
(via @WorldSoccerTalk)
78' -- Chicharito has been very involved since coming on the pitch. He's making runs, receiving the ball deep, holding up play -- and even beat David Luiz in the air on a header at the 18-yard box.
76' -- Mexico sub.
IN: Marco Fabian
OUT: Hector Herrera
76' -- Jo first-touches a Bernard through-ball wide of the net. He likely could have taken another touch or two, as he was at a difficult angle.
(GIF via @FlyByKnite)
74' -- Mexico sub.
IN: Javier Hernandez (Chicharito)
OUT: Oribe Peralta
SAVE VINE -- (via @TopDrawerSoccer)
69' -- Ochoa! Again! The Mexico keeper denies Neymar from about 10 yards out. 
68' -- Brazil sub.
Scolari looking to get a little more out of the striker position. Fred spent most of his 68 minutes in an offside spot.
66' -- Oscar has been mostly invisible in the second half, getting very few touches. He was extremely influential in the opener against Croatia, likely the best player on the pitch in that one. Mexico having more possession and more opportunities in the second 45.
63' -- Neymar's free kick goes over the Mexico wall, but it curves wide of the net. 
62' -- Mexico yellow card to Jose Juan Vazquez. (gif via @FlyByKnite)
59' -- Mexico yellow card to Paul Aguilar.
58' -- Mexico continuing to put pressure on Brazil's backline and Julio Cesar. Hector Herrera launched another shot from outside the box. Mexico is finding space in the final third. 
55' -- Another shot from distance by Jose Juan Marquez. This one goes just a couple feet over the crossbar. 
54' -- Thiago Silva heads a long attempt from Guardado over the net. Mexico corner is cleared easily.
52' -- Mexico has been very disciplined and organized defensively this half. They're closing down on Brazil's attackers and midfielders much quicker, beating Brazil to 50/50 balls.
48' -- Francesco Rodriguez with a massive header for Mexico. Bernard got in behind the Mexico backline, and seemed to have Neymar open for a cross at the far post -- but Rodriguez stepped in and headed it out of bounds. Brazil's corner led to Oscar knocking a ball into the stands.
(via @WorldSoccerTalk)
46' -- Thiago Silva and Rafa Marquez collide on a tackle, with Silva stepping on Marquez's foot. He was down for a minute or two. 
Halftime subs.
BRAZIL
Halftime: Brazil and Mexico go into the break without a goal.
Brazil controlled most of the opening 25 minutes, with Ochoa keeping the game scoreless with an unbelievable save on Neymar's header. Mexico was being consistently dispossessed in the midfield, leading to Brazil counterattacks and chances. However, Mexico began to get chances when Marcelo and Dani Alves were caught too far up the field. El Tri has a couple of shots from outside the box that went wide or sailed over the net. Brazil looked like it was about to break through right before halftime, when Paulinho seemed to have a clear opportunity -- but Ochoa stuffed him inside the six-yard box. 
Here a couple GIFs and VINES from some highlights late in the half.
First, it's Ochoa's great save on Paulinho's chip. (via @FlyByKnite)
Second, it was Jose Juan Vazquez's attempt from about 25 yards out that bounced wide past Julio Cesar. (via @FlyByKnite)
45' - Brazil yellow card to Ramires. Given his propensity for bookings with Chelsea, there's certainly not a surprise. 
44' -- Another excellent save from Ochoa! Brazil had four guys in the six-yard box with no Mexico defenders in sight after a botched offside trap, but Ochoa saved Paulinho's chip attempt.
40' -- Despite the scoreline, this has been one of the most wide-open matches of the tournament so far. It's certainly not Iran-Nigeria.
0-0 soccer can suck. Totally suck. It can also be like this.

— Andy Glockner (@AndyGlockner) June 17, 2014
39' -- Marcelo's attempt from about 30 yards out bounces harmlessly wide. 
37' -- Dani Alves whistled for a foul in a dangerous spot, but Mexico's free kick didn't lead to much.
35' -- A much easier save for Ochoa. This one off a Fred header from another Brazil corner.
33' -- Neymar looked like he was picking up steam as he neared the 18-yard box, but he ran into multiple Mexico defenders and no teammates offered an outlet.
Save of the tournament so far: (via @WorldSoccerTalk)
And in slow-motion (via @FlyByKnite)
26' -- What a save! Neymar looked to have a headed goal, but Guillermo Ochoa made a diving save to stop it just before it went over the line. 
24' -- Hector Herrera with an on-target strike from just outside the box, but Brazil keeper Julio Cesar tips it over the net. Well, it appeared that Cesar tipped it over. Referees rule a goal kick for Brazil.
(via @FlyByKnite)
21' -- Mexico hasn't had a continuous stretch of possession in a long time. The ball has barely been out of Mexico's half in the last 10 minutes or so. Brazil continuing to look threatening on the counter. Mexico being dispossessed far too easily. 
18' -- There have been several hard challenges so far -- including one that led to a Neymar free-kick just moments ago -- but no bookings yet. 
14' -- Mexico was dispossessed in the midfield, with Neymar leading the counterattack for Brazil. The ball was loose a couple of times inside the 18-yard box, but it went out for a goal kick.
13' -- Dani Alves with a hard challange after losing possession. Looked like it could have been a yellow card.
12' -- Brazil's defensive midfielder, Luis Gustavo, is playing further back than outside backs Marcelo and Dani Alves, almost as a third center back. That's allowing Marcelo and Alves to make runs up the flanks as pseudo-wing backs.
11' -- Oscar made a run in from the left side, then found Fred with an excellent right-footed cross, but the shot hit the side-netting. 
6' -- A probing dribble by Neymar was met by a hard challenge from Dos Santos, setting up a free kick from about 40 yards out. Brazil attempted a designed play off the free kick that never even got close to coming off right.
4' -- It's been Mexico with much of the early possession, though without much clarity. Brazil is still trying to find their footing in this one.
3' -- Now it's Paulinho of Brazil who is guilty of a hard foul, setting Mexico up with a long free kick they were able to serve into the box. It was headed away, but Mexico was able to work a corner kick out of it.
1' -- We are under way at the Arena Castelao. Vazquez fouled Neymar at midfield as if to send an early message. He got a talking to from the ref, but nothing more.
----------------------
PREGAME:
2:57: p.m. ET: The Brazilian team and their emotional singing of the anthem today. Neymar appeared to shed a tear afterwards.
2:55 p.m. ET: Just like they did ahead of the World Cup opener against Croatia, the Brazilian team came out with each player putting their right hand over the right shoulder of the player in front of them in a show of team unity. Mexico will not be wearing their traditional green uniforms today, instead coming out in their new reddish/orange uni's.
2:53 p.m. ET: The Arena Castelao is obviously very yellow today, but there are some significant pockets of Mexican fans in the stands as well.
#BRAvsMEX #BRA #MEX (@ Arena Castelão for Brazil vs Mexico) http://t.co/zArY6Fr1ho pic.twitter.com/lMlpwbkFOE

— Paulo Henrique™ (@Ph_cam) June 17, 2014
The starting lineups are in. No Hulk for Brazil, Ramires in his spot. Chicharito starts on the bench once again for Mexico. 

Brazil vs Mexico: Team lineups #BRAvsMEX pic.twitter.com/BKZmTJpi1q

— WhoScored.com (@WhoScored) June 17, 2014
-------------------
Brazil vs. Mexico (Group A) | Kickoff: 6/17, 3 p.m. ET | Stadium: Castelao, Fortaleza
Match Preview: The first two teams to play their second match of the World Cup, one country could have one foot in the knockout stage with a win. 
Brazil won its opening match against Croatia last Thursday, getting two goals from Neymar and a terrific performance from Oscar en route to a 3-1 win. They struggled to open the match, with Marcelo scoring an own goal to give Croatia a 1-0 before things had really settled down. Brazil gave up too much room in midfield, with Luka Modric and Ivan Rakitic controlling the pace of the game for Croatia. Moreover, Dani Alves and Marcelo sometimes got caught too high, and Croatia was able to counterattack down the flanks. In the end, though, Neymar's two goals and Oscar's performance gave Brazil the win.
Mexico, meanwhile, had its share of controversy in its opening 1-0 win over Cameroon. El Tri had two first-half goals incorrectly called back due to offside whistles, but an Oribe Peralta rebound goal gave Mexico the lead in the 61st minute. They were able to control possession for most of the game, although Cameroon had opportunities in the box, especially in the first half. Gio Dos Santos continued his excellent form, as he always seems to do with the national team. 
Tuesday should be an interesting match, as Mexico could get a leg up on Croatia for second place if they manage to sneak out a point from Brazil. The host country is dealing with some injury issues heading into Tuesday, as winger Hulk left Sunday's training with a thigh issue. His status is up in the air for the Mexico match. If he is unable to go, Brazil could opt to go with Chelsea attacking midfielder Willian or Chelsea midfielder Ramires.
The key for Brazil will be tracking Dos Santos, as his movement against Cameroon constantly created problems. Moreover, Marcelo and Alves can't be caught too high, as Mexico will counter.
On the other side, the aging Rafa Marquez needs to have another standout performance against Brazil's frontline. He played well against Cameroon, but Neymar and Fred and Hulk and Oscar are a completely different animal. Neymar's side could be an issue for Mexico's backline, while Oscar's creativity and crossing ability could be another problem.
Brazil is the favorite, but they weren't dominant against Croatia -- and Mexico will have some confidence after Friday's win. 
More World Cup: Scoreboard | Schedule | Group Standings | U.S. Team news

We were mere centimeters from losing one of soccer's brightest stars

Former Minister of Sport and Deputy Prime Minister Vitaly Mutko is stepping down

The city of Samara's stadium, set to be used for the 2018 World Cup, has seen its construction...
Norway beat World Cup debutants Thailand 4-0 before a historic rout by Germany over Ivory Coast...

He'll be suspended for Friday's game against Iowa.

The World Cup was 'amazing,' but Seattle Sounders teammates Clint Dempsey and DeAndre Yedlin...