2014 FIFA World Cup: Mexico thumps Croatia 3-1
FIFA World Cup 2014: Mexico vs. Croatia preview, live commentary and recap.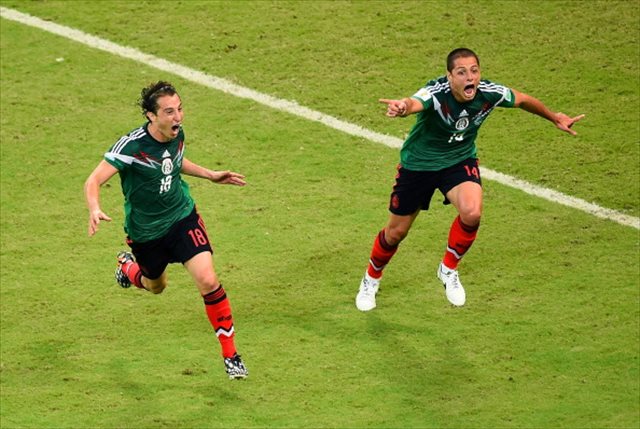 Mexico vs. Croatia: Matchtracker | World Cup scoreboard
Mexico would have been fine with a draw. They settled for blowing Croatia off the field.
El Tri scored three goals in the space of 10 second-half minutes to advance to the Round of 16 and eliminate a stunningly poor Croatia with a 3-1 victory. Mexico finishes second in Group A behind Brazil, 4-1 winners over Cameroon, and will play the Netherlands in the Round of 16.
Rafa Marquez, Mexico's 35-year-old captain, opened the scoring by heading a corner kick past Stipe Pletikosa in the 72nd minute, and led by substitute Chicharito Hernandez, the Mexican attack threw the floodgates opens. Hernandez found Andres Guardado for El Tri's second at 75 minutes, and then headed home another dangerous Mexican corner in the 82nd.
Ivan Perisic pulled one back for Croatia with a well-taken far-post finish in the 87th minute -- the first goal allowed in the tournament by Mexico and goalkeeper Guillermo Ochoa, a span of 277 minutes -- but the goal only served to beg the question of why Croatia offered so little beforehand.
Real Madrid's masterful Luka Modric and playmaking partner Ivan Rakitic were expected to boss the midfield, but Hector Herrera hounded them into invisibility as the game stretched on. After the opening 20 minutes, in which Perisic sent a shot narrowly over Ochoa's crossbar, Mexico looked firmly the more likely of the two sides to score -- even though it was Croatia that needed a victory to survive.
In the end, Mexico recorded 7 points in Group A and advanced to the Round of 16 with ease -- the sixth consecutive World Cup in which El Tri has escaped the group stage. Amazingly, Mexico has yet to win any of those previous five knockout matches -- but even against the rampant Dutch, the combination of Ochoa's brillance and the team's attacking verve could see them finally pull it off.
For CBSSports.com's full live blog, featuring reaction, analysis, social media and more, read below:
***************
FINAL SCORE: Mexico 3, Croatia 1. Mexico the better team by some distance as Croatia simply didn't show up for the second half. Modric and Rakitic never got a true foothold in the match and the Croatian defense -- never the team's strength -- was overrun.
Congratulations, Mexico -- your reward is a Round of 16 date with the Netherlands. Good luck! And based on your balance of steady defense and attacking flair, you might not actually need it.
93' -- All over but the shoutin'.
89' -- Well, Ante Rebic got his money's worth -- studs up, flying into the tackle, inarguable straight red card. Remember that tweet below about the odds on a red card in this match? Hope you got your wagers down.
87' -- GOAL, Croatia! Terrific ball sets Perisic in one-on-one with Ochoa, and he makes no mistake with his far post shot. Where was that the first 86 minutes?
85' -- Nevermind on the whole "win the group" thing -- Brazil has scored to push their differential to +5, with Mexico at +4 and behind on goals scored. 
85' -- You may not like Mexico. But you have to like Miguel Herrera, sorry:
83' -- Uh, Brazil? You might want to get one. Mexico is now one goal -- or one Cameroonian goal -- from winning the group on goal differential. It would be a staggering result for both teams.
82' -- GOOOOAALLLLLLL, Chicharito! Heads in off a corner kick!
79' -- Just to compound Croatia's misery, Masa Rodriguez clears a certain goal off the Mexican line with Ochoa beaten for the first time in three matches. Not their night.
76' -- Andres Guardado finishes off a nice counter into the oceans of space left my the overstretched Croatians, Chicharito paying off his substitution with a shrewd final ball.
75' -- GOOOOOOAAAAAALLLLLL Mexico! It's over! Into the Round of 16!
73' -- Strike that last comment about Marquez -- he rises higher than anyone else on a Mexican corner and heads past Pletikosa. Croatia now need two goals in 18 minutes after looking unlikely to score one in the first 72.
71' -- GOOOOOAAAAAAALLLLLLLL Mexico! Surely they're through!
69' -- The only player having a worse half than Croatia is collectively is Rafa Marquez, who just committed a terrible giveaway deep in his own half. Croatia does nothing with it, of course. 
68' -- Low cross is turned away by Pletikosa directly in front of Croatia's goal! Mexico now looking by far the more likely team to score, and if they do, good night Irene. 
65' -- If Mexico do escape their group, it won't be with the help of the officiating; after the two incorrectly disallowed goals vs. Cameroon, a skillful Aguilar cross resulted in 1. a shove in Hernandez's back 2. an obvious goalie-style handball from Srna. Two clear penalties, neither given. 
62' -- Gio Dos Santos leaves the game for Chicharito Hernandez, ending what was easily the least impactful of his three group-stage performances. A Hernandez goal, meanwhile, would redeem an iffy Cup so far and all but guarantee Mexico a Round of 16 spot at this juncture.
58' -- You can't call Mexico boring when they commit players forward and embrace a wide-open game -- their match with Brazil was one of the most entertaining of the tournament, despite the 0-0 final. Still, man, the 240 minutes of this World Cup (plus stoppage) they've been on the field for have produced a combined total of one goal. Has any team ever been exciting and boring at the same time?
56' -- And now Perisic plays the ball directly out of bounds under no pressure whatsoever. Ugly first 10 minutes of this half.
52' -- Nervous moment in the back for Mexico as an attempted clearance bounces off the head of Pranjic towards the goalmouth, but Croatia can't get a second touch. Followed shortly by a Marquez giveaway, that followed by Pranjic vastly overhitting Mandzukic with the counter on. Sloppy all of a sudden.
48' -- Another Croatian set-piece, another terrible delivery on which the ensuing scramble causes far more problems for Mexico than the original delivery. Maybe Croatia should just start making terrible deliveries and creating scramble situations on purpose?
46' -- Second half is underway! No changes at the half for either team. Shouldn't be long until we see Croatia make a positive change, though.
HALFTIME: Between the hard fouls and bad blood between Guardado and Srna ...
A one dollar bet on a red card in #CROvMEX would probably pay you $1.02.

— Jason Davis (@davisjsn) June 23, 2014
Croatia and Mexico has potential to devolve into a 70s Rangers-Flyers game.

— mgoblog (@mgoblog) June 23, 2014
HALFTIME: Not exactly a dull first half -- Mexico just play too openly for that -- but clearcut chances were hard to come by, especially in the final 20 minutes. El Tri have to be happy; not only is the match still tied with 45 minutes behind them, but Croatia don't exactly look full of ideas and haven't been able to attack their set-piece Achilles heel.
46' -- Foul deep in Mexico's half leads to "handbags at ten paces" from Guardado and Srna, and a free kick that's cleared for a corner, then a corner on which Corluka commits a foul. Same story: Croatia get set pieces, Croatia can't do anything with them since the Mandzukic almost-header early on.
42' -- Ball is spending a lot of time in Croatia's half, disappointing from the Croatian standpoint given that it's their side that need the win.
39' -- Crotia counter off a Mexico corner, with Rafa Marquez cleaning out Perisic from behind and earning himself the no-doubt yellow. Darijo Srna blasts the free kick high. Again: Croatia have to do better on set pieces.
35' -- No doubt to Mexico's delight, match has settled down somewhat. Croatia a little better in midfield, but as of yet no way to translate that into chances for Mandzukic. Mexican corner is cleared, but Croatia can't get the ball out of the back and Mexico kicks it around a bit. Nothing much exciting at the moment.
30' -- Perisic has been the most lively Croat attacker, and fires just high from the edge of the box. As expected: not a lot of precision in the final third, but both teams hardly shy about attacking.
23' -- Croatia with a brief spell of possession in the Mexico half but can't get anything going. Maybe El Tri posting clean sheets against Cameroon and Brazil wasn't a fluke?
19' -- Herrera -- who's been everywhere -- plays a wicked through-ball to Oribe Peralta, who can't control his shot from a reasonably tight angle. Mexico close again, and look tight at the back. Better team so far.
16' -- WHOA. Herrera unleashes a blistering 25-yard drive that rattles the intersection of crossbar and post! Inches away from one of the goals of the tournament. Croatia attempting to settle.
13' -- Perisic breaks free down the right after a Mexican turnover in midfield, but his cross is weak and cleared for a corner. Nicely worked routine sees a header sent across goal where Mandzukic can't quite get to it! Best chance of the game so far as Croatia comes into the game.
10' -- Slow start for the Croats -- pivotal playmaker Ivan Rakitic draws a yellow card, and a lofted Mexican free kick finds Hector Herrera free inside the box. He can't control the ball and loses it for a goal kick, but consider that a shot across the bow. 
7' -- Croatia have had a couple of set-piece opportunities, a major weakness for Mexico in qualifying, but nothing much comes of them. Especially given Mexico's ability to counter off of those chances -- hey they just earned a free kick in the Croatian half on just such a counter -- Croatia will need to do better.
3' -- Cautious opening from both teams, with long, hopeful balls played forward by both squads. Makes some sense for El Tri, less so for a team with Croatia's caliber of midfield. 
1' -- And we're off! As mentioned in the preview below, this promises to be the best match of the day -- Crotia must win to advance, but Mexico doesn't have the defensive horses to sit deep and play for a 0-0, and both teams boast a mouth-watering array of attacking options. Buckle in. 
Pregame: Your lineups, with no major surprises for either team:
#MEX LINE-UP: Ochoa, Rodriguez, Marquez (c), Herrera, Layun, Dos Santos, Moreno, Guardado, Peralta, Aguilar, Vazquez #CROMEX #WorldCup

— FIFAWorldCup (@FIFAWorldCup) June 23, 2014
#CRO LINE-UP: Pletikosa, Vrsaljko, Pranjic, Perisic, Corluka, Lovren, Rakitic, Modric, Srna, Mandzukic, Olic #CROMEX #WorldCup #joinin

— FIFAWorldCup (@FIFAWorldCup) June 23, 2014
Match Preview: The stakes are as simple as they are high: Croatia advances from Group A with a win. Mexico advances with a win or a draw. May the best team survive.
But as you'd expect in this most unpredictable of World Cups, which of these squads is prepared to prove themselves the "best team" is difficult to predict. The one certainty (we think) is that Mexico will have the edge at goalkeeper, where Guillermo Ochoa turned in the goalkeeping performance of the tournament against Brazil -- only days after Stipe Pletikosa's lackluster showing arguably cost his team at least a draw against the favored hosts.
Beyond that, though, your guess is as good as anyone else's. The Croatians should have an advantage in midfield, where little magician Luka Modric is one of the planet's best possession midfielders (if he's fully healthy) and Ivan Rakitic one of the game's hottest up-and-coming playmakers. In the kind of wide-open game favored by Mexico, winger Ivan Perisic and star striker Mario Mandzukic (of Bayern Munich fame) should not lack for chances.
But Croatia's defense was sloppy at times against Brazil and will be sorely tested themselves by Mexico's attack. The strike partnership of Gio Dos Santos and Oribe Peralta has enjoyed a terrific tournament so far, ably supported by rampaging fullback Miguel Layun and midfield general Hector Herrera.
Assuming Ochoa doesn't earn Mexico a point singlehandedly, which team gets the result it needs could come down to which (vulnerable) central defenders perform when their team needs them most. Dejan Lovren and Vedran Corluka could be exposed by Dos Santos's pace and Peralta's guile, but likewise the 35-year-old Rafa Marquez could have his hands full and then some with Mandzukic and Perisic.
Whatever the result, Croatia's quality across its front six players and desperate need for goals combined with Mexico's lethal counterattack should make for essential World Cup viewing. In a tournament that's offered one barnburner after another, prepare yourself for another.
More World Cup: Scoreboard | Schedule | Group Standings | U.S. Team news

The city of Samara's stadium, set to be used for the 2018 World Cup, has seen its construction...

Norway beat World Cup debutants Thailand 4-0 before a historic rout by Germany over Ivory Coast...

He'll be suspended for Friday's game against Iowa.
The World Cup was 'amazing,' but Seattle Sounders teammates Clint Dempsey and DeAndre Yedlin...

A painting in Brazil depicts the Dutchman's amazing goal against Spain.

German midfielder Cristoph Kramer has become the face of the ongoing concussion crisis after...