2014 FIFA World Cup: Netherlands beats Chile, 2-0, and wins Group B
FIFA World Cup 2014: Chile vs. Netherlands preview, live commentary and recap.
• 12 min read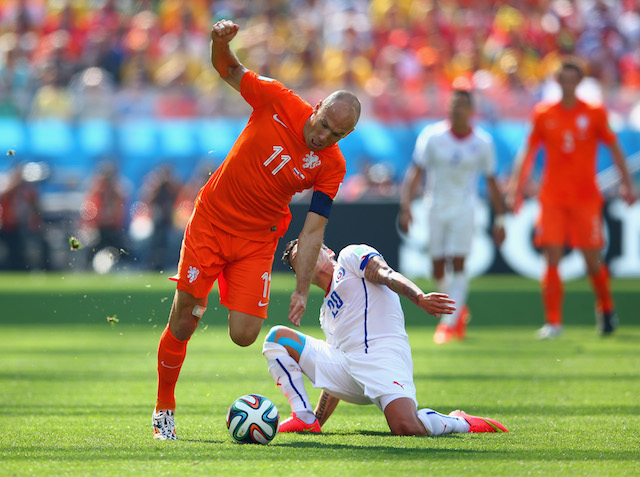 Chile vs. Netherlands: MatchTracker | World Cup Scoreboard
FINAL SCORE: Netherlands 2, Chile 0
With both teams already clinching a spot in the knockout stage, we weren't sure what to expect from Monday's match. Robin van Persie was out with yellow card accumulation, Arturo Vidal was also on the bench, and both sides made multiple changes from the first two matches. 
It started out like a match in which both sides knew they were secured of a spot in the next round. They were feeling each other out, and there were plenty of tactical fouls throughout the 90 minutes. Chile controlled possession for the first 25-30 minutes, but couldn't get too many clear-cut chances. That ended up being a theme for the match, as Chile only had a couple of legitimate scoring chances -- despite seeming to look threatening for long stretches. 
The Dutch began to accumulate chances late in the half, mostly due to the ability of Arjen Robben. He was his usual aggressive self, taking on defenders and beginning counterattacks by himself. Chile allowed him to get space on a regular basis, not forcing him to put the ball on his right foot. 
The match went into halftime as a 0-0 draw.
The second half began quietly, although things would pick up in the final 15 minutes, as both teams were making subs of the attacking variety. Memphis Depay and Leroy Fer came for the Dutch, and both would make their presences felt quickly. Fer struck first, heading in a corner kick to put Netherlands up 1-0 in the 77th minute. Depay would clinch the victory, finishing a Robben cross in extra time to give the Dutch their second goal.
With the result, the Netherlands is winner of group B, while Chile finishes second. 
FULL TIME -- Netherlands 2, Chile 0
90' + 2 -- GOAL! Arjen Robben makes a great run down the left, then crosses it across the six-yard box to Memphis Depay, who knocks it into the back of the net.
90' -- Three minutes of time to be added. Guessing it will be filled with Chile corner kicks.
89' -- Chile has another corner kick, but it doesn't hit anyone, and the cross back into the box is headed over the net by Gary Medel.
89' -- Netherlands sub.
IN: Terence Kongolo
OUT: Dirk Kuyt
88' -- Alexis Sanchez takes two corner kicks, with both going into the front defender for the Netherlands.
87' -- Dirk Kuyt is down and calling for a sub. Chile wants him to be carted off quickly so the match can continue. It looks like Chile received their requests.
81' -- Appeals in the box for a handball after Jorge Valdivia's flick bounces off a Dutch defender and appears to hit another in the arm, but Chile's attempt goes harmlessly wide. For all the attacks up the pitch for Chile, they haven't had too many clear goal-scoring opportunities. Quite possibly missing the all-around play of Arturo Vidal in the middle.
81' -- Chile sub.
IN: Mauricio Pinilla
OUT: Eduardo Vargas
GOAL GIF: (via @FlyByKnite)
79' -- Chile now needs two goals to win the group. 
77' -- GOAL! Leroy Fer heads in a corner past Bravo to put Netherlands up 1-0. Moments after entering as a sub.
77' -- Memphis Depay nearly makes his impact felt immediately. Turning and unleashing a rocket from 25 yards out, but Claudio Bravo was up to the task.
76' -- Netherlands sub.
IN: Leroy Fer
OUT: Wesley Sneijder
75' -- Netherlands wins a free kick, but it goes out for a corner kick. Robben's left-footed service is headed wide by Dirk Kuyt. 
70' -- Chile sub.
IN: Jorge Valdivia
OUT: Francisco Silva
69' -- Netherlands sub.
IN: Memphis Depay
OUT: Jeremain Lens
66' -- Robben with another left-footed strike on net. Chile continues to give him space in transition.
65' -- BOOKED! Netherlands defender Daley Blind gets a yellow card for his tackle on Sanchez. 
The ensuing free-kick goes to no one, but Sanchez saves it from going out of bounds and then gets a shot on goal from a difficult angle.
64' -- Another challenge in the box involving Sanchez, this one from Dutch goalkeeper Jasper Cillessen. He went to ground as the ball was going out of bounds, taking out Sanchez in the process. There was a brief appeal for a penalty from the Chilean attacker. (Although it should have been a corner kick.)
63' -- Netherlands would be just fine with a draw. They would win the group due to goal differential -- and possibly avoid Brazil if the host country win group A (it is currently in first).
And it seems the Dutch know a 0-0 draw is in their interests. 
62' -- Chile heads away a Netherlands free kick, but it falls to Sneijder -- whose attempt is blocked and then cleared by Chile. 
56' -- Alexis Sanchez launches one from about 25 yards out, but it goes over the net. He's been very active and aggressive today.
54' -- Wesley Sneijder could have had a go from about 23 yards, but decided to drop it off for Jeremain Lens, whose attempt to play it back to Sneijder was too strong. Think it would have been a better move to get a shot on net.
49' -- The second half starting the same way the first 45 did: physical play, fouls, feeling each other out a bit. 
Chile sub: 
IN: Jean Beausejour
OUT: Felipe Gutiérrez
HALFTIME: The two sides enter the break in a scoreless draw.
It wasn't without excitement, though. Both teams had plenty of chances, especially after the first 10-15 minutes or so, although very few were clear-cut goal-scoring opportunities. Chile owned possession and most of the better chances for the first 25 minutes or so, before Netherlands began to hit them on the counterattack and look dangerous. Most of Chile's best efforts came via Alexis Sanchez or crosses from the left by Eugenia Mena. On the other side, Arjen Robben was the catalyst for the Dutch, which comes as no surprise. He was excellent on the counter, eagerly taking on defenders, and also put in a dangerous free kick from the right wing. 
As it stands, the Netherlands would win the group.
44' -- Great free-kick from Marcelo Diaz, but Felipe Gutiérrez's backward header goes wide. 
42' -- Another counterattack, another chance for Netherlands. this one from Jeremain Lens, but it's a poor effort and goes sailing into the stands. 
40' -- Arjen Robben nearly gets his fourth goal of the competition. Essentially a one-man counterattack, Robben beat a couple of challenges and then knocked in a left-footed shot across his body, but it rolled wide. Chile can't let him keep it on his left foot when he's going full-speed.
37' -- Another shout for a penalty from Chile, as Dirk Kuyt knocks over Alexis Sanchez in the box on a cross. On replay, though, it didn't look like much. Sanchez was none too happy. 
35' -- Robben's set-piece cross was on target, but Stefan De Vrij's header wasn't. Because of its small backline, Chile has had trouble dealing with crosses and balls over the top so far in the World Cup. Netherlands nearly exploited it on that attempt. 
34' -- Multiple chances for Netherlands. Robben was leading a counterattack, but passed it behind De Jong -- yet Chile failed to clear and Netherlands was able to get a cross in before it was booted away.
31' -- Appeals for a penalty kick after Daley Blind took out Charles Aránguiz inside the box. It looked like Blind got some of the ball first, though.
26' -- Sneijder's free-kick looked slightly off-target and didn't threaten Claudio Bravo too much.
25' -- BOOKED! Yellow card to Francisco Silva, who took down Jeremain Lens in a race for a ball played behind the Chile backline. (via @FlyByKnite)
24' -- Things starting to open up a bit. Arjen Robben takes on multiple challenges down the right flank and gets into the box, but his shot is blocked and the rebound is knocked wide by Georginio Wijnaldum.
23' -- Sanchez plays a corner kick on the ground to Felipe Gutierrez, who gets an open chance from about 10 yards out -- but is somewhat off-balance and sends it over the net.
19' -- Mena continues to make things happen down the left flank, putting in a couple of more crosses to no avail. Chile is the aggressor so far.
15' -- Good run by Charles Aránguiz, who took a through-ball and crossed it on the ground toward the Netherlands' six-yard box before it was cleared.
13' -- Eugenio Mena creating a chance for Chile. Put in a dangerous cross that was headed well over the bar by Eduardo Vargas. 
11' -- Chile has been looking to play it over the top to Alexis Sanchez, and seem to be getting closer to completing one of the long balls. Sanchez lost the race to the end-line moments ago, and then forced Jasper Cillessen to come out and collect another one. 
7' -- I'm personally not a big fan of Group A playing its final matches after Group B. Should probably go in order, I would think. It will be interesting to see how Brazil comes out, depending on which team they would rather play. They could theoretically draw (or lose) if it suits them better. With that said, I don't think Brazil -- on their home soil -- can do anything but win (and win big) against Cameroon. 
4' -- Physical open couple of minutes, with a few fouls and not much else. Chile has had more of the possession, but it's been mostly in the center of the mark, not looking too dangerous just yet.
PREGAME: Lineups.
#CHI LINE-UP: Bravo (c), Mena, Isla, Silva, Sanchez, Vargas, Gutierrez, Medel, Jara, Aranguiz, Diaz #NEDCHI #WorldCup

— FIFAWorldCup (@FIFAWorldCup) June 23, 2014
No Vidal in this one, as expected. He's still not 100 percent fit after surgery in May, and is also on a yellow card. Francisco Silva gets the start in the midfield, after clocking 90 minutes total in the first two group matches. Felipe Gutierrez gets his first start of the competition in midfield.
#NED LINE-UP: Cillessen, Vlaar. De Vrij, Blind, De Jong, Janmaat, Sneijder, Robben (c), Kuyt, Lens, Wijnaldum #NEDCHI #WorldCup #joinin

— FIFAWorldCup (@FIFAWorldCup) June 23, 2014
Van Persie is out due to yellow card accumulation, as Jeremain Lens comes in for him. Jonathan de Guzman and Bruno Martins Indi are also not in the starting XI, with Dirk Kuyt and Georginio Wijnaldum getting their first starts of the World Cup.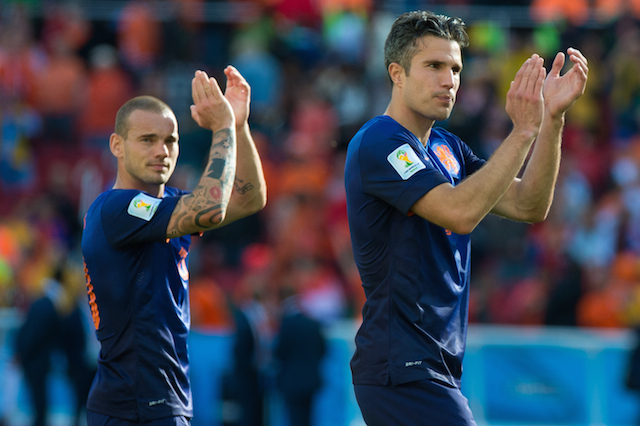 Chile vs. Netherlands (Group B) | Kickoff: 6/23, 12 p.m. ET | Stadium: Corinthians
Match Preview: Heading into the group stage, most people thought the Chile-Netherlands group match would be for second place in the group. Spain was expected to win the group and make a deep run in the World Cup, as the reigning champion had won three consecutive major competitions and returned most of its key players. Instead, Spain lost its first two matches to Netherlands and Chile, respectively, and has already been eliminated from the World Cup. The Spain-Australia match is meaningless, relatively speaking.
As a result, the Chile-Netherlands match on Monday afternoon will decide who wins Group B. Both teams have already clinched a spot in the knockout stage, but a win would mean avoiding the Group A winner -- which could be Brazil. 
Netherlands pulled off one of the shock results of the World Cup so far, dominating Spain en route to a 5-1 win to open group play. It was an eye-opening performance, and while Spain's embarrassing loss received the headlines, the Netherlands also made a statement that it was not the same team from Euro 2012. A come-from-behind 3-2 win over Australia kept the Dutch atop the group table. 
There were plenty of questions surrounding the Dutch heading into the World Cup, as the Netherlands was bounced from Euro 2012 without a win. It was among the favorites to make a deep run in that competition, but chemistry and performance issues caused the early exit. While Robin van Persie, Arjen Robben and Wesley Sneijder returned to lead the frontline, a very young midfield and backline have changed things up a bit. Van Persie and Robben have three goals apiece through two games, but the crossing of Daley Blind has been another bright spot for manager Louis van Gaal. 
Chile was one of the popular darkhorses heading into the competition, and a 3-1 win over Australia didn't do much to dissuade that notion. However, it didn't look like a dominant side against the Socceroos, and it would need to play more consistently against Spain to beat La Roja. And that's exactly what Chile did. The high-press of Chile's frontline and the aggressive play of its midfielders created problems for Spain throughout the match, with Chile emerging as a 2-0 victor.
This is still a team to watch moving forward. Chile's ability to close down on opponents and force giveaways in their own half of the field constantly creates counterattacking opportunities for Chile's goal-scorers. The key will be finishing those chances. Over the past couple of years, Chile has developed a reputation for dominating play and racking up chance after chance -- but sometimes lacking the finishing touch in the final third. Against Netherlands, Chile will have to take advantage of its opportunities. Arturo Vidal is maybe the best all-around midfielder in the world, and Alexis Sanchez and Eduardo Vargas have been consistently dangerous. 
The key in this one could end up being van Persie's yellow card accumulation. He picked up two in the first two matches, meaning he will miss the Monday's match. Prior to that, it would have been interesting to see Chile's backline against Netherlands' attackers Spain had trouble dealing with balls over the top, allowing the Dutch forwards to get into space behind the defenders. Without van Persie, Netherlands is a little less imposing in attack -- but Robben is capable of magic on his own. Twenty-year-old Memphis Depay has played in attack for Netherlands in this competition and could see some time. Chile's defense wasn't exactly a bright spot during qualifying, and they will have to continue holding teams at bay.
On the other side, Netherlands has to take care of the ball and not allow Chile to force turnovers in the Dutch half. Without the injured Kevin Strootman pulling the strings, they could be susceptible to giveaways. Will Vidal play, though? He was dealing with a foot injury prior to the World Cup and was a doubt to even play in the opening matches, and also picked up a yellow card. Because of the injury and suspension concern, it could make sense for him to sit. Either way, when Chile gets its high-pressure system rolling -- especially on its home continent -- it is tough to play against.
More World Cup: Scoreboard | Schedule | Group Standings | U.S. Team news

We were mere centimeters from losing one of soccer's brightest stars

Former Minister of Sport and Deputy Prime Minister Vitaly Mutko is stepping down

The city of Samara's stadium, set to be used for the 2018 World Cup, has seen its construction...
Norway beat World Cup debutants Thailand 4-0 before a historic rout by Germany over Ivory Coast...

He'll be suspended for Friday's game against Iowa.

The World Cup was 'amazing,' but Seattle Sounders teammates Clint Dempsey and DeAndre Yedlin...