2014 FIFA World Cup: Netherlands comes back to beat Mexico, 2-1
FIFA World Cup 2014: Mexico vs. Netherlands preview, live commentary and recap.
• 12 min read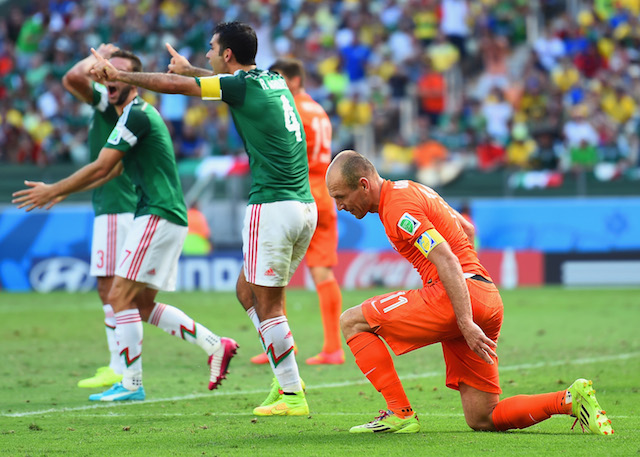 MORE: Netherlands vs. Mexico MatchTracker | Latest News & Notes
FINAL SCORE: Netherlands 2, Mexico 1 (Dos Santos 48', Sneijder 88', Huntellar 90')
FINAL: What a turn of events. Netherlands scores twice in the final eight minutes to go from being sent home to advancing to the quarterfinals. 
This looked like a sure Mexico victory heading into the final minutes. In the first half, Mexico had most of the better chances. Netherlands' star striker duo of Arjen Robben and Robin van Persie couldn't get any space or any opportunities, and Mexico was looking threatening from outside the box and on the counterattack. 
In the second half, Giovani dos Santos opened the scoring with a beautiful strike from outside the box to give Mexico a 1-0 lead. Netherlands began to push forward more and more, bringing on Memphis Depay for a defender, and winning corner kicks and attempting dangerous crosses. The Dutch did not look they were going to break through, especially with Mexico goalkeeper Guillermo Ochoa putting on a show once again. And then Netherlands brought off van Persie, an interesting decision given how talented RVP can be in the final third. 
A 10th corner kick ended up paying off for the Dutch, though, as a header fell to the feet of Wesley Sneijder, who buried it past Ochoa to tie the game in the 88th minute. Mexico looked relegated to play for extra time, but Netherlands was looking to end it in regulation. Arjen Robben, who had created plenty of chances in the second half, took it to the endline against multiple Mexico defenders -- and then cut back, before falling as Rafa Marquez stuck his leg out and nipped Robben's foot. The debate on whether it was a dive will not end anytime soon.
Klaas-Jan Huntelaar buried the penalty and Netherlands was up 2-1. That would be the final score, as Mexico was devastated. El Tri have now been knocked out six straight times in the Round of 16.
Netherlands will play the winner of Costa Rica vs. Greece.
90' + 5 -- Prior to the penalty, Rafa Marquez and Andres Guardado were both given yellow cards. Marquez would theoretically miss the next match if Mexico can somehow win.
90' + 4 -- GOAL! Klaas-Jan Huntelaar buries the penalty as Guillermo Ochoa guesses wrong.
(via @FlyByKnite)
90' + 2 -- PENALTY! Arjen Robben is taken down in the box by Rafa Marquez. (via @MyRegularFace)
90' + 1 -- Memphis Depay sends one over the net.
90' -- Six minutes of extra time.
88' -- GOAL! Wesley Sneijder buries a wide-open shot into the back of the net. And we're level. 
87' -- Netherlands has now had 10 corner kicks and countless crosses. Can someone get on the end of it?
85' -- Huntellar sneaks through and gets a touch right in front of Ochoa, but Huntellar was offside. Ochoa saved it anyway. Of course.
79' -- Salcido fumbles through the Netherlands defense, and knocks it over the net. Needed to test the keeper there. 
78' -- And another cooling break. 
76' -- Netherlands sub.
IN: Klaas-Jan Huntelaar
OUT: Robin van Persie
75' -- Mexico sub.
IN: Javier Hernandez
OUT: Oribe Peralta
75' -- Guillermo Ochoa with another impressive save, as Arjen Robben gets in the box and puts it at Ochoa with his right foot.  
Yes, Robben used his right foot. I swear. There's video proof.
73' -- By the way, it now feels like 104 degrees on the pitch right now. 
Imagine Qatar. 
72' -- Wesley Sneijder blasts one well into the stands. He's had three shots on goal today, but that wasn't one of them. 
70' -- Dirk Kuyt makes a run down the right wing and crosses it in, but it's headed out for a corner. The ensuing corner is punched away by Ochoa. 
68' -- Arjen Robben goes down twice in the box, at the feet of Miguel Layun and Diego Reyes, but there was no whistle. Goal kick to Mexico. 
66' -- Netherlands has had most of possession for the past several minutes, but it's resulted in mostly crosses that were easily headed away by the Mexican backline or shots that went wide of the net. 
61' -- Mexico sub.
IN: Javier Aquino
OUT: Giovani dos Santos
58' -- Save! Guillermo Ochoa was heroic against Brazil in the second group match, and he just made a terrific stop on a Stefan De Vrij attempt from four yards out. He knocked it away and it hit the post before bouncing away. (via @FlyByKnite)
57' -- Before the sub, Oribe Peralta was hunting for a second Mexican goal, but his attempt from outside the box was saved. 
56' -- Netherlands sub.
IN: Memphis Depay
OUT: Paul Verhaegh
54' -- Mexico manager Miguel Herrera has been one of the highlights of the World Cup thus far, and he didn't disappoint after Dos Santos' goal.
52' -- That was Dos Santos' first national team goal since 2012. Nice timing.
48' -- GOAL! Giovani dos Santos puts it past Dutch goalkeeper Jasper Cillessen after chesting it down to his left foot.
46' -- Mexico sub.
IN: Diego Reyes
OUT: Hector Moreno
HALFTIME: We go into the break scoreless.
After the opening few minutes, where the Netherlands had most of the possession, Mexico has had the better chances. A couple of misplays at the back have led to opportunities for the Dutch, but Mexico has looked more threatening, whether it's on attempts from outside the box or throughballs off of counterattacks.
Mexico has done a good job of limiting chances for van Persie and Robben (aside from the the late mistake that led to a Robben run inside the box). If El Tri continue to close down space for the two Dutch strikers, and then end up finishing one of their own chances inside the box, they have a chance to advance. Dutch goalkeeper Jasper Cillessen has looked generally shaky.
45' + 2 -- A misplay by Mexico's backline leads to an open counterattack from Robin van Persie and Arjen Robben, but Rafa Marquez tracks back and Héctor Moreno slides through to take out Robben. The Dutch were making calls for a penalty, but there was no whistle.
45' -- Four minutes of stoppage time in the first half. 
42' -- Save! Giovani dos Santos gets open in the box, but it's a difficult angle and Jasper Cillessen blocks it away. It looked like Robin van Persie had a chance on the counter, but Mexico had multiple players in the defensive third and he was closed down and lost possession.
42' -- Arjen Robben plays a short corner, gets the ball back, and then sends it over everyone's head for a goal kick. 
40' -- The wing backs for both sides have been getting forward, which is no surprise. Mexico had much success in group play with the runs of their wing backs, while Netherlands' forwards were able to find space after balls played from their wing backs.
37' -- Robben and van Persie haven't had much time on the ball in the opening half. There hasn't been much space for those two to run into, and Mexico has closed down effectively when they do get a touch.
35' -- And we're back after about three minutes of water and huddling. 
This was what the television coverage returned with, by the way.
32' -- And there's a cooling break! With the humidity making it feel like 97-degree temperatures, the officials have decided on a short cooling break.
29' -- Peralta leaves it off for Giovani Dos Santos, but his shot goes right at Cillessen. 
27' -- Robin van Persie gets some space behind the Mexico backline, but his first touch goes to his right foot and his attempt goes high and wide. 
24' -- Carlos Salcido has tons of space, and lets one go from about 25 yards -- and Jasper Cillessen had trouble dealing with it, parrying it out of bounds. 
22' -- Arjen Robben looked like he was taken down just outside the Mexico penalty area, and the referee seemed poised to blow his whistle -- alas, no call.
20' -- Hector Herrera makes a terrific run into the box, and there was contact with Dutch defenders Ron Vlaar and Stefan De Vrij, but the referee rules it a corner kick. Herrera had put his head down, while De Vrij came in with a flying kick.
17' -- Mexico had a great chance in the box, as Giovani dos Santos takes it down in the box, but Oribe Peralta can't get a clean look and Héctor Herrera puts it wide of the net. Looking back, a quicker shot could have been useful, as Mexico had an advantage in the box for a couple of seconds.
15' -- Mexico has had the better opportunities in the opening quarter of an hour. They have been dangerous coming in from the flanks, whether on crosses or by cutting inside and having a go from outside the box.
10' -- Early Netherlands sub.
IN: Bruno Martins Indi
OUT: Nigel de Jong
De Jong comes off due to a muscle issue, and now Netherlands is down to two subs for the final 80-plus minutes of the match. Moreover, he was arguably their best midfielder. Martins will slot into the backline, and now Daley Blind or Dirk Kuyt will have to play in the midfield. Interesting early adjustments. 
7' -- Almost a huge mistake by Netherlands keeper Jasper Cillessen, as he came out of his box to clear away a through ball, but he mishit it. No Mexican players were around to take advantage of the error, though.
5' -- Miguel Layun again looking to be aggressive in Netherlands' defensive third. This one came on another cut inside, but it rolled harmlessly wide. 
3' -- Miguel Layún has a go from about 30 yards out, but it sails over the net. Netherlands has had the better part of possession in the opening minutes, but not many chances. Arjen Robben was the target of one through ball, but it led to nothing. (via @FlyByKnite)
PREGAME: Lineups have been announced.
#NED LINE-UP: Cillessen, Vlaar, De Vrij, Blind, De Jong, Van Persie (c), Sneijder, Robben, Verhaegh, Kuyt, Wijnaldum #NEDMEX #WorldCup

— FIFAWorldCup (@FIFAWorldCup) June 29, 2014
Dirk Kuyt gets the nod again, and will likely line up at left wing back, pushing Daley Blind more toward the middle. The surprise start is Paul Verhaegh, who hasn't played a minute in the World Cup. He starts over Daryl Janmaat, who started the first three games. Georginio Wijnaldum gets his second start in midfield, ahead of Jonathan de Guzman.
#MEX LINE-UP: Ochoa, Rodriguez, Salcido, Marquez (c), Herrera, Layun, Dos Santos, Moreno, Guardado, Peralta, Aguilar #NEDMEX #WorldCup

— FIFAWorldCup (@FIFAWorldCup) June 29, 2014
Mexico started the same 11 players in all three group matches, but the loss of Jose Juan Vasquez to yellow card accumulation could prove costly. Carlos Salcido starts in his place, and he's more of a defensive player. Mexico's offensive output will have to come from its wing backs and the trio of Dos Santos, Peralta and Herrera.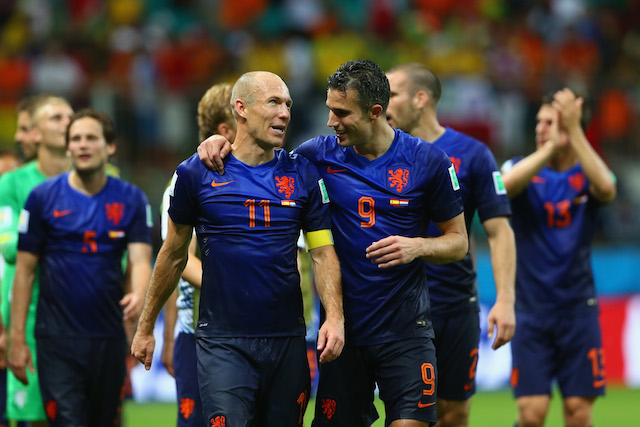 Mexico vs. Netherlands | Kickoff: 6/29, 12 p.m. ET | Stadium: Castelao, Fortaleza
Match Preview: Heading into the World Cup, there were plenty of questions about both of these sides.
Mexico had looked thoroughly mediocre for most of the CONCACAF qualifying stages, needing help from the United States during the final fixture just to reach a playoff. Shuffling through four managers in a one-year span, no one really knew what to expect from Mexico in the World Cup. El Tri had the talent to reach the knockout stage, but the inconsistency to bow out during group play with only a couple of points to their name. They quickly answered some questions, beating Cameroon 1-0 in the opening match and then drawing with Brazil, in an exciting 0-0 match in which both teams had plenty of chances. In a match where Mexico just needed a draw to advance, it defeated Croatia 3-1 to finish second in the group.
Mexico manager Miguel Herrera has started the same 11 players in all three matches thus far, but he will need to make at least one change for Sunday, as Jose Juan Vazquez accumulated two yellow cards in the group stage. There was some controversy prior to the competition, as it was seemingly clear that Manchester United striker Javier Hernandez would start on the bench. Chicharito hasn't started a match yet, but he's been a game-changer late in matches, coming on and providing a spark for Mexico. Giovani dos Santos has been generally effective thus far, as have Andres Guardado and Oribe Peralta. The thrusts up the flanks by wing backs Miguel Layun and Paul Aguilar have also created issues for opponents. The ageless Rafa Marquez has anchored a backline that has allowed just one goal so far -- helped in great part by the terrific goalkeeping of Guillermo Ochoa.
Netherlands was something of a mystery before the World Cup started, too. The Dutch dominated in qualifying, scoring 34 goals in 10 matches while winning nine and drawing once. But a combination of injuries and form changed the lineup greatly from the past couple of years. The attacking group was relatively the same, but the midfield and backline were comprised mostly of guys that were untested on a major international stage. Throw in the shocking flameout in Euro 2012, and few knew how to predict the Netherlands performance. In an opening match no one could have seen coming, the Dutch kicked things off with a 5-1 throttling of Spain. Ensuring it wasn't a fluke, they followed that up with a 3-2 win over Australia and a 2-0 victory over Chile to win the group.
The Dutch have been led by their veteran attacking trio, namely star forward Arjen Robben, who has been one of the standout performers of the World Cup so far. He has notched three goals, and has been extremely effective taking on defenders and creating opportunities. While Robin van Persie missed the Chile match due to yellow card accumulation, he has also scored three goals and has formed a devastating partnership with Robben. Wesley Sneijder has been solid behind the front two. The inexperienced backline has been excellent, although having three defenders play together for Eredivisie side Feyenoord has helped. Moreover, Daley Blind has been excellent, including his two beautiful balls over the top against Spain that led to two Netherlands goals in the opener.
One of the keys on Sunday will be the wing back battle. Both teams have played mostly a 3-5-2/5-3-2 with wing backs bombing forward. Opponents have had trouble dealing with those runs, and it will be interesting to see if either side stays pinned back on Sunday. Another key will be Rafa Marquez and the Mexican center backs dealing with Robben and van Persie. When both Dutch attackers are on their game, they can be unplayable. Mexico can't let them get in a rhythm early. 
The winner will move on to play the winner of Costa Rica vs. Greece.
More World Cup: Scoreboard | Schedule | World Cup Bracket | U.S. Team news

We were mere centimeters from losing one of soccer's brightest stars

Former Minister of Sport and Deputy Prime Minister Vitaly Mutko is stepping down

The city of Samara's stadium, set to be used for the 2018 World Cup, has seen its construction...
Norway beat World Cup debutants Thailand 4-0 before a historic rout by Germany over Ivory Coast...

He'll be suspended for Friday's game against Iowa.

The World Cup was 'amazing,' but Seattle Sounders teammates Clint Dempsey and DeAndre Yedlin...