2014 FIFA World Cup: Nigeria wins 1-0, knocks out Bosnia
A first half goal for the Nigerians proved to be the difference on Saturday as Bosnia-Herzegovina was knocked out.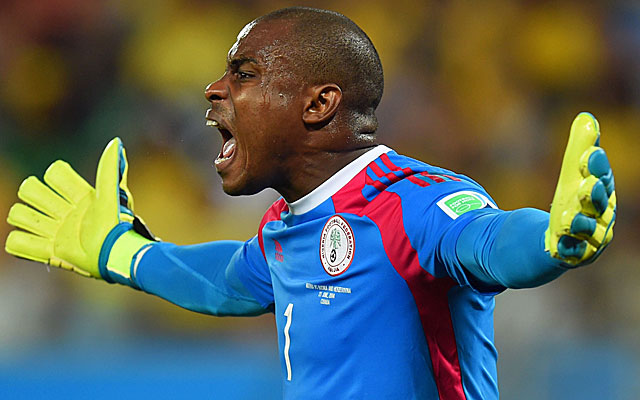 FOLLOW: MatchTracker
FINAL: Nigeria 1, Bosnia-Herzegovina 0
Nigeria benefitted from some highly questionable refereeing to beat Bosnia-Herzegovina 1-0, knocking its opponent from the World Cup after just two games. It was Nigeria's first World Cup win since 1998. 
Bosnia-Herzegovina joins Australia, Cameroon, England and Spain among the teams ousted from the World Cup.
But if the referees hadn't disallowed a 20th-minute goal from Edin Dzeko which replays showed he was clearly onsides for, who knows the result of Saturday's vital Group F match? Miralem Pjanic slotted a perfect pass to Dzeko who buried it past Vincent Enyeama, but the linesman incorrectly raised his flag. Nigeria also benefitted from a potential foul on its own goal -- a 28th-minute strike from Peter Odemwingie. 
Emmanuel Emenike used a swim move to bypass a Bosnian defender deep on the right side, knocking him down in the process. The striker then slotted the ball to Odemwingie for the goal, but again, the Bosnian players pleaded for a foul. 
The calls against Bosnia-Herzegovina didn't help the cause, but it can't be said that they didn't have subsequent chances. Edin Dzeko had two golden chances in stoppage time (one with his head from the six, another with his foot from the same spot) but he couldn't finish. 
Credit the Nigerians' defense for obstructing numerous shots from the Bosnian strikers. The tackling was precise, and they seemed determined to end their winless streak. The defense was oustanding, but had Enyeama not proven to be a brick wall in the back, all that defending would've been worthless. 
Nigeria, with four points, moves on to face group leader Argentina, which has already secured its spot in the next round. 
92' -- Dzeko had a perfect, perfect chance directly in front on Enyeama and Nigeria's keeper saves it. INSANE. That's it. Final whistle blows. Bosnia-Herzegovina is out. Not for lack of chances, it must be said. 
91'+ -- Three minutes of added time. 
90' -- Ibisevic has a shot blocked but B-H earns a corner. Let's see... Dzeko almost heads one in but Enyeama swallows it up. Dzeko aimed it right at center of the goal just six yards out. 
89' -- All hands on deck for Nigeria's defense. Spanic, Susic both working hard in the box to try and equalize this. Pjanic, too. But Nigeria is not conceding this goal. 
86' -- Not sure if this will be in a losing effort but Besic has worked extremely hard tonight. Excellent in transition. Hustling back on defense. Everything. 
83' -- Emenike down now. Tick....tick....tick. Bosnia-Herzegovina players have been chirping at the referee all game long. Not thrilled with lack of calls, plus that semi-important disallowed goal. 
80' -- Emenike drops one off for Onazi, who BLASTS one at Begovic, but it's deflected wide. Still not every man back for B-H.  
78' -- Ameobi down near the box, but refs need to monitor the veracity of these injuries. Every game we've seen it. 
76' -- Pjanic fires one from outside the box, but Enyeama cleans it up as he falls to his right. B-H knows clock is dwindling. Now sprinting up the field with the ball. 
75' -- Nigeria defense is PACKED into the six yard box. Six guys defending that area and B-H's best chance may come through the air. Passes will be very hard to come by near the goal. 
74' -- Ibisevic can't find the frame with a header off a corner kick. Excellent chance for B-H, and they have to capitalize soon. 
Babatunde down (again). Not sure if he's injured or milking it. Lord knows we've seen lots of both this World Cup. In his defense, he was calling for a sub, so may be legitimate. 
72' -- Defender Oshaniwa with a shaky header back to his goalie. Not sure Enyeama was ready for that, but there's still a clean sheet. 
68' -- Big set piece from B-H, but chipped in way, way over scrum in front of the goal. Goal kick coming. Probably about 25 minutes left. 
68' -- Babatunde is down along the sideline. Looks like a left leg. Not saying he's not hurt, but it didn't look bad. 
66' -- Ibisevic with a chance in the middle of the box, but can't get much on it as it trickles wide of the goal. Nigeria's defense is beginning to swarm. 
66' -- Emenike earns a corner and finally B-H's whole team back on defense. B-H clears ball and begins working the ball up the field. 
SUB: Susic in for Medunjanin. B-H has one sub left and can't afford to lose. 
63' -- Midfielder Pjanic has been phenomenal today. Another through ball on the foot of Dzeko, but Nigeria's defense pounces. 
There are only seven guys back defending for B-H. If Nigeria gets another goal, it may be too much to overcome. Midfielders and strikers NEED to track back. Babatunde and Emenike with two great chances. Things getting very testy in the back for B-H. 
59' -- It's not exactly panic time for B-H, but don't fault them if their collars are getting a bit tighter. The pace picking up from them. Emenike nearly creates another chance very similar to the one in the first half. Cleared up by fullback. 
SUB: I was wrong. I said 60th minute for Ibisevic. He's in now for Hajrovic. Two strikers for B-H. Lulic also coming off for Salihovic. 
56' -- Emenike and Onazi both with chances in the box, but neither really takes the shot. 
54' -- Babatunde with a great chance against Begovic, but danger averted for B-H. Again, Nigeria isn't sitting on this 1-0 lead. 
52' -- Credit Nigeria for not playing this second half conservatively. It's playing to win, as evident by their spacing. Still, 9 men getting back behind the ball to stop B-H. 
My guess is that if Nigeria's lead holds until the 60th minute, we're going to see Saint Louis University product Vedad Ibisevic, the striker who scored against Argentina. 
48' -- Hajrovic and Pjanic working well together in Nigeria's box, but they're able to fend off any significant chances early. Doesn't mean B-H will stop trying. 
46' -- We're off in the second half. A reminder that if Bosnia-Herzegovina loses, it's out of the World Cup. Argentina has six points and Nigeria *would* have four. 
HALFTIME: Nigeria owns a 1-0 lead after Peter Odemwingie cleaned up a pass from Emenike in the 28th minute, but there was enough contact in the buildup that Bosnia-Herzegovina's players felt there should've been a foul.
The linesman also cost Bosnia-Herzegovina a legitimate goal when he incorrectly raised his flag as Dzeko slotted one home in the 20th minute. Replays showed he was clearly onsides as he received the through ball, and it should only serve to expedite the process of incorporating offsides technology into the game. 
Aside from the refs, the game has maintained an excellent pace, but neither side has capitalized on its bounty of chances. That especially goes for Bosnia-Herzegovina, whose midfield interplay has been excellent. It just hasn't tranlated to any (official) goals. Dzeko has been a terror in the heart of the Nigerian defense and we may see Vedad Ibisevic, who scored in the first game, alongside Dzeko before too long. 
44' -- Dzeko misplays a pass from Pjanic in the box, and he's not going to get many chances as good as that one. Couldn't even put it on net. Almost too casual. 
40' -- Nigeria's defense been much better towards the end of this first half. Nigeria clearly confident now, but Dzeko has shown he can strike at any moment. 
38' -- Emenike's shot blocked but it kicks out for another corner kick. Begovic eventually controls the ball and Bosnia is again on the attack. Feel like the disallowed goal has taken a toll as B-H can't knock one in.  
35' -- Water break? Yep, water break. 
Odemwingie's goal. B-H felt there was a foul on initial build-up. You make the call. 
31' -- B-H's bench furious on no-call against Emenike. B-H felt he should've been called for a foul in getting through its defense. Nothing really going their way at the moment. 
28' -- GOAL!!! NIGERIA!!! Odemwingie bangs it home between Begovic's legs. Great, great centering pass from Emenike. 
27' -- Pjanic with a rocket that Enyeama has a bit of trouble with. Rebound chance was there but no one followed the shot. 
You heard the man: 
June 21, 2014
25' -- Only silver lining about non-goal is that it's just one of four or five outstanding chances for Bosnia-Herzegovina thus far. Goals are coming. I swear they're coming. 
Dzeko clearly onsides. Costly call. 
Here's the Dzeko call. Horrible (via @KICKTV) pic.twitter.com/eCuqToWQHj

— 101 Great Goals (@102greatgoals) June 21, 2014
23' -- Another blast from Dzeko but it's stopped by Enyeama. The disallowed goal is still stinging. 
20' -- Dzeko goal waved off even though he was absolutely onsides. Brutal break for Bosnia-Herzegovina. Wonderful build up from their attack but linesman blows the call. 
19' -- Another distant, distant shot from Musa and Begovic has little trouble with it. That's no way to combat possession battle. 
17' -- Mujdza with a good run out of his right back position earns B-H a corner. Rebound trickles to Misimovic who curls it right of the frame. 
14' -- Ambitious chance from Onazi but it does test keeper Begovic. 
13' -- Broadcast notes that Nigeria hasn't won a World Cup match since 1998. It's 0-6-3 since then. 
11' -- John Obi Mikel blasts one from just outside the box but he sweeps it left of the post. Break-neck pace so far, and both teams have had a number of chances. 
9' -- Musa can't handle a wide open chance inside the box. Nigeria really should be leading.  
7' -- The movement on Bosnia's counter is excellent in open space. It's going to have a ton of chances on goal if Nigeria can't slow its pace. 
5' -- Horrible give away from B-H's Spahic in the back and Medunjanain earns a yellow after yanking down Nigeria's Ahmed Musa just outside the box. Free kick is juuuust wide right. 
4' -- Excellent early activity from Bosnia's midfield, but an offsides called on Pjanic. Nigeria's defense looks nonexistant in the neutral zone. 
3' -- Mikel lobs one beautifully to Emenike, but Nigeria can only manage a corner which yields little. Both teams very aggressive thus far. 
1' -- We're off from Cuiaba Arena Pantanal.
PREGAME: Now that Argentina is through to the knockout rounds, there are three teams vying for one final spot. Bosnia-Herzegovina was predicted to advance as well, but Nigeria's defense was sound against Iran and its keeper remains elite. Can Bosnia's notorious goal scorers crack the backline? 
Also of note, FIFA president Sepp Blatter is taking in the match. 
Nigeria starters: Enyeama, Ambrose, Yobo, Oshaniwa, Omeruo, Onazi, Mikel, Musa, Odemwingie, Babatunde, Emenike
Bosnia-Herzegovina starters: Begovic, Mujdza, Sunjic, Spahic, Medunjanin, Pjanic, Besic, Hajrovic, Misimovic, Lulic, Dzeko
Bosnia-Herzegovina vs. Nigeria (Group F) | Kickoff: 6/21, 6 p.m. ET | Stadium: Cuiaba Arena Pantanal
Match Preview: After Argentina, Group F has largely failed to take shape. Nigeria and Iran each have a point after drawing, 0-0, and Bosnia-Herzegovina has already played its toughest match and lost. 
Saturday's game, winnable for both sides, is vital to create separation. Despite the own goal, Bosnia-Herzegovina was the better team for the first half against Argentina. Senad Lulic had numerous chances in the first 45 and finally logged an assist on Vedad Ibisevic's second-half goal. The tally from the productive striker may force manager Safet Susic to include him in the starting lineup against Nigeria alongside star forward Edin Dzeko. Ibisevic scored eight of his team's 30 goals during World Cup qualifying. 
"We haven't shown everything we are capable of yet," Susic said. "I hope that Argentina will win their other two games because if they do, then the second spot will be between Iran, Nigeria and Bosnia. I am convinced we have everything to play for." 
Nigeria, in contrast, managed just seven goals in six qualifying games, and couldn't create many chances against lowly Iran. John Obi Mikel will need to help control possession in the midfield to limit Bosnia-Herzegovina's offensive spurts. Super Eagles midfielder Victor Moses needs to be more active as does Emmanuel Emenike up top if they want to keep pace with its opponents' scoring prowess. 
If Nigeria wins, Bosnia-Herzegovina is out. Despite the relative anonymity of Saturday's match, second place is very much up for grabs.  
More World Cup: Scoreboard | Schedule | Group Standings | U.S. Team news

The city of Samara's stadium, set to be used for the 2018 World Cup, has seen its construction...

Norway beat World Cup debutants Thailand 4-0 before a historic rout by Germany over Ivory Coast...

He'll be suspended for Friday's game against Iowa.
The World Cup was 'amazing,' but Seattle Sounders teammates Clint Dempsey and DeAndre Yedlin...

A painting in Brazil depicts the Dutchman's amazing goal against Spain.

German midfielder Cristoph Kramer has become the face of the ongoing concussion crisis after...