2014 FIFA World Cup: Peralta goal gives Mexico 1-0 win over Cameroon
An Oribe Peralta goal gave Mexico a critical 1-0 win over Cameroon despite 'El Tri' having two first-half goals disallowed for offsides.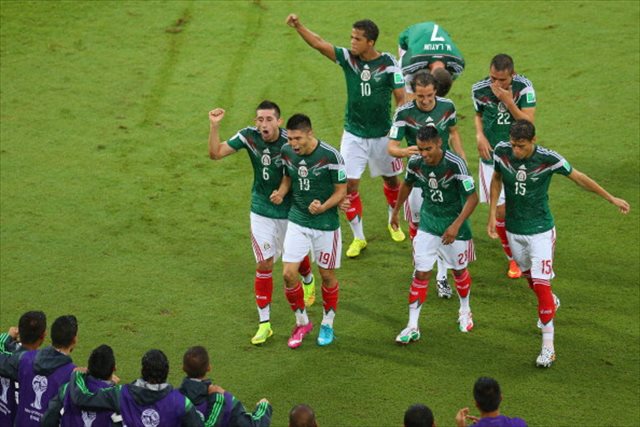 More: MatchTracker | Scoreboard | Schedule | Group Standings | U.S. Team news
Luck wasn't on Mexico's side. But Giovanni Dos Santos and Oribe Peralta were, and that was enough for El Tri to claim a 1-0 victory over Cameroon in both teams' World Cup opener.
Dos Santos capped a terrific, inventive display by finding space at the top of the Cameroonian penalty area in the 61st minute and firing at goalkeeper Charles Itandje. The shot was saved, but Peralta swept the rebound into the net to give Mexico a one-goal lead they would not relinquish.
Nearly any observer would agree Mexico deserved to take the lead far earlier in the match. Twice in the first half, Dos Santos put the ball in the back of the net, only for the goal to be disallowed for offsides -- and replays showed that both decisions on the part of the linesman were incorrect.
But Mexico also deserved its lead on the balance of play, proving creative in attack and with Dos Santos and Miguel Layun consistently testing the Cameroonian defense. The Indomitable Lions barely had a sniff of the ball in the opening half-hour, and didn't begin to apply any real pressure to Rafa Marquez and the Mexican back line until after the goal.
Samuel Eto'o did have one viable first-half chance, narrowly missing the top corner after being picked out by lively left back Benoit Assou-Ekotto. Assou Ekotto was also at the center of two of Cameroon's best second-half opportunities, seeing a deflected free kick fly just wide of Guillermo Ochoa's goal and his late cross headed on goal by Benjamin Moukando, only for Ochoa to make a flying save.
If advancement comes down to goal differential, Mexico could rue a late miss by Chicharito Hernandez when presented with an open volley opportunity from no more than 5 yards. But the result nonetheless puts them in the catbird seat for now -- and after the linesman's mistakes in the first half, that's a position they'll happily take.
For our full live commentary of the game, featuring reaction, tweets, the goal, and more, read on:
------------ 
FULL-TIME: Mexico 1, Cameroon 0. The Indomitable Lions picked things up after their terrible start, but impossible to argue El Tri weren't comfortably the better team -- and full value for three points that will make them favorites to advance. 
94' -- Throw-in for Mexico. That should just about do it.
92' -- Layun steals the ball in the Cameroon defense, crosses for a WIDE OPEN Chicharito, volleyed over the bar! Layun's cross could have easier to handle, but Hernandez has to do better, too.
90' -- Four minutes added. GREAT SAVE by Ochoa! Terrific cross by Assou-Ekotoo, great header towards the far corner, leaping collection by Ochoa. On replay, header just didn't quite have the power. Outstanding match, officiating aside.
87' -- WHOA: Cameroon's best attack of the second half results in a free run into the right side of the box for Nounkeu, but his centering pass is brilliantly cut out by (I think) Moreno. Heart-in-throat moment for the El Tri supporters.
85' -- Mexico's still trying to play Mexican soccer -- quick passes, possession first, numbers forward. Goal differential might be important, yeah, but it's also led to a couple of giveaways and Cameroon counters. They haven't looked particularly threatening, but with five minutes left ,a little more caution might be in order. 
81' -- Cameroon corner bounces menacingly in the box but misses everyone and goes out for a Mexican throw. If the Lions snag a goal, it's going to come off a set piece.
77' -- Ugly foul on the edge of the box results in Cameroon's first yellow and a nice opportunity to Mexico. Dos Santos wastes the opportunity, but at this point an equalizer seems about as likely as the first-half linesman being named Mexican Time's Man of the Year. 
73' -- FIFA shows off its goal-line technology on the telecast, showing that the ball that hit the back of the net did, in fact, cross the goal-line. That triggered this tweet, which is too good not to share (here's your context):
Frank Lampard every time goal line technology is used for indisputable goals at the #WorldCup pic.twitter.com/iHjjfLt6Ii

— Sunday League Quotes (@ItsSundayLeague) June 13, 2014
72' -- And there we go again: Eto'o makes a terrific back-post run, but the cross from the right wing is vastly overhit. Just not enough quality from the Indomitable Lions at the moment.
69' -- Cameroon seeing more of the ball as they start looking for an equalizer, but passing in the final third has been lackluster the past few minutes ... and that's putting it kindly. No real chances since the Assou-Ekotto free kick.
66' -- Not that you can blame them given the officiating standard -- or that Mexico have looked so wobbly on set-piece defense -- but Cameroon are going to ground on any Mexico challenge within 40 yards of goal at this point. Not a lot of luck at the moment.
65' -- The goal: 
If your first thought on seeing that is "Landon Donovanesque!", you are not alone.
63' -- Terrific flowing move from Mexico sends Dos Santos in one-on-one with Itandje, who again makes the save, only for Peralta to clean up the rebund. Certainly nothing less than Mexico deserve. What does Cameroon have in response?
61' -- GOOOOOAAAAAALLLLL! Mexico 1-0!
58' -- OH MY. Assou-Ekotto's free kick is deflected and looks 100 percent goal-bound with Guillermo Ochoa beaten ... and it whistles past the post. The world's brains just collectively went "GOAL" for a fraction of a second there. 
57' -- After a bit of a lull, Mbia runs at the Mexico defense in space and is brought down outside the box, forcing the game's first yellow. (Again: that's amazing.) He's been Cameroon's best player.
50' -- At this point, it's worth asking exactly what it's going to take for the referee to hand out a yellow card -- Alex Song just went in with both feet and studs showing, and if it wasn't vicious, it was a tackle that positively cried out for a caution. If that's the standard for a yellow, nothing short of a bar-brawl punch to the jaw is going to earn a red.
47' -- Massive chance for Peralta! One-on-one with Itandje, SAVED. Goalkeeping was supposed to be one of Cameroon's weak points, but not on that play.
46' -- Second half underway. FIFA won't be happy after the officiating struggles, but at least the field has stayed pretty well intact.
HALFTIME: Actual score: 0-0. Metaphysical score: something like 4-1. Sorry, Mexico.
On the positive side, Miguel Herrera coaching in the rain means we feel justified in digging out this stunning work of Internet creativity from his club coaching days:
45' -- Peralta somehow contrives to head completely wide when unmarked from three yards. Called offside anyway. Oh, and he actually was.
43' -- Eto'o receives the ball in the box but dithers and is dispossessed, Mexico comes back to get Dos Santos the ball in the box, can't work a 1-2 with Peralta. Again: the odds of this game reaching halftime without a goal, give nall the chances, seems infintesimal. 
40' -- We mentioned Mbia was physical, right? Raises an elbow into the face of Guardado, who drops like the proverbial bag of potatoes. Replay shows that Guardado emphasized things ... but that a yellow card was absolutely the right decision. None given. Half seems to be petering out from attacking perspective.
34' -- The game's first spell of actual Cameroonian possession ends in a foul -- but no yellow, surprisingly -- on the physical Stephane Mbia. Lions' free kick comes to nothing.
30' -- Holy bleeping crap -- another disallowed goal for Mexico, this time Dos Santos heading in a deflected corner kick. Replay shows Dos Santos was in an offsides position, but that the ball had been deflected by a Cameroonian player, negating offsides. Unreal.
27' -- Good golly -- a free kick to the back post is a certain goal for a wide-open Hector Moreno, but teammate Rafa Marquez narrowly gets his head to it to glance the ball harmlessly wide. A little bit insane there's still no goal in this game.
24' -- Corner kick causes mad scramble in the Mexico box, with Cameroon possibly having a legitimate penalty appeal and multiple shots blocked. El Tri have looked quite poor defensing set pieces so far. 
23' -- Cameroon starting to come into the game through midfielder Alex Song, and WHOA -- Assou-Ekotto dances past multiple defenders on the left wing and finds Eto'o, who blazes just past the post. The game's best chance other than the goal-that-should-have-counted.
17' -- Hey, Cameroon got the ball into the box! They even got it into the net! Disallowed for offsides, and this one was obvious, at least.
15' -- Not a good start for World Cup officiating, no:
Was Mexico offisde on that goal? Umm. Err. Uhhh. #WorldCup pic.twitter.com/UUCgzsqZs6

— SB Nation Soccer (@SBNationSoccer) June 13, 2014
11' -- Herrera scores a cracking volley from 10 yards, but is flagged for offsides. Replay says ... bad call. Mexico extremely, extremely unlcuky not be ahead.
10' -- Like we said: it's wet:
It's not exactly dry in Natal for #MEXvsCMR pic.twitter.com/4KFU5szsCT

— ESPN FC (@ESPNFC) June 13, 2014
7' -- It's all Mexico so far, this time the dangerous-looking Aguilar popping up on the right side of the box, but his low centering pass is cut out and Layun's follow-up shot is right at Cameroon's keeper Itandje. The Indomitable Lions have to keep better possession or they'll be down 2-0 by halftime.
4' -- Mexico has the game's first dangerous-looking attack, with Layun storming down the left flank, but he gets too much air under the cross. Cameroon without much of the ball so far. 
1' -- And we're underway! Cameroon are wearing an eye-catching all-yellow kit, Mexico with their traditional green jerseys and white shorts. If the match itself is as aesthetically pleasing as the uniforms (the one thing this admitted U.S. fan will give El Tri is that they have some fashion sense), we're in for a treat.
Pregame, 12 p.m.: It has rained and rained and rained in Natal, and is still raining -- both teams have come out for their national anthems in rain jackets. Good news is that the field appears to be in good shape. We'll see after an hour's worth of wear and tear, though.
Pregame, 11:45 a.m.: Starting lineups for both teams: 
#CMR LINE-UP: Itandje, Assou-Ekotto, Nkoulou, Djeugoue, Song, Moukandjo, Eto'o (c), Choupo Moting, Chedjou, Mbia, Enoh #MEXCMR #WorldCup

— FIFAWorldCup (@FIFAWorldCup) June 13, 2014
#MEX LINE-UP: Ochoa, Rodriguez, Marquez (c), Herrera, Layun, Dos Santos, Moreno, Guardado, Peralta, Aguilar, Vazquez #MEXCMR #WorldCup

— FIFAWorldCup (@FIFAWorldCup) June 13, 2014
Big development there is that Javier "Chicharito" Hernandez will start the game on the bench for Mexico, but that's not unexpected -- Oribe Peralta and Gio Dos Santos have each been in far better form for Mexico, if not at club level.
More World Cup: Scoreboard | Schedule | Group Standings | U.S. Team news
The city of Samara's stadium, set to be used for the 2018 World Cup, has seen its construction...

Norway beat World Cup debutants Thailand 4-0 before a historic rout by Germany over Ivory Coast...

He'll be suspended for Friday's game against Iowa.
The World Cup was 'amazing,' but Seattle Sounders teammates Clint Dempsey and DeAndre Yedlin...

A painting in Brazil depicts the Dutchman's amazing goal against Spain.

German midfielder Cristoph Kramer has become the face of the ongoing concussion crisis after...