2014 FIFA World Cup: Showstopping Algeria sees off South Korea 4-2
FIFA World Cup 2014: Algeria sprinted to a 3-0 halftime lead and withstood a furious second-half comeback to hold off South Korea 4-2.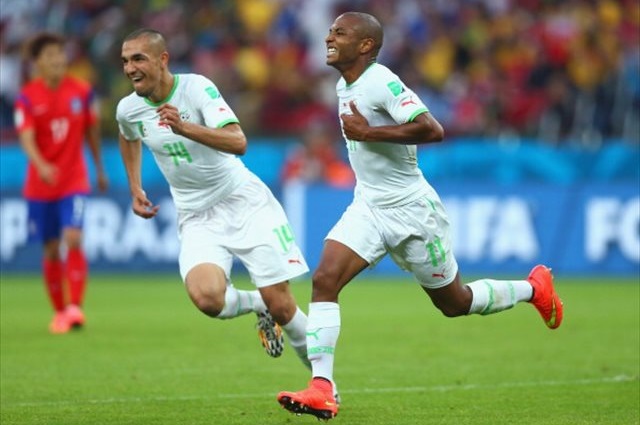 Algeria vs. South Korea: Matchtracker | World Cup Scoreboard
Algeria was expected to sit back and defend. South Korea was expected to struggle finding spaces in the Desert Foxes' defense. And Sunday's Group H match between the two wasn't expected to provide much excitement.
So much for that: a rampant Algerian attack and a furious second-half fightback from the Koreans yielded six goals and a thrilling 4-2 victory for Algeria, one that could send the North African nation past the group stage for the first time.
A wobbly Korean defense had no answer for Algerian striker Islam Slimani, inserted into the starting 11 by coach Vahid Halilhodzic in the initial sign that his team wasn't planning on being as passive as it was in its 2-1 loss to Belgium. Slimani sliced through two Korean defenders to prod home at close range in the 26th minute, then pounced on a poor Korean clearance to set up Abdelmoumene Djabou for a tidy finish in the 38th.
With those goals sandwiching defender Rafik Halliche's headed goal off a corner kick, the Algerians took a 3-0 lead into halftime and looked safe and dry. But lively striker Son Heung-min -- easily Korea's best player on the night -- corralled a long pass and fired through the legs of keeper Rais M'Bolhi to pull his side within 3-1 with 40 minutes still to play.
A flurry of Korean half-chances followed, but Algeria scored the next goal to put the game out of reach. Playmaker Sofiane Feghouli slipped the ball to Yacine Brahimi inside the box for the 14th pass of a flowing move, and Brahimi made no mistake to cap one of the best team goals of the tournament.
The Koreans fought back again, with Son and Lee Keun-ho setting up Ki Ja-cheol for a close-range finish in the 73rd minute. But despite some nervous moments at the back -- particularly in dealing with the towering Kim Shin-wook -- Algeria held firm for its first World Cup victory since 1982.
The four goals represent the first time an African team has ever scored four in a World Cup match. But they could also come in handy in the Group H standings, where anything other than a loss to Russia in its final group match would almost certainly see Algeria through.
As for South Korea, they must defeat Belgium by multiple goals and hope Russia can do the same against Algeria to have any shot at advancing.
To review our live blog of the match -- featuring reaction, analysis, goal video, and more, see below:
*********** 
FINAL SCORE: Algeria 4, South Korea 2
FULLTIME: South Korea showed an incredible amount of fight after trailing 3-0 at halftime, but at this level, fight doesn't count for near as much as, well, a 3-0 halftime lead. Algeria were sensational in the first half, with the Korean defense finding no answers for Sofiane Feghouli and Islam Slimani, and it's now hard not to root for that kind of attacking side to emerge from this mediocre group. 
93' -- Of course, just as we type that, Son latches on the ball at the penalty spot and goes down under minimal contact. No penalty, despite the cries of billions of World Cup fans yelling GIVE IT -- because really, this match should have had the most dramatic ending possible.
92' -- Korean corner kick, and M'Bohli flies in to snare it. He's been excellent. Koreans looks just about out of ideas.
88' -- For the first time all match, Son can't rsie to the occasion, as first he hits a free kick into the wall and then in the ensuing scramble, can't find a pass with multiple teammates in the box. Another shot from Lee bounces agonizingly past the far post, and that may just about do it -- even for this match.
82' -- Extended spell of Korean pressure ends with some nifty play out of the back by Algeria. Full credit to Korea for the fightback -- and Kim Shin-wook in particular, who's won about 12 straight aerial duels in and just outside the box -- but there's still no real doubt that Algeria have been the substantially better team today. 
77' -- Koreans are going direct old-school Wimbledon-style Route 1 longball -- and Algeria haven't been able to deal with it. Son isn't the most physical player, but as wit hthefirst goal, his ability to win a deep, deep ball in the air proved crucial in the buildup.
74' -- Lee plays the ball back across net for Koo Ja-Cheol to volley home with his knee. This match was supposed to be another snoozer -- instead it's yet another candidate for the best of the tournament. One more Korean goal would yield a truly sensational finish.
72' -- GOOOOALLLLLL South Korea! They haven't been good, but their spirit has been tremendous this second half.
68' -- Son draws a foul after another lung-busting, weaving run. He's been as good as advertised; that pretty much no one else on the field for Korea can say the same is the problem. 
65' -- Yacine Brahimi finishes off a flowing move, with the masterful Feghouli feeding him inside the box for a neat finish between Jung's feet. Where was this against Belgium? Where was this four years ago, when Algeria were the most defensive, most attack-shy team in the competition? 
Guess we shouldn't complain -- it's here now, and it's mesmerizing viewing.
64' -- GOOOOOAAAAL Algeria! Fantastic team goal!
62' -- Here's the Korea goal:
Korea goal: five hole http://t.co/lmeoadUJ5f

— Steph (@myregularface) June 22, 2014
59' -- WHOOOOOOAAAAAAA. Ki Sung-yeung winds up and unleashes a belter from 35-40 yards that forces M'Bohli into a flying save. Not far off from becoming the goal of the tournament.
56' -- And suddenly the Koreans are just all over them, whipping in dangerous crosses and finding space behind the Algerian backline. M'Bohli has dealt well so far, though.
52' -- HOLY CRAP. The Koreans work the ball towards Koo, who has his point-blank header glance wide. He was offside, but nonetheless the Koreans have begun this half much the same way Algeria began the first. Another goal will make things VERY interesting, and it could be coming.
50' -- GOAAAALLLLL South Korea! Son takes down the ball with his back (?), turns, and fires through M'Bohli's legs at close range. Strangely slow reaction from Algerian captain Majid Bougherra in defense, but Korea doesn't care.
49' -- Free kick just outside the box isn't a good one, but it does lead to a scramble in which Korea can't ... quite ... get a shot away. At least there's a pulse.
46' -- Second half is underway! And it starts with Lee Chung-yong giving the ball away under minimal pressure as the Koreans push forward, so, yeah.
HALFTIME: Via SBNation, Slimani's opener: 
HALFTIME: Total domination from the Desert Foxes sees them deservedly up 3-0 at the break and conjuring the echoes of their great 1982 team, which upset eventual finalists West Germany 2-1 in the group stage:
44' -- That's quite a long time, yes:
PHOTO: This is 1st time since 1982 that #ALG have scored >1 goal in #worldcup game #KORALG - http://t.co/pBsE7KpFll pic.twitter.com/zSyYzx4OLm

— FIFAWorldCup (@FIFAWorldCup) June 22, 2014
39' -- I mean, you probably don't need me to tell you this with their team down 3-0 inside 40 minutes, but the South Korean defense has been an absolutle shambles. After allowing Slimani to split a double-team for the first goal, this time they cleared the ball directly to him to set up the third. It's a nightmare for Hong Myung-bo, the legendary centerback (and former LA Galaxy star) now managing his country.
38' -- GOAL! IT'S 3!!! Slimani lays off for Djabou inside the box, and he makes no mistake, arrowing a low shot into the corner.
33' -- Korea come forward, but the lack of quality on the final ball -- or on set-piece deliveries -- so far has been dispiriting. Have yet to generate even half a chance.
29' -- Jung comes at a corner kick and gets absolutely nowhere near it, leaving the net open and central defender Rafik Halliche with the simplest of headers from inside the six-yard box. A long, long way back now for Korea, and Algeria's organization at the back will make it exceedingly difficult. But it's nothing less than Algeria deserve -- clearly the better team in the first half-hour. 
27' -- Nothing too complicated about that one -- a beautiful ball over the top lets Slimani slice between the two Korean centerbacks and stab past Jung. Entirely deserved  ... and GOOOOOOOAALLLLLLL! It's 2-0!
26' -- GOAAAAAALLLL!!! Slimani punches home! Algeria goes up 1-0!
21' -- Outstanding cross finds Slimani unmarked in the box, but his volley is badly miscontrolled from no more than 10 yards. Game's best chance other than the disallowed penalty. Another scramble in the box finds defender Carl Medjani skying his effort. Algeria in the ascendancy again.
19' -- Abdelmoumene Djabou's long-range shot flies wide. So far neither team much disproving this Andy Glockner hypothesis:
This battle of the two worst finishing teams in the Cup is riveting. Chance after chance will be gloriously wasted.

— Andy Glockner (@AndyGlockner) June 22, 2014
14' -- Korean corner is punched clear by Rais M'Bohli, who had an impressive game in goal against the Belgians. Plenty of attacking intent from both teams is good for us neutral viewers; that neither has shown much in the way of poise in the final third is bad.
12' -- Just as I type that, Son goes on a mazy run and Korea enjoy their first spell of actual possession in the Algerian half. Free kick is cleared.
9' -- Still all Algeria (All-geria?) so far as Islam Slimani gets his head to a corner kick, but there's not much power and it bounces wide. Not sure if Korean dangerman Son Heung-min has even touched the ball yet.
4' -- ... and there's another close-range shot that goes over the bar, moments after Sofiane Feghouli is upended in the box. Looked like a penalty. Algeria the better team so far by miles.
2' -- Algeria come out positively, popping off a shot in the box that's not far off Jung Sung-Ryong's post and earning a free kick in the attacking half. It comes to nothing, but it's a far brighter start than against Belgium ...
1' -- And we're off! Preview is still below, but your short version: expect Korea to have the bulk of possession and the Desert Foxes to spring on the break. Korea have to make their time on the ball count and avoid critical giveaways in the midfield. If they don't, their superior overall quality could make the difference.
Pregame: Lineups:
#KOR LINE-UP: S R Jung, S Y Yun, Y G Kim, H M Son, C Y Park, Y Lee, J C Koo (c), K Y Han, S Y Ki, C Y Lee, J H Hong #KORALG #WorldCup

— FIFAWorldCup (@FIFAWorldCup) June 22, 2014
#ALG LINE-UP: Mbolhi, Bouguerra (c), Halliche, Mesbah, Feghouli, Brahimi, Medjani, Slimani, Bentaleb, Djabou, Mandi #KORALG #WorldCup

— FIFAWorldCup (@FIFAWorldCup) June 22, 2014
Algeria has gone with what might be a slightly more attack-minded lineup than in their opener against Belgim, with striker Islam Slimani coming into the starting 11.
More World Cup: Scoreboard | Schedule | Group Standings | U.S. Team news

The city of Samara's stadium, set to be used for the 2018 World Cup, has seen its construction...

Norway beat World Cup debutants Thailand 4-0 before a historic rout by Germany over Ivory Coast...

He'll be suspended for Friday's game against Iowa.
The World Cup was 'amazing,' but Seattle Sounders teammates Clint Dempsey and DeAndre Yedlin...

A painting in Brazil depicts the Dutchman's amazing goal against Spain.

German midfielder Cristoph Kramer has become the face of the ongoing concussion crisis after...