2014 FIFA World Cup: Uruguay beats Italy, advances to knockout stage
FIFA World Cup 2014: Uruguay vs. Italy preview, live commentary and recap.
• 11 min read
MORE: Uruguay-Italy MatchTracker | WATCH: Luis Suarez bites opponent
FINAL SCORE: Uruguay 1, Italy 0
This was certainly not a match with few talking points.
Let's start with the actual match. Italy only needed a draw to advance, while Uruguay needed a win. Not surprisingly, Italy owned midfield possession for most of the first half, but Uruguay seemed to have the better of chances. Halftime brought a change from Italy, as Mario Balotelli -- who picked up a yellow card in the first half -- was subbed out. However, the match didn't change much, as Italy still wasn't getting too many clear-cut goal-scoring opportunities. Ciro Immobile, who was so dangerous during the Serie A campaign, couldn't seem to get on the same page with the Italy midfielders, rarely getting free in space. 
And everything changed in the 60th minute, when Italy's Claudio Marchisio was given a straight red card for a reckless challenge. Some questioned the decision, but Marchisio came in studs up -- and not all that close to the ball. Down to 10 men, Italy bunkered down in a 5-3-1/5-4-0 formation and allowed Uruguay to push forward. Uruguay's Christian Rodriguez missed perhaps the best chance of the match, knocking a ball wide on an open shot from about 12 yards out.
Then came the 80th minute -- and perhaps the biggest talking point of the World Cup so far.
Uruguay star striker Luis Suarez, maybe the best player in Europe this past season, was involved in an altercation in the Italy penalty box with defender Giorgio Chiellini. On replay, it showed that Suarez appeared to bite Chiellini on the shoulder, and still photos of Chiellini's shoulder seemed to confirm it. Suarez was not discplined on the pitch, and was able to stay on. 
On the ensuing corner kick, Uruguay defender Diego Godin finished a header into the back of the net to give them a 1-0 lead over Italy. 
The last 15 minutes were filled with Italy bombing forward, Uruguay counterattacks -- and discussion of the Suarez incident.
After five additional minutes, Uruguay was victorious, and advanced to the knockout stage. Meanwhile, we might have seen the last of Suarez in this year's World Cup.
90' -- Five minutes of added time.
88' -- Suarez could have clinched the win for Uruguay, but he couldn't get a cross to either of his Uruguay teammates up the pitch with him, instead losing the ball twice to Italy defenders.
86' -- The game has opened up quite a bit since the goal, with Italy needing one goal to advance and Uruguay just trying to hang on. With Balotelli and Immobile subbed out, though, Italy's attacking group isn't as lethal. 
Meanwhile, Uruguay is looking to counter when it can, and there is space after clearances and giveaways.
81' -- GOAL! Diego Godin heads the ball into the corner of the net! 
80' -- There was an incident in the box, and replays show Luis Suarez either attempted to bite or headbutt Chiellini. Chiellini was showing his shoulder, trying to convince people Suarez bit him. The Uruguay striker has been suspended twice in the past for biting.
(GIF via @FlyByKnite)
78' -- Uruguay sub.
IN: Gaston Ramirez
OUT: Christian Rodriguez
77' -- BOOKED! Italy's Mattia De Sciglio gets a yellow card.
76' -- Álvaro González with a dangerous ball into the box, headed out by Italy. That seems to be the strategy for Uruguay the rest of the match.
75' -- Italy sub.
IN: Thiago Motta
OUT: Marco Verratti
74' -- Marco Verratti is down with what seems to be cramp. It's bothered him throughout the match. Italy has one substitution remaining.
71' -- Italy sub.
IN: Antonio Cassano
OUT: Ciro Immobile
69' -- Immobile offside on another move forward for the Italians. He's been more active this half, but has yet to truly make his mark on the match.
68' -- Another potential opportunity for Ciro Immobile, after Pirlo found him with a great through-ball. José Giménez closed him down quickly, though. The corner was cleared away.
66' -- Nearly a goal for Luis Suarez, who makes a run onto a loose ball and forays into the box, but Buffon saves his attempt with his right forearm. Buffon punches away the corner kick.
65' -- Andrea Pirlo launches one into the stands from about 30 yards out. 
63' -- Uruguay sub.
IN: Christian Stuani
OUT: Alvaro Pereira
60' -- RED CARD! Claudio Marchisio has been sent off after a reckless challenge. Italy is down to 10 men for the final 30 minutes. (GIF via @FlyByKnite)
59' -- Christian Rodriguez just had the best chance of the match for Uruguay, after a beautiful lofted ball from Luis Suarez. Rodriguez's effort was poor, though, with his far-post attempt rolling well wide.
55' -- Immobile looked like he had an opening past the Uruguay back-line, but they recovered and collapsed as he entered the box. 
51' -- After initially looking offside, Cavani goes down in the box and looks to the assistant referee for a whistle. No call. 
46' -- Already a couple of whistles this half. Continuing the trend of the first half.
24 fouls in the first half of Italy-Uruguay, most in any first half at this #WorldCup.

— Paul Carr (@PCarrESPN) June 24, 2014
Italy sub. 
IN: Marco Parolo
OUT: Mario Balotelli
Uruguay sub.
IN: Maxi Pereira
OUT: Nicolás Lodeiro
HALFTIME: A scoreless draw heading into the break. Mario Balotelli's yellow card is the biggest talking point, as it means he will miss the next match if Italy advances -- and also leaves a difficult decision on whether to play him in the second half. Italy has had most of the possession in the midfield, but Uruguay has looked more dangerous in the final third. Suarez and Cavani have only linked up on one occasion, but it took a Buffon double-save to keep things at 0-0.
As it stands, Italy would advance with a draw based on goal differential.
45' + 1 -- Uruguay's corner is cleared easily, and Chiellini is down again. Foul on Cavani, danger over.
45' -- Matteo Darmian and Alvaro Pereira are involved in a 50-50 ball, but there is a whistle for a foul on Darmian. Suarez's free kick is headed over by Italy. Corner coming.
43' -- Cavani is almost playing as a No. 10-type behind Suarez because he has to keep dropping back to mark Suarez. Uruguay might need him to push up the pitch further in the second half to man his usual spot as a second striker alongside Suarez.  
40' -- A series of poor first touches from Cavani and Immobile. Cavani had some space at the top of the box, but gave it away, while Balotelli knocked it to Immobile on the ensuing counterattack, but he lost his first take-on and Uruguay regained possession.
39' -- Martin Cacares has a very audacious attempt from his own half that sails wide. Buffon wouldn't have likely been troubled by that had it been on-target, anyway.
38' -- Here was the Buffon double save:
35' -- After being helped off the pitch and getting some words of wisdom from Cesare Prandelli, Balotelli is back on the field.
33' -- Excellent short-passing from Uruguay, from Pereira to Rodriguez to Suarez, who plays a terrific one-two with Cavani, but Buffon saves Suarez's attempt and then blocks a second chance. 
Meanwhile, Balotelli has been down after losing an aerial challenge to Diego Godin.
29' -- Ciro Immobile boots one into the stands from just inside the box.
29' -- Marco Verratti has been heavily involved for the Italians so far, generating plenty of touches in the midfield. Pirlo has been the main focus of Uruguay, which has allowed Verratti to be a playmaker. 
27' -- Mario Balotelli has a speculative go from about 33 yards out off a counterattack. It rolls wide. Ciro Immobile was offside when he made his run, forcing Balotelli to attempt a shot from distance.
27' -- Nice run by Andrea Barzagli, but his shot/pass on the ground into the box is thwarted.
23' -- BOOKED! Mario Balotelli is shown a yellow card for a reckless challenge, and will miss the next match if Italy advances.
22' -- Still waiting to see some interplay between Balotelli and Immobile. They're doing a decent job of not being static, but neither play has seen many touches -- and they are not linking up at all just yet.
20' -- Alvaro Pereira plays a cross on the ground toward the six-yard box, but Cavani knocks it out of bounds for an Italy goal kick.
16' -- A couple of opportunities for Uruguay. Christian Rodriguez put in a cross, which Cavani attempted to head onto the run of Nicolás Lodeiro, but it was a kicked away. A cross back in from the left was too far. Cavani showing some good workrate on that sequence, though.
12' -- Pirlo puts in a knuckling free-kick from about 30 yards out, and it confuses Fernando Muslera enough that he has to push it over the bar. Pirlo's ensuing corner back is headed away.
8' -- A dangerous Uruguay free-kick is punched away by Buffon, but it bounces in the box and Álvaro González heads it back toward Buffon, who saves it easily. Giorgio Chiellini seemed banged up in the process.
6' -- Edinson Cavani indeed seems to be man-marking Pirlo when Italy has the ball. Cavani did the same against Steven Garrard in the last match.
3' -- Mario Balotelli needs to put together a quality 90-minute match, or at least a 75-minute shift. Disappearing for an entire half as he did in each of the first two matches could mean Italy is sent home early.
1' -- "A game that needs no sales pitch." Well said by Jon Champion.
Pregame: Lineups.
#ITA LINE-UP: Buffon (c), De Sciglio, Chiellini, Darmian, Marchisio, Balotelli, Barzagli, Immobile, Bonucci, Pirlo, Verratti #ITAURU

— FIFAWorldCup (@FIFAWorldCup) June 24, 2014
Ciro Immobile, who was a revelation during the Serie A season before moving to Borussia Dortmund, will start up front next to Balotelli. Mattia de Sciglio and Leonardo Bonucci each get their first start on the backline, and Marco Verratti slots into midfield. Daniele De Rossi reportedly has a leg injury, while Antonio Candreva was dropped. Both players started the first two games. 
#URU LINE-UP: Muslera, Godin (c), Pereira, Rodriguez, Suarez, Gimenez, Lodeiro, Arevalo, Gonzalez, Cavani, Caceres #ITAURU #WorldCup #joinin

— FIFAWorldCup (@FIFAWorldCup) June 24, 2014
Sixteen players have already made a start for Uruguay in the 2014 World Cup, so there were no "new" starters named to the XI. Suarez will play in his second straight game after missing the opener, while veteran star Diego Forlan starts on the bench.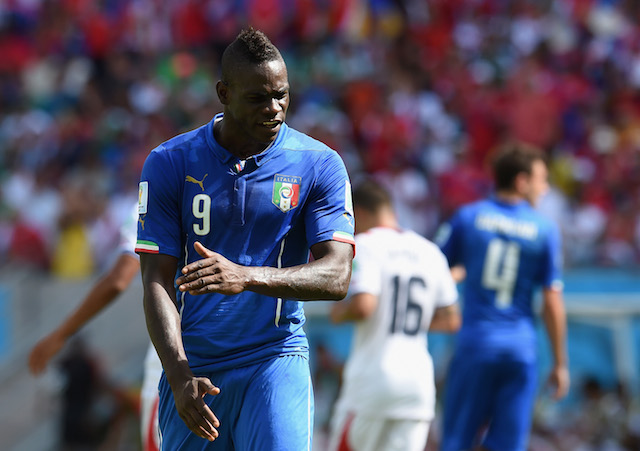 Uruguay vs. Italy (Group D) | Kickoff: 6/24, 12 p.m. ET | Stadium: Dunas, Natal
Match Preview:  The Uruguay-Italy match was always going to be meaningful. It's the final match of the group stage, between two of the top teams in the world. Was it going to determine which team wins the group? Were Uruguay and Italy going to be in a three-way battle with England for two spots in the knockout stage?
As it turns out, most predictions about Group D were wrong – thanks to Costa Rica. The CONCACAF representatives have walked into the "real" Group of Death and knocked off both Uruguay and Italy and could clinch first place with a result against England on Tuesday. Meanwhile, only one team from the Uruguay-Italy match will advance to the knockout stage.
Uruguay was tough to figure out entering the tournament. With Luis Suarez and Edinson Cavani, it has two of the best strikers in the world – but it has been inconsistent for most of the past three or four years. In qualifying, Uruguay had a goal differential of 0 – giving up 25 goals in 16 games and needing a playoff to advance to the World Cup. It's been more of the same in the World Cup – although much has depended on the availability of Suarez.
Suarez didn't play in the opener against Costa Rica after undergoing knee surgery last month, and Uruguay lost 3-1. He then returned to start against England, notching two goals – including the match-winner in the 85th minute – to lead Uruguay to the victory. His first goal was set up by a beautiful ball from his strike partner Cavani, while club teammate Steven Gerrard's mistake set up his second goal.
Italy always seems to be one of the pre-World Cup favorites to make a run, plodding their way through the group stage before becoming a force in the knockout stage. Will Italy get to the next round, though? It began with a 2-1 win over England on the first Saturday of the competition, getting a dominant performance from the ageless Andrea Pirlo and a match-winning goal from Mario Balotelli in the second half.
With Uruguay and England both sitting at 0 points after the first match, it looked like Italy would have an edge in the group – but Costa Rica took it to the Azzurri and emerged with a 1-0 win. It wasn't a fluke victory; Costa Rica had the edge for most of the match.
The key in this one could be the striker battle. Suarez and Cavani can be absolutely lethal for Uruguay, and Balotelli will have to be on his game for Italy. He has the talent to be a dominant performer, but he has had consistency issues. He was essentially invisible in the first half against England and in the second half against Costa Rica; he needs to be a factor in both halves against Uruguay.
What will Uruguay do against Italy's midfield playmakers? Against England, they man-marked Wayne Rooney and Steven Gerrard – using Cavani on Gerrard. Would they dare use him on Pirlo too? If Italy can move the ball around the middle of the pitch and pick out passes with time, Uruguay will be on the back foot most of the game.
More World Cup: Scoreboard | Schedule | Group Standings | U.S. Team news

The city of Samara's stadium, set to be used for the 2018 World Cup, has seen its construction...

Norway beat World Cup debutants Thailand 4-0 before a historic rout by Germany over Ivory Coast...

He'll be suspended for Friday's game against Iowa.
The World Cup was 'amazing,' but Seattle Sounders teammates Clint Dempsey and DeAndre Yedlin...

A painting in Brazil depicts the Dutchman's amazing goal against Spain.

German midfielder Cristoph Kramer has become the face of the ongoing concussion crisis after...