2014 FIFA World Cup: US player ratings for loss to Belgium
Though impossible to say the US didn't give it everything they had, it wasn't quite enough. Here's CBSSports.com's player ratings for its Round of 16 loss.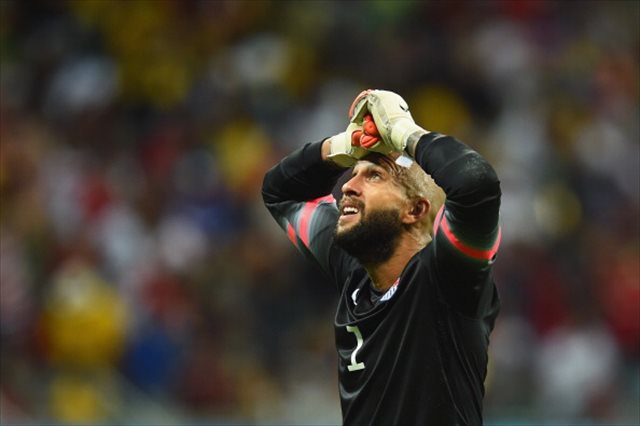 More WC: Tim Howard's historic effort | Belgium bounces US 2-1 in extra time
If you needed a handy representation of the gulf in raw quality between Belgium and the United States, look no further than each side's respective substitutions at striker. With the US under siege and clinging desperately to the 0-0 scoreline that would get them to extra time, Jurgen Klinsmann brought on Chris Wondolowski -- a 31-year-old MLS veteran who's spent his entire pro career in the United States and developed a reputation as a ruthless poacher in front of goal. The only problem is that, terrific as he's been in MLS, he hasn't developed a reputation for much else at any other level.
Meanwhile, at the start of that extra time, Belgium brought on Romelu Lukaku. A 21-year-old powerhouse with speed, touch, and no shortage of brute force, Lukaku led Everton in scoring this past season while on loan from Chelsea -- and probably raising his value on the transfer market above the majority of the US's entire starting 11 combined.
In many ways, the US -- as it has so many times in its soccer history -- defied that gulf in raw quality. The Yanks ran as far as it was possible to run, tackled as hard as it was to tackle, fought as hard as it was to fight. Tim Howard put together a performance that might have been considered impossible if we hadn't already seen it once from a US goalkeeper, when Kasey Keller stoned Brazil in 1998. With their backs as far against the wall as it was possible to be, the US brought on a teenager who scored a goal with his first touch. If you can't take some pride what the US showed in that final 15 minutes, well, you probably root for some other team.
But sometimes, there's only so much defying that can be done. Wondolowski couldn't score from six yards. Lukaku scored one goal and set up another. So it goes.
CBSSports.com's player ratings for the match:
STARTING 11
GK Tim Howard, 10, MAN OF THE MATCH. I mean, if that wasn't a perfect 10 performance, what is? That Howard made more saves than any World Cup goalkeeper in 50 years goes some way to describing his performance; that he somehow managed to make all those saves without allowing a single dangerous rebound maybe goes the rest of the way. He was nothing short of legendary.
RB Fabian Johnson, 5. Johnson was only on the field for 32 minutes before having to come off with yet another hamstring problem, the third time in only four games an American has had to leave before the second half over a hamstring injury. He won't like it, but Jurgen Klinsmann will have to answer questions as to why.
CB Matt Besler, 6. Besler was an absolute rock for some 93 minutes ... and then couldn't deal with a barreling Lukaku, slipped, and watched the end result become the all-important first Belgium goal. Soccer is cruel.
CB Omar Gonzalez, 7. Hey, remember back when Gonzalez was supposed to be terrible? Two games ago, remember that? Gonzalez deserves as much credit as it's possible to give him for taking his benching for Geoff Cameron in stride -- and then coming off that bench to become the best non-Howard player on the team across the Germany and Belgium games.
LB Damarcus Beasley, 8. Hey, remember back when Damarcus Beasley was going to be a defensive liability, before this tournament started? Beasley was the US's best defender on the night, time and time again snuffing out Belgian attacks along his left wing before dashing forward -- he was more involved with the offense than at any time in the tournament -- and even drawing a few pressure-releasing fouls. Tremendous.
DM Geoff Cameron, 5. Cameron started well after shifting forward from his usual central defensive position, but wilted in the second half as Belgium poured forward and did little -- either through positioning, in the tackle, or in possession -- to stop the bleeding. To be fair, though, with Jermaine Jones and Michael Bradley pushing further forward (and the US's wing midfielders not offering much in support), he didn't have a lot of help in the center of the field.
CM Michael Bradley, 6. Bradley never did regain his usual touch on the ball, or ever show the form expected of him when the World Cup began. But more than any other US player, it was his insatiable drive and work rate -- oh, and his killer ball to find Julian Green -- that powered the US's extra time fightback. When we talk about American soccer players, Bradley is what we talk about -- all the guts, all the effort, and clearly enough skill to be legitimately dangerous ... without, in this tournament, quite being able to harness that skill to maximum effect.
DM Jermaine Jones, 5. Jones flew further forward into the attack than he had in any previous US game, leaving Cameron and Bradley to try and stop the Belgian advances. Occasionally it paid off with a dangerous-looking shot or a clever pass. But more often, it seems to have simply paid off in Jones having less of an impact than in any previous match in this tournament.
LM Alejandro Bedoya, 4. Bedoya, as always, worked and worked hard on the defensive end, and made more than one timely intervention on the left flank in front of Beasley. But as it has been throughout the tournament, he produced precious little in the way of offense and couldn't help solve the US's crippling problems in possession, either. He wasn't poor, but there's little question the US needed more out of him.
RM Graham Zusi, 4. There was a time in World Cup qualifying when it looked like Zusi was Landon Donovan's heir apparent to the role of "cutting, hard-working two-way wide midfielder," even if he wasn't quite as comfortable tucking inside as Donovan was (and was more comfortable delivering crosses into the box). It didn't materialize at this World Cup, as Zusi never seemed comfortable on the ball, and against Belgium committed both a handful of poor giveaways and could not do much with his handful of touches inside the box.
F Clint Dempsey, 5. It's beyond painful to consider that that may well have been Clint Dempsey's final World Cup match for the US Men's National Team -- and that it ended with Dempsey unable to cap the US's brilliantly worked free kick routine with a goal that would have gone down in World Cup lore. Dempsey fought his rear end off, wasn't to blame for his lack of service, and put the US in its round of 16 position in the first place with his group stage scores. But he needed to be just a hair sharper Tuesday night in Salvador.
SUBSTITUTES
RB DeAndre Yedlin, 7. Basically everything the US did in attack in regulation, it did through Yedlin's bombing runs down the right-hand side. After three solid substitute performances in the World Cup, the US seems poised to plug Johnson in at left back and Yedlin at right back and have those positions solved for the next 10 years.
F Chris Wondolowski, 4. Maybe he would have been ruled offsides. Maybe he wouldn't have been. Either way: Wondolowski had the kind of opportunity he was brought onto the roster to convert -- a late-game, poacher's chance, close to goal, World Cup survival on the line. He didn't convert.
LM Julian Green, 7. An excellent run and just-as-excellently taken goal for the German-American teenager -- one that singlehandedly justified Jurgen Klinsmann's defiant assurances that Green could contribute at this World Cup and wasn't just along for the ride in preparation for 2018. 
We were mere centimeters from losing one of soccer's brightest stars

Former Minister of Sport and Deputy Prime Minister Vitaly Mutko is stepping down

The city of Samara's stadium, set to be used for the 2018 World Cup, has seen its construction...
Norway beat World Cup debutants Thailand 4-0 before a historic rout by Germany over Ivory Coast...

He'll be suspended for Friday's game against Iowa.

The World Cup was 'amazing,' but Seattle Sounders teammates Clint Dempsey and DeAndre Yedlin...