2014 FIFA World Cup: US player ratings for US 2, Ghana 1
John Anthony Brooks won the U.S. three precious Group G points against Ghana. Here's CBSSports.com's player ratings for the match.
If there was one thing we knew coming into the U.S. Men's National Team's World Cup opener against Ghana, it was that the US could not win without a monster game from Michael Bradley. We knew Jurgen Klinsmann's emphasis on fitness and conditioning would help the U.S. handle the brutally humid Brazilian conditions. And we knew that if there was a weak spot in the U.S. lineup, it was in defense -- probably in the center.
Bradley had his worst game in a USA shirt in months, and the Americans seemed far more affected by the heat than their Ghanaian counterparts. But the U.S. was saved by towering performances from center backs Geoff Cameron and John Anthony Brooks -- maybe the least-likely match-winner on the entire American roster.
Soccer, as the Brits say, it's a funny old game. Here's CBSSports.com's player ratings for the game, scale of 1-10:
STARTING 11
GK Tim Howard, 7 -- Howard made several of his usual highlight-reel saves, but particularly impressive was his ability to command his area and consistently claim balls on the ground a step ahead of the cat-quick Ghanaian attackers. Had no chance on the Ghanaian goal.
LB Damarcus Beasley, 6 -- Beasley was caught out of position a handful of times and didn't add much on his occasional foray forward, but coped reasonably well with Ghana's Christian Atsu. SPOILER: After that performance, no US defender is getting under 6.
CB Geoff Cameron, 8, MAN OF THE MATCH -- Cameron wasn't perfect, but he wasn't too far off. Time and again he out-batted the terrifying Asamoah Gyan, both in the air on the ground, turning back wave after wave of Ghanaian attacks. The best American player on the field.
CB Matt Besler, 6 -- Besler's distribution out of the back was wobbly, but he was nearly his central defensive partner's equal in stifling the Black Stars' early thrusts forward. Left at halftime with a tight hamstring.
RB Fabian Johnson, 6 -- Thanks to the sputtering U.S. attack and threat of Andre Ayew and Kwadwo Asamoah down his right flank, Johnson didn't have his usual impact in the opposing final third, but until letting Ayew just wriggle free for the goal, held down that flank fairly well.
DM Kyle Beckerman, 6 -- Beckerman didn't do a heck of a lot to help the U.S.'s possession woes, frequently dribbling into Ghana-created cul de sacs near either sideline. But he was included in the 11 for his defensive tenacity, shrewd tackling and ability to shut down the middle of the field -- and that much he did.
LM Jermaine Jones, 6 -- Second verse, same as the first, as Jones did even more to help stifle the Black Stars' offense, especially when tracking dangerous Ghanaian runs towards his own endline. But he didn't provide his usual push going forward, or do enough to help the U.S. midfield hold the ball.
RM Alejandro Bedoya, 5 -- Started brightly and defended with energy, but seemed to pick up a knock in the second half and saw his impact wane badly before being substituted.
AM Michael Bradley, 4 -- How could he have been so poor? Last seen singlehandedly overwhelming Nigeria in the U.S.'s final warm-up game, Bradley offered plenty of running and precious little else. In a game where American possession was desperately needed, Bradley gave it away in seemingly every possible manner: sprayed passes, mistimed touches, weakness in the tackle. His decision to play a low-percentage longball in search of a third goal over burning the final minute of clock was the icing on a terrible, terrible cake.
F Jozy Altidore, N/A -- Altidore had looked lively before suffering a hamstring injury in the 21st minute, a potentially backbreaking development for the U.S. going forward towards Sunday's match with Portugal.
F Clint Dempsey, 6 -- How much credit do you give for the goal? Dempsey's weaving first-minute strike immediately ranked alongside the better goals in U.S. World Cup history, but he faded after receiving a Ghanaian boot to the face mid-first half and seeing his nose bloodied (or worse), struggling to either help the midfield keep hold of the ball or provide Altidore-substitute Aron Johannsson support. But goals at the World Cup are the most precious of commodities, and Dempsey conjured one nearly out of thin air.
SUBSTITUTES
F Aron Johannsson, 4 -- Thrown as suddenly into the World Cup's deep end as it's possible to be, Johannsson didn't lack for effort after coming on for Altidore, but also failed repeatedly to hold possession when the U.S. sought to relieve the constant pressure from Ghana. If he gets the start against Portugal, more will be needed.
CB John Anthony Brooks, 7 -- Not bad for a guy making his fifth-ever U.S. appearance, huh? Brooks wasn't even expected to be on the plane a month ago, but held his own in the Ghanaian onslaught and popped up to score the game-winner with a header that couldn't have been more textbook. If Besler isn't fit for Portugal, can he do it over 90 minutes?
RM Graham Zusi, 6 -- Subbed on for Bedoya in the 77th minute, Zusi wasn't all that visible in his limited minutes -- up until he delivered the corner kick that won the game and arguably saved the U.S.'s World Cup.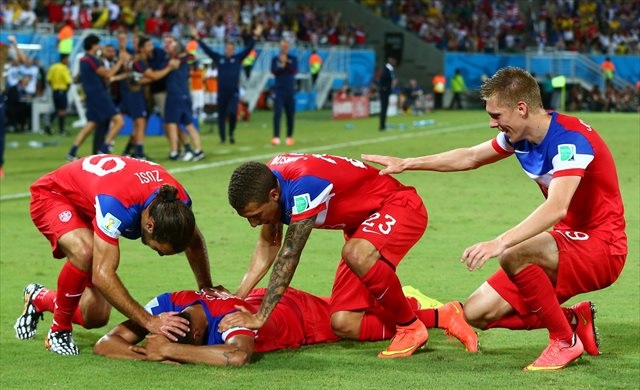 The city of Samara's stadium, set to be used for the 2018 World Cup, has seen its construction...

Norway beat World Cup debutants Thailand 4-0 before a historic rout by Germany over Ivory Coast...

He'll be suspended for Friday's game against Iowa.
The World Cup was 'amazing,' but Seattle Sounders teammates Clint Dempsey and DeAndre Yedlin...

A painting in Brazil depicts the Dutchman's amazing goal against Spain.

German midfielder Cristoph Kramer has become the face of the ongoing concussion crisis after...