2014 FIFA World Cup: US player ratings for US 2, Portugal 2
The US was 10 seconds away from the Round of 16, but a Cristiano Ronaldo cross pegged them back to a point. Here's CBSSports.com's player ratings for the match.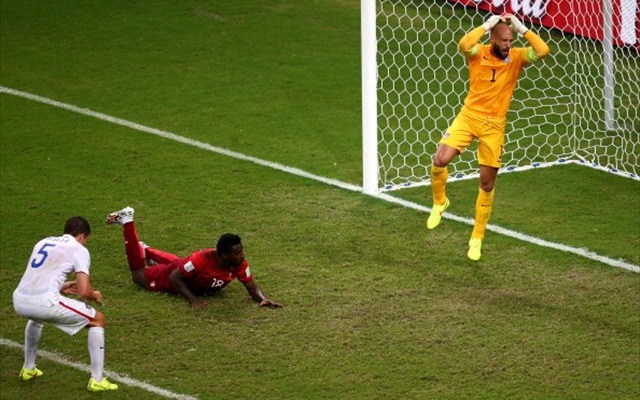 More World Cup: Latest news & notes | Scoreboard | Complete schedule
You can forgive longtime US fans if Silvestre Varela's last-gasp equalizer -- the latest goal ever scored in a World Cup group game -- caused some intense and intensely unpleasant flashbacks. At the 2008 Olympics, the US won its opening match over Japan, fell behind 1-0 in the first half against the heavily favored Netherlands, then scored two great second-half goals to go up 2-1 and come within mere seconds from clinching a spot in the next round.
In the 93rd minute, the Netherlands scored to earn a 2-2 draw. Needing only a draw in the next game to advance against Nigeria, Michael Orozco drew a red card in the third minute and the US lost, 2-1. The Americans were eliminated.
The US of course still has much to be proud of after defeating an excellent Ghana team and fighting back from a 1-0 deficit to earn a point against a Portugal team ranked in the world's top five. (Those rankings are a joke, but whatever.) The lesson of 2008 nonetheless remains: If you have that kind of chance to guarantee that you get out of the group, you should not -- you cannot -- let it slip through your fingers.
Here's CBSSports.com's player ratings for the game, scale of 1-10:
STARTING 11 
GK Tim Howard, 6 -- Howard wasn't quite as sharp as he was against Ghana, only making one spectacular first-half save after first spilling a speculative shot against the post. But he made the stops he had to and had no chance on either goal.
LB DaMarcus Beasley, 6 -- As against Ghana, Beasley didn't do a whole lot when going forward, but also didn't do much of anything wrong in defense, where Nani tried repeteadly to get around him and failed far more often than he succeeded. Didn't stop Cristiano Ronaldo's tying cross, but playing off a player with Ronaldo's world-class speed was understandable.
CB Geoff Cameron, 4 -- Only a game after arguably his best-ever performance for the US, Cameron unquestionably committed his career-worst error for the Americans in gifting Portugal its opener, then slow to react to Varela's threat on the equalizer. Was solid in-between, but those mistakes could prove the difference in the US escaping the Group of Death and going home.
CB Matt Besler, 6 -- The US's best pure defender, Besler was steady at the back and held Portugal forward Eder well in check. If Cameron had played to Besler's level, the Americans would have pitched a shutout.
RB Fabian Johnson, 7 -- An absolute terror down Portugal's right-hand flank and mistake-free in defense, Johnson had lined himself up for Man of the Match honors -- until he let Varela by him for the equalizer. All in all an exquisite performance, but ... eeeeeeeeeeeeesh.
DM Kyle Beckerman, 6 -- Beckerman did what Beckerman does: fly into tackle, shut everything down in the center of the field, make calm possession passes, and make the occasional poor (or at least unadventurous) pass. A tick less impressive in defense than against Ghana, but a tick better in possession.
DM Jermaine Jones, 8, MAN OF THE MATCH -- Playing alongside Beckerman has freed Jones to play nothing less than the best soccer of his American career, hounding opponents into mistakes left and right, pushing forward to pace the US attack, and Sunday scoring one of the best goals in US history. One or two of his passes went astray in the US's meek first 20 minutes, but Klinsmann can't ask anything more of him.
LM Graham Zusi, 5 -- Zusi frequently seemed a shade too weak on the ball, failed to link up with his teammates and couldn't reprise the caliber of corner kick he delivered for the Ghana game-winner on his set pieces. Worked hard, especially on defense, and shrewdly played the right ball to Clint Dempsey for the second goal -- but needed to be a bit better all-round.
CM Michael Bradley, 5 -- Bradley was leagues better than in his stunningly poor performance against Ghana, playing some smart balls for Dempsey and Johnson to chase, linking up well with Jones, and generally looking something like what he was expected to be in this World Cup -- the best American player on the field. Then he clumsily lost possession in the middle of the field in the 94th minute, and you know the rest. Damn it, damn it, damn it, Michael Bradley.
RM Alejandro Bedoya, 5 -- Bedoya once again put in a full shift tracking back, doing his part in keeping Ronaldo quiet for the game's first 93:40, and that defensive work shouldn't be underrated -- it made it possible for Johnson to do what he did down the right flank. But he also just didn't make much offensive impact.
F Clint Dempsey, 7 -- Dempsey took on an even larger burden against Portugal than usual with Jozy Altidore out, playing as a lone striker. He carried it all and then some -- threatening time and again by running past the Portugal defense, linking well with midfield and scoring the goal that should have sent the US into the Round of 16.
SUBSTITUTES
RM DeAndre Yedlin, 7 --Yedlin came on for Bedoya in the 70th minute and proved to be an inspired substitution, playing a pivotal role in Dempsey's goal and tracking back with aplomb.
F Chris Wondolowski, N/A -- Wondolowski came on for Dempsey in the 88th minute, making one nice time-wasting run.
CB Omar Gonzalez, N/A -- Entered for Zusi in injury time. Didn't do anything egregious in limited time on the field, though arguably could have reacted more quickly to either help Beasley limit Ronaldo or Cameron deal with Varela on the goal.
The city of Samara's stadium, set to be used for the 2018 World Cup, has seen its construction...

Norway beat World Cup debutants Thailand 4-0 before a historic rout by Germany over Ivory Coast...

He'll be suspended for Friday's game against Iowa.
The World Cup was 'amazing,' but Seattle Sounders teammates Clint Dempsey and DeAndre Yedlin...

A painting in Brazil depicts the Dutchman's amazing goal against Spain.

German midfielder Cristoph Kramer has become the face of the ongoing concussion crisis after...