2014 FIFA World Cup: USA can't hold on, draws Portugal 2-2
FIFA World Cup 2014: USA vs. Portugal preview, live commentary and recap.
by

CBS Sports Staff

• 15 min read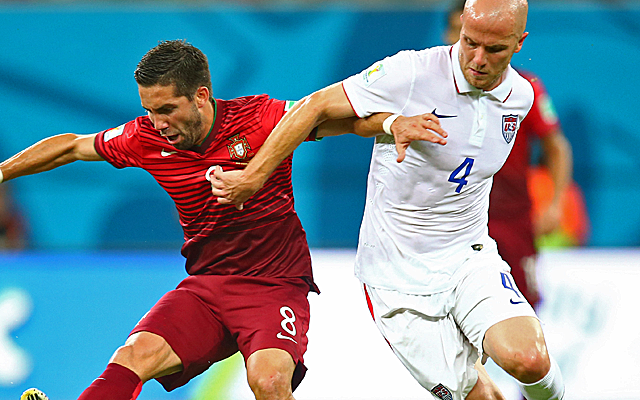 Considering the way this match started it's hard to be upset about the United States coming away with a point. The problem is the way the game ended.
Portugal got on the board early thanks to some incredibly shaky defense from Geoff Cameron that led to a wide open shot for Portugal's Nani only five minutes in, but the Americans didn't back down. Instead they responded just how you would want them to, outplaying Portugal for large portions of the game, even if they couldn't find the back of the net.
But they would.
In the second half, the United States, facing a Portugal team that had never lost a World Cup match after scoring first, scored twice to take a 2-1 lead. It looked as if the United States was going to get the three points and clinch advancement, making the final match against Germany pointless.
But then Ronaldo, who was quiet most of the night and missed a few key chances, did not waste his last chance.
In the final seconds Ronaldo made his way up the right side and let go of a beautiful cross that found Varela in the box. Varela dived, got his head on the ball and put it past Tim Howard to tie the game 2-2. It was the last play of the game.
The United States now finds itself tied with Germany atop Group G (though Germany has the goal differential tie-breaker) but it was literally seconds away from finding itself in the Round of 16. 
The United States managed a draw against one of the best teams in the world in a World Cup match, and you can only feel bad about it. I'm not sure if that's a good or bad thing. Hopefully the team will rebound for its match against Germany.
------------------------
FULL TIME: We finish tied 2-2. Heartbreaking. Absolutely heartbreaking.
95' GOAL PORTUGAL - There aren't words. Ronaldo with a fabulous cross to Varela and he heads it into the back of the net in the final seconds. We're tied 2-2.
93' - My kingdom for a clearance kicked so high that it doesn't land for five minutes. Portugal with sustained possession at moment, but the US is getting a goal kick. Take your time, Tim. Take your time.
92' - Did you know you can still type even when you aren't breathing? Wondolowski doing some excellent time-wasting right now. 
90' SUBSTITUTION - Graham Zusi comes out for Omar Gonzalez, and we'll have FIVE MINUTES of stoppage time.
88' - The US has parked the bus and man I hope we aren't in for a bumpy ride. Portugal is getting some chances here. Hold on to your butts, folks.
86' SUBSTITUTION - Clint Dempsey's day is done as he's replaced by Chris Wondolowski.
86' - "Ronaldo is offside" are three of the sweetest words in sports.
85' - Whatcha think of the goal there, Klinsi?
84' - Whaddya say we speed up this clock, Mr. Combover Referee Man?
82' - And now we settle in for the longest ten minutes in the history of time.
81' GOAL UNITED STATES - They did it! A cross from Yedlin finds Dempsey and then Bradley and then Graham Zusi and then Dempsey again and DEUCE PUTS IT HOME. 2-1 United States.
80' - Nani gets off another shot but it's never all that dangerous. Didn't stop my heart from crawling its way up my throat, though.
79' - Would it be against the rules to just tackle Cristiano Ronaldo and sit on him for the rest of this match? Should it be?
77' - Uh oh, Matt Besler is down with an injury, but it could just be a cramp as he is back on the field.
76' - About 15 minutes left in this match. How many times are you going to die in that span? 
75' - Jermaine Jones picks up a yellow card, but he really didn't have much of a choice there so it's hard to be angry. Plus, you know, he's the reason this match is tied so he's earned some love.
73' - Nani with one hell of a dive in the box looking for a foul. Some Shane Battier type stuff right there.
73' - Jozy Altidore remains optimistic.
#Ibelievethatwewillwin #Ibelievethatwewillwin #Ibelievethatwewillwin #Ibelievethatwewillwin #Ibelievethatwewillwin 

— Jozy Altidore (@JozyAltidore) June 22, 2014
71' SUBSTITUTION - Bedoya's bad cross was his last as he's replaced by the speedy, young Deandre Yedlin. Yedlin's only 20 and this is his fifth cap with the USMNT.
70' - A chance for the Americans but Alejandro Bedoya's cross is too long and doesn't find anybody. Portugal takes control of the ball once more.
68' SUBSTITUTION - Portugal uses its final sub of the match bringing on Varela for Miereles. United States still has three subs to use.
67' - More heart attacks as a cross from Nani finds Meireles, but his shot is way off and he was offside anyway. Still the US defense is, uh, shaky right now.
66' - And Portugal gets another good chance but Tim Howard's reflexes save the day.
64' - Okay, an explanation. Jermaine Jones found himself with the ball well outside the box after a corner kick resulted in nothing and then he just DROPPED A BOMB. Glorious.
63' GOAL UNITED STATES - JERMAINE JONES YOU MAGNIFICENT MAN YOU I DON'T EVEN KNOW HOW YOU JUST DID THAT. 1-1. (via)
62' - Okay so Cristiano Ronaldo is definitely not at 100 percent. He just had what was basically a one-on-one with Tim Howard and his shot went about 15 feet wide. I mean, I'm grateful, but still, that was just not Ronaldo-esque.
60' - Another set of chances for the Americans, but they don't get a shot on net out of it. Missed header and a blocked shot. Still, they aren't getting down on themselves and really do deserve a goal. But as Snoop once said on The Wire, "deserve ain't got nothing to do with it."
59' - I'm still not emotionally recovered from that missed chance. I can't help but feel like the United States just let its chance slip away.
55' - HOW DID THAT NOT GO IN!?!?!?!?! A great chance leaves the ball at Bradley's feet WITH THE GOALIE OUT OF THE NET but Costa makes the save for him. I mean.....
54' - Some frustrating moments in the first ten minutes of this first half. Have to think Graham Zusi will be finding his way to the bench here soon.
52' - The US was looking at what was essentially a five-on-two break but Michael Bradley's pass to Dempsey is behind him and it messes the whole thing up. Lots of loud grunt noises coming from this household just now.
Sigh.
Bradley has had a solid match but probably wishes he had this one back #USAvsPOR pic.twitter.com/8db8RrzA03

— ESPN FC (@ESPNFC) June 22, 2014
51' - Eder has had his share of chances for the Portuguese, and I'll just say that the effort is there. I'll give him an A for effort and an F for every other part of the shots.
50' - That combover isn't fooling anybody, ref. We all have hi-definition televisions.
49' - The US gets a corner but Zusi misses everybody. Easily his worst attempt of the night.
47' - I have a fun idea: Let's not give Ronaldo that much room to get off a shot ever again. Deal?
46' - The second half is underway. The US didn't make any lineup changes at the half, but I'd expect to see some soon enough.
7:02 p.m. ET SUBSTITUTION: Portugal makes a change at halftime, replacing Almeida with William. Only one sub remaining for the Portuguese.
HALFTIME: Well, the United States played pretty well overall, but it heads to the locker room behind Portugal 1-0. Wonder what adjustments Klinsmann will make.
45+1' - Geoff Cameron very lucky not to get a yellow card after a foul on Ronaldo. 
45' - Two minutes of stoppage time left before the half.
44' - OH MY GOD Nani gets off a shot that Howard misses and it hits the crossbar and bounces back in front where Eder gets another attempt but Howard just gets his fingers on it to deflect it high. That was heart attack city right there.
42' - More terror as Ronaldo gets a free kick but his effort is poor and never threatening.
41' - Cristiano Ronaldo on a counter is the most terrifying thing ever, and it leads to a great chance for Nani. Thankfully Tim Howard is there.
40' - Water break is over. Teams shared some orange slices and juice boxes, traded Pokemon cards, and got back on the field.
39' - Jermaine Jones is limping to the sideline and can't say for sure what the problem is, but the refs did just call for a water break because the ref is merciful and doesn't want anybody dying out there.
35' - Oh, hey there, Ronaldo. He gets a shot off, but it's ambitious to say the least, and it's right at Tim Howard.
34' - Jermaine Jones' turn to get a shot off, but it's right at Beto. Americans giving him a workout in this first half. Nine shots and it's not even halftime.
31' - Another shot from the United States, as Fabian Johnson lets a laser loose, but it's too far out and well wide. Finding plenty of room to work with, though.
29' - Going on record: The United States is going to score at least one goal tonight. Portugal's defense isn't exactly inspiring.
28' - Michael Bradley gets off a weak shot from outside the box but Beto sure made it look good as his dive was late and the ball skidded just wide of the net. (via)
27' - Another great chance for Dempsey up front but Costa deflects it out of play. Still, the United States has really responded well to the early Portugal goal.
23' - A nice effort and pass from Jermaine Jones -- who has played really well in Brazil -- sets up a shot for Michael Bradley, but the Bald Eagle's shot is over the crossbar.
19' - Every four years the World Cup brings all the bad haircuts of the world to one place to compete against one another.
17' - America gets its best chance as Clint Dempsey gets a run over the top and gets a shot off from a few feet outside of the net, but the shot is from a bad angle and is easily saved. Dempsey then gets another shot off from the ensuing corner, but misses high. (via)
15' SUBSTITUTION - Hamstring trouble for Portugal's Postiga sees him subbed off for Eder.
15' - This is not a promising statistic.
#USMNT is winless (0-16-4) when conceding first at WC; Portugal is 11-0-0 when scoring first at WC.

— Paul Carr (@PCarrESPN) June 22, 2014
14' - There is some good news right now, and that good news is that the United States is doing a much better job of holding onto the ball, and winning the ball back in the last few minutes. Need to drive possession here. Don't want to spend 90 minutes in the middle of a jungle chasing the ball around. You'll tire quickly.
13' - Clint Dempsey's free kick sails just high over the crossbar. Good attempt, though.
12' - America wins a free kick after some nifty passing leads to a Portuguese foul on Fabian Johnson.
10' - Nice run by Fabian Johnson results in a corner for the United States but Zusi's kick isn't great and the ball is booted out of the box harmlessly.
7' - The good news is there are still 83 minutes left to play. The bad news is that Portugal is dominating the ball like Ghana did for most of the US's first match. Hard to come from behind when you don't have the ball.
5' GOAL PORTUGAL - And just like that the United States finds itself in trouble as Nani finds himself alone to the right of the net with the ball and buries it past Tim Howard. Terrible job by the American defense to clear that cross. 1-0 Portugal.
4' - Ronaldo out here doing Ronaldo stuff. He may not be 100 percent, but he's still the best player on the field by a wide margin.
3' - Still very early, but it seems the United States strategy is to clog up the middle of the field to both slow Portugal's countering ability, and basically just make it a lot more difficult to score. Don't know how well it will work, or if the side effect will be keeping the United States from scoring itself. I suppose that's what the next 87 minutes will tell us.
2' - We're a full minute into this match and the United States hasn't scored yet. What a letdown.
1' - We are underway. For those wondering, I'm Tom Fornelli, the United States is the team in white that you want to win, and Portugal is in red. 
---------------------
Pregame
5:51 p.m. ET: About ten minutes from kickoff and both teams are making their way onto the field. We're a couple national anthems and a whole lot of anxiety away from this match beginning. 
Your starting lineup for the United States this afternoon, as the team switches from a 4-4-2 diamond formation to a 4-5-1 (or a 4-2-3-1 really) to make up for the lack of Jozy Altidore.
Goalkeeper: Tim Howard
Defenders: Damarcus Beasley, Matt Besler, Geoff Cameron, Fabian Johnson
Midfielders: Jermaine Jones, Kyle Beckerman, Graham Zusi, Michael Bradley, Alejandro Bedoya
Forward: Clint Dempsey (c)
Portugal's starting lineup will look like this:
Goalkeeper: Beto
Defenders: Bruno Alves, Ricardo Costa, Andre Almeida, Joao Pereira
Midfielders: Miguel Veloso, Joao Moutinho, Raul Meireles
Forwards: Cristiano Ronaldo, Heider Postiga, Nani
---------------------
Match Preview: It doesn't get more cut and dried for Jurgen Klinsmann's gritty roster. If the US beats Portugal on Sunday in the jungle of Manaus, it becomes the first team to advance from the Group of Death -- a possibility few thought realistic when the groups were drawn in December. The US could live with a draw, but why focus on anything other than securing a pass to the knockout rounds? If the US beats Portugal, it would be only the fourth victory over a European team in the World Cup in its past 19 matches. One of those wins, however, is a 3-2 win over Portugal in 2002. 
Both enter Sunday's match far from healthy, including question marks surrounding key strikers. Cristiano Ronaldo's left knee has been deemed healthy by various teammates, but it's relatively obvious he's not 100 percent. He's missed time during practices and has been spotted with an ice pack on his left knee while trying to recover from patellar tendonitis. He was a non-factor in Portugal's opening loss to Germany, and also was near-invisible in a few of the team's qualifiers. Toss in the extreme heat and humidity expected to factor heavily into this match and it's a safe bet the US won't see the world's most feared striker close to his peak. A suspension for Pepe (red card) along with injuries to Fabio Coentrao and Hugo Almeida leave Portugal -- in need of this win to stay alive -- extremely vulnerable against a US team brimming with confidence. 
"Either we win or pack our suitcase," Portugal manager Paulo Bento said. 
Despite the hamstring injury to Jozy Altidore (out Sunday), the US managed to beat Ghana 2-1, albeit in an ugly match without a strong showing from its best player, Michael Bradley. John Brooks' 86th-minute goal overshadowed the one-sided affair that saw a desperate US team withstand relentless pressure from Ghana's attackers. That said, Altidore was out for the majority of the game, Clint Dempsey admitted he could hardly breathe after getting kicked in the face and breaking his nose, and the US back line had to adapt on the fly without its starting center back, Matt Besler, who left at halftime (hamstring).
Besler is healthy for Sunday's game and Dempsey has had a week to adjust to breathing through one nostril. He briefly considered wearing a mask, but the humidity could've interfered with his play. On the defensive front, Geoff Cameron, who shined vs. Ghana, should continue to assert his size and tackling expertise against attackers Ronaldo and Nani. He's the anchor in the back. Klinsmann may opt to start Graham Zusi over Alejandro Bedoya, who was seen limping vs. Ghana. Zusi's corner kick was the assist on Brooks' goal, but he also could be asked to mark Ronaldo along the flank. Overall, the US team has been banged up, but it's nothing insurmountable.  
"This is the moment where you can step up and play those guys and put them in their place," Klinsmann said. "We want to put Cristiano and his team in their place. We want to get out there with all the energy that we have, all the discipline that we're going to bring, all the aggressiveness that we're going to bring to the play and make it our game."
On top of the injuries, Bradley had a terrible showing against Ghana, probably because he was being asked to do too much. Bradley was tasked with holding the ball to give his defense a rest in the attacking third, facilitating counter attacks, and tracking back on defense. His touch and positioning were off, but Klinsmann likely has devised a more realistic game plan for Bradley to thrive atop the diamond formation. Expect the typical work rate from Bradley's midfield partners Jermaine Jones and Kyle Beckerman, who were fearless in tackles and showed extremely well against Ghana. Without Altidore, Aron Johannsson should start up top, and though he doesn't have the strength of Altidore, the 23-year-old Icelandic-American has proven his prowess off corner kicks and set pieces. It's not as big a drop-off as some had feared when Altidore pulled up lame. 
When the groups were announced six months ago, US fans bemoaned the team's unfortunate draw, but optimists saw an opportunity to rate US soccer against some of the world's elite. That chance to compare themselves and possibly overtake Portugal is finally here. As Tim Howard said, "This is a massive game. A turning point for us. If we win, we've taken care of business." 
More World Cup: Scoreboard | Schedule | Group Standings | U.S. Team news
The city of Samara's stadium, set to be used for the 2018 World Cup, has seen its construction...

Norway beat World Cup debutants Thailand 4-0 before a historic rout by Germany over Ivory Coast...

He'll be suspended for Friday's game against Iowa.
The World Cup was 'amazing,' but Seattle Sounders teammates Clint Dempsey and DeAndre Yedlin...

A painting in Brazil depicts the Dutchman's amazing goal against Spain.

German midfielder Cristoph Kramer has become the face of the ongoing concussion crisis after...