2014 FIFA World Cup: What we learned, Day 12
Spain closes its 2014 World Cup with an easy win over Australia, while Netherlands wins Group B after beating Chile. Brazil and Mexico advance from Group A.
by

CBS Sports Staff

• 7 min read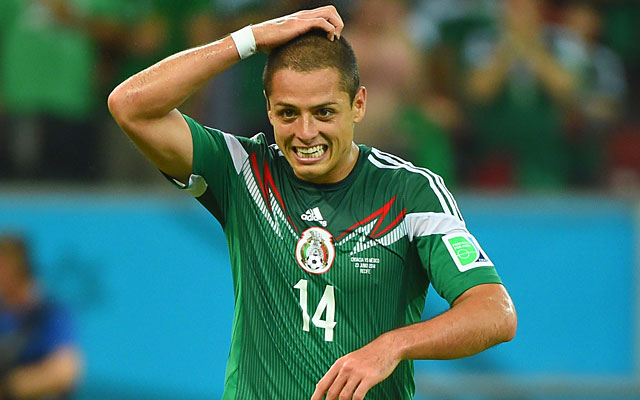 More World Cup: Scoreboard | Schedule | Group Standings | U.S. Team news

At the end of each day of action at the 2014 World Cup, our writers weigh in on what we learned from each match.
El Tri doesn't need the help of "San Zusi" in Brazil. Mexico only made the World Cup at all thanks to the benevolence of the US and American midfielder Graham Zusi, who scored in injury time of a World Cup qualifier at Panama to eliminate the home team and keep Mexico alive -- a goal that's earned him the nickname "San Zusi" south of the border. But since their abject disaster of a qualifying campaign, new manager Miguel Herrera has pushed all the right buttons, and Mexico look a genuine threat to end their long drought from the quarterfinals -- one that extends all the way back to their hosting duties in 1986.
Gis Dos Santos and Oribe Peralta are mong the more dangerous attacking tandems in the tournament, Hector Herrera has been outstanding as a box-to-box midfielder, and Guillermo Ochoa has been nothing less than the best goalkeeper in the tournament. The Netherlands won't be an easy nut to crack at all in the Round of 16, but Mexico's balance between offense and defense produced an impressive 7 points in Group A play -- and could see them even futher than the quarters.
This is the tournament of the Americas. Costa Rica beat Italy and is through. Chile beat Spain and is through. Mexico beat Croatia and is through. Brazil and Argentina are through without too many hiccups. Same goes for Colombia. The USA has four points when many believed it would be sitting on none. Uruguay and Ecuador could yet survive. (Sorry, Honduras.)
It's an old soccer maxim that teams from Europe don't perform well in South America, and South American teams don't perform well in Europe. Based on the 2014 World Cup so far, that maxim is still as accurate as ever -- and judging by CONCACAF's continued impressive results, it might be time to expand its application to North American teams as well.
Arjen Robben can carry the Dutch: Everyone knows Robben is capable of brilliant performances, but he consistently has other absurdly talented players around him. At Bayern Munich, Robben has Franck Ribery on the other flank, Thomas Muller and Mario Mandzukic in the center, and a billion other elite-level players elsewhere. With the Dutch, he's partnered up top with Robin van Persie. With van Persie sidelined on Monday due to yellow card accumulation, though, most of the attacking impetus was left on Robben's shoulders. And he had no issues with that responsibility. He constantly was taking on Chilean midfielders and defenders, starting counterattacks on his own, and creating dangerous opportunities in the final third. Moreover, Chile never seemed to make an effort to force him to use his right foot. Robben prefers his left foot and very rarely will even touch the ball with his right foot -- yet Chile allowed him to go left all he wanted. When van Persie returns in the knockout stage, teams are going to be fearful of this dangerous duo.
Brazil won't have a cakewalk against either team: Brazil is likely to advance out of group A, barring a Mexico-Croatia draw and a blowout loss to Cameroon or a narrow Croatia win and a blowout loss to Cameroon -- but they need to beat Cameroon to assure themselves of being group winners. With that said, whether they finish first or second, it won't be an easy match in the knockout stage for the home country. Should Brazil win the group -- which is the most likely situation -- they will be matched up against Chile. And that will be a dogfight. Chile wants to pressure the opposition in their own half of the field, forcing giveaways and then creating quick counterattacks. As we saw from Brazil in both of their opening matches, they are susceptible in the midfield. Mexico and Croatia constantly counterattacked and took advantage of wide-open space in the center of the field. Given Chile's ability to control the midfield, that could spell bad news for Brazil.
Chile missed Arturo Vidal: The Juventus star midfielder was left out of the starting XI on Monday for a couple reasons. He's still not 100 percent fit after undergoing ankle surgery in May, and also picked up a yellow card and did not want to risk suspension for picking up another one. When healthy, Vidal is arguably the best all-around midfielder in the world and is the catalyst for Chile. He can make tackles and interceptions in the center of the pitch, and then quickly change from defense to offense, catching teams off-guard with take-ons or through-balls to the energetic duo of Alexis Sanchez and Eduardo Vargas. Without Vidal on Monday, the service wasn't always there for Chile. Sanchez was extremely active, being involved in essentially every positive play for Chile -- but most of it was created on his own. Vargas wasn't as visible as he was the first two matches. When Vidal is the playmaker, Sanchez and Vargas can focus on the high press and making runs into space. He'll be back for the knockout stage.
Talent trumps all: Even though there was nothing to play for Monday, this was a match for Australia to get its young players some experience against some world class competition. And as not interested as Spain was, it was still able to dominate the Aussies. There were some chances here and there for the Australian side, but Spain was able to sleepwalk to an easy 3-0 victory.
Young Aussies: Even so, Australia was able to put its young squad to the test, and they performed rather well. With elder statesman Tim Cahill suspended for the match, the Socceroos could trot out their youngsters, like striker Mathew Leckie and keeper Maty Ryan. There were some signs of life in their play, but they were certainly outclassed by Spain, the defending 2010 World Cup champions. Still, a great bit of experience gained by the Aussies.
Spain's time could be up: At least for this particular version of Spain. It was nice to see Fernando Torres and David Villa, the latter of whom has already announced his plans to quit international play after this World Cup, find the back of the net. This Spain side was one of the most successful national teams in recent memory, and chances are the next time they field a team at the World Cup it will be at least somewhat different.
Brazil finally looked the part: Two goals from Neymar and some flashy, one-touch passing finally showed the potential of this team. The Selecao takes it lead from Neymar, and after their star striker was inexplicably shoved to the ground 15 minutes into Monday's match, he turned it on. 
Less than a minute after the incident, Luiz Gustavo played a gorgeous cross from the left side off a Cameroon turnover that Neymar flipped past the keeper to ignite the crowd. His 35th-minute goal was another individual moment of excellence as he diced up the defense and found space a few yards inside the box. The best sequence, however, didn't result in a goal as Hulk couldn't get the ball off his foot after a series of jaw-dropping touches. Brazil looked much more like the team that blitzed through the Confederations Cup last year rather than the one that hadn't found its rhythm through two games.
Not just Neymar: Despite his goals, Monday's win was more than just Neymar. That's important as Brazil heads towards the knockout rounds against Chile, because Neymar had been good this World Cup, while his teammates couldn't exactly say the same. Dani Alves and David Luiz anchored the back line and limited a host of chances against Cameroon's fearless strikers. Marcelo had a few good tackles as well. The real difference against Cameroon was the midfield. Either in transition or with its crosses, Oscar and Luiz Gustavo were incredible, hardly the form they showed against Croatia or Mexico. Gustavo's aforementioned assist was perfect, while Oscar facilitated the team's final goal off a turnover and touch pass to Fernandinho. Even Fred ended his goal-less drought when he headed in David Luiz's cross.
The onslaught on Monday was absolutely necessary as it decided Brazil's opponent in the first knockout round. Chile, especially in today's match, looked much more vulnerable than the Netherlands. That bodes well for a Brazilian team that appeared to find its rhythm.
We were mere centimeters from losing one of soccer's brightest stars

Former Minister of Sport and Deputy Prime Minister Vitaly Mutko is stepping down

The city of Samara's stadium, set to be used for the 2018 World Cup, has seen its construction...
Norway beat World Cup debutants Thailand 4-0 before a historic rout by Germany over Ivory Coast...

He'll be suspended for Friday's game against Iowa.

The World Cup was 'amazing,' but Seattle Sounders teammates Clint Dempsey and DeAndre Yedlin...