2014 FIFA World Cup: What We Learned, Day 13
Costa Rica earned a 0-0 draw against England on Tuesday to win Group D, while Uruguay beat Italy 1-0 and Luis Suarez bit an opponent.
by

CBS Sports Staff

• 7 min read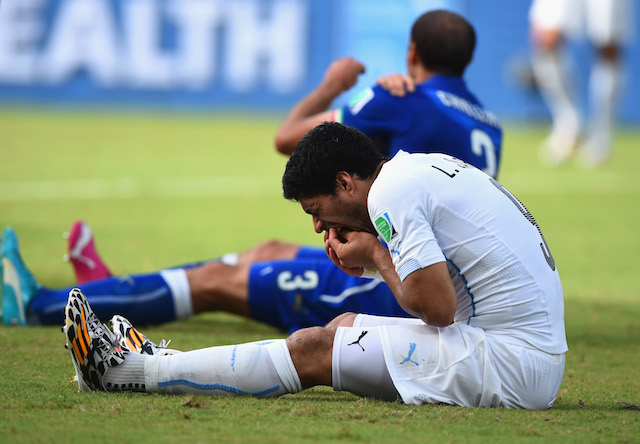 More World Cup: Scoreboard | Schedule | Group Standings | U.S. Team news
At the end of each day of action at the 2014 World Cup, our writers weigh in on what we learned from each match.
Luis Suarez still bites people: The biggest talking point from Tuesday's action -- and the entire World Cup so far -- will be Luis Suarez's apparent bite on Italy defender Georgio Chiellini. If it was the first time Suarez had done something like this, it would be awful, but maybe a little bit different. Unfortunately, it's his third time in the last four years. Suarez bit PSV's Otman Bakkal in 2010, getting suspended for seven games, and then was banned 10 matches for biting Chelsea's Branislav Ivanovic in 2013. Suarez was not booked for his actions on Tuesday, but it will be interesting to see if FIFA disciplines him after the fact. 
After the game, Chiellini made his opinion clear.
"Suarez is a sneak and he gets away with it because FIFA want their stars to play in the World Cup. I'd love to see if they have the courage to use video evidence against him," he said, according to Sky Sport Italia. "The referee saw the bite mark too, but he did nothing about it."
It's a new era of European soccer powers, and a new era for Italy: Spain is out, England is out, and now Italy is out. Portugal could be out as soon as Thursday. Even Switzerland, a top-10 team in the FIFA world rankings, could be out this week. Some of the more well-known soccer powers, especially over the last decade, are no longer in the World Cup -- leaving Germany and France as the big names holding the UEFA flag. Moreover, given the age of most of the key guys on the aforementioned four teams, we might see a new power group in the coming years. Belgium has been consistently moving up the rankings over the past several years, and with European stars like Eden Hazard, Vincent Kompany, Thibaut Courtois, etc. -- they could move into that top group. 
What's next for Italy? It will be interesting to see what happens over the next two years and four years for Italy after getting bounced before the knockout stage. Several of their most important players are getting up there in age, including Andrea Pirlo (35), Gianluigi (36), Andrea Barzagli (33), Daniele de Rossi (30) and others. We saw Marco Verratti be very influential on Tuesday, and the PSG midfielder will be key going forward. Mario Balotelli and Ciro Immobile have their best years ahead of them, too.
Costa Rica did what it had to do: Los Ticos knew heading into Tuesday's match that all it needed to win Group D -- a preposterous thought at the beginning of the World Cup -- was to draw England. Far from resting its starters, Costa Rica employed the same strategy it has used in wins over Uruguay and Italy. Strikers Bryan Ruiz and Joel Campbell took their chances when available, but it was Costa Rica's defense that was sound once again. Christian Gamboa and Oscar Duarte were excellent in their tackles, limiting England's strikers to a precious few chances, none of which they obviously capitalized on. The other unsung hero for this game and for most of the tournament was keeper Kaylor Navas, who pounced on a number of dangerous balls near the net to keep his clean sheet. Costa Rica won Group D because of its defensive effort, and should be a terror to score against moving forward. 
England ushered in a new era: Roy Hodgson made nine changes to his starting lineup in an effort to give his young guys some World Cup experience. That meant Steven Gerrard, Wayne Rooney and Raheem Sterling all started on the bench in lieu of young guys trying to impress. With nothing left to play for but pride, one had to be impresed with Jack Wilshere and Ross Barkey in the midfield, along with Luke Shaw at left back. Daniel Sturridge had a number of second half chances as well, but just couldn't capitalize. We likely saw the last of Frank Lampard and Gerrard, but England has a promising core moving forward. 
Costa Rica will be favored to advance: After winning Group D, something no one outside of Costa Rica thought possible, Los Ticos should be favored to advance from its first knockout match against the second-place finisher in Group C. Colombia is expected to hold onto its lead atop the group, while the Ivory Coast are positioned to finish second. With its pack-style defending, it would be hard for Didier Drogba and Yaya Toure to break down Costa Rica's defending, and if the Ivory Coast were to overextend into its attacking third, Costa Rica would counter with its lightning fast midfielders Junior Diaz, Bryan Ruiz and Celso Borges. The defense is the anchor to this Costa Rican team, which absolutely deserves to be in the position it's in. 
James Rodriguez: There are clever titles to be had, but I need to be clear: James Rodriguez needs to be seen. The 22-year-old has been a force in the each of Colombia's three group stage games, and he came on at halftime against Japan to flash some of his brilliance. He only scored once, but his talent is highly evident whenever he's on the pitch. It seems that only those in Colombia were aware of his brilliance before the World Cup; not anymore.
Look out for Jackson Martinez: The striker has been a scoring machine on the club level for Porto, but not so effective internationally. That could be turning. Martinez scored twice Tuesday, which could spell doom for Uruguay. If he's able to be as effective as he was against Japan -- which would free up Rodriguez -- there are few teams in the world that can keep this Colombian side under wraps.
Poor Japan: If you watched any of the game last week between Japan and Greece, you wouldn't predict that Greece would be moving through. They looked out of sorts and disjointed, allowing numerous chances. But that's how soccer is. Greece was able to hold off the Japan attack and somehow beat the Ivory Coast, so the Greeks are through to the knockout stage. It's hard to imagine the Japanese side isn't kicking itself after all the wasted opportunities against Greece.
Greece scores two group goals, advances. Entering Tuesday's match against the Ivory Coast, Greece had been pounded 3-0 by Colombia and had drawn Japan, 0-0. It had one point and a -3 goal differential. It wasn't technically eliminated, but the team which had scored just 12 goals in 10 qualifying games prior to the World Cup was in a massive hole. Then everything broke for the Greek side. 
First an awful turnover let Greece score its first goal of the tournamant off the foot of sub Andreas Samaris. At halftime of the concurrent match, Japan and Colombia were tied, which meant that Greece would advance if the results held. Even though Colombia continued to pour in goals against Japan -- ensuring that Japan wasn't a threat -- it didn't matter since Greece's backline momentarily broke down and conceded a goal to Wilfried Bony. Had that result held, the Ivory Coast would've advanced for the first time in its history. Instead, Georgios Samaras was taken down in the box and he buried the PK to send his side to the knockout stages. 
End of an era for Ivory Coast. At 36, Didier Drogba has most likely played his last World Cup match, and he never made it out of the group stages. In 2006 and 2010, the Ivory Coast was drawn into two brutal groups, but this year it had its chance. All it needed to do was win or draw on Tuesday and it couldn't manage to do that. Straying from the formula which got it three vital points against Japan, Drogba started instead of coming off the bench as a super-sub. He was largely invisible in the 78 minutes that he played on Tuesday. Toure brothers Yaya and Kolo are each over 30 as is defender Arthur Boka. This was the World Cup where the Ivory Coast was expected to seize that window of opportunity. Unfortunately, it just didn't happen and the only group member it has to blame is itself. 
Greece vs. Costa Rica. We'll have a formal preview in the coming days, but these two teams are mirror images of each other. Both defensive in their approaches, Costa Rica and Greece each look to catch its opponent pressed high up the pitch only to flip the field and seize on a scoring chance. We saw two such instances today from Greece as defender Jose Holebas blasted a counter attack off the cross bar in the 33rd minute. The crossbar came up with another save after Georgios Karagounis tried his luck from 35 yards outside of the goal in the 68th minute. Expect a conservative chess match where each side is hesitant to make the first mistake. 
The city of Samara's stadium, set to be used for the 2018 World Cup, has seen its construction...

Norway beat World Cup debutants Thailand 4-0 before a historic rout by Germany over Ivory Coast...

He'll be suspended for Friday's game against Iowa.
The World Cup was 'amazing,' but Seattle Sounders teammates Clint Dempsey and DeAndre Yedlin...

A painting in Brazil depicts the Dutchman's amazing goal against Spain.

German midfielder Cristoph Kramer has become the face of the ongoing concussion crisis after...