2014 FIFA World Cup: What we learned, Day 17
A recap of Sunday at the World Cup, with Netherlands coming back to beat Mexico, 2-1.
by

CBS Sports Staff

• 5 min read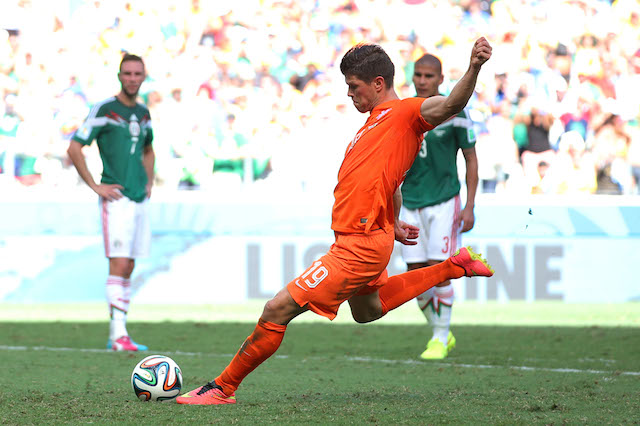 More World Cup: Scoreboard | Schedule | Group Standings | U.S. Team news
At the end of each day of action at the 2014 World Cup, our writers weigh in on what we learned from each match.
The two sides will never agree on Marquez's foul: A couple of minutes into stoppage time, Arjen Robben took the ball to the Mexico end-line, before cutting back and drawing a foul from Rafa Marquez. Marquez got a yellow card, the Netherlands won a penalty kick. Klaas-Jan Huntelaar buried the attempt as Guillermo Ochoa guessed the wrong way, and the Dutch were through to the quarterfinals. Was it a foul, though? It looked like Robben was falling before contact was made, but Marquez's challenge was late and he enabled Robben to use his leg to sell the dive. The Mexican backline was nipping at Robben's legs and feet all day, and he probably deserved a penalty in the first half. In the end, it was a soft penalty -- but Marquez's challenge was indeed late and he made contact with Robben.
The Dutch need more from Robin van Persie: Down 1-0 entering the final quarter of an hour, the Netherlands needed a goal. And so they subbed out star striker Robin van Persie. Wait, what? Yes, manager Louis van Gaal took out the Manchester United forward in a must-score situation -- and the Dutch responded by scoring two goals in the final eight minutes to advance to the quarterfinal. That's not to see van Persie was preventing the Dutch from scoring goals, but he was relatively invisible while he was on the pitch. He was getting very little service from his midfielders and wingbacks, and got essentially no time and space when he was able to get some possession. Arjen Robben consistently looked more dangerous than van Persie, and the Dutch were relying on the Bayern Munich winger for most of their creativity in the final third. When Robben and van Persie are working well together, there are few striking duos better (see: opening match against Spain), but that wasn't the case on Sunday.
Mexico has to be devastated: El Tri has advanced to the knockout stage in six straight World Cups. And they have now been knocked out of the knockout stage in six straight World Cups. And this was a heartbreaker. Mexico looked the better side for most of the first half, creating more chances, whether it was on attempts from outside the box or on through-balls from the counterattack. And then once Giovani dos Santos put Mexico in the opening minutes of the second half, it seemed the CONCACAF side went on the back foot. Netherlands began pushing forward, and getting countless corner kicks and crossing chances. Moreover, Mexico was really struggling to defend set pieces, needing heroic efforts from Guillermo Ochoa and poor finishing from the Dutch to keep it 1-0. Despite everything, they were still just minutes away from advancing to the quarterfinal -- and then it all fell apart. The turnaround over the last few months from Mexico has been nothing short of astonishing, but the turn of events in the final minutes on Sunday sent El Tri packing.
Costa Rica 1, Greece 1 (Costa Rica wins 5-3 on penalties) 
Do you believe yet? Costa Rica continued its improbable World Cup journey on Sunday by beating Greece 5-3 on penalties after an exhausting 120 minutes, almost half of which was played with just 10 men. A man advantage is critical in 90 minutes and its value increases exponentially as the stamina of the players wanes. Costa Rica's back four, particularly Giancarlo Gonzalez, were incredible against Georgios Samaras and Kostas Karagounis. With 10 guys, Los Ticos withstood attack after attack, but thanks to some incredible keeping, Costa Rica never yielded the second goal. It was demoralizing enough to see the finish line -- Greece's lone goal came in stoppage time -- only to give up your one-goal lead. But to defend relentlessly for 30 minutes after that was simply unbelievable. Not to mention, once it got to penalties, the confidence that each shooter displayed when lined up against Orestis Karnezis was tremendous. It was as much a mental battle as it was a physical one, and the Costa Ricans prevailed in both facets. 
Keylor Navas is the key to Costa Rica's success: Mexico keeper Guillermo Ochoa was getting all the publicity with his miraculous saves throughout the World Cup, but Mexico is gone, so that spotlight deserves to be thrust onto Navas. He's a primary reason why Costa Rica had allowed just one goal entering the knockout rounds. Yes, its defense is the anchor of the team, but Navas came up with at least two stunning close-range saves to keep his side in the game. Navas stuffed Dimitris Salpingidis late in the first half as the attacker recieved a perfect cross from the wing. The striker connected with his right foot and Navas blocked the shot with his knee, a few feet in front of his line. Navas came up aces again late in extra time when he blocked Konstantinos Mitroglou's volley at the six. Finally, his fourth round save in penalties gave Costa Rica some breathing room and ultimately proved the difference after Michael Umana nailed his attempt. The Costa Rican defense is like a well-oiled unit, but Navas is the impenetrable wall in the back. He showed it again on Sunday. 
Strategy adjustment? Its conservative style worked to get it out of Group D. It worked again despite playing a team (Greece) that's very similar to itself. Its next match is against Holland, whose strikers are world-renowned. Costa Rica's offense wasn't too impressive on Sunday, and a lot of that has to do with the ten men. But Bryan Ruiz's goal wasn't anything special and Joel Campbell couldn't hold the ball by the end of regulation. It may need to fight for an early lead against Holland and then play to its strengths, because coming back against a team of that caliber would be brutal. 
The city of Samara's stadium, set to be used for the 2018 World Cup, has seen its construction...

Norway beat World Cup debutants Thailand 4-0 before a historic rout by Germany over Ivory Coast...

He'll be suspended for Friday's game against Iowa.
The World Cup was 'amazing,' but Seattle Sounders teammates Clint Dempsey and DeAndre Yedlin...

A painting in Brazil depicts the Dutchman's amazing goal against Spain.

German midfielder Cristoph Kramer has become the face of the ongoing concussion crisis after...