2014 World Cup quarterfinals: Ranking the remaining sides, 8 to 1
Eight teams remain in the quest to win the World Cup. How do they stack up with one another? Let's re-rank them heading into the quarterfinals.
• 5 min read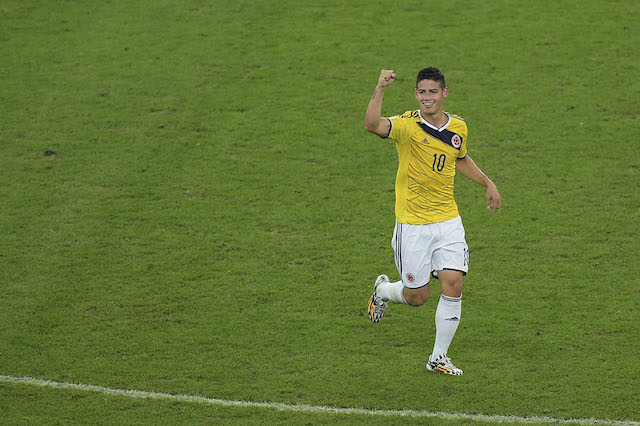 More World Cup: Latest news & notes | Scoreboard | Complete schedule
On paper, the Round of 16 went as expected. All eight group winners advanced into the quarterfinals, so on paper, there were no surprises. In reality, it was a fantastic four days of soccer. Two matches went to penalties, three more went to extra time, and one was decided in the fourth minute of second-half stoppage time. If the ball bounces a few different ways in these past eight games, we could be talking about the most Cinderella group of quarterfinalists in a very long time.
As it stands, there are certainly some powerhouses left among the group. And while we did re-rank the 16 teams that advanced into the knockout stage, it's time for an adjustment. Trends are beginning to take a shape a bit as we head into the quarterfinal stage, and we can start to really figure out how good each team is.
The following ranking isn't simply based on how they've played in the World Cup or how they've played for the past year or even how good they are on paper. There's no specific criterion. It's a subjective ranking revolving around the question: Which team would you take on a Brazilian field if they played tomorrow?
8. Costa Rica: The Cinderella of this World Cup, so to say, Costa Rica was essentially an afterthought in its group, the "Group of Champions." After beating Uruguay and Italy, and drawing against England, the CONCACAF side had won their group and been given a favorable Round of 16 matchup against Greece, perhaps the worst team left in the tournament. After going a man down, Costa Rica won in penalties – and now goes against Netherlands. Can the run continue? They're back to being the underdog, and maybe they can continue to ride their counterattacking and star goalkeeper Keylor Navas. 
7. Argentina: Entering the World Cup as perhaps the second favorite to Brazil, Argentina has not looked all that impressive – outside of Lionel Messi and perhaps Angel di Maria, of course. They needed heroics from Messi against Iran, heroics from di Maria against Switzerland, and couldn't put Nigeria away in a 3-2 battle. There is plenty of attacking talent on this side, but they haven't seemed to put it all together yet. If they do, this is maybe the most dangerous attacking side remaining in the tournament. But combine inconsistency up front with a very vulnerable backline, and you have the makings of a disappointment.
6. Belgium: At some point, you have to give credit to the Belgian way of doing things in this World Cup. Sure, they have scored all six of their goals after the 70-minute mark, and have allowed less-talented teams to hang around longer than expected. And while we have continued to question their backline, a desperation United States goal in the second period of extra time is the only goal Thibaut Courtois and Belgium have allowed in the run of play. Belgium thoroughly dominated for most of the match against the United States, and their ability to bring in subs like Kevin Mirallas and Romelu Lukaku gives them an edge over most teams.
5. Netherlands: After looking excellent during the group stage, the Dutch were nearly bounced by Mexico in the Round of 16. If not for a Wesley Sneijder goal in the 88th minute and a controversial Arjen Robben dive/penalty in stoppage time, we would likely be talking about Mexico right now. And now Netherlands will be without Nigel de Jong for the rest of the World Cup with a tear in his groin muscle. While he's always at risk of a booking, de Jong is also likely the best Dutch midfielder in the squad. As always, it will come down to the front three of Robben, Sneijder and Robin van Persie. Van Persie needs to play better than he did against Mexico.
4. Brazil: Like Belgium, at some point we have to take into account everything we've seen and make a judgment call. Brazil didn't look all that impressive in their group matches, outside of stretches against Cameroon, but I still made them No. 1 heading into the knockout stage because of their talent and the fact they were playing at home. They had to figure it out at some point, right? Well, after nearly losing to Chile last weekend, maybe Brazil just isn't the clear-cut favorite anymore. Neymar has been the lone consistent threat up front, the midfield hasn't been great, and the backline can still be caught too high. Colombia will test them.
3. France: France is maybe the lone question mark still remaining in the World Cup. Their group was mediocre at best, and playing at the same level as Nigeria for 65 minutes in the Round of 16 doesn't prove much. With that said, the French have been more consistent than Brazil through four games and therefore get the nod at No. 3. The key will be whether France can finish consistently up front and then control the midfield. Karim Benzema can be excellent, and Mathieu Valbuena has been very good, but they struggled to finish against Nigeria. Paul Pogba is perhaps the best young midfielder on the planet, and is a difference-maker.
2. Colombia: The only team in the competition that has yet to show a glaring weakness, Colombia will have an excellent chance of upsetting Brazil on their home soil. Colombia has yet to be truly threatened through four games, outscoring teams 11-2 in the group stage and Round of 16 matches. James Rodriguez has been the breakout star of the World Cup, and has been capable of magic at a moment's notice. Jackson Martinez is very good at striker, and Juan Cuadrado is dynamic on the wing. This team has plenty of attacking talent and seems to have fun playing with one another. If they had a bit more late-round experience, they could be the new favorite.
1. Germany: Has Germany looked like a dominant side through four matches? Not at all – but with Brazil struggling seemingly every match, France looking inconsistent, and Colombia lacking a ton of big-match international experience, it's not hard to see why Germany could be the favorite to win the World Cup. There have been questions at the back, especially at the fullback positions. There have been questions in midfield, especially when it comes to getting beat on the counter. And there have been questions up front, especially when it comes to finishing. With all that said, this team has world-class talent, world-class experience, and has excellent chemistry. It's a tough recipe to beat. 
The city of Samara's stadium, set to be used for the 2018 World Cup, has seen its construction...

Norway beat World Cup debutants Thailand 4-0 before a historic rout by Germany over Ivory Coast...

He'll be suspended for Friday's game against Iowa.
The World Cup was 'amazing,' but Seattle Sounders teammates Clint Dempsey and DeAndre Yedlin...

A painting in Brazil depicts the Dutchman's amazing goal against Spain.

German midfielder Cristoph Kramer has become the face of the ongoing concussion crisis after...