2014 World Cup: Versatility, youth, Bradley can get US over hump
Despite a trail of controversy, US coach Jurgen Klinsmann's versatile lineups -- playing through Michael Bradley -- can get the Americans through the group of death.
• 6 min read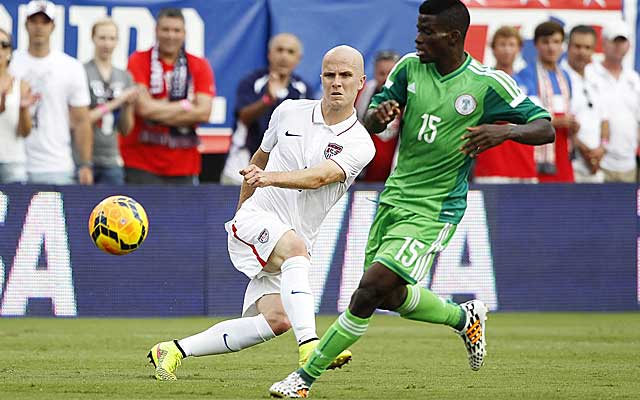 More World Cup: US-Ghana preview | Scoreboard | Schedule | Group Standings
Predictably, there was plenty of yammering when Jurgen Klinsmann gave his recent dissertation on the relative insignificance of formations, given the US soccer media had spent considerable time in the run up to the World Cup opining on his the coach would deploy his lineup. Like all coaches, at times Klinsmann speaks to say nothing -- responding to questions without revealing anything of value -- but this always struck me as a telling indication of how the manager would approach this tournament.
It was revealing in its simplicity, and while it struck some as nonsensical and contrarian, to me it was indicative of the standard Klinsmann is setting for this team. It's not about getting caught up in whether the US, which faces Ghana in its opening match Monday from Brazil, is playing a 4-4-2, or a 4-2-3-1 or a 4-5-1, it's about finding a group of 10 field players who share a vision for approaching the match, who are dedicated to a selfless style of play in which roles morph and tactics change depending on match circumstances. It's about a group of players who can interchange, overlap, backtrack and play smart, up-tempo soccer.
"There is no such thing as a best system," Klinsmann told reporters during the send-off series of friendlies. "It doesn't really matter because it's the whole team, how it plays as a unit, how it attacks and how it defends collectively."
Perhaps it sounds like hogwash, but after re-watching the USA's final tuneup a few times -- a heady 2-1 victory over Nigeria -- and mulling Klinsmann's words, I believe this team may have unlocked some deeper knowledge of themselves through the 11 players who started that game. They were at times in a 4-4-2 with a diamond midfield, at times it was a 4-2-3-1 (a Christmas tree of sorts), with two central midfielders sitting just above the backline. At times there were two strikers, with Clint Dempsey running behind and off of Jozy Altidore up top, and at times Altidore was the lone striker up top, in more of a holding role, helping backtrack deeper into the midfield.
The lineup flexibility left me optimistic about this team's ability to advance from its "group of death" -- with European powers Portugal and Germany rounding out the foursome.
For one, I expected them to advance even when the group was drawn. The insertion of holding midfield Kyle Beckerman to a group already including Michael Bradley and Jermaine Jones -- players who at least to some degree play a similar role -- opens up not only new defensive options, but creates a plethora of offensive streams. In my estimation, this lineup has a chance to be -- alternating as need be -- the country's most offensive-minded or defensively-sound group of 11 players. That's an exciting proposition.
With Beckerman alongside Jones, Bradley clearly feels unbridled to exert so much effort as a destroyer, and allows him to pull the strings, orchestrate the offense something like a point guard. This is imperative. This team clearly plays its most creative, upbeat, attacking football through Bradley. And with Bradley pushed upfield, and not having to link quite so much directly with the backline -- Jones and Beckerman can handle those connections -- he is a direct conduit providing service to the forwards. He is free to run at defenders, deliver those cunning long balls that can carve up an opponent and his interplay with overlapping wing backs (like on Altidore's first goal vs. Nigeria or outside back Fabian Johnson's goal vs. Turkey one week prior) gives this team its best chance to score from the run of play.
This is certainly the most elite opposition available, but Bradley lacks no confidence and I still think he can boss the game at important spurts as a box-to-box midfielder. He remains the key to this team, no matter what you want to call the formation.
Johnson's forays down the wing from a defensive spot have changed the dynamic of this group, too, and Klinsmann seems intent on maintaining that element. Johnson can drift inside easily with the ball on his feet -- he's just as natural in the midfield as he is as a right back -- and his pace making outside runs, coupled with an ability to serve the ball, should allow him to continue connecting with Bradley around the opposition's 18-yard line.
Of course, there are no panaceas and there is no substitute for world-class talent. The US still faces an imbalance in that regard, though I'd caution the same was true in 2002, for instance, and that group deserved a chance to play in the semifinals. No lineup will solve everything.
When taking on the look of a 4-4-2, with Bradley at the top of a diamond, at times that resulted in Jones pushed out on the wing, a scenario I am not in love with. Sorting through these issues in the first 20-25 minutes against Nigeria had something to do with the slow start. But with Jones and Beckerman a coupling ahead of the central defenders, and Dempsey and Alejandro Bedoja reset as more traditional wingers, with just Altidore up high, the team can adopt a defensive posture with the same group of players, with the left midfield role (Dempsey in this case) of particular import as left back DeMarcus Beasley is likely to draw heavy attention as teams attack that flank. Dempsey has the two-way game to help out in that regard, and Bradley could also float to either wing, with Jones and Beckerman on the pitch as well, to add extra cover to, say, a pillaging Cristiano Ronaldo.
Johnson's ability to play on defense or wing, the fact that Geoff Cameron has spent so much time playing wingback or as a center half, Beasley's history as a midfielder much of his career, Dempsey's ability to toggle, all bodes well for this kind of multi-faceted soccer. It allows Klinsmann to be creative in how he substitutes, it allows for cover when, inevitably, injuries mount. He has no shortage of speed or youth on the bench -- these conditions have shown us already in this tournament, along with the flurry of late goals -- that a South America World Cup is a young team's game.
With all of that in mind, I anticipate Klinsmann sticking pretty closely to the lineup used vs. Nigeria, if not duplicating it entirely. I get the sense he would love to find a way to have Timmy Chandler at left back over Beasley, but Chandler's lack of spacial awareness on that side in the friendlies was a big problem. I'm not sure Beasley is going to go 90 minutes a game, however, and maybe Johnson moves to left back at times and Chandler comes in on the right side. I expect to see plenty of Mix Diskerud, as he brings life off the bench. If this team does get out of the group stage, I suspect it takes at least one late goal off the bench by Aron Johannsson; if Altidore is going to do so much dirty work in the air and holding up the ball and running all out at times as a sole attacking option, then the man is going to need a breather from time to time.
With good health, and a lucky break or two, this could truly be a memorable World Cup for Klinsmann's team. But it all must start with a quality performance against Ghana, and three points if at all possible. Consider me among the American Outlaws on Monday: I believe that they will win.
The city of Samara's stadium, set to be used for the 2018 World Cup, has seen its construction...

Norway beat World Cup debutants Thailand 4-0 before a historic rout by Germany over Ivory Coast...

He'll be suspended for Friday's game against Iowa.
The World Cup was 'amazing,' but Seattle Sounders teammates Clint Dempsey and DeAndre Yedlin...

A painting in Brazil depicts the Dutchman's amazing goal against Spain.

German midfielder Cristoph Kramer has become the face of the ongoing concussion crisis after...