Americans have finally jumped on board with the World Cup
We have long been skeptical or dismissive of the world's greatest sporting bash. But America is on board with the World Cup now and we're not going back.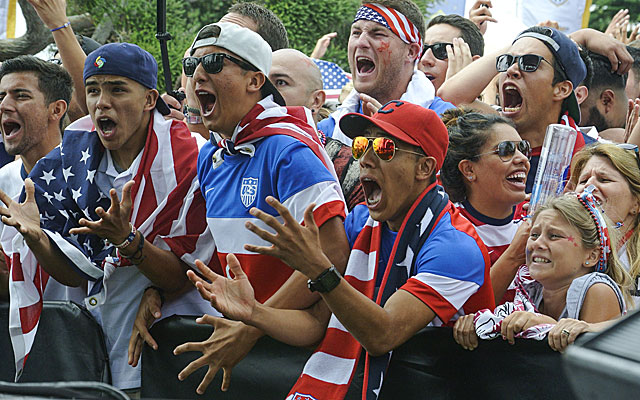 MORE: Re-ranking the quarterfinal sides | Staff quarterfinal predictions
The soccer debate is exhausting. Every four years people who love the sport say THIS IS THE YEAR soccer arrived in America. And every four years, haters make World Cup jokes about watching paint dry. Whole thing's a waste of time, like arguing politics with people on the other side of the aisle. It's pointless because they think we're stupid. And it's pointless because we know they are.
But now The Great American Soccer Debate is pointless for another reason:
The debate is over.
We've reached a resolution, and now it's up to those on the losing side to admit it. War's over, soldier. Your side lost. This was the year America joined the rest of the world for the World Cup.
Now this being a soccer story, let's define our terms real quick before you get bored and click a link about Johnny Manziel and Justin Bieber or something of equal intellectual nourishment.
America embraced the World Cup: Note the missing word there: soccer. Nobody's saying America's love affair with the World Cup will spill over into MLS attendance or college soccer fandom or more adult leagues. This soccer debate isn't about soccer at all. It's about the World Cup.
And we're finally a country that has embraced the World Cup as the worldwide spectacle it is -- and if you're a hardcore soccer fan, a Premier League junkie or MLS fan or whatever, you should love this. Because as a country we just moved one step closer toward your sport. Will we ever fully embrace it? Doubt it. Kareem Abdul-Jabbar doubts it, too. The NBA great wrote a thought-provoking piece that argues "soccer doesn't fully express the American ethos as powerfully as our other popular sports." Not sure what that means exactly, but it's an interesting read that basically implies soccer is so low-scoring that it's un-American. And maybe it is.
But that's beside the point. The 2014 World Cup won't register here in America as the tournament that made us love soccer. But it will go down as the event where we finally, as a country, stopped being so damn snobbish about the world's game and decided to see what all the fuss is about.
Turns out, we liked what we saw. And millions of us saw it.
These are facts. For the 2014 World Cup, America tuned into futbol like we tune into football. The US-Belgium game on Tuesday, played in the middle of the week and even during the middle of a work day, drew a bigger audience than all but two college football games in 2013 -- the BCS title game and the Rose Bowl. What I'm saying is, America was more interested in US-Belgium than in Alabama-Oklahoma in the Sugar Bowl, Alabama-Texas A&M in the regular season or even that Alabama-Auburn epic.
And it's not just World Cup games involving the US team. By itself, patriotism doesn't mean we love the World Cup -- it means we love America. But this year we've loved both. ESPN has the rights to the 2014 World Cup in Brazil, and it has logged more than 30 million hours of on-line streaming video. No event has ever been streamed that much, not March Madness on CBS or the Summer Olympics on NBC or anything, anywhere, ever.
But when it was America playing in the World Cup? America stopped. And that's never happened before. We've paid attention to America's games in past World Cups, but this was different. We didn't become Brazil or England when Brazil or England plays, but we got rid of our stupid cooler-than-you pride and embraced what was happening. We had street parties all over the country, except in Chicago, where the street wasn't big enough and so they moved the party to Soldier Field.
Watch what happens the rest of the way. America's out of the tournament, but the best eight teams have moved on, and America's going to keep watching. Prediction, fact, whatever. That's what's going to happen because we've acquired the World Cup bug, finally, and we'll see it through to the end of the 2014 World Cup. It won't have much of a carryover effect -- I'm not going to turn off the television after Netherland beats Brazil for the title on July 13 and try to figure out if it's still MLS season -- but a carryover isn't the line we have to cross to validate what this World Cup has meant here.
We've already crossed the line, see. This World Cup mattered here. It mattered when America played, and it mattered even when America didn't.
In a few weeks soccer will fade again to the background, but that doesn't matter. Soccer haters can gloat about what happens next, but they can't say a word now. Because it happened. The world threw its quadrennial World Cup party, and America brought the potato salad and a few cases of beer.
Next party's in 2018, and we'll be there. More of us than ever. That's how these things work.
The city of Samara's stadium, set to be used for the 2018 World Cup, has seen its construction...

Norway beat World Cup debutants Thailand 4-0 before a historic rout by Germany over Ivory Coast...

He'll be suspended for Friday's game against Iowa.
The World Cup was 'amazing,' but Seattle Sounders teammates Clint Dempsey and DeAndre Yedlin...

A painting in Brazil depicts the Dutchman's amazing goal against Spain.

German midfielder Cristoph Kramer has become the face of the ongoing concussion crisis after...