CBSSports.com 2014 FIFA World Cup Awards: Best Goal
The Eye on World Cup team voted on the top moments and players from the 2014 FIFA World Cup. The best goal award is up next.
• 1 min read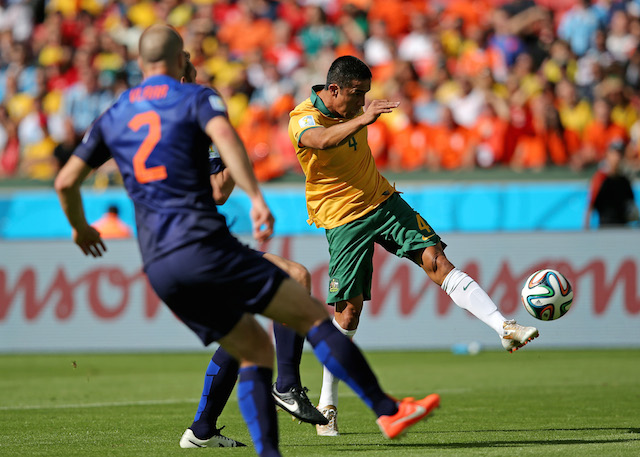 The morning after. It's been a wild month-long World Cup sprint, but Mario Gotze's extra-time goal gave Germany the trophy over Argentina – and now we won't get any more World Cup action for four years. Before we pack it in (Premier League starts in just 33 days!), though, there's still time to take a quick look back at what transpired in Brazil.
The five members of the Eye on World Cup team got together (or exchanged one email each, in reality) and voted on four awards and a Best XI from the World Cup.
Up next, the best goal of the tournament.
There were plenty to choose from. In fact, our editor – a huge Uruguay fan – messaged prior to this post going up and basically said to let him know if James Rodriguez' goal against Uruguay won so he didn't have to click the link. As it turns out, that goal didn't even receive a vote.
It came down to two goals scored in the opening days of the World Cup. Robin Van Persie's diving header or Tim Cahill's stunning one-time volley.
Before we reveal the winner, let's take a look at both goals. 
Cahill:
Van Persie:
After much deliberation among the group, the Australian won out. As you can see in the video above, Cahill received a ball played over the top – and let loose an absolute screamer of a left-footed strike into the roof of the Netherlands net. Despite Australia not getting a point in the World Cup, Cahill was impressive, scoring two goals in two matches.
In addition to the Rodriguez goal linked above, here's a look at some other goals that didn't get votes.
David Luiz's free kick against Colombia
Lionel Messi's strike against Iran
We were mere centimeters from losing one of soccer's brightest stars

Former Minister of Sport and Deputy Prime Minister Vitaly Mutko is stepping down

The city of Samara's stadium, set to be used for the 2018 World Cup, has seen its construction...
Norway beat World Cup debutants Thailand 4-0 before a historic rout by Germany over Ivory Coast...

He'll be suspended for Friday's game against Iowa.

The World Cup was 'amazing,' but Seattle Sounders teammates Clint Dempsey and DeAndre Yedlin...