CBSSports.com 2014 FIFA World Cup Awards: Best XI
The Eye on World Cup team voted on the top moments and players from the 2014 FIFA World Cup. The Best XI team is up next.
• 3 min read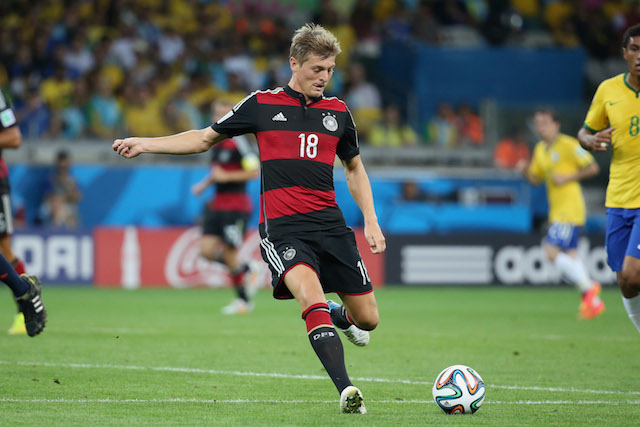 The morning after. It's been a wild month-long World Cup sprint, but Mario Gotze's extra-time goal gave Germany the trophy over Argentina – and now we won't get any more World Cup action for four years. Before we pack it in (Premier League starts in just 33 days!), though, there's still time to take a quick look back at what transpired in Brazil.
The five members of the Eye on World Cup team got together (or exchanged one email each, in reality) and voted on four awards and a Best XI from the World Cup.
Lastly, we have the best XI players from the World Cup.
Goalkeeper
Keylor Navas, Costa Rica
Others receiving votes: Manuel Neuer, Germany
Neuer helped Germany hoist the trophy on Sunday night, but Navas was the star keeper throughout the tournament. Costa Rica allowed just two goals in five matches, and Navas came up big in every match. He saved 92 percent of the shots attempted, saving more than four shots per game. It's no surprise he's being linked to bigger clubs like Bayern Munich. (By the way, how good was the goalkeeping in the World Cup? Tim Howard, Guillermo Ochoa, Claudio Bravo didn't even get votes.)
Defenders
Philipp Lahm, Germany; Mats Hummels, Germany; Ron Vlaar, Netherlands; Ezequiel Garay, Argentina
Others receiving votes: Daley Blind, Netherlands; Pablo Zabaleta, Argentina; Giancarlo Gonzalez, Costa Rica; Thiago Silva, Brazil; Miguel Layun, Mexico; Cristian Gamboa, Costa Rica
All four players named to the best XI were on teams that finished in the top three at the World Cup. And the fifth-most votes went to Daley Blind, another Dutch defender. Lahm was the best fullback at the World Cup, and Germany took its game to another level when he was switched from a holding midfielder role. Hummels wasn't 100 percent fit, but he still anchored the center of the Germany defense. Garay was excellent for an Argentina side that defended deep and didn't allow a goal in the knockout stage until Mario Gotze's match-winner in the final. Outside of a weird match against Australia, the Netherlands defense was excellent – and Vlaar was a main reason. They shut out Chile, Costa Rica, Argentina and Brazil.
Midfield
Javier Mascherano, Argentina; Toni Kroos, Germany
Others receiving votes: Arturo Vidal, Chile
This one seemed clear to many of the voters. Mascherano and Kroos were outstanding from start to finish, and it's no surprise their two sides reached the final. Mascherano had 30 tackles and 18 interceptions in seven matches, protecting the Argentina backline. Moreover, he was important in terms of distribution from the back, linking the defense to Lionel Messi. Mascherano completed 89 percent of his passes. Kroos was the key playmaker for an attacking Germany side, and one could make a case for giving him the Golden Ball due to his performance. He had two goals and three assists, and was simply deadly when given time on the ball. Kroos also completed 90 percent of his passes. He's headed to Real Madrid on a transfer from Bayern Munich; Ronaldo and co. will certainly be happy about that.
Attackers
Lionel Messi, Argentina; James Rodriguez, Colombia; Arjen Robben, Netherlands; Thomas Muller, Germany 
Others receiving votes: Neymar, Brazil
All four of these players are versatile options that float from the wing to the center of the pitch to a striker role without much of a drop-off whatsoever. Messi won the Golden Ball and the CBSSports.com Best Player award, scoring four goals and notching one assist. He was the creative playmaker for Argentina. Rodriguez was the breakout star of the World Cup, scoring six goals in five matches, while also assisting on two other goals. He's only 23 and has a very bright future ahead of him. Robben was perhaps the best player in the group stage, constantly looking dangerous for the Dutch attack. He was counterattacking at will, beating defenders consistently, and drawing fouls. Robben finished with three goals and one assist. And last but not least, the ultra-productive Muller. He played a false nine role, out on the wing, but was effective all over the pitch. He finished with five goals and three assists, and he's only 24. Worth noting is the absence of Neymar, who received two votes – which wasn't enough to break through the near-consensus attacking quartet. He had four goals and one assist through five matches, and Brazil looked clueless in attack without him.
The city of Samara's stadium, set to be used for the 2018 World Cup, has seen its construction...

Norway beat World Cup debutants Thailand 4-0 before a historic rout by Germany over Ivory Coast...

He'll be suspended for Friday's game against Iowa.
The World Cup was 'amazing,' but Seattle Sounders teammates Clint Dempsey and DeAndre Yedlin...

A painting in Brazil depicts the Dutchman's amazing goal against Spain.

German midfielder Cristoph Kramer has become the face of the ongoing concussion crisis after...