Clint Dempsey sits out Azerbaijan friendly with groin issue
Clint Dempsey sat out with a groin problem, and the U.S. attack looked largely toothless. How much cause for worry is there?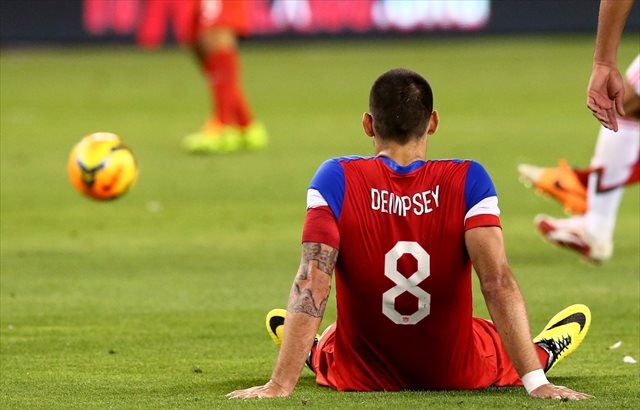 Despite the 2-0 final scoreline, the USA's Tuesday night friendly victory over Azerbaijan created as many questions as it did answers, and the biggest one was this: Is Clint Dempsey healthy?
The U.S. captain and all-time high scorer on the current World Cup roster, Dempsey was named a starter at forward in Jurgen Klinsmann's 4-4-2 but suffered some soreness in his groin during warmup and was scratched in favor of Chris Wondolowski.
The official U.S. Soccer Twitter feed described the decision as "purely precautionary," and Klinsmann told ESPN at halftime that they weren't going to risk exacerbating an injury that might be healed in "two or three days." He said after the match that Dempsey should be ready for the Americans' Sunday friendly against Turkey. 
Klinsmann also indicated the groin had first bothered Dempsey in training Monday.
Should U.S. fans be worried? Where Dempsey's health is concerned, not just yet; if he can't heal in time to face the Turks or is obviously less than 100 percent in that match, then we can slap the "nagging" label on the groin and start chewing our collective nails over it. Until then, the most likely explanation for Dempsey's absence Tuesday -- in the most disposable, experimental friendly of the three lined up in the Americans' "Send-Off Series" -- is the one offered by Klinsmann, that he had a minor knock that wasn't worth risking against the Azeris.
The issue is that there are only three of these friendlies, and the U.S. is attempting a major shift in preferred formation on the eve of the World Cup -- from the 4-2-3-1 used for most of Klinsmann's tenure to the 4-4-2 diamond deployed in the April friendly vs. Mexico and again Tuesday night. The game was a chance for Dempsey and Jozy Altidore (USMNT veterans though they are) to sharpen up their chemistry and, more importantly, their chemistry with midfielders Michael Bradley (now playing as the team's creative midfield engine), Graham Zusi and Alejandro Bedoya.
And on the evidence of the U.S.'s toothless first-half performance, the attack needs all the chemistry it can get. (It would also help if Jozy Altidore showed even a fraction of the form he flashed before his disastrous, confidence-shredding move to England.) Dempsey's health won't be an issue in and of itself, most likely, but if the U.S. can't generate any more offense against the Turks than it did against Azerbaijan, it might rue the missed opportunity his health cost the attack all the same.
We were mere centimeters from losing one of soccer's brightest stars

Former Minister of Sport and Deputy Prime Minister Vitaly Mutko is stepping down

The city of Samara's stadium, set to be used for the 2018 World Cup, has seen its construction...
Norway beat World Cup debutants Thailand 4-0 before a historic rout by Germany over Ivory Coast...

He'll be suspended for Friday's game against Iowa.

The World Cup was 'amazing,' but Seattle Sounders teammates Clint Dempsey and DeAndre Yedlin...