Defense troubling for US men just two weeks before World Cup
The US Men's National Team beat Turkey 2-1 in a World Cup tuneup, but coach Jurgen Klinsmann had to shuffle his backline again.
• 5 min read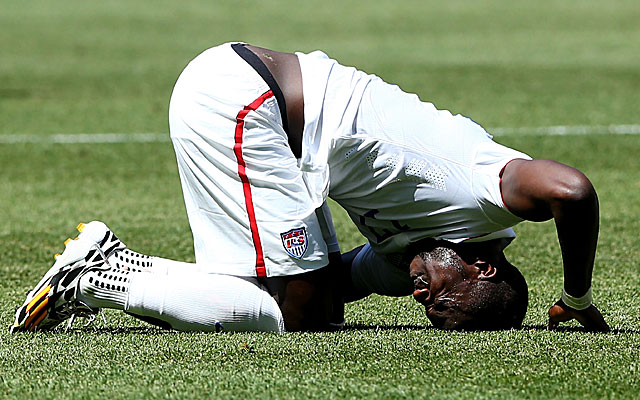 More World Cup: Group Previews | World Cup Roundup | Latest news & notes 
HARRISON, N.J. -- This center back situation remains troubling.
The US Men's National Team showed better sequences of passes from the run of play against an improved opponent in Turkey in their second World Cup tuneup, but the overall product was pedestrian at best. The 2-1 victory was not indicative of the amount of mistakes that came out of the backline, with central defender Matt Besler looking suspect in the first half and left back Timmy Chandler shaky in the second half at Red Bull Arena.
With their first World Cup group stage match only two weeks away, the primary concern for this team remains who will comprise the back four and whether they are up to task with such exceptional opponents ahead. Oh, and the secondary question of if -- or when --will once-daunting striker Jozy Altidore score again, with his frustration only mounting after blowing chances again Sunday.
The Americans do have a handful of intriguing options up front, and several of them have been in form lately. That's not the case in the back. Besler's touch and decision-making were lacking, and for the second successive match,  manager Jurgen Klinsmann shuffled his central defense pairing at the half, this time producing a promising second-half outing from youngster John Brooks in Besler's spot.
The problems started right away, with the Turks gifted several good looks at the net from inside the 18-yard box. Besler flubbed several early balls, and routinely the back four were plagued by conceding too much room and lacking spatial awareness. Turkey often took on a 3-4-3 shape itself, pushing numbers forward to give the US a challenge it frankly never saw in the initial pre-Cup friendly last week against Azerbaijan.
The Americans managed to further expose areas that squads like Portugal, Ghana and Germany would most likely fully exploit by thumping balls into the back of the net. Perhaps Klinsmann, with struggling center back Omar Gonzalez not seeing the pitch today, will shuffle the deck again for the final tuneup against Nigeria. Did Brooks and Geoff Cameron -- a versatile defender who was solid against Turkey -- show the coach enough to merit more time together?
And will Klinsmann go back to veteran DeMarcus Beasley as his left back against Nigeria? Because as promising as Chandler was in the second half last week and in the first half Sunday, he was poor in the final 20 minutes against the Turks. Chandler, perhaps on coaching instructions, was often pinched in centrally as Turkey sailed balls wide and over him, running much of its attack in that direction.
Chandler's distribution waned as the game went on. His turnover led directly to the penalty, which was converted for the only goal conceded. There will be plenty for the coach to consider, for sure, and Klinsmann has displayed a willingness to experiment with his lineup and bring in new personnel even so close to the start of the world's biggest sporting event.
I would be surprised if that doesn't continue against Nigeria, and even in Brazil after that. Given the lack of consistent performances from several of his defenders and the lack of a cemented central pairing, I'm not sure he has a choice.
Final thoughts
• Altidore needs to sit one out. He wasted several chances, none worse than a late opportunity alone with the keeper where he lacked decisiveness and sent the ball weakly toward the net. There was an early goal waved off by the officials (an absolutely brutal crew that never had a pulse on this match), and it got worse from there. Aron Jóhannsson needs more of a look and getting him working with Clint Dempsey up top would be worthwhile. He has taken advantage of every limited look he has received and seems more confident and assured than Altidore, who a year ago was scoring at a rate this country had never seen.
• Right back Fabian Johnson was my man of the match. He gave Klinsmann everything he demands of his wing backs in terms of pushing the pace, getting forward and swinging in dangerous balls. His finish on the opening goal of the match was world class and he was adept at knowing when to tuck in and when to stay wide. I love him in the midfield as well, but given the issues with the rest of the defense -- and the need to have Cameron filling one of those central spots -- I expect to see Johnson entrenched on the right side.
• I hope Graham Zusi's service improves by the time these games start to count. He was great in the opener but against superior opposition today, he struggled. He often served balls too early and in the 52nd minute, he went to goal when had he cut the ball back, a goal for a teammate (maybe even Altidore!) was a likely result. His corners were generally OK -- and he did produce one beautiful ball on to the feet of teenager Julian Green. But overall, this was far from his best. As a two-way winger, given the caliber of opposition ahead, much will be expected of him.
• Was a little surprised to see Michael Bradley go the full 90 minutes, though that might change next week. The USMNT's best player will have a heavy workload ahead. This was a homecoming match for him, and perhaps that has something to do with it. ... Brad Davis showed off his left foot again. I was surprised he got the start. That's likely an anomaly, but if this team needs a set piece and he's on as a sub, the bet here is he provides a spark in Brazil. ... Seems like the Landon Donovan saga is behind this group now, and thankfully so. Sure, questions will pop up from time to time and certainly it will be a talking point in Brazil, but the overdrawn dissertations are over, it wasn't something fans were chanting about at this match, and it was smart of Klinsmann to get the decision out of the way so soon. ... Donovan T-shirts were still being sold at the concession stands, but they were $20; pretty much any other shirt seemed to be at least $30.
We were mere centimeters from losing one of soccer's brightest stars

Former Minister of Sport and Deputy Prime Minister Vitaly Mutko is stepping down

The city of Samara's stadium, set to be used for the 2018 World Cup, has seen its construction...
Norway beat World Cup debutants Thailand 4-0 before a historic rout by Germany over Ivory Coast...

He'll be suspended for Friday's game against Iowa.

The World Cup was 'amazing,' but Seattle Sounders teammates Clint Dempsey and DeAndre Yedlin...