Despite win, questions remain about USMNT defense
The back line of the United States is still a work in progress with less than two weeks until the World Cup begins.
• 3 min read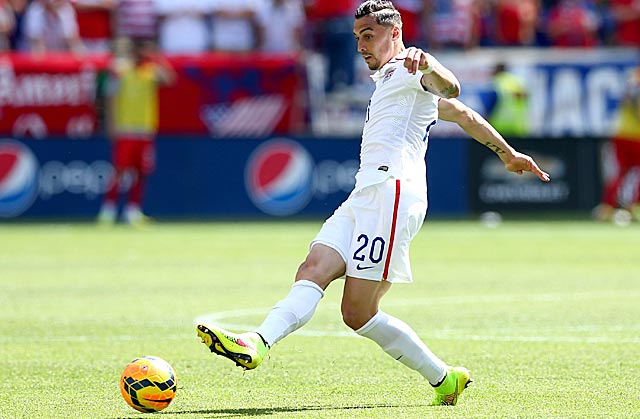 More World Cup: Group Previews | World Cup Roundup | Latest news & notes
Before the United States' second pre-World Cup friendly on Sunday, ESPN commentator Alexi Lalas was discussing the back-line selection by Jurgen Klinsmann. Pardon my paraphrasing, but Lalas essentially said that it's not always about the four best defensive players -- it's about the best group of four defensive players. Organization; not individuals.
Well, with less than two weeks remaining until the World Cup begins in Brazil, I'm not sure Klinsmann knows his four best defensive players -- and more concerning, I'm not sure he knows his best grouping yet, either.
The USNMT beat Turkey on Sunday, 2-1, and there were certainly positives to be taken away. Clint Dempsey looked fit and aggressive, while Michael Bradley was excellent going forward from the midfield. Jozy Altidore did a good job of holding up the attack, but his finishing and mindset inside the 18 were that of someone mired in a slump. That's a topic for another day, though.
Coming out of Sunday's friendly, the biggest concern for the USMNT remains the defense. While they haven't allowed a goal from open play yet, there have been weaknesses that will be exploited against Ghana -- and Portugal and Germany.
It starts with the selection. The left back spot in the starting XI seems up for grabs, with Klinsmann starting DaMarcus Beasley in the opener and Timmy Chandler on Sunday. Beasley is 32 and doesn't offer the pace he used to, but he's experienced. Chandler is a natural right back and didn't play for the USMNT for 15 months prior to being named to the 30-man roster, but he's a more talented option. Neither is a perfect choice for Klinsmann, especially when faced with the prospect of going against the wingers they will face in the group stage. Chandler showed flashes on Sunday of what he offers, with his pace and tackling ability, but he faltered toward the end and also had the giveaway that led to Turkey's penalty kick goal. Beasley could be the choice in Brazil.
Moving into the middle, it seems Klinsmann is content to go with Geoff Cameron and Matt Besler as the center back pairing. Besler is the bigger concern. Through two games, he's been constantly caught out of position, and just looked generally shaky at the back. He's given it away too easily, moved too far up the pitch a couple of times, and then been beaten on through balls as well. He doesn't have much experience playing with Cameron, so the communication hasn't been there either.
Cameron and Fabian Johnson have been solid at the back, including Johnson's terrific run and finish against Turkey. With that said, there's been some communication issues there too, as the two aren't familiar playing on the same side. Johnson played mostly left back during the qualifying stages, and Cameron has bounced between center back and defensive midfield. There was a couple of moments against Turkey where there were players left open in the 18 due to lack of communication.
Aside from the issues at the back, the move from a 4-2-3-1 to a 4-4-2 diamond has been a major adjustment for the U.S. Instead of Jermaine Jones and Bradley playing in front of the defense, it's just Jones -- and that's been an issue, especially when tracking back to defend against a counterattack. Jones sometimes lacks discipline, and also gave the ball away far too easily against Turkey. Because Bradley is playing further up the pitch, Jones is often the only midfielder back against the counter. Turkey had acres of space in the middle of the pitch when changing from defense to offense, and if not for some desperate tackling, poor finishing and solid goalkeeping from both Tim Howard and Brad Guzan, they would have had more than one goal.
Klinsmann seemed to recognize the issues in the middle of the pitch defensively.
Klinsmann: We needed to drop Bradley into flat-four on defense to correct some of the defensive issues in first half. Diamond on attack.

— Grant Wahl (@GrantWahl) June 1, 2014
Bradley is going to be the team's primary creative playmaker behind the strikers -- but also needs to get back to help out Jones ahead of the center backs. It's going to be a difficult task, but the team had been used to playing with two central midfielders; moving to one has certainly been an adjustment. Kyle Beckermann seems to offer more discipline, but Klinsmann has favored Jones in the past.
The USMNT still has a couple of weeks to figure out its defense, but being a work-in-progress only 11 days before the World Cup could be worrisome.
The city of Samara's stadium, set to be used for the 2018 World Cup, has seen its construction...

Norway beat World Cup debutants Thailand 4-0 before a historic rout by Germany over Ivory Coast...

He'll be suspended for Friday's game against Iowa.
The World Cup was 'amazing,' but Seattle Sounders teammates Clint Dempsey and DeAndre Yedlin...

A painting in Brazil depicts the Dutchman's amazing goal against Spain.

German midfielder Cristoph Kramer has become the face of the ongoing concussion crisis after...