FIFA 15 cover boy Dempsey, Yedlin point towards US soccer future
The World Cup was 'amazing,' but Seattle Sounders teammates Clint Dempsey and DeAndre Yedlin believe things will get even bigger in the near future.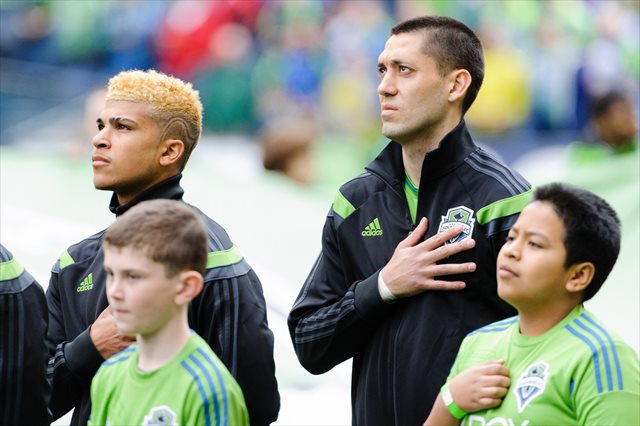 Teammates with the US Men's National Team, Clint Dempsey and DeAndre Yedlin were both on the field for what many considered the biggest game in American soccer history -- the July 1 Round of 16 match against Belgium in the 2014 World Cup.
Two weeks later, Dempsey and Yedlin were sharing a field again, this time as teammates with MLS's Seattle Sounders. The Sounders' 2-0 home win over rivals Portland naturally couldn't touch the US's 2-1 defeat to the Red Devils in terms of attention, TV ratings, impact, etc. But in attendance? The MLS match drew 64,207 to CenturyLink Field, US-Belgium 51,227 to Salvador, Brazil's Arena Fonte Nova. And when it comes to atmosphere? 
"It was absolutely amazing," Yedlin told CBSSports.com of his and Dempsey's homecoming match. "Every time get a chance to play Portland it's crazy, but especially here [in Seattle].  I almost think the atmosphere, the electricity in the stands here was even greater just because of the rivalry … when you play here, the fans really hate each other."
A club match in the United States with 13,000 more fans than a World Cup match in Brazil? An MLS game with "electricity" to rival the largest sporting event on Earth?
That the answers to those questions might be "yes" isn't even a surprise at this point for dedicated followers of American soccer -- the Sounders have been pulling some of the most impressive crowds in world soccer for years -- but the symmetry of an MLS match garnering that kind of interest only hours after Germany defeated Argentina to win the World Cup drove the point home in a way even the incredible buzz around the USMNT's Brazil performance could not: just because a certain tournament is going away for four years doesn't mean American soccer is.
"It's good for the fans to see it doesn't just end with the World Cup," Dempsey told CBSSports.com of the Portland match. "There's still exciting soccer being played in the States. Watch MLS. The US will play friendlies. In two years Copa America is going to be here in the States and it's another chance to see the game played at a high, high level. Our league continues to grow with the TV deals being done and more franchises popping up.
"The game continues to grow and grow. It's exciting."
Dempsey enjoyed quite the fringe benefit of that growth Saturday, with EA Sports announcing the US captain would star alongside Lionel Messi on the North American cover of its popular FIFA video game franchise, becoming to the first American to do so since Landon Donovan in 2011:   
"Being a father of three, seeing my kids play the game, and they're playing with their Dad on the TV, you have to pinch yourself sometimes," Dempsey said of the game. "I'm honored to be on the cover and honored to be on it with one of the best soccer players in the world. It's pretty special."
Yedlin is an avid player of the series, saying he was "super-pumped" to have Dempsey on the 15 cover. He added that when discussing the growth of soccer in the US, its impact shouldn't be ignored, citing the example of an uncle and cousin that were introduced to the sport by Yedlin's appearance in the game and are now the "biggest soccer fans in the world."
"They know all the players names, where they play, their positions, everything," Yedlin said with a laugh. "It's huge. People may not know a lot about soccer, but maybe their friends play the game, so they want to play. They get into it, and you end up learning a lot about soccer."
Of course, things work the other way more often -- fans who invest in their local MLS team or the US national team and pick up the game to further connect with its real-world equivalents. In Yedlin's case, many of his fans from outside Seattle are hoping to see him make a World Cup-fueled, much-rumored move to Europe, but Yedlin told CBSSports.com Friday afternoon that -- as he had stated previously -- he was "letting my agents take care of" everything transfer-related and focusing on his season with Seattle.
"If possible, I'd like to stay here and win MLS Cup," he said. "I think this city deserves it, I think the team deserves it, I think everybody here deserves it. So that's my main goal right now."
Dempsey's club future seems settled with the Sounders, meaning the bigger personal questions for the 31-year-old center on his future with the national team.
"You want to play as long as you can at the highest level possible," he says when asked about Russia 2018. "To play with the national team and be a part of these major competitions is something that's very special, but it's also something that's easier said than done. You have to make sure you continue to perform and play at a high level that warrants you being called into the [national team] camps, and being able to be a part of those games. I just have to continue working hard and if I keep playing well and I keep being selected, then I'll keep playing.
"It's an honor to have been able to play for club and country for as long as I have, and hopefully that does continue."
Dempsey expressed particular excitement about the 2016 Copa America, which will feature a 16-team mix of North and South American teams and promises to be -- by some distance -- the biggest soccer tournament held in the US since the 1994 World Cup. It's not hard to imagine that tournament recreating something like the incredible scenes of American fans generated by the 2014 World Cup, and Yedlin said he sees the role of USMNT players like himself and Dempsey as pivotal in making those scenes -- and even bigger ones -- reality.
"I feel like I had a pretty good World Cup ... I feel like I have a pretty big part in helping grow this," he said. "It goes for Clint, goes for Julian, for Michael Bradley, we all have that same role in holding people's interest, personally and as a team ...
As a [national] team, our goal is to win every tournament we play in. Nothing changes. If you don't have that goal of wanting to be the best, you're going to fall short."
Dempsey would no doubt echo those comments -- but he also emphasized that thanks to the USMNT, thanks to MLS's increasing success, thanks to cultural touchstones like the FIFA series, American soccer has already picked up enough momentum that the only question now is to see how big it gets.
"It all goes hand-in-hand," he said. "It's just a matter of time. There are kids now, in the front yard, instead of throwing a baseball with your dad, you're kicking a soccer ball around.
"10 years ago, when I first started playing with the national team, we had friendlies and World Cup qualifers here that were home games that didn't feel like home games. Then this year, to play in a World Cup where you're away from home, but the fan support we had makes it feel like a home away from home, that tells you how far the game has come. It's incredible.
"And if it's come that far in 10 years, imagine in 10 more where it will be."
Team USA will face a challenge from FIFA's No. 7-ranked team Brazil

European soccer expert locks in picks for the 2022 World Cup in Qatar

Luka Modric brought a fan with down syndrome onto the stage when he heard he was a fan as...
Belgium jumps England and France stays at No. 1 after winning its first World Cup in 20 ye...

The 27-year-old forward has had a fantastic Cup thus far

France captures its second World Cup title after defeating Croatia 4-2 in the final