FIFA investigating Luis Suarez biting incident vs. Italy; what's next?
The world's most notorious player is at it again. Will Luis Suarez play in this World Cup again?
More World Cup: Latest news & notes | Scoreboard | Complete schedule
FIFA announced Tuesday it will look into the apparent biting of Italy defender Giorgio Chiellini by notorious Uruguay striker Luis Suarez during the teams' Group D match. And in a statement early Wednesday, FIFA announced that both Suarez and the the Uruguayan Football Association have until 4 p.m. ET Wednesday "to provide their position and any documentary evidence they deem relevant."
Per British Press Association reporter Martyn Ziegler, FIFA stated it will "gather all the necessary elements in order to evaluate the matter."
"There is no doubt Luis Suarez is a fantastic footballer but, once again, his actions have left him open to severe criticism," FIFA official Jim Boyce told the BBC. "FIFA must investigate the incident seriously and take whatever disciplinary action is deemed necessary."
With the match tied at 0-0 in the second half and Uruguay needing a win to advance, Suarez appeared to bite Chiellini in the shoulder. The Italian veteran swung an elbow at Suarez, clutched at his shoulder, and pulled down his jersey in an attempt to show the match referee apparent bite marks on his skin.
Chiellini told Italian TV that Suarez had bitten him, saying it was "ridiculous" he had not been ejected over the incident.  
If proven, it would be the third such biting incident in Suarez's career, the 27-year-old Uruguayan superstar having previously bitten opponents while playing in both the Dutch Eridivisie in 2010 and England's Premier League in 2013.
FIFA has banned players from the World Cup for misconduct before, with the longest such ban an eight-game suspension for Italy's Mauro Tossotti in 1994.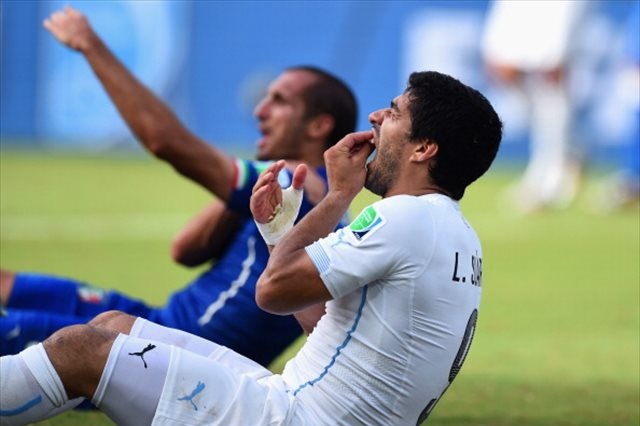 Could FIFA impose a similar punishment in Suarez's case? Though it's borderline impossible to predict exactly what the world's most erratic sports organization will do, at this stage it seems unlikely Suarez will escape without at least a multi-match suspension. Chiellini will clearly testify that he was bitten, and nothing in the video of the incident suggests that his account can't be trusted. If photographs of Chiellini's shoulder or other player statements further confirm that account, FIFA won't have any choice but to act.
Suarez also won't be helped by his history of not just biting opponents, but displaying other unsporting behavior. His deliberate handball of a goalbound shot in the 2010 World Cup quarterfinals denied Ghana of what many would have said was its rightful semifinal place, and Suarez served another Premier League ban in the 2011-2012 season for racially abusing Manchester United player Patrice Evra.
It's that history that has made what would have already been heavy public pressure on FIFA to act into a deafening public outcry. And though in its somnabulant fashion FIFA doesn't always respond to public pressure as readily as many would expect, the idea of Suarez appearing in Uruguay's Round of 16 match after this is so appalling to so many viewers that it may have no choice.
The uneducated guess: Suarez receives a three-match ban, far short of the blood demanded by many but enough to keep him out until a hypothetical final -- one that without his services Uruguay is highly unlikely to reach. It will be a surprise if we haven't seen the last of Luis Suarez in this World Cup.
The city of Samara's stadium, set to be used for the 2018 World Cup, has seen its construction...

Norway beat World Cup debutants Thailand 4-0 before a historic rout by Germany over Ivory Coast...

He'll be suspended for Friday's game against Iowa.
The World Cup was 'amazing,' but Seattle Sounders teammates Clint Dempsey and DeAndre Yedlin...

A painting in Brazil depicts the Dutchman's amazing goal against Spain.

German midfielder Cristoph Kramer has become the face of the ongoing concussion crisis after...