Flawed, necessary: the Jurgen Klinsmann contradiction
What did we learn about Jurgen Klinsmann from the US's Round of 16 loss to Belgium? Lessons that seem contradictory, but are both true going forward.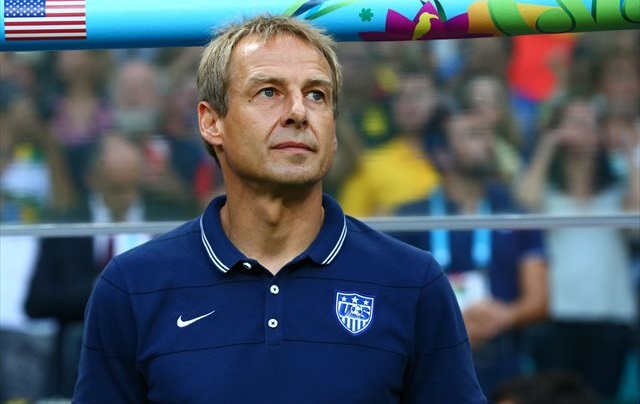 More World Cup: Latest news & notes | Scoreboard | Complete schedule
Here are two statements concerning the US Men's National Team's 2-1 loss to Belgium in the World Cup Round of 16 last week:
1. The US was comprehensively outplayed -- utterly dominated, arguably -- by a team outside the highest tiers of world soccer, and only saved from a 3-0 or 4-0 embarrassment by the never-to-be-repeated greatest performance of Tim Howard's career.
2. Given that the missed chance by Chris Wondolowski at the end of regulation was the sort of routine chance Wondolowski buries week-in and week-out in MLS, he should have buried it, and the US should have defeated Belgium 1-0 to move onto the quarterfinals.
One of these statements is the rosiest possible interpretation of the US's performance vs. Belgium. The other is just about the gloomiest. And here's the kicker: both of those statements are absolutely true.
That kind of one-off, self-contained contradiction isn't exclusive to soccer -- consider the football game in which Team A racks up a 250-yard advantage on Team B and loses to punt and fumble returns -- but it does occur with more frequency, and it helps explain why the US soccer community has tied itself in knots over the past week trying to evaluate Jurgen Klinsmann's World Cup performance.
On one side, the US coach has a set of vocal detractors like former USMNT star striker Eric Wynalda -- critics who rail against Klinsmann's pragmatic approach, his failure to deliver on promises of a more proactive USMNT (former Wynalda teammate Alexi Lalas is in this camp as well), and decisions ranging from his World Cup roster to his team training regimen to his late staff shakeup. But Klinsmann also has an equally vocal set of supporters, who argue that his World Cup results, adjusted for competition, were better than any for the US since 2002; that the Jozy Altidore injury (and nonexistence of an American replacement) meant he never got to play his preferred diamond-and-two-strikers formation in Brazil; that the promised "proactive" soccer has made enough cameo appearances -- including against Portugal in the group stage -- to suggest Klinsmann can still manage it with enough time. 
Ultimately, there's two more statements to be made about that Belgium game, and they're also both true and seemingly contradictory:
1. Losing to Belgium exposed that Klinsmann really does need tactical improvement. Consider that Howard set a modern World Cup record for number of saves. Consider that that record wasn't set in any of the many minnow-vs.-power mismatches over the years, not in North Korea vs. Brazil or Honduras vs. Spain or the 1990 US team vs. Italy or any of dozens of other variants. It wasn't set in a game where one team was reduced to 10 or 9 men and came under natural siege. It wasn't set against an unstoppable attacking force like the 1970s Holland teams or 1982 Brazil or Diego Maradona's Argentina or Zinedine Zidane's France. The record was set by a United States goalkeeper against Belgium, in a game without ejections.
That fact alone should tell you that something went badly, badly wrong for the US in that match, and it's impossible not to contrast Klinsmann's lineup decisions with those made in matches when things went right. Unlike the Ghana and Portugal matches, he didn't retain Kyle Beckerman to clean up the messes in front of the back four, opting instead for Geoff Cameron -- a central defender-by-national-team-trade whose matches in the midfield with the US can be counted on less than a full hand. But in looking to shake things up, he also didn't return to the two-striker system employed in the successful run-up to the World Cup, one that seemed to far more comfortably suit midfield engine Michael Bradley. Altidore's absence (and an apparent ankle injury to Aron Johannson) arguably forced Klinsmann's hand away from a 4-4-2, but regardless, Beckerman's absence combined with the more fluid positioning from Bradley and Jermaine Jones -- "more fluid" in many cases equaling "too aggressive" -- meant the US faced Belgium without continuity in either its starting 11 or its formation.
And, perhaps not surprisingly, that lack of continuity showed. But don't just take my word for it. Michael Cox of the brilliant English tactical blog Zonal Marking on the match:
[The US is] rather fortunate to exit this competition as battling, narrowly defeated heroes – they should have been at least 2-0 down by half-time, and Klinsmann's tactics would have been much more heavily criticised. The decision to drop Beckerman seemed strange on paper, turned out to be counter-productive on the pitch, and there was no attempt to solve the problem.
Klinsmann's tactical acumen has been questioned for years, dating back to his days in charge of the German national team and the whispers that assistant Jogi Low -- currently busy leading that same Die Mannschaft to the World Cup finals on the back of the most amazing result in World Cup knockout history -- was the brains behind the Germans' thrilling 2006 operation. Those whispers quieted during the US's romp through World Cup qualification and the 2013 Gold Cup, but started anew when Klinsmann still seemed unsure of the team's best formation in the Send-Off series and erupted into a full roar after the Belgium match.
The "too conservative" criticism thrown Klinsmann's way after the Ghana match (when the US played nearly the entire match up 1-0 on a team with few answers vs. packed defenses) or the Germany match (when they played, you know, Germany only days after visiting the hothouse of Manaus) wasn't all that valid. But despite his own impressive pre-World Cup results and Round of 16 berth, Klinsmann's predecessor Bob Bradley was flambeed by US fans for the mistake of starting Robbie Findley and Ricardo Clark (and burning two early substitutions to remove them) in the 2010 2-1 elimination to Ghana.
Maybe, maybe, Klinsmann's missteps vs. Belgium weren't as egregious. It's entirely possible the US would have lost to Belgium even if he'd done everything right, whereas Bradley's errors seemed to play a direct role in costing the US a game the right lineup would have won. But it's also true that if Howard doesn't stand on his head, the US is run out of the stadium in Salvador. So should his goalkeeping brilliance excuse his manager's choices? Given the identical stakes, and the roughly equivalent opponents*, is it fair to excoriate Bradley and give Klinsmann a pass?
No, it's not. However:
2. Losing to Belgium exposed that Klinsmann is a necessity as US coach. Another uncharitable assessment of the US's showing vs. the Belgians would ask if any US fans feel like their team is Mexico's inferior. The answer: of course not. Any of them feel like the Yanks brought a worse squad to Brazil than Algeria? Nope. But there's El Tri, leading the Netherlands in the 80th minute with the quarters not far away. There's the Desert Foxes, terrorizing Germany for the opening half-hour of their Round of 16 match and nearly snatching a goal late in the second half, too. If the US had a better team than Mexico or Algeria and an easier opponent, why was it the US who wound up clinging to life for 100-plus minutes?
The finger, again, points first at Klinsmann. But it's only fair to point out something else, too: that Mexico and Algeria ultimately watched the quarterfinals from the same place -- i.e. home -- the US did. Over the past three World Cups, group winners have won 21 of 24 Round of 16 games over group runners-up, and none of the three exceptions (Ukraine over Switzerland, France over Spain, Ghana over the US) was anything close to a shock. The lesson is obvious: you don't have to have world-class talent to get out of the World Cup's group stage. But unless you draw Greece, advancing through the knockout stages won't be nearly so "easy."
Watching the US take on Belgium (and Germany before them), the gulf in talent -- on the ball, off it, in attack, in anything other than central defense -- couldn't have been more obvious. That doesn't mean that the US couldn't have put a much, much better foot forward in either match, particularly vs. the Belgians, but it does mean that actual victory was always going to require something phenomenally unlikely. (Like, say, Tim Howard making 16 saves and Wondolowski scoring on the final kick of regulation.) If it was fair to have asked Klinsmann to put a much better product on the field in Salvador than he did, it wasn't fair to expect him to actually push the US through to the quarters. More than one observer compared the one-sided nature of the loss (up until Julian Green's goal, anyway) to its infamously defensive 1-0 loss to Brazil in 1994. Where's the progress? was the natural follow-up question.
In terms of overall depth, the US talent pool is currently Lake Superior compared to '94's plastic kiddie wader. But at the top end ... well, if the Cameron-Bradley-Jones-Bedoya-Zusi midfield that started vs. Belgium is at all better than the Tom Dooley-Mike Sorber-Tab Ramos-John Harkes unit that played most of the '94 Cup, it's not dramatically better. It hurts to say that the US's player development and talent recognition just hasn't made the strides over the past 20 years necessary to, well, beat Belgium ... but it simply hasn't. The meaningful progress -- the progress that would turn the US from a team that's happy with its Round of 16 berth to the team that fairly expects more than that -- hasn't been there yet.
This is where Jurgen Klinsmann comes in. Klinsmann's already proven his worth as a top-notch recruiter, earning the loyalty of the likes of dual-nationals like Johannsson, Fabian Johnson, John Anthony Brooks, and (most promisingly) Green, few (if any) of which would have signed up without Klinsmann's infectious enthusiasm. And with further dual-national prospects out there like Portland's Darlington Nagbe or Arsenal's Gedion Zelalem -- who would arguably eclipse Green as the highest-ceilinged prospect in USMNT history -- it's all but a certainty he's not done yet.
But Klinsmann has also taken steps to correct the development side of the talent equation, promoting positive, possession-centric coaching for the US's youth teams, taking on the title of US Soccer Technical Director with his recent extension, and appointing no less a proponent of technical, attacking soccer than the aforementioned Tab Ramos as the US's Youth Technical Director. It's entirely possible that none of these shifts come to any pratical fruition ... but it's also true that clearly US soccer needed some sort of change, and that Klinsmann's vision is as positive as could be hoped. 
Of course, plenty of coaches could offer such a vision. But how many who both 1. are qualified to become the US national team coach 2. would agree to be the US's national team coach would have the name recognition, the international pull, the leverage to even begin to make it a reality?  
The answer, from here, looks like one. That this one can also bring the likes of Green into the fold; coach the US out of a group with Ghana, Portugal and Germany; produce every other meaningful result asked of him; and has his team at least trying to produce play like this (even if it hasn't transpired against top-level teams other than Portugal) means he is a precious commodity for US soccer indeed.
It would be much, much easier to render a verdict on Klinsmann if the US had gone out in three games, or beaten Belgium. It feels like such a verdict should be easy anyway: this is sports, with winners, and losers, and yelling, and the elimination of those silly gray areas. 
But when it comes to this World Cup and Jurgen Klinsmann, the verdict is verdicts, each as contradictory as the either. It's official: Jurgen Klinsmann is no longer an infallible US coaching savior. It's official: Jurgen Klinsmann is exactly the coach the US must have at the helm going forward.
No wonder it's going to take another four years to figure out exactly what to make of him. 
*Belgium no doubt had vastly more on-paper talent in 2014 than Ghana had in 2010, but with players like Sulley Muntari, Kevin Prince-Boateng and Asamoah Gyan all in their primes four years ago, it's not as if the Black Stars lacked players -- and looking at either team's body of World Cup work, the difference is negligible, if not in the 2010 Ghana team's favor.

We were mere centimeters from losing one of soccer's brightest stars

Former Minister of Sport and Deputy Prime Minister Vitaly Mutko is stepping down

The city of Samara's stadium, set to be used for the 2018 World Cup, has seen its construction...
Norway beat World Cup debutants Thailand 4-0 before a historic rout by Germany over Ivory Coast...

He'll be suspended for Friday's game against Iowa.

The World Cup was 'amazing,' but Seattle Sounders teammates Clint Dempsey and DeAndre Yedlin...