Giorgio Chiellini: Luis Suarez ban is 'excessive'
Saying he doesn't any anger against Luis Suarez, bitten Italian defender Giorgio Chiellini wrote on his website that Suarez's four-month FIFA ban is excessive.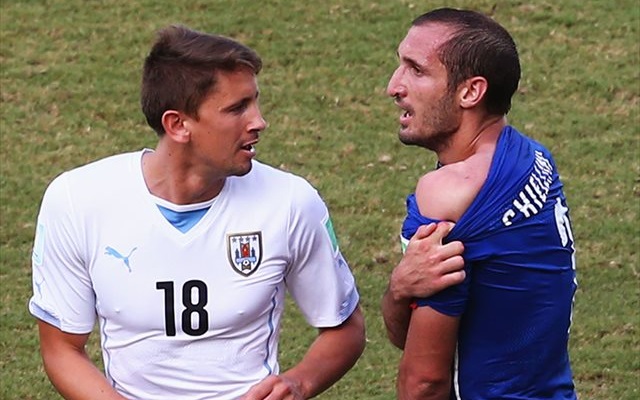 More World Cup: Latest news & notes | Scoreboard | Complete schedule
Italy's Giorgio Chiellini was happy to admit he wanted Luis Suarez sent off for the Bite Heard Round the World, a decision that might have dramatically changed the course of the eventual 1-0 Uruguay victory that eliminated Chiellini's Azzurri.
But in a statement posted to his personal website, Chiellini writes that with the game and incident behind him and his team, he feels FIFA's nine-match international ban and four-month suspension from all football-related activities for Suarez was "excessive."
"Now inside me there's no feelings of joy, revenge or anger against Suarez for an incident that happened on the pitch and that's done," Chiellini writes. "There only remain the anger and the disappointment about the match.

"At the moment my only thought is for Luis and his family, because they will face a very difficult period ... I have always considered unequivocal the disciplinary interventions by the competent bodies, but at the same time I believe that the proposed formula is excessive."
The nine-match ban is the longest in World Cup history, and the four-month suspension would keep Suarez from performing for his Liverpool club side until October.
Suarez has received virtually unconditional support from his home country, with no less than Uruguayan president Jose Musica accusing FIFA of following "different standards" for different countries.
"We Uruguayans are full of anger, those coming from below do not understand anything," he said, per the BBC.
Suarez, who has since returned to Uruguay, no doubt appreciates the support -- and having even the victim of his latest rush of blood to the head come to his defense might be appreciated even more.
The city of Samara's stadium, set to be used for the 2018 World Cup, has seen its construction...

Norway beat World Cup debutants Thailand 4-0 before a historic rout by Germany over Ivory Coast...

He'll be suspended for Friday's game against Iowa.
The World Cup was 'amazing,' but Seattle Sounders teammates Clint Dempsey and DeAndre Yedlin...

A painting in Brazil depicts the Dutchman's amazing goal against Spain.

German midfielder Cristoph Kramer has become the face of the ongoing concussion crisis after...