Gonzalez: Klinsmann told US families to change flights to after final
Jurgen Klinsmann is maybe more confident in his US team's abilities than he first appeared.
More World Cup: Latest news & notes | Scoreboard | Complete schedule
Maybe Jurgen Klinsmann isn't so down on the US's chances of springing a "Miracle on Grass" after all.
Criticized before the tournament for saying it was "unrealistic" for the US to win the 2014 World Cup, Klinsmann later revealed he'd booked his departure flight out of Brazil for after the final -- and with the US having now successfully navigated its "Group of Death" and qualified for the knockout rounds, defender Omar Gonzalez says he's advised the players' families to do the same.
"Jürgen has been nothing but positive," Gonzalez said, according to London's Guardian. "He's telling us, he's telling our families to change our flights to July 14, 15, because we're going to be here until the very end.
"So that just speaks volumes to how positive he is, how much he believes in this team, and obviously it trickles down to all of us ... We plan on being here a few more weeks." 
If the US does make the final, it will have earned it; it faces an immensely talented Belgium team Tuesday in the Round of 16, and if that test is passed, will likely square off with Argentina in the quarterfinals. An improbable semifinal berth would probably then match the US up with the Netherlands.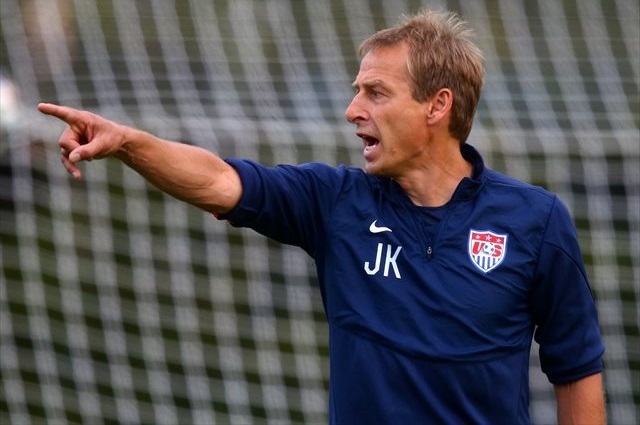 But Klinsmann himself said that if the Americans got out of Group G, they could afford to dream. So why not dream? 
The city of Samara's stadium, set to be used for the 2018 World Cup, has seen its construction...

Norway beat World Cup debutants Thailand 4-0 before a historic rout by Germany over Ivory Coast...

He'll be suspended for Friday's game against Iowa.
The World Cup was 'amazing,' but Seattle Sounders teammates Clint Dempsey and DeAndre Yedlin...

A painting in Brazil depicts the Dutchman's amazing goal against Spain.

German midfielder Cristoph Kramer has become the face of the ongoing concussion crisis after...