It's not OK: Why the US draw vs. Portugal was as bad as it seems
Yes, the US has much to be proud of after its first two World Cup games. But that doesn't mean conceding a 95th-minute goal that might eliminate it is anything other than a disaster.
More World Cup: Latest news & notes | Scoreboard | Complete schedule
I honestly tried to join the many American soccer fans looking on the bright side of Sunday night's 2-2 draw with Portugal, one that would have been a 2-1 victory that sent the US out of the Group of Death and into the Round of 16 had it ended 30 seconds earlier. Instead -- you may have heard this -- those 30 seconds were just long enough for the US to inexplicably suffer a collective lack of focus and allow the latest goal ever scored in a World Cup regulation match.
It's not that bad, we told ourselves while gluing our sporting souls back together. It could be worse, I said. It's OK. It's OK.
Here's the problem with the bright side: You can't look on it and still see the truth about that goal. It's not OK. It would be so, so nice if it was, but it's not. It was a disaster, a catastrophe, a calamity: a disastrophamity. CBSSports.com's Jason La Canfora called the draw "impossible to swallow," and some 18 hours later, yep, there it is, still stuck in the throat like the world's fattest frog.
I understand the desire to rationalize away the hurt of this match. But those rationalizations are, well, just rationalizations. Here are some of those rationales, and what's wrong with them:
"If you'd offered us four points through the first two games before the World Cup, we'd have taken that in heartbeat." True. But taking those four points came with the underlying assumption that Germany would have beaten Ghana and Portugal -- preferably handily -- which would have 1) made those four points potentially enough to get through by themselves and, 2) given Germany little to play for in Thursday's game against the US.
Tell us beforehand that Ghana takes a point off the Germans and looks poised to destroy a battered, off-form Portugal team -- meaning that the US would have to get a result against a German team that now also has reason to exert itself -- and four points isn't bad ... but six (for a victory vs. Portugal) would have made Thursday's match vs. the Germans moot.
"If you'd offered us a 1-1 draw when we were down 1-0 at halftime, we'd have taken that, too." Sure. And if you'd offered the San Antonio Spurs a chance at overtime down 89-86 with two minutes to play in Game 6 of the 2013 NBA Finals, they'd have taken that, too. Does that make them feel any better about how that game (and series) played out?
Like the Spurs, the US got 99 percent of the way there and failed over the final agonizing 1 percent. And unlike the Spurs, if the US can't recover, the wait for redemption is going to be four years rather than one.
"The US played an incredible game, were the better team, and deserved the win. That's something to be proud of." Let me be clear: the US should absolutely take immense pride in this performance. Given the quality of the opponent -- underachievers or not, injury- and suspension-hampered or not -- this is still a team that FIFA ranks No. 4 in the world. As recently as two years ago, Portugal took Spain to penalties in the semifinals of the European championships. And that doesn't cover the degree of US domination; this was the best American performance since at least the 2009 Confederations Cup, and arguably since the 3-2 win over Portugal in the 2002 World Cup.
But pride and satisfaction are not the same. That the US should already be through to the Round of 16 only makes it worse. All the preparation, all the effort, all the brilliance of Clint Dempsey, Jermaine Jones and Fabian Johnson that went into putting the US within 30 seconds of six points was undone by one entirely avoidable mental breakdown. The positives can be weighed at the end of the US's tournament, but for now? They do not outweigh the negatives.
"It could be worse. We could be England or Spain!" That's swell, being better than those guys. But if the US isn't better than Ghana, will anyone care?
"Let's be honest: after the Ghana game, we didn't deserve to have six points." Maybe the most compelling argument for living with the Portugal draw, it's entirely fair to point out a draw against Ghana was the fairer result given the US's sloppiness and dramatic lack of possession in that game -- and if the US unjustly missed out on two extra points in Manaus on Sunday, they unjustly earned two extra points in Natal last week.
But to borrow a pertinent Clint Eastwood line, this is the World Cup: Deserve's got nothin' to do with it. The US got its three points against Ghana fair and square. But it also lost two points against Portugal just as fairly, just as squarely -- and those two could be the difference between a possible quarterfinal or semifinal run for the US and watching the knockout stages on television.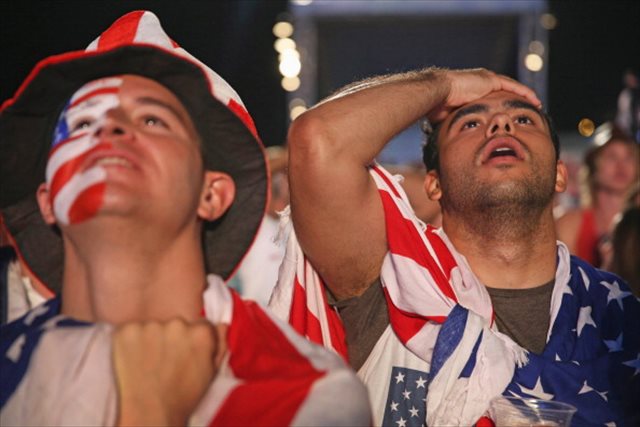 "Yeah, maybe giving up that goal stung. But if you dwell on that, you're missing out on all the other joy this team has given us." This view was expressed eloquently Monday by Sports On Earth's Will Leitch, and it's not the worst idea to stop and smell the US's World Cup roses, so to speak. As a nation, we've never been more behind our national soccer team; that team has rarely, if ever, been as good or as exciting. US soccer has, in short, never been more fun.
But that's why failing to qualify for the next round would be so devastating. I don't want Thursday's match against Germany to be the last time I watch my favorite Texan ever score in a World Cup. I don't want Thursday to be the last time for four years I waste half my day watching celebratory bar videos. I don't want this amazing ride -- still only two games old -- to end with the same gnawing feeling the 2010 version did, that it got cut short just as it really got going. Every game the US plays at a World Cup, especially this World Cup, is a precious, precious thing -- and that goal means we might have only one more of them. 
Yes, it's worth celebrating that both on- and off-the-field, the future of the US Men's National Team has never been brighter. I'll start that celebration as soon as I know the present isn't going to tear my heart out.
"Hey, we're still alive." Ultimately, this is what it's about. It could be OK. It could be all right. We could wind up remembering the positives of Sunday night rather than the hollow pit it left in our stomachs. If the US advances, all will be forgotten, and forgiven.
But it's the furthest thing from guaranteed. Portugal is essentially eliminated, tired and hurt; Ghana is driven, fast, clinical, and coming off an extra day of rest. There's a metric ton of scenarios in play, but the one that likely matters is this: if the Black Stars defeat Portugal by more than a single goal -- and the guess here is they will -- the US must get a result against Germany to advance. That it benefits both teams makes that Germany-US draw much more likely -- if the match is tied around the 60th minute, don't expect much offense from either team from that point on -- but still, it's Germany. And it's a Germany that knows its own World Cup could be in jeopardy if it lets the US notch a win, a win Jurgen Klinsmann promises his team will play for.
If the US does get that draw (or win), or Portugal does it a solid against the Ghanaians, then we can look on the bright side. In that glorious event, it won't be anything but bright sides.
But writing as someone who vividly remembers the pain of the eerily similar 2008 Olympics collapse, it's not yet time to hunt for silver linings. Portgual scored in the 94th minute. The storm clouds haven't passed the US by just yet.
The city of Samara's stadium, set to be used for the 2018 World Cup, has seen its construction...

Norway beat World Cup debutants Thailand 4-0 before a historic rout by Germany over Ivory Coast...

He'll be suspended for Friday's game against Iowa.
The World Cup was 'amazing,' but Seattle Sounders teammates Clint Dempsey and DeAndre Yedlin...

A painting in Brazil depicts the Dutchman's amazing goal against Spain.

German midfielder Cristoph Kramer has become the face of the ongoing concussion crisis after...