Klinsmann 'full of hope' Altidore can return from injury; Besler OK
Jurgen Klinsmann told the media in Brazil that the team is 'full of hope' injured striker Jozy Altidore can return to the field during the World Cup.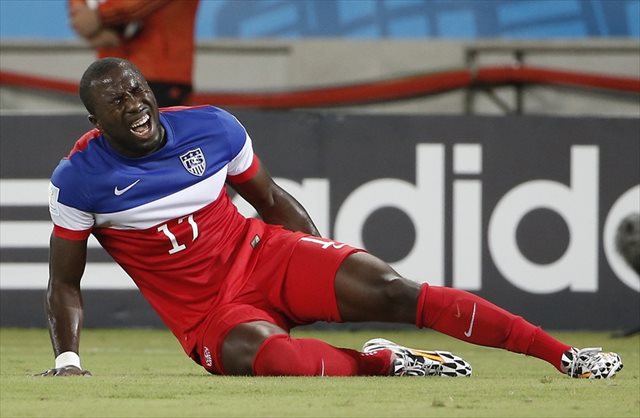 More World Cup: Latest news & notes | Scoreboard | Complete schedule
Jurgen Klinsmann had nothing but good news for US soccer fans at a Tuesday press conference, providing a positive updates on Matt Besler and -- even more significantly -- saying injured striker Jozy Altidore has not been ruled out of the World Cup following his hamstring injury.
"We are full of hope that he can come back still in this tournament," Klinsmann said. "How quickly, that is down to the healing process."
Altidore injured the hamstring chasing a long Michael Bradley pass early in the US's 2-1 win over Ghana, falling in pain to the ground and being substituted immediately after. He underwent an MRI Tuesday.
Klinsmann also said that Besler was "all fine" and would have "no problem" being fit for the Americans' Sunday match against Portugal. The defender experienced tightness in his own hamstring and was substituted at halftime for John Anthony Brooks.
A US soccer spokesperson also confirmed that striker Clint Dempsey has broken his nose, but told ESPNFC that "it shouldn't affect him in any way" against Portgual. Dempsey may wear a mask.
European soccer expert picks the Saturday 2018 World Cup game

Serbia has a chance to move on to the knockout stage

Brazil didn't start well, but it sure finished well
This match went just how Nigeria and Argentina wanted

You can't catch every moment of World Cup action, so we're here to bring you the ones you...

Here are all the scenarios you need to know