Klinsmann's influence on US apparent in opening win over Ghana
Jurgen Klinsmann has a unique handle on his team and as the US win over Ghana shows, he continues to come up aces.
• 6 min read
More World Cup: Latest news & notes | Scoreboard | Complete schedule
This team now fully embodies its manager.
US Soccer has become an extension of Jurgen Klinsmann, thank God, and will be for quite some time.
That delirious way Klinsmann, and his German teams, had for so long, of bossing a match when it mattered most; of stealing a result on a final touch off a set piece, of poaching when all was on the line; of doing like Klinsi did on the biggest stage; yeah, all of that has become a part of the DNA of American soccer.
You can call it a coincidence and you can call it a fluke and you can say I'm digging too deep, but I fully expect this group of players -- hand selected by Klinsmann against conventional wisdom and in his natural balls-to-the-wall style -- to continue to display an ability to secure results.
And I'm not talking about a fortuitous goal against an outfit like Algeria, that the US should be wiping off the pitch. I'm talking about finding a way to be economical and resourceful and cunning and alert when all is on the line against an elite opponent -- one that will probably dominate possession for long patches -- like Ghana did on Monday.
I'm talking about finding a way not just to hold on for a tie in a crappy group, but finding a way to win in the group of death, against a team that ended the past two US trips to the Copa Mundial, on a day when America's best player, Michael Bradley, was truly awful (more on that to come). That's the kind of potentially tournament-changing result I've longed for. That's Klinsi's influence right there.
Let's take it a step further.
It was one of Klinsi's legion of German-Americans, John Brooks, who netted one of the biggest goals in US history. A young man with limited experience with this group but one who had such a strong finish to his Bundisliga season and who has so much potential and will be a huge part of the US Soccer group for at least two more World Cup cycles to come. He's a young man who seized the moment and shut up all those Johnny-come-latelys who disparaged Klinsmann's squad selection and the obvious German influence and are now drinking a tall glass of shut-the-hell up.
Boy isn't that tasty?
Now, I'm not going to say that Klinsi wanted to make this move, but when Matt Besler became the latest of his players to succumb to a muscle injury, he turned to Brooks, rather than once-MLS starlet Omar Gonzalez to sub on at halftime, and the move, like oh so many of Klinsmann's substitutions turned out to be absolutely sage.
Never disparage that. The man has a unique handle on his team, he rides the hot hand and he continues to come up aces. I tend to think that won't change soon. This was a truly ugly match in many phases of play, and I will give the US very little in terms of style points. I am praying that better total-team displays are ahead, but I will never argue against results, and if there is more of this to come, than sign me up.
***
Michael Bradley was crap. His touch was crap. He was dispossessed easily. His imprint on the game was nothing but negative. He couldn't deliver a decent ball. He was often meandering out in space in quadrants of the pitch where he couldn't impact the game if he tried. He never sprung anyone with a truly incisive ball.
Did I mention he was total crap? I kept waiting for him to show up. Only he never did.
Now don't get me wrong. I believe when all is said and done he will be known as the best player the US ever produced, and he long ago outshined Landon Donovan in terms of import and influence with this squad. He can run box to box in a way perhaps only Tab Ramos ever has before in US history (though I am a Claudio Reyna guy, as well, and his influence should not be discounted), and I believe this team will only go, in the long run, as far as Bradley carries them.But for them to win on a night when Bradley was so bad, when he was the primary culprit for turning the ball over, when he never sprung a teammate and was, frankly, a liability, is a major positive for me.
Michael has too much pride and is too well conditioned and is too much the pulse of this team to let this kind of weak play continue. He can't keep overserving teammates or making lazy runs or failing to continue a back-post run, as he did in the 69th minute where he should have easily knocked the ball home if he didn't give up on the play.
I love his game. I know he won't have this kind of tournament. And that's a big part of why I believe this team isn't close to playing its best football yet.
***
Jermaine Jones was the Man of the Match.
His cute flick sprung Clint Dempsey into the 18 for the stirring opening goal in the first minute. He continued to cut off attack after attack on a night when Bradley just didn't. He drew many fouls and several set pieces and managed to display amazing calmness and civility when the officials missed calls against him. He never got carded (that alone is normally an accomplishment).
I loved his touch and the way he played the ball around and his overall composure on the ball. On a night when the US really didn't even have a midfield and couldn't count on playing through anyone, Jones was the closest the US came to a measure of stability and he held the team together. Without him, and with Bradley so poor, this would have been a lopsided defeat.
***
What the hell happened to Fabian Johnson? The US played almost exclusively down the left side most of the game, which I could not figure out, and at the same time Ghana attacked that left side relentlessly, which made perfect sense, as DaMarcus Beasley remains an outside back other teams believe they can expose. But we never saw Johnson tucking inside and being featured in the attack and I attribute a fair amount of that to Bradley never dictating pace and possession and exacting his influence on the match.
In the 73rd minute, I did a Jell-O shooter with my lifelong homeboy Trevor Woodward (@Woodnosesoccer) and vowed to him the US would score a second goal no matter what, whether on the counter or a set piece. I'm just saying. And, furthermore, whenever me, Trevor, Mike Dieter, Scott Ivans, Derek Woodward, and a few of our other friends get together at the Gunpowder Lodge in Kingsville, Md., the US never loses (oh, and we are also undefeated traveling to World Cup qualifiers as well). So, yeah, my sister-in-law is already lined up for Sunday's game. ... If the US scores in the first 15 minutes against Portugal I expect this opponent to roll over. ... Was disgusted by how little Dempsey was on the ball following his stunning opening goal. That Ghana back line was dying to be unlocked and its keeper was not ready for this level of play, but the US never really challenged nearly consistently enough ... Was surprised how little service Aron Johannson received in his 70-odd minutes on the pitch and I expect his influence to increase greatly Sunday if Jozy Altidore is out indefinitely, as I figure he will be after his injury tonight. ... I have a hunch Timmy Chandler ends up starting in front of Beasley at some point in this tournament. ... Oh, did I mention again how awful Bradley was? And, yeah, is this a desperate attempt to motivate him back to the kind of play I have come to expect? You betcha. But he really crapped the bed today.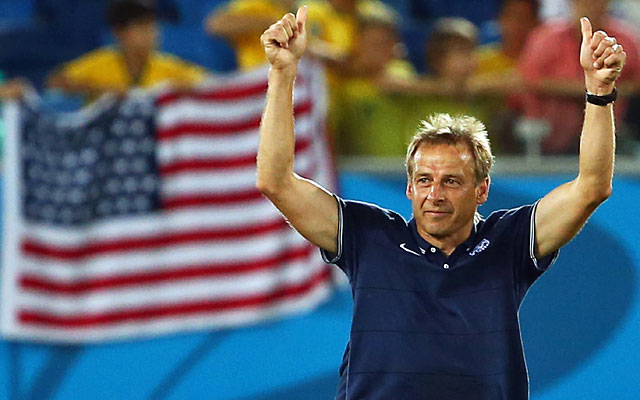 The city of Samara's stadium, set to be used for the 2018 World Cup, has seen its construction...

Norway beat World Cup debutants Thailand 4-0 before a historic rout by Germany over Ivory Coast...

He'll be suspended for Friday's game against Iowa.
The World Cup was 'amazing,' but Seattle Sounders teammates Clint Dempsey and DeAndre Yedlin...

A painting in Brazil depicts the Dutchman's amazing goal against Spain.

German midfielder Cristoph Kramer has become the face of the ongoing concussion crisis after...