Landon Donovan is not going to Brazil: an FAQ
You may have questions regarding Landon Donovan's exclusion from the U.S. World Cup squad. We may have answers.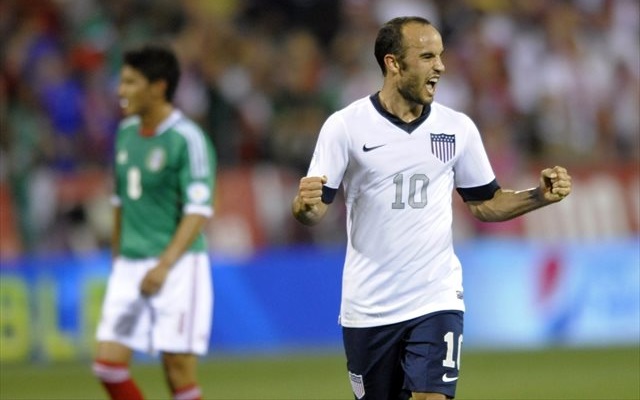 More World Cup: Group Previews | World Cup Roundup | Latest news & notes 
The U.S. Men's National Team's biggest star and all-time leading scorer has been cut from Jurgen Klinsmann's World Cup roster. Landon Donovan won't go to Brazil.
CBSSports.com's Jeff Borzello has already brought you the required analysis of that decision, and the U.S. roster. But you may still have questions, this being, you know, the U.S. Men's National Team's biggest star and all-time leading scorer we're talking about. Here are some attempted answers:
This seems shocking. Exactly how shocking is it, though?
On one hand, let's say an attacking player named Smandon Smonovan was in the U.S.'s World Cup camp. He'd started the MLS season in indifferent form even by MLS standards, notching just two assists in 630 minutes. He'd appeared in only five of the U.S.'s 14 World Cup qualifiers, missing several voluntarily. He had by all accounts not trained well in his most recent call-up with the national team, starting the April friendly against Mexico on the bench, and by some accounts had not trained particularly well in camp. Oh, and his relationship with his coach had always been "uneasy" at best and "passive-aggressively confrontational" at worst. Would we expect Smandon Smonovan to make the World Cup squad?
No, but we're not actually talking about Smandon Smonovan; we're talking about Landon Donovan, who as recently as last summer was the best player on the roster as the U.S. ran the rest of CONCACAF off the field in the Gold Cup ... Landon Donovan, whose value as a counterattacking playmaker and finisher has been unrivaled in the U.S. pool for most of a decade, as the U.S. gears up for a group in which it will do a lot of counterattacking ... Landon Donovan, who is not Brad Davis.
Very, very few observers who followed U.S. soccer would have said it wasn't a possibility Donovan got the axe; Donovan said so himself just this week. But even fewer of those observers would have actually expected it. Anyone who tells you this wasn't a capital-S Stunner is lying.
So if it's such a surprise, why did it happen? What's Klinsmann thinking?
There is a pure soccer argument for leaving Donovan behind that goes beyond "he's not in form," namely that Klinsmann may opt for the Michael Bradley-centric 4-4-2 formation that tore Mexico to ribbons over the first 45 minutes of that April friendly -- 45 minutes Donovan watched from the bench, coincidentally or not. As described by MLSSoccer.com's Matthew Doyle here, Donovan isn't playing well enough to earn minutes at forward, can't play as the playmaking "tip" when the whole point is to have Bradley there, and the box-to-box multi-dimensional duties required of a diamond's left-sided midfielder -- full-blooded defense when the team doesn't have the ball, smart possession passes when it does, incisive attacking runs when it moves forward -- may be beyond his physical capabilities at this stage of his career. 
Donovan's most natural fit, postionally speaking, is as the left-sided attacking midfielder in the 4-2-3-1 formation Klinsmann preferred for all but the past three or four months of his tenure. But despite some success, that formation forced Clint Dempsey into a central playmaking assignment that only occasionally suited him, and muddled Bradley's role as he and defensive midfield partner Jermaine Jones sometime struggled to work out who should attack, and who should defend, and when. Nearly any U.S. fan will tell you at this point that the Yanks will go as far as Bradley can take them, and it's easy to believe that Klinsmann believes the 4-4-2 is the choice will allow Bradley to take them the farthest.
The counter-argument to that line of thinking is simple: Brad Davis. The left-sided Houston Dynamo midfielder may be in better MLS form than Donovan and is an excellent deliverer of set pieces, yes. But he's no spring chicken himself at age 32, has made a limited impact in his 14 national team appearances, and doesn't seem much (if any) better equipped for 90 hard minutes along the U.S.'s left in a 4-4-2 than Donovan is.
Davis's best role, many would argue, is to come on as a left-sided attacking sub late in a game in which the U.S. needs a goal ... but in that situation, has Davis ever been a superior choice to Donovan? Klinsmann has called Donovan a striker rather than a midfielder in camp -- a move many have now seen as a preemptive justification for Donovan's dismissal -- but even there, if Jozy Altidore's already on the field as a target forward, how does it make sense to bring on the similar(ish) Chris Wondolowski if Donovan is available? And that's to say nothing of 18-year-old Julian Green, the immensely talented Bayern Munich midfielder whose experience level -- one cap, zero league appearances for Bayern -- simply can't justify his inclusion on the roster. (That Klinsmann quite possibly needed to promise Green a World Cup roster spot for him to pledge his national team future to the U.S. over Germany might, mind.)
The bottom line is that the friction between Klinsmann and Donovan was an open secret -- has been an open secret for a while -- and it's not easy to find reasons other than that friction for the selection of Davis, in particular, at Donovan's expense. The belief here is that Donovan isn't being left at home because he's out of form; being out of form merely gave Klinsmann enough of an excuse to that he could leave Donovan at home. Ultimately, it's not a soccer decision, though even Klinsmann may be telling himself it is.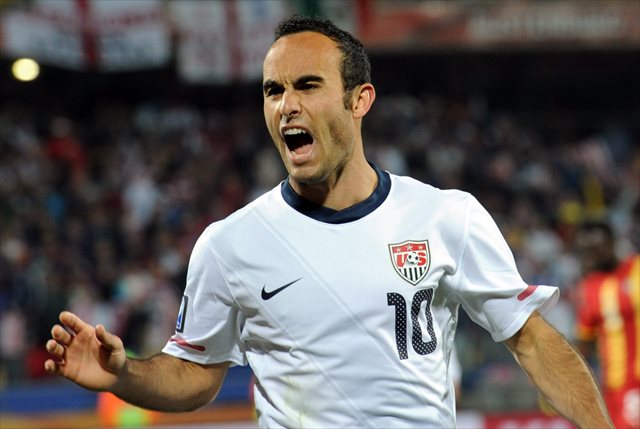 That sounds dodgy. Could this backfire on Klinsmann? 
Not really. For starters, Klinsmann already has a contract extension through 2018 -- a recent decision on the part of the U.S. Soccer Federation that may have also empowered Klinsmann to make this move -- and the strength of Group G means the U.S. has never been likely to advance out of the first round, Donovan or no Donovan. (Hell, make that Diego Maradona in his prime or no Diego Maradona in his prime.) If whoever gets the call at left midfield -- Fabian Johnson, probably? -- or as the late-game attacking sub don't perform in what would have been Donovan's likely roles, Klinsmann will have to deal with some substantial egg on his face. But he's not going anywhere. Deal he will.
The biggest danger for Klinsmann isn't losing what Donovan would have brought to the field; it's what his absence might bring to the locker room. Tim Howard just got done calling Donovan one of the team's "top one or two players," and leaving him behind so Klinsmann can roll the dice on Green, especially, may rankle veterans. Fomer U.S. defender Jimmy Conrad sums it up: 
Just double checking my math. 1 cap, no 1st team minutes with club team > 156 caps, 5 World Cup goals, best player in U.S. history. Got it.

— Jimmy Conrad (@JimmyConrad) May 22, 2014
The comparisons to Steve Sampson's dropping of ex-"captain-for-life" John Harkes for various off-field issues ahead of the U.S.'s disastrous 1998 World Cup are inevitable, if probably misguided; Klinsmann has an earned authority Sampson never did, and led by the likes of Howard, Bradley and DaMarcus Beasley, the U.S. camp is likely to approach things as professionally as could be expected. Nonetheless, choosing a player who hasn't paid the first due over the player who'd paid more than anybody might cost Klinsmann the full faith of a handful of players -- and if that doesn't matter it Brazil, it still might down the road.
Will Donovan ever play for the U.S. again?
Barring an injury to Davis or Green between now and Brazil, and possibly even then: no. Given his already wavering commitment to the national team (and soccer, period), the chances of Donovan playing beyond the 2014 World Cup were minimal; the chances of him doing so for Jurgen Klinsmann now seem nonexistent.
But even if his unceremonious dumping on the eve of the World Cup is far, far from the exit Donovan deserved, the final goal he ever scored for the U.S. -- the second in a dos a cero victory over Mexico in a Columbus-hosted World Cup Qualifier last fall -- could not possibly have come at a more appropriate time.
So ... he's the greatest U.S. soccer player of all time, right? 
The only argument against him is his club career, and that argument rests entirely on unfairly emphasizing his failures in Europe over his success in MLS, where he is tied for the most goals in league history and second in assists; has won five league championships and two Supporter's Shields; and become the consensus best player in league history.
And as for accomplishments in a U.S. jersey, no one is close. Donovan is the USMNT's all-time leading goalscorer and its all-time assist leader. He is second in caps with a staggering 154. He led the U.S. to the 2002 World Cup quarterfinals, to the 2009 Confederations Cup final, to four different Gold Cup titles. He won the Golden Ball at the 1999 FIFA U-17 World Championships, making him one in a long line of teenage U.S. soccer saviors, and then actually went out and became the closest thing the U.S. has ever had to a soccer savior.
He scored the goal to finish off Mexico in Korea. He scored the goal that kickstarted the comeback against Slovenia in South Africa. He scored the goal that put the U.S. up 2-0 on Brazil in the Confederations Cup final, maybe the prettiest team goal the U.S. has ever scored. And there's ... well, we'll get to the Algeria goal in a second. 
Suffice it to say: yes. Landon Donovan is the greatest American soccer player ever.
If you're a U.S. soccer fan, then, Thursday, May 22, 2014, is going to go down as a pretty momentous date. Anything you, U.S. soccer fan Jerry Hinnen, would like to share personally?
I got the news at a birthday party, checking my phone as my three-year-old daughter splashed her way through a fountain at the park. Only fitting, I thought, though not because I'm going to tell my children and grandchildren what it as like to watch Landon Donovan play. They won't ask a question that specific -- "Tell us all about the soccer players you fell in love with in the Aughts, Grandpa!" -- and I won't bore them by volunteering that kind of thing myself.
But it won't surprise me if, some day, they ask me why I like sports so much. Plenty of other people have, after all. Why do you let this be so important to you?
It's complicated, of course. But I feel like the best answer I have for them, that I'll ever have for them, is actually simple: I was watching when Landon Donovan scored against Algeria.
We were mere centimeters from losing one of soccer's brightest stars

Former Minister of Sport and Deputy Prime Minister Vitaly Mutko is stepping down

The city of Samara's stadium, set to be used for the 2018 World Cup, has seen its construction...
Norway beat World Cup debutants Thailand 4-0 before a historic rout by Germany over Ivory Coast...

He'll be suspended for Friday's game against Iowa.

The World Cup was 'amazing,' but Seattle Sounders teammates Clint Dempsey and DeAndre Yedlin...