Luis Suarez tweets his 'apologies to Chiellini'
Luis Suarez has tweeted a statement of 'apology' acknowledging that Giorgio Chiellini 'suffered a bite' in the collision between them.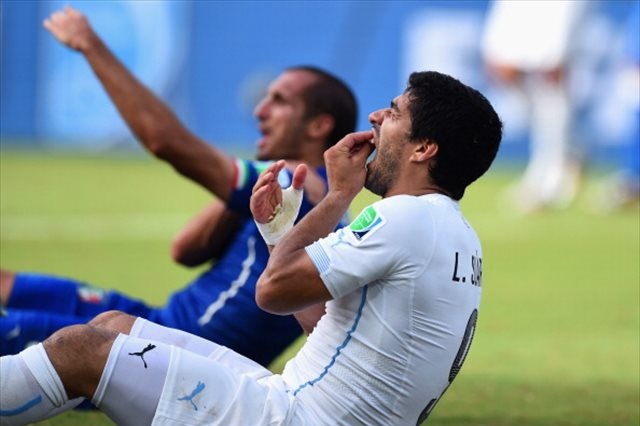 More World Cup: Latest news & notes | Scoreboard | Complete schedule
Luis Suarez has apologized to Italy's Giorgio Chiellini for biting him in Uruguay's now-infamous 1-0 victory that eliminated the Azzurri from the World Cup.
Well, sort of apologized. Almost apologized, let's say. 
Suarez tweeted what he called his "apologies to Chiellini," a statement in which he writes that "the truth is that my colleague Giorgio Chiellini suffered the physical result of a bite in the collision he suffered with me."
"I deeply regret what occurred," he writes. The full text of the statement:
OK, so, the statement has very likely translated from Spanish to English, and in using the word "apologize," it's only fair to assume Suarez's intentions are -- probably -- in the right place.
Still, you'll notice Suarez doesn't specify what he's apologizing for. He doesn't acknowledge that he bit him -- only that Chiellini "suffered the physical result of a bite." He doesn't simply say "I'm sorry I bit him."
There may be appeal-related reasons for that. There may be lost-in-translation reasons for that. If Suarez lives up to his vow that "there will never be another incident like [this one]," he can probably be forgiven for whatever reasons there might be for that.
But it is an apology for biting Giorgio Chiellini? Doesn't look like it from here ... though maybe this response is the only one that matters:
.@luis16suarez It's all forgotten. I hope FIFA will reduce your suspension.

— Giorgio Chiellini (@chiellini) June 30, 2014
The city of Samara's stadium, set to be used for the 2018 World Cup, has seen its construction...

Norway beat World Cup debutants Thailand 4-0 before a historic rout by Germany over Ivory Coast...

He'll be suspended for Friday's game against Iowa.
The World Cup was 'amazing,' but Seattle Sounders teammates Clint Dempsey and DeAndre Yedlin...

A painting in Brazil depicts the Dutchman's amazing goal against Spain.

German midfielder Cristoph Kramer has become the face of the ongoing concussion crisis after...