Milestone past milestones: How we'll remember the 2014 World Cup
When American soccer fans look back at the 2014 World Cup, the first thing they'll see isn't how far the team has come -- it's how far they have come.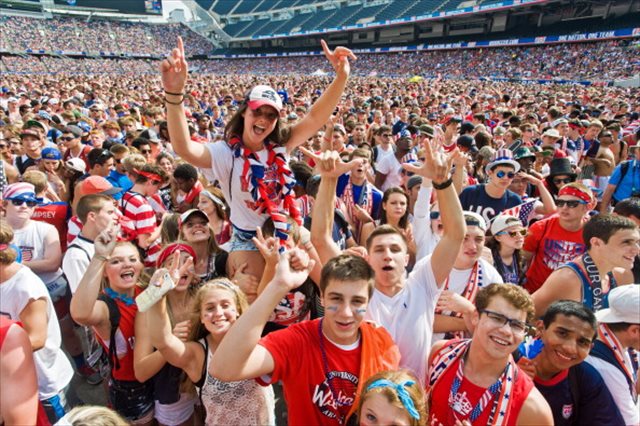 More World Cup: Latest news & notes | Scoreboard |
For me, it started with a magazine.
It started with the June 1990 issue of Sports Illustrated for Kids, started with Paul Caligiuri heading a ball emblazoned with a map of the world and wearing a uniform I'm 99 percent sure neither he nor anyone else ever wore on an actual soccer field. It started with that exclamation point: The World Cup!
I was 11, and though a decent player by the standards of my five-stoplight Alabama town's youth leagues, I had only the dimmest possible awareness soccer was played at any level beyond "herd of kids on a field." Then, in my mailbox: The World Cup! Teams made up of the best soccer players from around the entire world! From countries I'd never even heard of, like something called the United Arab Emirates! To play a tournament that lasted a month! And the USA would be there, too! I read and reread the enclosed preview until the cover fell off, which was fine, since I've been able to see it with my eyes closed for 24 years now.
The desperately goal-shy 1990 World Cup would go on to be reviled as possibly the worst major international soccer tournament in history*, and the Americans did their part: getting drubbed 5-1 in their opening match against Czechoslovakia and going home after three mostly forgettable games. None of that mattered. I watched Cameroon upset Argentina in the opener and immediately made the Indomitable Lions my second-favorite team; I giddily absorbed every replay of Caligiuiri's consolation goal against the Czechs (of course it was Caligiuri) and talked my parents into letting me stay up late that night, just to see it again on the evening highlight shows; by the knockout rounds I was taping games I couldn't watch live on the family VCR.
I was a weirdo. By 1998, I'd left my hometown, gone to college, discovered whole hives of other American soccer fans online. I still watched the US lose to Germany with a single friend, one who shot me a confused, worried glance when I screamed the top of my head loose over a Frankie Hejduk header that seemed destined for the corner. I was still a weirdo. When I woke up at something like 2:14 am to join a handful of other guys in a church basement to watch the US play Portugal in 2002, I knew I wasn't going to be alone -- but I also knew, the sun still hours away, that I and everyone else who'd be there were all weirdos.
This was the scene in Birmingham, roughly 90 minutes from where I grew up, when John Brooks beat Ghana:
No, I won't remember 2014 as the first time I didn't feel like a weirdo during a World Cup. It wasn't the first time I gave my life over to the tournament lock-stock-and-barrel and felt like something other than an oddity, not the first time I lived and died with the US Men's National Team and felt normal about it. A circle of equally USMNT-obsessed real-life friends took care of that long before even 2010 rolled around.
What I will remember it for is that video, for the dozens more like them. I'll remember that the 2014 World Cup was the first time I felt the next 11-year-old who DVRs quarterfinal matches between Costa Rica and the Netherlands in Dadeville, Alabama, won't be a weirdo at all. 
*******************
This isn't another "soccer has made it in the US!" column, honestly. For one thing, Gregg Doyel already handled for CBSSports.com that not long ago. For another, figuring out where interest in the World Cup ends and where soccer begins is incredibly difficult to tease out; that 64,207 fans paid to watch Seattle beat Portland in Sunday night's MLS match is maybe a better argument for "soccer has made it" than all the World Cup TV ratings records you care to mention. (Remember that the 1999 Women's World Cup final set all kinds of viewing records, too, and that the women's team still wound up wandering the American sports wilderness for years before Abby Wambach stunned Brazil three years ago.)
That's not to say TV ratings should be ignored, any more than "holy crap, Grant Park" ought to be. They're not called milestones for no reason. But like any actual, non-metaphorical milestones along the roadside, they're not as important for measuring where you are as where you've been. The 2014 World Cup shouldn't be remembered for showing "how big soccer is" in this country, not half as much it should be for proving how far it's come. When the US hosted the 1994 edition, people certainly noticed -- the attendance records are still intact, even after a tournament with eight more teams in it was hosted in the most soccer-crazed nation on Earth -- but not nearly so many people cared. Caring was to belong to a cult.
The reaction to Landon Donovan's goal in 2010 was the milestone that showed that word and others like it -- "cult," "niche," "fringe," etc. -- weren't going to be useful for the World Cup ever again. 2014 was the milestone that showed how far forward that moment (and all the ones before it) had flung American soccer. 2018 will do something similar, and then 2022. "Has soccer made it?" implies that at some point, it will stop, get out of the car, snap some photos, and check into the closest hotel for the night.
Nope. It's still moving, the days of the one-man cults deeper into the rearview than ever.
******************
The thing about my Sports Illustrated for Kids story: everyone has one. Save the tiny minority of American soccer fans who grew up in a houseful of diehards and can't remember a time before the World Cup, virtully every American soccer fan had a moment when it became, well, Important with the capital I. Maybe you were in a bar in Ireland the summer of 2002. Maybe the 2006 draw with Italy touched something deep in your sporting soul. Maybe you just had to see where this New York magazine photo shoot was going. Maybe you were 11, and living in rural Alabama, and didn't even know until a magazine cover that you needed to find that something that could connect you with the billions of other people on this planet.
It's hard to think the 2014 World Cup won't spawn hundreds upon thousands of those stories. Outside the US, it seems safe to assume the tournament will be remembered first and foremost for the incredible excitement of its group stage, two solid weeks of nonstop attacking soccer that saw goalscoring records fall and match after match duly hailed as an instant classic. Do you even remember Italy beating England 2-1 in the heat of Manaus? You'd be forgiven if you don't, but trust me: it was a thrilling, terrific 90 minutes of soccer, and by the time the 16-team knockout bracket was set, it was little more than footnote.
The knockout rounds took a little of the shine off (as they've tended to do at every World Cup since 1998), but Germany did their best to restore it -- first by playing a white-knuckler against not-so-much overmatched Algeria, then producing what was quite possibly the most shocking 30 minutes in world sport history by going up 5-0 on Brazil, then scoring the best goal the World Cup final has seen since at least 1986. If John Brooks' head or Clint Dempsey's stomach didn't do it for you, Mario Gotze's left foot certainly could have.
Everyone needs a story. The 2014 World Cup provided them in seemingly endless abundance. And that will be remembered for far longer than any magazine cover, or pub celebration, or Tim Howard fan-crush -- even in America. Especially in America.
*Even as a total novice, I recall thinking that it seemed like defenders passed the ball to the goalkeepers an awful lot. I later found out that even by non-novice standards, there were so many backpasses to the goalkeeper that FIFA created a new rule preventing keepers from picking them up. Thanks, 1990 World Cup!
David Sumpter's Soccerbot model is up 1,800 percent and just released World Cup 2018 picks

David Sumpter shares his top log shots to target for the World Cup

We were mere centimeters from losing one of soccer's brightest stars
Former Minister of Sport and Deputy Prime Minister Vitaly Mutko is stepping down

The city of Samara's stadium, set to be used for the 2018 World Cup, has seen its construction...

Norway beat World Cup debutants Thailand 4-0 before a historic rout by Germany over Ivory Coast...