Ranking the first 16 matches of the 2014 World Cup
The World Cup kicks off on Thursday, and the Eye On World Cup has ranked the first matches for each team for you.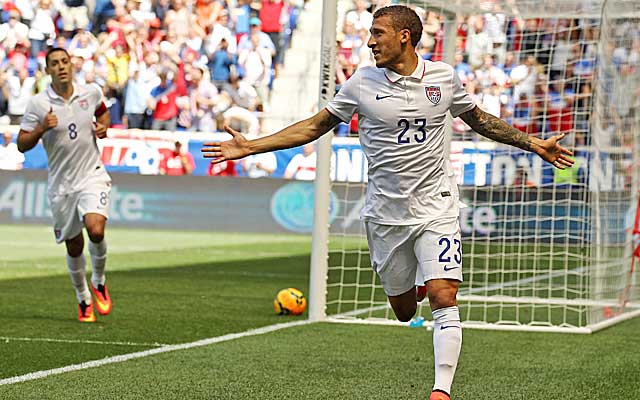 More World Cup: Group Previews | World Cup Roundup | Latest news & notes 
On Thursday night the first of 48 group play matches will kick off in Brazil between the host nation and Croatia. This means that you're going to be spending a lot of time watching soccer over the next few weeks, but like most people, you simply can't watch every single match.
You would if you could, but life -- stupid, stupid life -- tends to get in the way sometimes. So what you need to do is prioritize which matches you should watch, and don't worry, Eye On World Cup is here to help.
I've gone ahead and ranked the opening matches for each of the teams in group play. Hopefully this list will help you figure out which matches to watch between Thursday and Tuesday, and during which matches you should actually get some work done, or spend some time with your family.
16. Iran (FIFA Ranking: 43) vs. Nigeria (44) - Monday June 16, 3pm ET
Here's the good thing about this match: both teams are evenly matched based on their FIFA ranking. The bad news is that Iran really isn't all that good, and plays a defense-first style of soccer. It's much more interested in keeping you from scoring than it is scoring itself. Nigeria, meanwhile, has some talent up front, but has trouble scoring. Very good chance this one ends 0-0.
15. Chile (14) vs. Australia (62) - Friday June 13, 6pm ET
Chile can actually be a fun team to watch, but this game isn't ranked this low because of the Chileans. No, it's because of the Australians. Sure, it's really fun to root for a team called the Soccerroos, but based on FIFA's ranking, Australia is the worst team in the World Cup. It's just not that good. Underdogs are fun, but this isn't an underdog you should get your hopes up for.
14. Russia (19) vs. Korea Republic (57) - Tuesday June 17, 6pm ET
I really don't have all that much to say about this match, and the odds are nobody will have much to say about it after it's over, either.
13. Mexico (20) vs. Cameroon (56) - Friday June 13, Noon ET
This game certainly has interest based on the fact that Mexico is typically considered America's top rival in soccer, so you may want to tune in just to root for Cameroon. When you look at the way Mexico has played recently, it's certainly possible that Cameroon could pull it off, but while there's nothing "wrong" with this game, it's not exactly a blockbuster.
12. Colombia (8) vs. Greece (12) - Saturday June 14, Noon ET
You may be surprised to see a match between two highly-ranked teams this low in my rankings. Well, don't be. Greece is one of the most boring national teams to watch as it lives for the scoreless draw, and Colombia will be without the one and only Radamel Falcao. Were Falcao playing this game would be worth watching just to see Greece's 11-man backline against him.
11. Switzerland (6) vs. Ecuador (26) - Sunday June 15, Noon ET
Switzerland's FIFA ranking is the greatest argument against FIFA's ranking system. They've won games, sure, and didn't lose a single match during World Cup qualifying, but the Swiss are also an incredibly boring team to watch. So if you do tune in to this one, for the overall enjoyment of all World Cup fans, root for Ecuador.
10. Ivory Coast (23) vs. Japan (46) - Saturday June 14, 9pm ET
These two squads aren't highly ranked, but Japan is a fun team to watch and could catch some people by surprise this summer. Then there are the Ivorians who feature players like Didier Drogba, Yaya Touré and Gervinho's hair. This match could prove to be one of the more exciting matches of group play.
9. Uruguay (7) vs. Costa Rica (28) - Saturday June 14, 3pm ET
This ranking depends on the status of Luis Suarez, as one of the globe's most prolific scorers still isn't sure whether or not he's going to be able to play this summer. I'm hoping he does because we've got enough injuries to deal with already this summer, and not having one of the best players in the world available during the world's premier soccer tournament is not ideal. 
8. France (17) vs. Honduras (33) - Sunday June 15, 3pm ET
Speaking of major injuries, France will be without Franck Ribery, and while that certainly hurts France's chances (hey, that rhymes), it also helps Honduras'! The Hondurans performed well in World Cup qualifying, and they have the potential to jump up and get somebody in what's a rather wide-open Group E. France could be that team.
7. Belgium (11) vs. Algeria (22) - Tuesday June 17, Noon ET
Belgium is an excellent darkhorse candidate this summer, even without Christian Benteke available at striker. This is a team that's been on the rise for a number of years. Then there's Algeria, a team that isn't exactly a world-beater, but is set up well to advance out of Group H.
6. Ghana (37) vs. USA (13) - Monday June 16, 6pm ET
I had to keep myself from ranking this higher, but even if it's the most interesting game to Americans, compared to the rest of the games, this is probably still a bit high. That being said, it's the United States against a Ghana team that has eliminated it from the last two World Cups. Watch it or move to Canada.
5. Argentina (5) vs. Bosnia and Herzegovina (21) - Sunday June 15, 6pm ET
This is a matchup of one of the best teams with one of the best players in the world (Argentina, Leo Messi) and a team that showed in World Cup qualifying that it can put the ball in the back of the net. Bosnia and Herzegovina scored 30 goals in its 10 qualifying matchups, led by Manchester City's Edin Dzeko, and actually won its group over Greece based on goal differential (those exciting Greeks scored 12 goals in 10 matches). So Bosnia and Herzegovina is a team that could surprise people this summer, even if overcoming Argentina is likely a bridge too far.
4. Brazil (3) vs. Croatia (18) - Thursday June 12, 4pm ET
The opening game of the tournament. Does Croatia actually have a chance to knock off the Brazillians in the first game of a World Cup being hosted in Brazil? No, not really, but it's the first game of the World Cup! And it features one of the favorites to win the whole damn thing. If you aren't watching this match, you probably aren't watching any.
3. Spain (1) vs. Netherlands (15) - Friday June 13, 3pm ET
Another one of the tournament's favorites, and the winners from 2010, Spain, takes on a strong Dutch team that I feel is better than its FIFA ranking would have you believe. There's certainly plenty of star power in this game to keep you interested, and these are also two teams that might be making noise come the knockout stage as well. 
2. England (10) vs. Italy (9) - Saturday June 14, 6pm ET
Not only will this match feature two of the best teams in the world, but it's also incredibly important. Between Italy, England and Uruguay, there are three very good teams (all are ranked in the top 10 by FIFA) competing for only two spots. So not only should this be a good match between two excellent teams, but the result could be the deciding factor in Group D.
<strong>1. Germany (2) vs. Portugal (4) - Monday June 16, Noon ET</strong>
Germany will be without a few of its top players this summer, but it's still Germany, and when part of a machine breaks down you just replace it with a new part. Then there's Portugal, which features Cristiano Ronaldo. While Americans should be hoping that Ronaldo's thigh and knee keep him far below 100 percent in this tournament, a Ronaldo at 60% is still much better than 95% of the players in the world. Two top five teams battling for superiority in Group G. That's the same group the Americans are in, so not only is it two great teams going at one another, but the result could also be incredibly important to the fate of our own team.
We were mere centimeters from losing one of soccer's brightest stars

Former Minister of Sport and Deputy Prime Minister Vitaly Mutko is stepping down

The city of Samara's stadium, set to be used for the 2018 World Cup, has seen its construction...
Norway beat World Cup debutants Thailand 4-0 before a historic rout by Germany over Ivory Coast...

He'll be suspended for Friday's game against Iowa.

The World Cup was 'amazing,' but Seattle Sounders teammates Clint Dempsey and DeAndre Yedlin...