Russia's Fabio Capello blames laser pointer for elimination vs. Algeria
Was a laser pointer shined in the eyes of Igor Akinfeev to blame for Russia's elimination from World Cup 2014? Coach Fabio Capello believes so.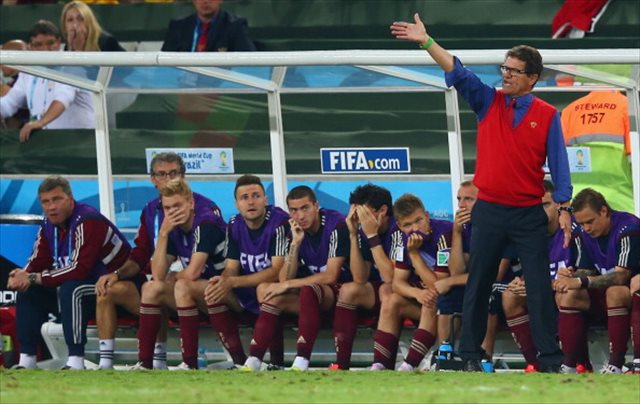 More World Cup: Latest news & notes | Scoreboard | Complete schedule
Russia's Fabio Capello is the highest-paid national team coach in the world, hauling in an annual salary of nearly $12 million, nearly double that of runner-up Roy Hodgson of England.
In an unrelated story, both Capello's and Hodgson's teams were bounced from the World Cup at the group stage, Russia having been eliminated by Thursday's 1-1 draw with Algeria. At his salary, it's only natural that Capello accept full responsibility for his team's disappointing showing and fervently vow to correct his managerial missteps before Russia plays host to the World Cup in 2018.
Or, you know, he could blame it on a fan with a laser pointer.
"He was blinded by the laser beam," Capello said of goalkeeper Igor Akinfeev on Algeria's second-half equalizer, per the Guardian. "There are pictures. You can see that in the footage. This not an excuse, it is a fact. 
"There was a laser. I have never come up with excuses to get by in my entire life."
In Capello's defense: he is right. There was a laser. This is a fact, as anyone who was watching the match could see. The Big Lead provided a gif of the moment in question:
But sorry, Fabio, somehow we're not buying that Akinfeev was "blinded," or that the laser had much to do with Akinfeev's disastrous decision to attempt to punch Algeria's following free kick clear -- a decision that yielded a clean whiff on the ball, and gave Islam Slimani an open net to head into.
Even if the laser did impair Akinfeev's sight or judgment, though, here are some other reasons the Russians were eliminated:
They drew with a terrible South Korea team. The Koreans gave up four goals to Ghana in their last World Cup friendly, gave up four more to Algeria in Group H, and lost to Belgium's second string 1-0 in a match in which the Koreans held a man advantage for the entire second half. But against Russia, the Koreans narrowly created more chances, got an absolute gift of a goal on an Akinfeev howler, and only settled for a point due to some iffy goalkeepeing and defending of their own. 
They lost to Belgium. Russia was much better against the Group H favorites and generated a handful of gilt-edged opportunities early on. They spurned them and lost 1-0 on a Divock Origi goal in the dying minutes.
They only scored one goal against Algeria. The Desert Foxes allowed two goals to Belgium despite playing in an ultra-defensive shell for most of the game, then gave up two more to Korea despite Korea being Korea. They are not defensive juggernauts, and after giving up the opener, they offered even more space at the back than usual as they searched for the equalizer. But Russia could not find the second goal that would have clinched their qualification, either.
Having the laser pointer shone in Akinfeev's face just as a critical free kick is being swung in is, yes, unfortunate and unfair. But that's not why Russia are going home. It is going home because it scored two goals across three games in a frankly lightweight group, giving the world's most expensive national coach a career World Cup record of one win, four draws, and two losses over seven matches, seven matches in which his teams have scored a total of five* goals and never once scored more than one. 
So if Capello wants something to blame, perhaps next time we'd suggest he start with his offensive tactics.
*As Capello himself pointed out in the same comments to the press, his 2010 England team did have a perfectly good equalizing goal vs. Germany infamously not count when the ball bounced back out of the goal after coming down off the cross bar -- the major motivating factor in the introduction of goal-line technology at this year's World Cup. So he's got that going for him.
The city of Samara's stadium, set to be used for the 2018 World Cup, has seen its construction...

Norway beat World Cup debutants Thailand 4-0 before a historic rout by Germany over Ivory Coast...

He'll be suspended for Friday's game against Iowa.
The World Cup was 'amazing,' but Seattle Sounders teammates Clint Dempsey and DeAndre Yedlin...

A painting in Brazil depicts the Dutchman's amazing goal against Spain.

German midfielder Cristoph Kramer has become the face of the ongoing concussion crisis after...