United States, yet to play best game, needs to tweak lineup for Belgium
The US side still hasn't played its best soccer yet, and to get past Belgium, it may be time for Jurgen Klinsmann to give Michael Bradley a breather.
• 9 min read
More: Knockout predictions | Schedule | Team USA news
Jozy Altidore has received the ball precisely five times in this entire World Cup tournament, and only four times at his feet.
The United States' premier striker, and one of our country's most irreplaceable players, has been on the ball only twice inside the opposing 18-yard box (yes, I re-watched the opening match against Ghana a third time). Once, for a header gone well wide. Once, when he collected a pass, pushed the ball to his preferred right foot, and fired into traffic. He does not have a shot on goal. He played only 20 minutes, 17 seconds, before succumbing to a painful hamstring injury that could have ended his World Cup almost before it began.
Of the seven gentlemen to start all three matches the US has played to this point, unquestionably, Michael Bradley has been the worst.
The United States' premier midfielder, a man that, pre-tournament, many would consider the most irreplaceable player on the roster and the most integral and important player our country has produced in quite some time, has been a wreck. An eager and hungry ball winner at his best -- the singular key to American possession -- Bradley has been disposed and turned the ball over more than any other field player. His decision-making in transition has been downright horrible at times, his finishing has been non-existent, his delivery on passes has been terribly heavy, lacking the deft touch and precision that defines his play. Usually the steel and heart and nerves of this side, Bradley has instead looked shockingly overwhelmed by role and circumstance.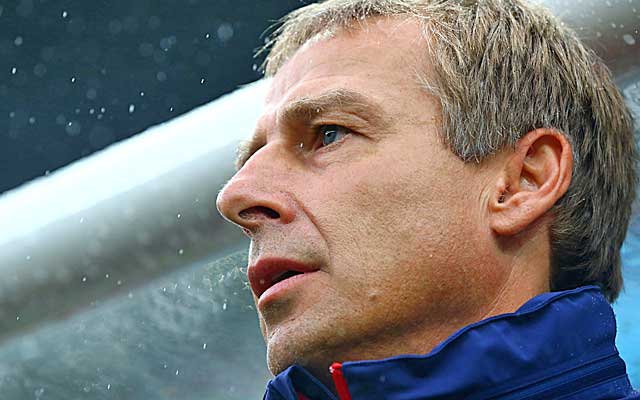 And yet the USA has emerged from the Group of Death. The team has continued to display its guts and guile throughout the World Cup, despite its most elite players being either unavailable or out-of-form, and has reached the knockout stage for consecutive tournaments for the first time ever. The Americans have scored several goals from the run of play, been better overall defensively than I thought they might, and coach Jurgen Klinsmann has proven himself, once again, to be a master tactician and a guru of substitutions. He has managed to juggle the immense pressure to get results in real-time with the ability to craft a youthful group with an eye on tomorrow.
So, ahead of Tuesday's match against Belgium, I choose to celebrate the positive. The United States has yet to be close to its best, despite playing some of the best football this country has ever produced at this level (in the draw against Portugal that should have been a victory), and I believe the best is yet to come. Had you drawn up the first four paragraphs of this column before the team arrived in Brazil and told me they would advance from Group G in the manner it did, I would have been giddy. And, well, consider me giddy.
I'm on record, from the time the brutal draw was made for the US this winter, as saying the team would advance despite that adversity. And, as much as I fully respect the immense individual talent that Belgium possesses, they remain an inexperienced side at this level, one that has not wowed me through the group stages as I thought they might (and their group was a joke), one that is suddenly juggling a red card suspension as well as potential health issues for all-world center back Vincent Kompany. They will be considered hefty favorites back home, I presume, and, having had their way with the US last May in a friendly in Cleveland, and with a perfect record in group play, I suspect they come in a little overconfident and perhaps vulnerable to some early, unforeseen offensive pressure.
And while I am not sure we see Altidore again in the red, white and blue from Brazil, if nothing else this team has become more equipped at surviving without him. Clint Dempsey is working his tail off as a long striker and the US has adapted to a five-man midfield and, well, I wouldn't change any of that. In fact, besides shuffling some wingers, I'd stick with the lineup Klinsi sent out against the Germans (and, if you have been a regular reader of this column, I dare say my pre-match hunches have generally been pretty prescient when it comes to how the head coach will shuffle his personnel ahead of each match). That doesn't mean I don't expect some increased production from certain position groups, and certainly this stage of the event is demanding improved production from some key elements -- yes, Bradley, that means you -- but the overall look of the team, I can't imagine, changes all that much from what we've seen the past two matches.
As much work as the starting wingers have done defensively, the amount and quality of the balls sent into the box, and the ability to link up with forwards (OK, forward, singular), has been lacking. After giving Brad Davis and Graham Zusi a chance to serve in that role against Germany, I'd like to see Alejandro Bedoya back in a starting role, and I'm in favor of going with Mikkel "Mix" Diskerud on the opposite side. Diskerud made a case for being in this starting eleven, and I figured he might be a 12th-man of sorts for this club, but, due to circumstances of score and time remaining, has yet to play a second in this tournament (he and teenage forward Julian Green are the only field players yet to see the pitch).
At a stage of the tournament when tired legs and tired minds and overall fatigue are such a major issue, I'd give Diskerud the start. He can help form a beachhead around influential Belgium midfield Eden Hazard, and try to deal with him in a way the US did, say, Cristiano Ronaldo two matches ago (though I fully anticipate Hazard being much more active and dangerous). And, while I'd propose the overall shape of the midfield remain geometrically similar (and attacking central midfielder, two wingers, and two holding, ball-winning midfielders supporting the backline), I'd overwhelmingly propose a change of roles.
I can't explain Bradley's performance to this point. Surely, some of it must be due to leaving Italy's Serie A, where he regularly fought for his starting place in European giants A.S. Roma, and returning to MLS, as one of the highest-paid players in the history of the league, where every day at training he steps on the pitch and is clearly the best player available and is The Man, even at 75-percent. And as much as Bradley is a ridiculously hard worker and could go down as the best player we have ever produced, he's also still human and you can't tell me this move has nothing to do with the dip in form, even if it's just on a subconscious level. (And, by the way, I love Bradley, want nothing more for him to have the match of his life, and his dedication and work rate is beyond reproach; but is he working smartly?)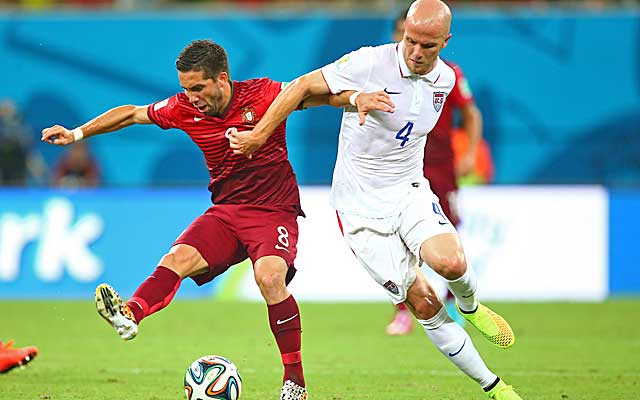 But I believe more than anything else that Bradley's dip in form is from him being asked to do more than he really can. Playing the faux No. 10 every match against this level of opposition is more than he can deliver. So, let's put him back at his home, deeper on the pitch, closer to the center backs, disrupting and hunting the ball and creating offense off of that. The best spans of offense the US has created is when Jones has been pushed up higher the last few games. Jones was unquestionably the USA's MVP of the group phase, his touch and distribution has been tighter and when the US has settled into matches recently, Jones has been in the advanced position.
Let Bradley exhale some, and switch things up. Jones has plenty of size, his restraint in tackles has been one of the real revelations of this World Cup for the Americans and he is playing the best football of his life. Let him continue to revel in that. Let him be a highly skilled destroyer, and move up the pitch organically. With Diskerud in the mix, all the more reason why this team could change shape if need be, and Bradley would feel plenty of extra cover and I think he could finally break out of his funk. Diskerud can start on the wing, which I admit isn't so natural for him, and drift inside and adopt a more central posture, with Bradley particularly intriguing to me if he pushed out to the right side where I still believe he and Fabian Johnson can create something beautiful together.
Bradley and Beckerman have been very simpatico in the past, and their coupling has displayed some intuitive interplay and an innate knowledge when one should step up (more than say, Bradley and Jones have. So, go back to that template, continue with the idea of three central midfielders, and insert, potentially, a fourth (in Diskerud), should Belgium adopt the mentality they are going to waltz and dance the ball up the middle of the pitch to create cute scoring chances (as Germany and Portugal did, for the most part, as opposed to Ghana, which pressed the Americans from the wings to create so many opportunities ... almost all of them wasted).
So give me another versatile midfielder, in Diskerud, and one who has the freshest legs of all available. This will be yet another match that will demand the midfielders cover an unreal amount of space, and with so many minutes already logged and so many thousands of miles already traveled, I truly believe Mix could be a difference maker.
As for the backline, it should look as it did against Germany.
That group was put together to withstand the ridiculous size the Germans possess. Omar Gonzalez needs to start again. His knee seemed healed from what dogged him in the friendlies before the tournament, he made several vital clean tackles against the Germans and he has the aerial ability, height and mentality to try to corral hulking Marouane Fellaini. He will be a handful, and at this point I want my most confident center back pairing against him. After Geoff Cameron's debacle against Portugal, let him remain on the bench, where he could be a vital sub given his ability to play right back, center back or in a central midfielder/destroyer role.
US keeper Tim Howard knows Fellaini so well from their years together at Everton, and no matter how well the Americans play on Tuesday, they will surely see plenty of one another in this Round of 16 match. It goes without saying that Howard will have to make at least 3-5 world-class saves, and he's almost always been up to that. If the US is able to maintain its shape, not wilt when defending set pieces, and score the early goal I believe is within its grasp, then this won't be the last of these columns I write this summer. And, shoot, I feel like my laptop is just starting to heat up.
The city of Samara's stadium, set to be used for the 2018 World Cup, has seen its construction...

Norway beat World Cup debutants Thailand 4-0 before a historic rout by Germany over Ivory Coast...

He'll be suspended for Friday's game against Iowa.
The World Cup was 'amazing,' but Seattle Sounders teammates Clint Dempsey and DeAndre Yedlin...

A painting in Brazil depicts the Dutchman's amazing goal against Spain.

German midfielder Cristoph Kramer has become the face of the ongoing concussion crisis after...